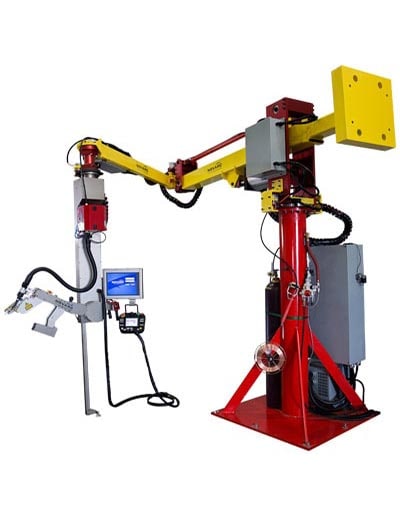 Collaborative welding robot for today's pipe welding processes
Request Consultation | Technical Specifications | FAQs
The Spool Welding Robot SWR increases pipe shop productivity and reduces costs for pipe fabrication. Combining efficient welding technology with statistical reporting, the Spool Welding Robot works with a junior welding operator in the smallest footprint in the industry to maximize your production and space while reducing operating cost. From Novarc Technologies in a global collaboration with ABICOR BINZEL.
Spool Welding Robot Advantages:
Average ROI of 6-18 months
Repair rates of less than 1%
3-5x improvement in diameter inches per shift
Accountability & traceability - we record every weld for your QA/QC team
Open platform with a small 4' x 4' footprint integrates multiple positioners within a small space
Groundbreaking welding vision system camera and NovData™ data collection system gets a clear view of the process and results
Complete ABICOR BINZEL Product Solution suite including ABIROB W, TH6D Laser Seam Tracking, EWR 2 Net, and MasterLiner.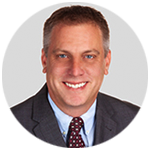 "We wouldn't have been able to make the lead time on our current project without the Spool Welding Robot."
- Paul Hebson, Vice President and General Manger, Vancouver Drydock - Seaspan
Watch the Seaspan SWR testimonial, here
---
Spool Welding Robot at a Glance:
Top-notch BINZEL Technology
SWR combines the best of ABICOR BINZEL welding solutions for the highest performance weld performance possible. Featuring:
ABIROB W
EWR 2 / EWR 2 Net
TH6D Seam Tracking
MasterLiner Wire Feeding
Groundbreaking Monitoring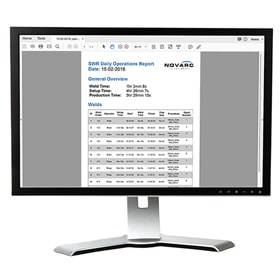 The gamechanging welding vision system camera and NovData™ software give welders and operators unmatched view and data for:
Weld Performance (current, WFS, travel speed, etc.)
Weld arc inside the groove
Daily Operations Reports
Small Shop Footprint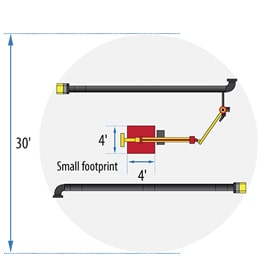 The Spool Welding Robot's small 4' x 4' is easy to fit within your busy spool fabrication shop and is equipped for:
Quick use with 2+ positioners
Integration with your existing pipe positioners
Multiple weld processes
For Welders and Managers
Spool Welding Robot is made with ease of use and collaboration in mind. Using the SWR in your pipe fabrication allows:
Operation by a Junior Welder
No special programming
No hard fencing needed
Ready. Set. Weld.
Spool Welding Robot Videos:
What is the Spool Welding Robot?
SWR Welding Various Pipe Shapes, Sizes, & Types
ABIROB W + Spool Welding Robot
SWR Welding a 36" Pipe
SWR Capabilities
TH6D Laser Seam Tracking + Spool Welding Robot
Please note consultations are for U.S. and Canada-based companies only. If outside that area, please contact your area ABICOR BINZEL office.
Pipe diameters:
2" - 60"
Materials welded:

Carbon & low alloy steels

Stainless & nickel alloys

Working radius:
15 feet
Footprint:
4' x 4'
Manipulator height:
15 feet
Manipulator working height:
1 - 9 feet
HMI screen:
15" touch (analog resistive)
Pendant:
6.5" touch with joystick
Horizontal seam tracking accuracy:
+ / - 0.1 mm
Vertical distance control accuracy:
+ / - 0.1 mm
Weave stroke:
1 inch
Weave frequency:
0 - 5 Hz
Weave dwell:
0 - 0.4 seconds
Wire diameter:

.035" - 0.62"

0.9 - 1.6 mm

Solid, metal-cored, & flux-cored

Wire speed:

30 - 1200 in/min

0.8 - 30.5 m/min
ABIROB® W Robotic MIG Gun
ABIROB® W 500
Cooling:
water-cooled
Rating:

550 A CO2

500 A Mixed gases M 21 (EN ISO 14175)

Duty cycle:
100 %
Wire-Ø:
0.8 - 1.6 mm
MasterLiner Wire Feed Conduit
Type:

MasterLiner HD

MasterLiner FLEX
Outer Ø:

30.0 mm

22.0 mm (without outer hose) / 34.0 mm (with outer hose)
Wire Ø:
max. 1.2 mm
max. 1.2 mm
Weight:
approx. 400 g/m
(without connections,
with aramid coating)

approx. 250 g/m
(without outer hose) /
approx. 400 g/m
(with outer hose)
Recommended length (max.):
25.0 m
25.0 m
Bend radius (min.):
150 mm
150 mm
Flexibility/tensile strength:
1.500 N
600 N
Connection:

G 1/8″ and optional
G 1/4″ (on request)

G 1/8″ and optional
G 1/4″ (on request)
TH6D Laser Seam Tracker
| | |
| --- | --- |
| Measuring lines: | 3 |
| Working distance: | 150 mm |
| Measuring rate: | 60 – 240 Hz |
| Dimensions (WxHxD): | 70 x 40 x 100 mm |
| Operating temperature: | 10ºC to 45ºC |
EWR 2 / EWR 2 Net Gas Management System
Operating voltage:

Input voltage:

24 V DC ±20 %

24 V DC
110 V AC
20 - 50 V AC/DC

Media temperature:
10 – 40 °C
14 – 122 °F
Ambient temperature:
-10 – +50 °C
50 – 104 °F
Relative humidity:
20 – 90 %
Flow rate range:
2 – 30 l/min
4.23 – 63.5 cfh
Tolerance flow rate:

±1 l/min
2.1 cfh

Shunt types:
150 A / 300 A / 500 A
Gas inlet pressure:
1 – 6 bar
14.5 – 87 psi
When you see a solution like the collaborative Spool Welding Robot, there are surely questions. Some simple, some more complex. Based on your feedback, we've compiled the 23 most frequently asked questions on the collaborative Spool Welding Robot to answer for you.

1. What are the main features of the collaborative Spool Welding Robot?
Using a laser scanner, point laser and closed-loop control systems, the SWR automatically maintains the torch to pipe distance with 0.1mm accuracy and assists the operator in seam tracking so primary focus can remain on the weld. Depending on the fit up, arc light, and spatters, additional operator input may be required for seam tracking and height control.
As a collaborative welding robot, the SWR is designed to meet all the safety requirements of ISO 15066; therefore, it does not require fencing or a safety cell. A junior welder can stand beside the robot and make changes during the weld as required.
Among industrial spool welding robots, the SWR has the largest ratio of reach to footprint. With a footprint of 16 sq ft, the SWR has a radial reach of 15' which allows for welds in pipe modules and spools up to and including 30'.
Designed for semi-automatic 1G roll welding, the SWR significantly improves the ergonomics of pipe welding by having the robot take on the heavy lifting of a consistent weave motion.
The SWR provides repeatability and reliability; The NovData™ logging software captures all available data for each weld pass for future analysis and reporting.
The SWR is equipped with a welding vision system which can display the weld to the operator as it progresses and records a video from each weld for analysis and future production improvements.
2. What size of pipe can be welded with the SWR?
The base model of the SWR can weld pipes from 2" to 60" with appropriate pipe positioners.
3. Which welding processes can the Spool Welding Robot support?
The single torch SWR uses GMAW or MCAW from root to cap.
The dual torch SWR uses GMAW or MCAW for root, and MCAW or FCAW for fill and cap.
SWR uses modified short-circuit waveform on the root, that is STT, RMD or LSC.
TIG is currently not offered with SWR.
Talk to our sales team if you'd like to know more about your specific process.

4. What material can be welded with the SWR?
The SWR can weld carbon and low alloy steels, as well as stainless and nickel alloys. The seam tracking and height control features are only available on carbon steel at this point. Recipe development for nickel alloys is incumbent on customers.
5. Does the Spool Welding Robot weld pipe root to cap automatically?
Yes, the SWR has the ability to switch between weld modes without shutting off the arc.
The standard SWR process is GMAW with solid wire. The solid wire has moderate levels of silica (not heavy slag). This silica is burnt by the arc as the arc goes over it. Operators can see this throughout the weld process using the welding vision system.
6. Can I use my existing positioner?
The SWR can easily be integrated to work with different positioners including Team Industries, LJ, Profax, and Preston Eastin. Our team can verify if we can integrate with your specific positioner, brand, make and model.
The robot has the ability to integrate with 2 to 5 positioners in a layout determined by you. The picture on the left shows some of the possibilities with 2, 3, 4 and 5 positioners.
Integrated positioners that are not being used for welding with SWR, can be rolled via foot pedals and used for pipe preparation, tacking, grinding.
7. What power sources can be used with the Spool Welding Robot? Can I use my existing power source?
Power source options are Lincoln PowerWave® R450, Miller Auto-Continuum™ 500, and Fronius TPS 400i LSC Advanced. All units are quoted with a power source.
No, we recommend purchasing one of the power sources mentioned above to use with the SWR.
8. What size root gap is used when welding and what are the tolerances?
The pipe/components are fit-up to a typical 3/32 in. (2.4 mm) root opening (gap) with a tolerance of ± 1/32".
9. How does SWR deal with Hi-Lo on pipes?
SWR operators are trained to scan the pipe visually prior to the start of the weld for assessing the hi-lo, root gap and inspecting the tacks. If the Hi-Lo is higher than the amount specified by the SWR bevel requirements document, the pipe has to be refitted. If the Hi-Lo is within the allowed tolerances, the operator can enable the torch weave dwell functions. During the root pass, the operator can address the Hi-Lo using the asymmetric dwell and root save to weld the root. During the fill and cap passes, the operator uses the dwell function to manage the Hi-Lo. In this scenario, the laser-assisted seam tracking and height control have to be disabled for all passes to better allow the operator to control the torch position.
10. How does SWR deal with fitting to pipe connections when thicknesses are different on the two sides?
Similar to the Hi-Lo, SWR operators accommodate this scenario by enabling the dwell function on the thicker side of the joint prior to the start of the weld. If the inner diameters of the two sides do not match, operators have to grind down the inside to make sure the toes align as they would do in manual /semi-automatic welding. (Fittings are pre-heated prior to the weld).
11. Does the SWR fall under robotic welding from a welding procedure standpoint?
Based on industry standards, the SWR falls under mechanized welding, given that the operator interacts with the machine and makes on-the-fly adjustments.
12. What floor footprint is required for the SWR?
With a 4′ x 4′ footprint, the SWR has the smallest industry footprint where we typically see anything up from 7' x 30'. Therefore, it does not cannibalize shop floor space and it won't interfere with production flow.
13. How much productivity and capacity can I expect from using the SWR?
This depends on your current welding process. One SWR with an operator can produce the same output as 4 welders using SMAW, and 2-3 welders using manual root to cap GMAW.
14. Why does productivity improve with the SWR?
By eliminating the torch hand control, the mechanized weave relieves welder fatigue so they can expect a higher deposition rate, higher production, faster track speeds and the ability to run pre-programmed welds.
15. What is the ROI on investing in an SWR unit?
With just a few details about your operation, we'll have your ROI calculated. Typically our customers see an ROI of 6-18 months.
16. How does the SWR fit in the production flow?
The SWR is designed to fit in pipe fabrication shops because the height does not interfere with overhead cranes. In addition, the SWR can be easily parked away to allow shop traffic to pass.
17. How long does it take to install and commission the SWR
Assuming an integration with two new positioners (from the approved list) , it takes two days to install the SWR and only one day to commission it.
18. How long does it take to train an operator and what skill level should they have?
It takes 3 - 5 days to train an operator for both operations and maintenance. Operators need to know the basics of pipe welding. We generally recommended training 3 - 5 operators with at least one journeyman pipe welder.
19. To which Code requirements can welding procedure specifications (WPS) be qualified with the SWR?
The SWR has qualified multiple WPS to ASME Section IX requirements, including Charpy Impact testing with full mechanical testing (bend & tensile tests) and supplemental hardness testing. WPS can be developed for other codes, as required.
20. What weld quality requirements can be realized during production welding with the SWR?
The SWR produces consistent quality welds during production , characterized with low repair rates when non-destructively tested with radiographic and ultrasonic examinations to typical ASME B31.1 and B31.3 requirements.
21. Do I need to create a new weld procedure when purchasing the SWR? Can customers use Novarc's PQRs as-is?
ASME IX Code is quite clear that each organization must develop and qualify their own WPS/PQRs and Welding Operators. Novarc can assist customers with those activities and utilize its qualified WPS/PQRs for reference/baseline. However, customers cannot use Novarc's WPS as-is for their production purposes as that would be a regulatory non-compliance.
22. How can I monitor the production?
The SWR comes with the NovData™ production monitoring software that produces daily reports. The daily report includes: production time, welding time, pipe diameter and more. It also creates a time-stamped log file with voltage, current, WFS, travel speed and all other relevant weld and motion parameters for each weld.
The SWR also comes with a camera built into its robotic arm. With this feature, operators get a clear view from inside the groove on the HMI as each weld progresses in real time. Novarc's welding vision system records all videos for future analysis.
23. What shielding gas is required?
Welding shielding depends on the weld process and filler metal. Our technical team can assist you with specific welding applications. The recommended gases for Carbon Steel pipes are the following:
Solid wire: 85% Argon 15% Co2, or 90% Argon 10% CO2
Metal core: 90% Argon 10% CO2, or 98% Argon 2% CO2
Flux core: 75% Argon 25%, or 100% C02
24. What are the power and air requirements for the SWR?
The SWR needs 3 phase power and minimum 85 PSI compressed air. The electrical power can be any of the standard voltages between 208V and 600V.
25. How does the robot connect with the rotator?
We replace the existing positioner/rotator motor with a servo motor so the SWR would be able to control it.
26. How does the safety system work?
The SWR has built-in speed and torque monitoring systems that ensure speed and forces are within required levels at all times.
27. How much maintenance is required for the SWR?
The SWR is designed to be a robust machine. As a result, only minimal maintenance is required. Maintenance training is included with the robot training. Maintenance is similar to a standard welding machine.
28. Can the SWR be moved around the shop?
The SWR needs to be anchored to a minimum 6' concrete slab. However, you can move it between previously installed base locations using overhead cranes.
29. How tight can the SWR arm get to the red mast for welding?
Approximately 48 inch for welding.
30. Does the water cooler need a flow of water connected to it? If not, how often does it need to be refilled?
No, It is a closed loop system so if there is no leak there is no need for refill.
31. If we would like to add the dual torch to our exciting SWR, what changes would need to be done to the system?
Several parts will need to be added to the machine including the booster kit, masterliner and extra cables and wire feeder. Threaded holes and brackets will need to be added to the manipulator mast and arms to support these things. It will take a maximum of 3 days to complete everything including testing.
32. What is the size of the pendant screen?
The pendant screen is 6.5".
33. Can the SWR be used outside the pipe shop?
The SWR is designed for indoor usage. It can be used in the field or in a work yard, provided it is protected from the elements and within the temperature range of 5 - 50 degrees celsius.
34. Can you copy data from one SWR to another?
Yes, you can easily copy the data from an SWR to another using a USB.
35. How heavy is the SWR?
Approximately 3500 lb.
36. What are the bevel requirements for the pipes?
Refer to the Bevel requirements document.
37. Is the progression of weld with SWR vertical up or vertical down?
SWR is specifically designed for 1G roll welding as per QW-122.1. That means it's weld progress is not vertical up or down. We have seen some clients describe it as a "special position" as per QW-133.1
Any end-user spec requirement with respect to vertical up or down welding is not applicable for roll welding. The intent and application of such a clause is for out-of-position welding only. For example, the 5G or 6G test position where the pipe is stationary and the welding arc must manually (or via orbital unit) travel from 6 to 12 o'clock (vertical up) or from 12 to 6 0'cloclk (vertical down). Vertical up or down welding will often utilize different welding techniques (weaving patterns), different electrode classifications, electrode diameters, different heat inputs, etc. Hence, that is the reason some end users will put special requirements for any change from vertical up to down (and vice versa).