Robotic Welding - MIG Guns, Laser, and Peripherals
Robotic Welding Guns & Torches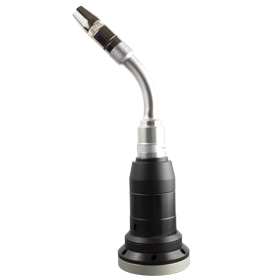 ABIROB® CycloneTM Air-cooled MIG Guns
Endless rotation air-cooled robotic torch drastically reduces cycle time while extending cable life due to decreased cable torsion. Based on the original ABIROB® concept.
See ABIROB® Cyclone™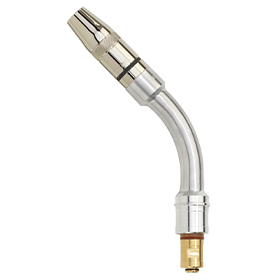 ABIROB® Air-cooled MIG Guns
ABIROB® air-cooled robotic guns use the innovate double key interlocking concept to maintain a stable Tool Center Point and maximize performance. Made with durable, aluminum armored swannecks.
See ABIROB® Air-cooled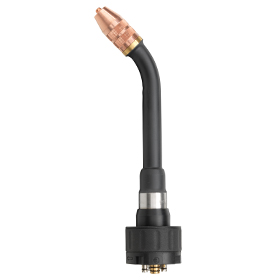 ABIROB® Water-cooled MIG Guns
Robust threaded style interface give ABIROB® water-cooled robotic guns a high degree of durability and long service life. Single piece construction nozzles hold up to high heat and spatter.
See ABIROB® Water-cooled
ROBO WH Water-cooled MIG Guns
Change your torch neck in seconds with the ROBO WH and it's integrated wire cutter within the front module. Flexible and adaptive to changing welding tasks. Available in a push-pull version.
See ROBO WH
ABITIG WH Water-cooled TIG Torches
Flexible and adaptive robotic TIG welding technology. Change the TIG torch neck in seconds using a pre-set tungsten electrode with a reproducible torch position. Cold wire feed and push-pull functions available.
See ABITIG® WH
Spool Welding Robot SWR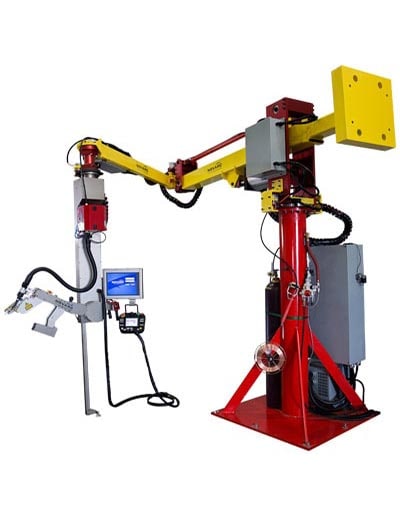 Spool Welding Robot SWR
A first of it's kind pipe and pressure vessel welding solution. Designed for maximum performance, IoT, space, and arc-time efficiency.
See Spool Welding Robot
Cleaning Stations & Reamers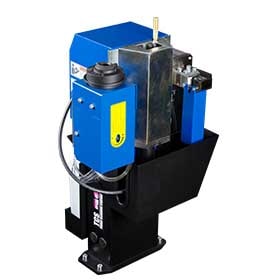 Torch Cleaning Station TCS-FP
A true plug-and-play solution for robotic welding torch maintenance. Single point connector and a pneumatic-based anti-spatter applicator simplifies the process and makes for a more efficient torch clean.
See TCS-FP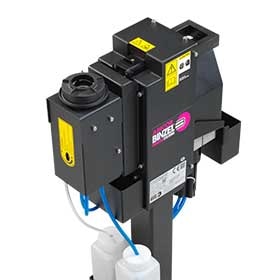 Torch Cleaning Station TCS Compact
Cost-efficient robotic welding torch maintenance station that nozzle reams, pins and cuts the wire, and pneumatically applies anti-spatter. Maintenance friendly anti-spatter injector is serviceable without tools.
See TCS Compact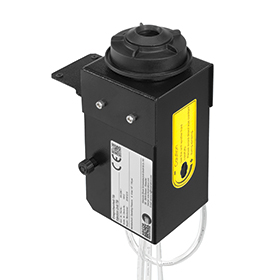 TSi External Anti-Spatter Injector
Stand-alone anti-spatter injection unit integrate easily to existing TCS stations or can be used as a separate anti-spatter applicator. Spray activated by robot movement and without electronic activation.
See TSi Anti-spatter Injector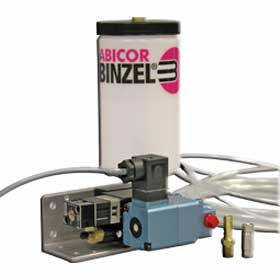 TMS-PI Internal Anti-Spatter Injector
Pneumatic cleaning and spray unit used in the automated cleaning process to meter air and anti-spatter to the inside of the welding nozzle. An efficient and cost-effective anti-spatter solution.
See TMS-PI
EWR 2 Welding Gas Management
EWR 2 Welding Gas Management
Huge Gas Savings in an IoT Compatible Solution
EWR 2 / EWR 2 Net are the first of it's kind electronic gas management solution. Fine tuned for the demands of Industry 4.0, you can monitor, adjust, and record your gas usage in real time while saving up to 60% in overall gas consumption.
See EWR 2 / EWR 2 Net
Seam Tracking & Inspection
TH6x Seam Tracking Sensor
Optical seam tracking sensor uses three-line technology and laser triangulation to track the weld joint and correct the robot movement in real time. Suitable for MIG, TIG, and Sub-arc for robotic and hard automation welding.
See TH6x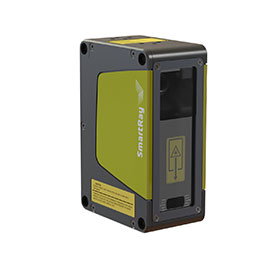 SmartRay 3D Weld Inspection
High accuracy and pre-calibrated 3D weld inspection solution increases inspection efficiency and output while more quickly identifying weld dimensions and defects.
See SmartRay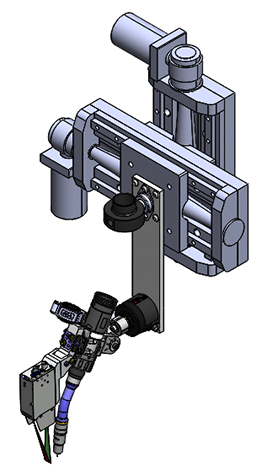 AutoGuide HD Optical Online Seam Tracking
The AutoGuide HD is a proven system for automatic and contactless tracking of seams in joining processes. The system is supplied complete with controller, motor package, and sensor. Mounting for welding torch, laser optic, or other welding systems can be provided.
Wire Feeder Systems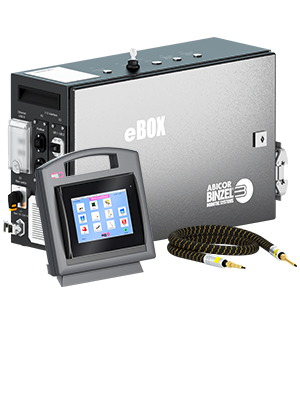 Master-Feeder-System MFS-V3
The third generation Master-Feeder-System is made specially for the demands of laser brazing applications. Features a digital wire feed system with fast and precise control for dynamic operation.
See MFS-V3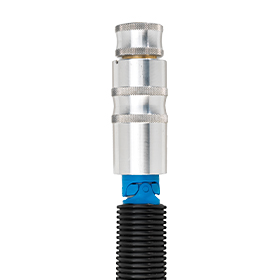 Wire Feeder Conduit MasterLiner
Made from individual segments, MasterLiner guarantees a smooth and precise wire feed for welding with virtually no resistance. Four small rollers within each segment ensure low friction and long service.
See MasterLiner
Robotic Welding Peripherals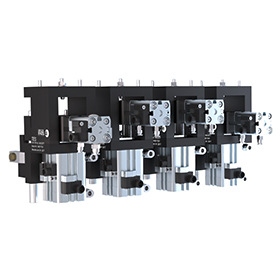 Torch Exchange Station TES
Modular torch neck exchange system for ROBO and ABITIG® WH torches. Robot-activated neck exchanges make for a flexible system that features an integrated cut of the welding wire during neck changes.
See TES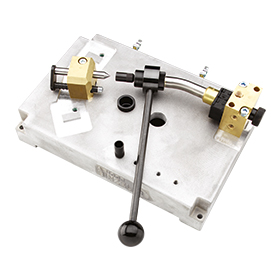 Swanneck Alignment and Test Jig
Effective and cost-friendly tool for checking and re-adjusting the neck bend for ABICOR BINZEL robotic torch necks outside the welding cell. Guiding body allows for easy geometry check on torch necks.
See Alignment Jigs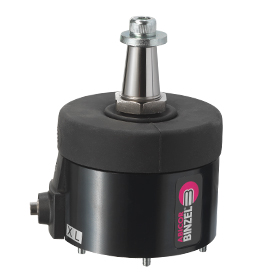 CAT3 Over-arm Robot Collision Mount
Collision mount made for the BINZEL line of over-arm robotic MIG guns. Robust design with a simple installation to welding robots. Made in a compact size for improved accessibility, using a reliable switch function.
See CAT3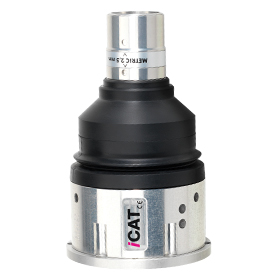 iCAT Through-arm Robot Collision Mount
Robot collision mount for through-arm ABICOR BINZEL robotic MIG guns. Mechanical crash deflection by up to 10° in the event of a crash between torch and workpiece. Extremely torsion-resistant and reproducible.
See iCAT
iSTM Through-arm Robot Solid Mount
Solid mount for through-arm style welding robots that feature an integrated collision control. Use with ABIROB® or ROBO WH robotic MIG guns. Extremely torsion resistant cable assembly with optimal weld accessibility.
See iSTM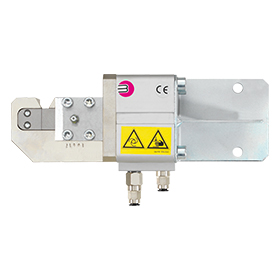 Wire Cutting Station WCS
Extremely robust build that utilizes a clamp and shear welding wire up to 1/8" while providing superior arc start characteristics. Able to perform up to 20,000 cuts without signs of wear. Integrates to all TCS stations.
See WCS
Laser Welding & Brazing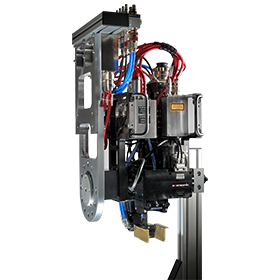 RLW-A Remote Laser Welding Optic
Highly efficient fillet welding optic reduces material use over long working distances. Able to work over clamps and fastening fixtures to produce autogenous welds utilizing highly precise on the fly seam tracking.
See RLW-A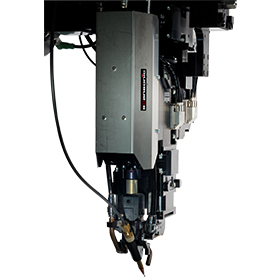 ALO3 Adaptive Laser Brazing Optic
Adaptive laser brazing optic with integrate tactile seam tracking. Comes equipped with the SCeye package, a fully integrated imaging process monitoring system that processes image data in real time.
See ALO3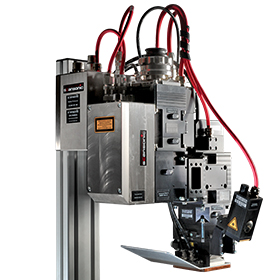 RLH-A Remote Laser Hardening Optic
1-D scanner with integrated high dynamic temperature control allows for precise hardening and annealing of small component parts in powertrains and other complex assemblies. Easily adaptable and adjustable.
See RLH-A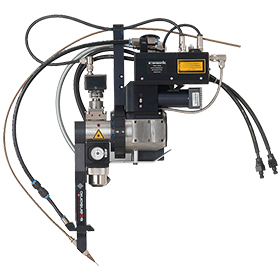 ALO1 Adaptive Laser Brazing Optic
Adaptive lightweight laser brazing optic integrates tactile seam tracking to find the beginning of the seam accurately and guide process precisely along the seam. Comes with optional camera and crosshair generator.
See ALO1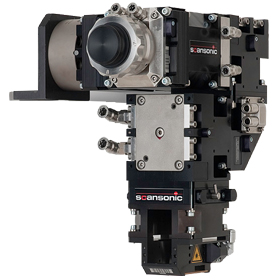 BO-SF Stable Focal Position Optic
Stable focal positioning optic designed for industrial use where stable focal position is critical. By using different object-to-image ratios, varying operational clearances and focus diameters possible.
See BO-SF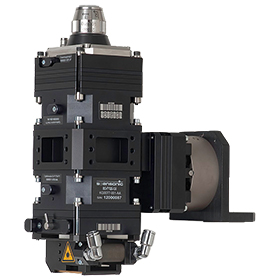 BO Optic
Modular laser processing optic for industrial laser applications up to 6 kW CW-laser power. Consists of collimating and focusing optics with an integrate cross jet and cover slide drawer.
See BO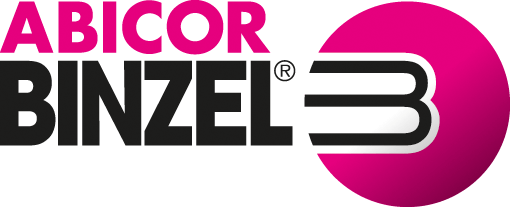 ABICOR BINZEL USA, Inc.
650 Medimmune Ct., Suite 110
Frederick, MD 21703
Google Maps
001-301-846-4196
ABICOR BINZEL world-wide - everywhere at your side ...