Welding Guns Should be Comfortable AND Durable.
So We Make Them for Welders and Welding Operations.
Your Welding Process Relies on a Happy and Productive Welding Staff. Make Sure Their Tools Are Built to Suit Your Job and Their Comfort Needs.
With Wear Parts That Don't Wear Out Your Budget.
Welding Guns Need to Meet Multiple Needs. That's Why Ours Don't Cut Corners.
The manual MIG welding gun selection of ABICOR BINZEL is made to maximize customization and the needs of welders on the job. Our welding guns are designed to deliver on three key promises across all product lines:
Comfortable
If the welding gun isn't comfortable, welders won't use it. That's why all ABICOR BINZEL welding guns are made to be ergonomic, flexible, and responsive to the physical nature of a welder's daily job.
Our special lightweight BIKOX cable reduces cable weight up to 30% to keep welders even more comfortable.
Trigger and custom neck options galore mean your welders operate in the position that's comfortable for them. Not the tool.
Swivel joint necks let them manipulate angles on tight weld joints to make difficult welds easier.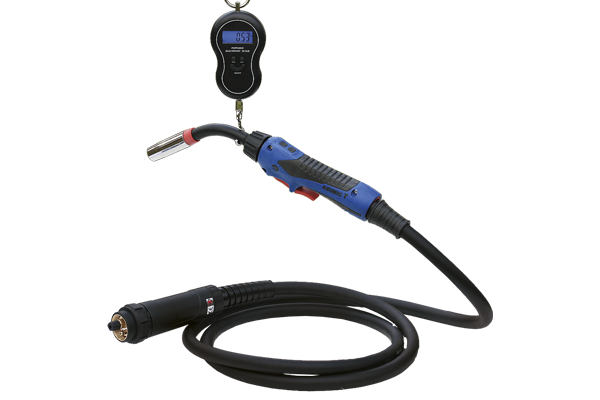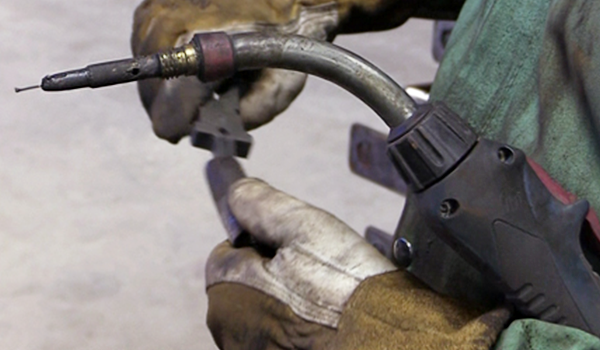 Durable
For fabrication companies, it's about the bottom line.
What ROI does a new piece of equipment return?
Does this save me cost long term?
Your tools need to not just feel good, they have to last in a brutal industrial environment. 
We build our welding guns to last. That includes durably built welding components from the handles to precision parts such as consumables. 
Careful designs on the smallest details like reinforced ribbing on the handle keeps every part of you welding gun in top shape for the tough jobs you demand they do every day - sometimes for mulitple shifts.
Maintenance-friendly
Maintenance and upkeep are part of manufacturing.
The easier to maintain, the less downtime.
Our welding guns are made to be easily disassembled, serviced, and re-assembled with minimal tools or complicated processes.
Innovate features like single piece diffuser/tip holders for our air-cooled welding guns reduce parts inventory and lowers maintenance needs. 
Changing out more intricate parts like a torch cable swap or handle replacements are also easily doable with simple tools like torx bits and crescent wrenches.
For water-cooled welding guns, we also offer an in-house repair program where we refurbish your welding gun with experienced in-house technicians and send back to you in like-new condition.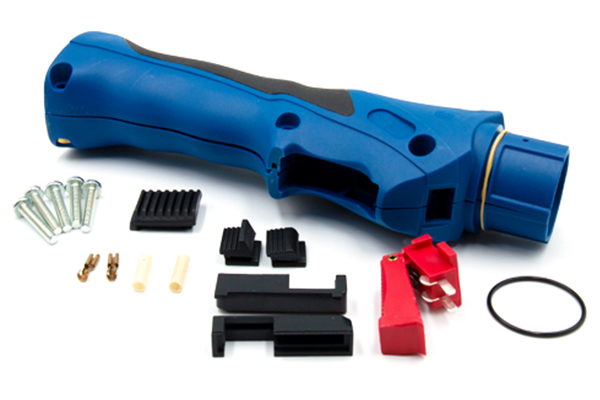 The Right Tool for the Job Makes All the Difference. We Make Sure You Have Options.
We carry several different lines of welding guns that are made for all types of welder and production preferences. Depending on your unique manufacturing needs, ABICOR BINZEL has a welding gun option to suit it. 
Beyond our current portfolio, we also offer customized options for certain volumes of businesses (custom neck lengths, bends, etc.).
Which of our welding gun options may be right for your fabrication needs?
Explaining the Different Types of Welding Guns
Air-cooled Welding Guns

Naturally cooled by the shielding gas and ambient air
Duty cycle typically not to exceed 60% for CO2 applications
Lighter in weight, lower in cost
Amperage load up to 400 amp (some models higher)
Very low maintenance
Most common type used - capable for light to medium duty fabrication
Water-cooled Welding Guns
Uses coolant lines to lower operating temperature
Duty cycle high - commonly 100% - for heavy fabrication and thicker metal applications
Amperage load up to 600 amp
Superior consumable life from lower operating temperature
Higher cost, heavier weight
Must be paired with a welding cooler to circulate coolant
Push-pull Welding Guns
Used in aluminum welding applications to assist in wire feed
Air and water-cooled options
More maintenance-intense than standard welding guns
Uses specialized motors and drive rolls within the gun handle to feed wire precisely
Higher in cost
Heavier to operate for welders
Fume Extraction Welding Guns
Specifically utilized to capture weld fume at the weld arc
Air and water-cooled options
Special shroud collects smoke at nozzle while welding
Pairs with a fume extraction system
Welder technique and position important to capture fumes
Comparably priced to water-cooled welding guns
Flux-cored Self Shielding Guns
Ideal for outdoor use on construction sites, pipelines, railroads, etc.
Current extends all the way to the contact tip
Allows for wire feed welding when conditons like wind make GMAW welding impossible
Don't require additional shielding gas tanks
Does not require a gas line
Air-cooled only
Welding Guns Part Breakdown
Depending on the type of ABICOR BINZEL welding gun you use, your parts breakdown might be a little different. Our air-cooled welding guns, for instance, combine the diffuser and contact tip holder into a single part to lessen inventory needs and maintenance demands.
If you use a fume extraction welding gun, you will require an extra part on the front end - called a shroud or suction nozzle - to effectively capture fumes.
Push-pull welding guns utilize drive rolls and motors on the front end of the tool. While this adds extra weight and can be uncomfortable, it is a necessaary design element to reliably feed aluminum wire from the feeder to the contact tip.
Below we break down the anatomy for our welding gun product lines.
Contact Tips
Our patented and precision-made contact tips are designed to limit common welding pain points: microarcing, burnbacks, and wire wandering.
Our contact tip construction process results in a smoother bore for better wire delivery and current transfer.
Material grade ranges from standard copper to silver-plated.
Nozzles
Nozzles deliver gas to the weld piece.
The more durable, the better.
Our nozzles are made from high quaity brass and utilize nickel-plating for select models, to hold up more in industrial environments.
Our two-piece nozzle design for most air-cooled models lessen part inventory and extends usage.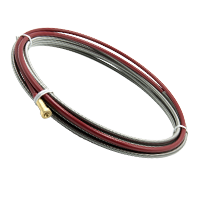 Wire Liners
From steel to insulated to specialized thermoplastics, we make liners in a variety of materials to ensure smooth feed and minimal downtime.
We utilize a floating liner that requires precise cutting with welpers. No set screw required.
Check your welding gun model and weld wire material for recommended liner type.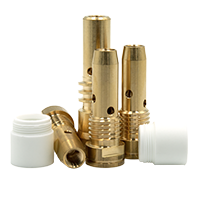 Diffusers and Insulators
Our air-cooled welding guns use a special combo diffuser/contact tip holder that lessens inventory needs and overall part spend.
For water-cooled models we have insulators in standard and high temperature versions to hold up against your most extreme demands.
Check insulators often to ensure no damage from torch abuse.
Yes! All ABICOR BINZEL welding guns are made to order and almost assuredly connect to your welding power supply.
We specifically make our welding guns to interface into industrial grade welding machines, so you if you use a hobbyist style mahcine (i.e., one that doesn't exceed 200 amp in rating), the power pin housing may not nestle into the rear connect (contact us for details).
Below is a list of the welding machine maker who we commonly are asked to fit into: 
Lincoln®
POWER MIG®
Lincoln 7 Style
Lincoln 10 External Gas Style
Hobart/Tweco®
ESAB Welders
Hobart Welders
European-style
All European style welding machines (EWM, Everlast, etc.)
Stop Using 30 Year Old Welding Gun Technology. Upgrade to a MIG Gun Made for the Modern Welder.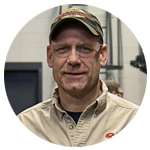 "The way the ABIMIG feels in your hand is lightweight, ergonomic, less stress on your wrist... and it's a bonus to have good consumables to go on the front end."
- Jameson Jalbert, Lead Welding Instructor, Lake Area Technical Institute
Lake Area Technical Institute - Watertown, SD
The award-winning Lake Area Technical Institute is more than just a welding school. It is a two-year master class in metalworking preparation.
When Lake Area Technical was looking to change MIG welding torches, they were searching for a solution that would enhance the student experience while creating superior value in terms of consumable life, safety, and comfort. They found it with the ABIMIG air-cooled line of torches.
In 2017 the welding school at Lake Area Technical has switched completely to the ABIMIG AT Lightweight MIG guns for their MIG welding leads.