Fume Extraction Should Do More Than Capture Weld Fumes.
It Should Actually Protect Your People.
Fume extraction solutions should focus first on your people.
That's why our solutions capture fumes at the source and keep them from spreading to your workforce.
Why Do I Need Fume Extraction?
Our guiding belief is that source capture fume extraction is the most effective means to limit weld fume exposure and protect your most valued asset: your people.
Source capture means that the weld fume is caught at the welding arc and filtered into a nearby fume extraction system. This limits the fumes ability to spread to other parts of the plant and expose workers.
This allows your plant to be cleaner, safer, and more productive in the end.
We emphasize the following within our fume extraction products:
High Static Pressure
Fume extraction systems use either high or low static pressure in their solutions.
High static pressure allow for solutions to be closer to the weld arc and catch higher concentrations of welding fume to limit the spread.
This is critical when welding at higher parameters, as the concentration of metal particulate is heavier as your weld power increases.
High static pressure keeps air from entering not just the breathing zone of the welder, but also from spreading to other parts of the plant and exposing other people on the shop floor.
We believe this is the most effective way to capture weld fumes, and design our fume extraction tools to work in this way.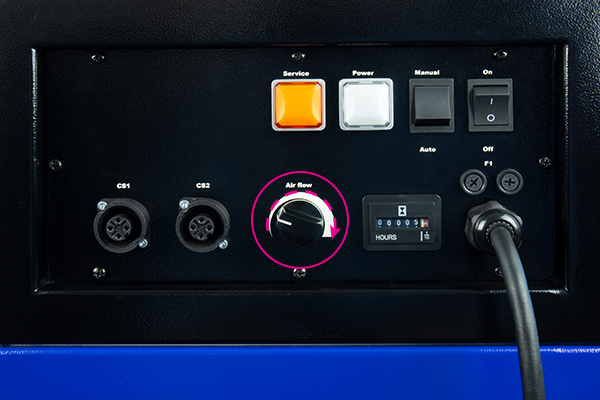 User-friendly
If your equipment is not easy to use, then it will be less efficient.
Everything from our fume extraction welding guns to our multi-station fume systems are made to be easy to operate and maintain using a minimal number of tools and using easy to check signals if a system is in need of maintenance.
In the past, the reputation of fume extraction welding guns was that they are heavy, bulky, and low performing in nature.
Today's fume extraction welding guns are just the opposite. They are made far lighter, are more ergonomic, and capture much more welding fume when paired with the right vacuum system.
Fume extraction systems of the past were also weaker and lacked modern technological advances.
Our systems today self-clean and use automatic start/stop features to save on energy costs and lessen wear and tear.
 
Welding Tool First
The most important function of a fume extraction solution is to not compromise the ability to weld.
We apply the same principles to our fume extraction solutions as we do our welding torches.
They are designed to improve welding production and capability and never take away from it.
Fume extraction torches from ABICOR BINZEL are made with the same attention to detail and use the same high quality, precision-machined consumabels as other BINZEL welding guns.
Features like swivel hoses, comfortable handle, and optimal triggers keep the welding tool comfortable to use so welders stay productive on the job.
We offer fume extraction solutions for manual and robotic welding applications. These solutions are designed to capture weld smoke right at the weld arc.
Depending on the processes used, the material in question, or the size of the part, the best fit for your fume extraction needs may vary.
Capture Fumes Where They Start and Not Where They Go
We care about protecting more than your welders
While your welders need protection, they also need to comfortably perform
Tailored torch configurations to match your production needs
All sorts of source capture options depending on weld positions
Cost-effective and safety forward 
The Old Ways of Robotic Fume Extraction Have Changed

Far more cost-efficient and flexible than hood or general ventiliation systems
More effective at capturing fumes right where they start
Easy to install and maintain
Doesn't keep your robot from performing
Extract fume on larger parts than can't be enclosed in a hood system
Don't Let a Stagnant System Keep Your Production from Being Flexible
Easily transportable and quiet operation
Powerful suction in a small footprint
Hook up 1 - 2 fume extraction guns
Easy to maintain, simple to operate
Energy-efficient design allows it to work only while welding
Maximize Source Capture. Minimize Maintenance.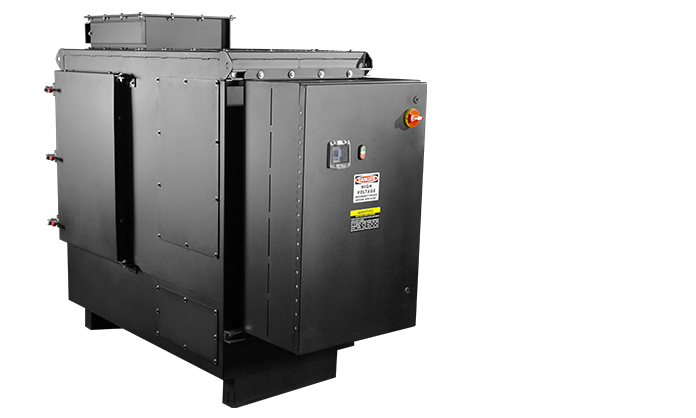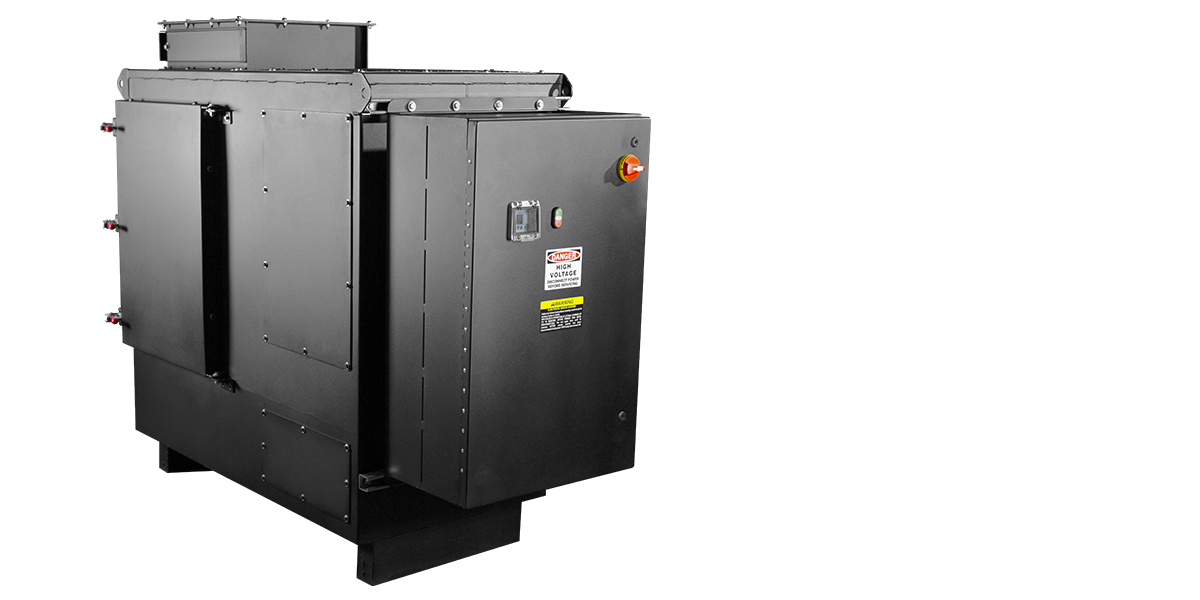 Massive filter and power capacity
Hook up 4 - 6 fume extraction guns or robotic kits with high suction
Plumb in ductwork or utilize a hose management system
Less maintenance, more safe welding
Semi-portable with forklift or power jack
Super Simple and Effective Weld Fume Control.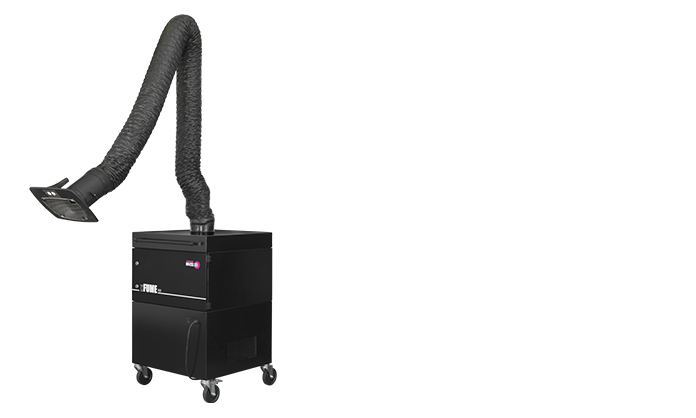 Wheel all around the shop to help fume capture
Ideal for bench work or TIG welding applications
Easy to position
Simple to operate
Cost efficient to use and maintain
Welding Fume is Very Dangerous to Industrial Workers
Weld fume consists of metal, process gas, and non-process gas to form a toxic air that rises, spreads, and is easily inhaled.
A study from IARC, the International Agency for Research on Cancer, classified weld fume as a Class I carcinogen in 2017, meaning welding fume is a known cause of cancer.
Local and national governments are increasingly enforcing more stringent air quality requirements to protect industrial workers.
A cleaner and safer environment not only protects industrial companies from liability, but it helps your workforce be more productive and attracts quality people to your company.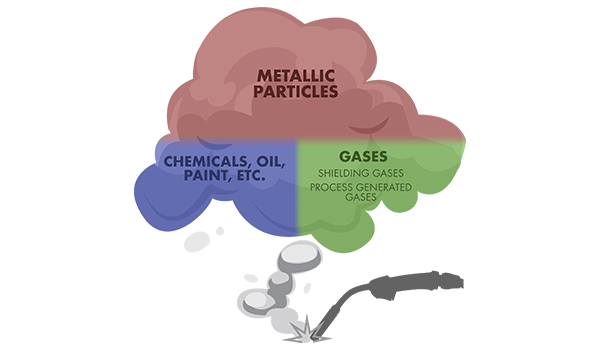 The Closer to the Arc Weld Fume is Captured, the Less it Spreads
Many of the more well-known fume extraction solutions are positioned far away from the source of the weld fume.
These measures do a good job of funneling out dirty and hazardous weld smoke, but are not able to protect the welder directly.
However, these solutions fit too far between the worker and the weld fume to protect them from breathing in these dangerous fumes.
As engineered solutions catch weld fumes closer to where it begins, the ability to limit it's spread increases.
This is why our solutions focus heavily in the most concentrated areas, where they can make the greatest impact, often at a lower cost.
Weld Fume is Best to Address at the Welding Arc
Fume extraction welding guns are not new technology. But the way they work today is.
Modern engineering has allowed us to know more about the type of static pressure needed to effectively capture weld fume depending on your parameters and your welding process.
The more restriction and the higher the parameter = the more suction power you need.
This means you need to have an adequate amount of pressure to capture those concentrated weld fumes without affecting shielding gas and without compromising the welder. Enter ABICOR BINZEL xFUME extractoion.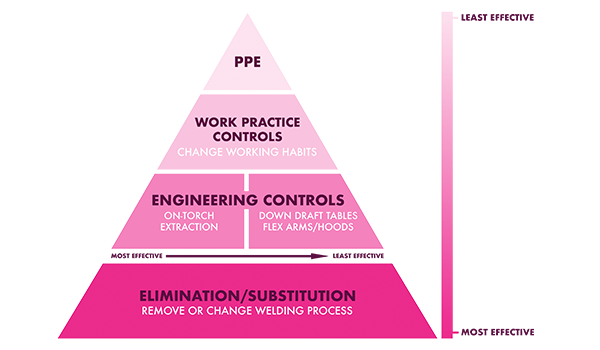 Which Fume Shroud is Best?
Product Overview: xFume™ Fume Extraction MIG Torch
There's usually a question of whether all that additional design and engineering that goes into these fume guns affect the performance of the gun itself. 
Is there a loss of amperage? Will it fatigue my welder more? We answer those concerns below.
Get started and talk with an ABICOR BINZEL Fume Solutions expert.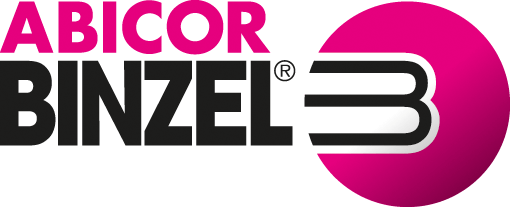 ABICOR BINZEL USA, Inc.
650 Medimmune Ct., Suite 110
Frederick, MD 21703
Google Maps
001-301-846-4196
ABICOR BINZEL world-wide - everywhere at your side ...