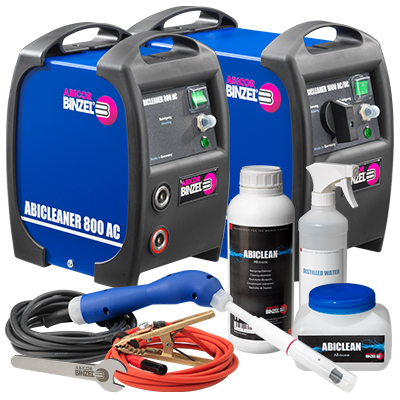 Material surfaces such as stainless steel are highly sensitive - making cleaning and finishing welds a challenge.
An alternative to pastes, grinding tools, and other abrasives; the ABICLEANER removes unattractive tarnish by gently removing the oxidation layer on the weld. The ABICLEANER is suitable for polishing most metal surfaces.
ABICLEANER Features and Benefits:
Gentle carbon fiber brush made of over 1.5 million filaments
Fast and effective electrochemical process
Safer - free of hydrofluoric acid
Only one fluid necessary for both cleaning and polishing
100% duty cycle at full power rating
How it works
Electrochemical cleaning uses micro-arcs to remove welding residues from metal surfaces after welding and passivates the surface at the same time. For this purpose, a carbon fiber brush wetted with electrolyte at the ends is moved over the workpiece as more than one million micro arcs are generated.
The carbon fiber principle in combination with the powerful equipment technology in the ABICLEANER is a reliable electrochemical cleaning process for all industrial applications and weld seams.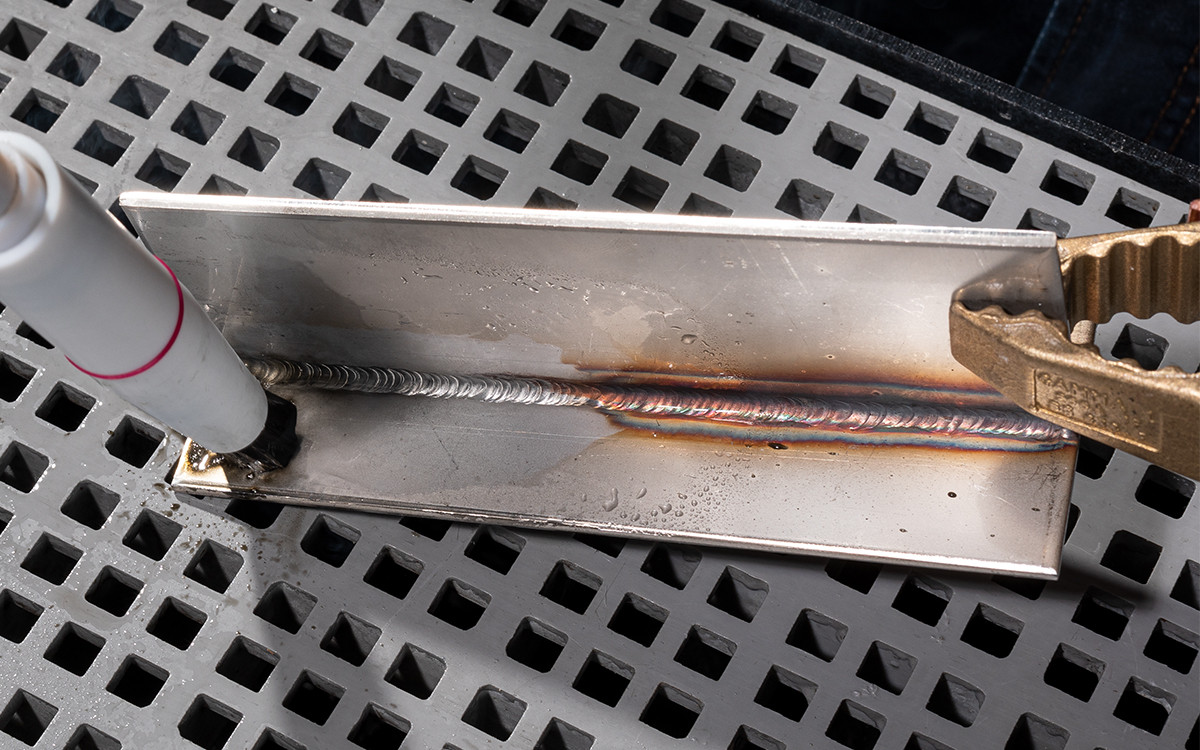 ABICLEANER Features at a Glance:
ABIBRUSH Carbon Fiber Brush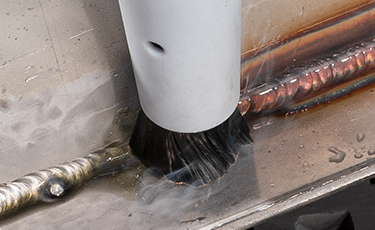 The ABIBRUSH carbon fiber brush has around 1.5 million very fine filaments, which make it possible to get into narrow or difficult-to-access gaps or corners. The length of the brush bristles can be varied depending on the application.
Only genuine ABICOR BINZEL brushes will have magenta fibers in the center of the brush. 
ABICLEAN All-in-one Cleaning Electrolyte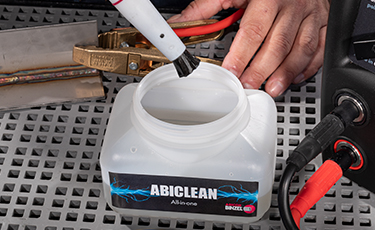 The all-in-one electrolyte cleaning solution ABICLEAN is user-friendly, replacing the often required extra cleaning solutions, solutions for weld seam preparation and those for post-processing – all in one product. After treatment, solvent residues are simply rinsed off with water. Suitable for surface cleaning and polishing.
Ergonomic Brush Handle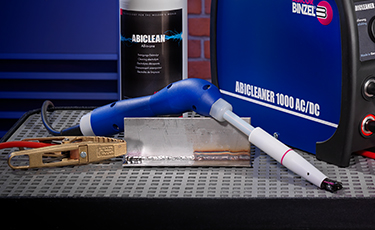 The ABICLEANER handle's ergonomic shape prevents user fatigue, making it easier to work continuously with the brush.
The threaded piece on the handle and the brush adapter are made of high quality stainless steel (1.4571) and are corrosion-resistant.
Technical Specifications
Technical data (EN 60974-7):
Type:

ABICLEANER 800 AC

ABICLEANER 1000 AC/DC

Power:
800VA
1000VA
Mains Voltage:
120V/60Hz
120V/60Hz
Secondary Voltage:
8.7VAC
9.8VAC/12VDC
Permitted Ambient Temperature
41 - 131°F (5 - 55°C)
41 - 131°F (5 - 55°C)
IP Protection Type:
IP43

IP21

Dimensions (L x W x H)

8.66 x 5.9 x 9.84in

(220 x 150 x 250mm)

12.6 x 5.9 x 9.84in

(320 x 150 x 250mm)

Cleaner Weight
10.80lbs (4.9kg)
16.53lbs (7.5kg)
Cleaner & Accessories Weight
25.35lbs (11.5kg)
30.86lbs (14kg)
Note: ABICLEAN solution does not contain hydrofluoric acid like conventional pickling agents used to clean weld seams. Transport, storage, use, and disposal are harmless.
Catalog, Ordering Chart, & Manuals
Are You Ready to Feel the BINZEL Welding Difference?
Get started today and see what the combination of a welder-forward design, premium consumable profile, and ergonomic handle design can get you on work productivity and welder satisfaction.
You can schedule an in-person demonstration of our welding gun solutions, get a quote based on your unique needs and welding parameters, or contact us for additional information.
Want to speak to someone immediately? Call us at 800-542-4867.