Welding cells for an easy start into robot welding
Robotic welding cell KUKA cell4_arc compact powered by ABICOR BINZEL
The easy start into robot welding for small and medium-sized businesses
Qualified welders are increasingly difficult to find, customers drive down costs and, at the same time, demand is increasing while the competition is constantly on the heels. For small to medium-sized companies that only manufactured by manual welding so far, the current situation is a great challenge and literally calls for automation in production. Most of them consider the acquisition of a robotic welding cell as a great challenge – understandably.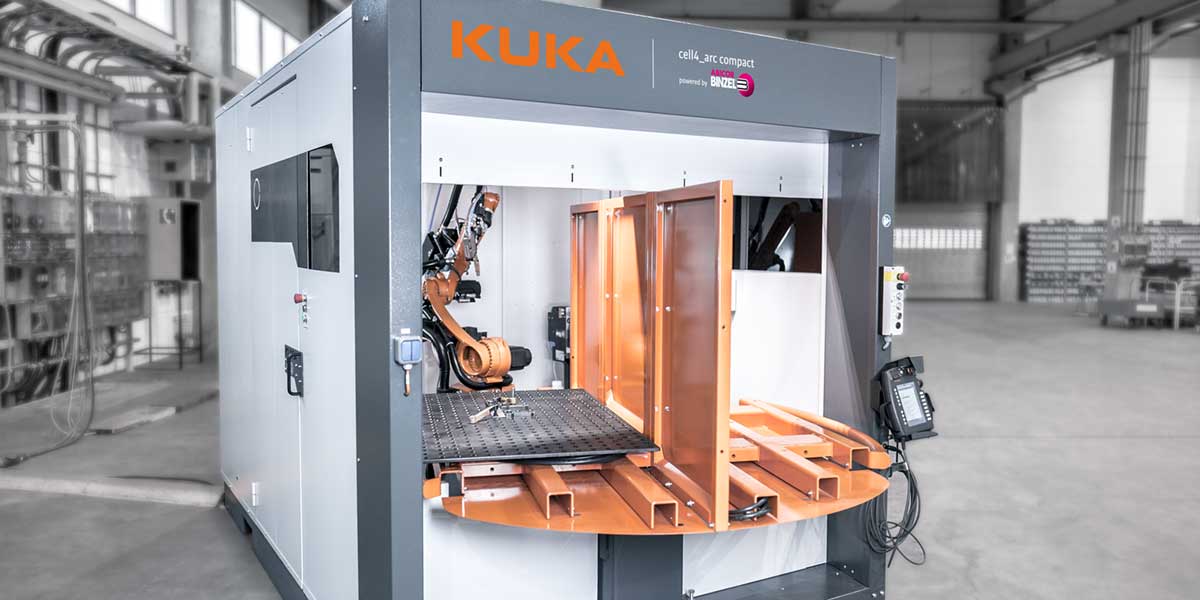 Investing in a welding robot or a robot welding cell raises questions such as:
How can we integrate a welding robot into our production?
Which robot solution is the best for our requirements?
Does a robot pay off for welding small series?
Is there a welding cell solution that is easy to integrate?
What are the costs for a welding robot?
With the KUKA cell4_arc compact powered by ABICOR BINZEL robot welding cell, a reliable and at the same time simple system solution has been developed that makes it easy for small to medium-sized companies to get started with robot welding.
All information at a glance
When is it worth purchasing a welding robot or welding cell?
Small and medium-sized manufacturing companies will at some point have reached a point where the question is no longer whether to invest in automation, but rather when and how. Those who previously managed welding work only with manual welders now find themselves in a dilemma for various reasons:
The order volume is increasing, but there is a lack of professionally qualified welders
There are increasing orders for the production of small parts series
The quality of the weld seam suffers from monotonous and straining welding work
The cost pressure is increasing and orders are in danger of being lost
It is becoming more and more difficult or even impossible to complete orders in the desired time frame
Manual welders are reaching their limits, sick leave increases
If one or more of these facts apply, investing in an industrial robot for welding – especially a robotic welding cell – definitely makes sense.
Automation solution with a small footprint
Placing a robot in a production hall, which is usually quite cramped, can be a hurdle. The system solution for automated inert gas welding, KUKA cell4_arc compact powered by ABICOR BINZEL, requires comparatively little space in all three versions. The smallest version KP1M single KR, for example, has a footprint of 3.98 x 2.37 m at a height of almost 2.50 m and is equipped with very high-quality components. All three automation solutions can be moved with a forklift and repositioned if necessary.
| | | | |
| --- | --- | --- | --- |
|   | | | |
| KUKA cell4_arc compact | KP1M single KR | KP1A single KR | KP5 single KR |
| Length | 3.980 mm | 5.285 mm | 5.285 mm |
| Width | 2.365 mm | 2.365 mm | 2.365 mm |
| Height | 2.445 mm | 2.445 mm | 2.445 mm |
| Total weight | approx. 2.600 kg | approx. 3.200 kg | approx. 4.000 kg |
Robot power source iROB® –
welding beyond general limits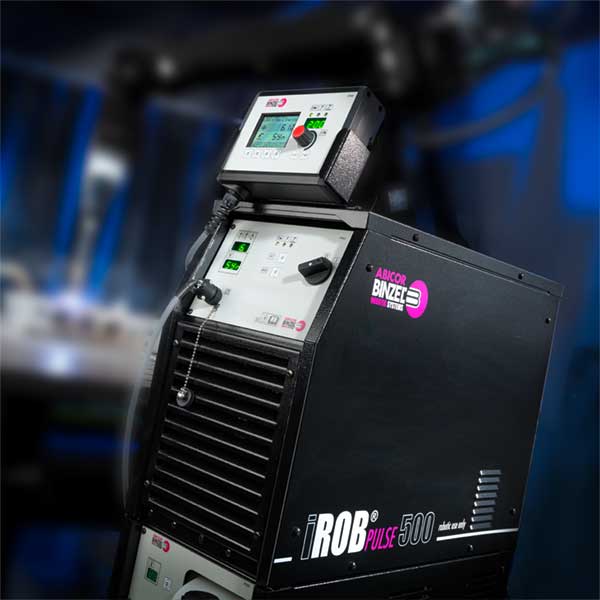 The iROB® robot power source guarantees stable communication with the robot and its simple operation is optimally matched to the KUKA cell4_arc compact powered by ABICOR BINZEL. It has very robust pulse technology for continuous use and a complete set of pre-set characteristics for all common materials. It is also possible to change jobs while welding.
Robot welding torch ABIROB® W 500 –
robust und reliable
Its excellent cooling capacity makes this liquid cooled robot welding torch of the ABIROB® series a reliable quality product from ABICOR BINZEL. The screw-on gas nozzle and the exchangeable contact tip holder support a long service life, for which this type of robot torch has proven itself in the market for over ten years. Other torch neck lengths and bending angles are available as standard.
Robot mount CAT3 PRO –
for highest TCP stability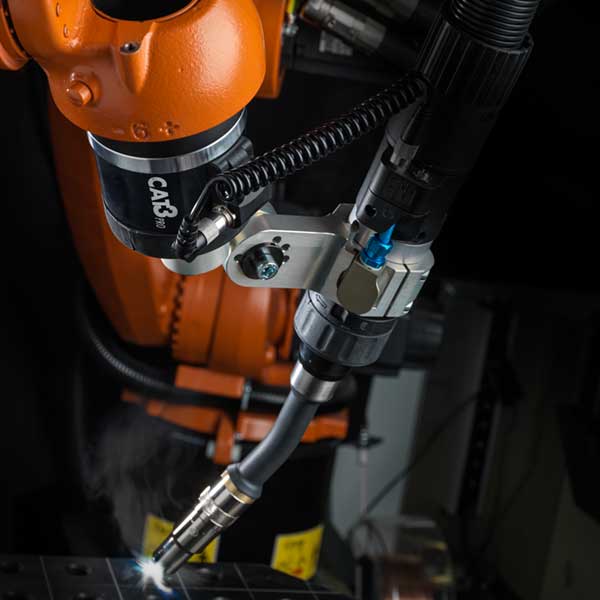 Costly repairs and early torch replacement in the welding cell are realiably avoided with the CAT3 PRO robot mount. It is robust in design, easy to install and also extremely well protected against dirt. If a collision occurs with large quantities and high cycle times, the system switches-off immediately, and thus reliably protects all of the equipment. Thanks to its unique reset accuracy, it offers exact TCP stability.
Torch cleaning station TCS Compact –
better welding process reliability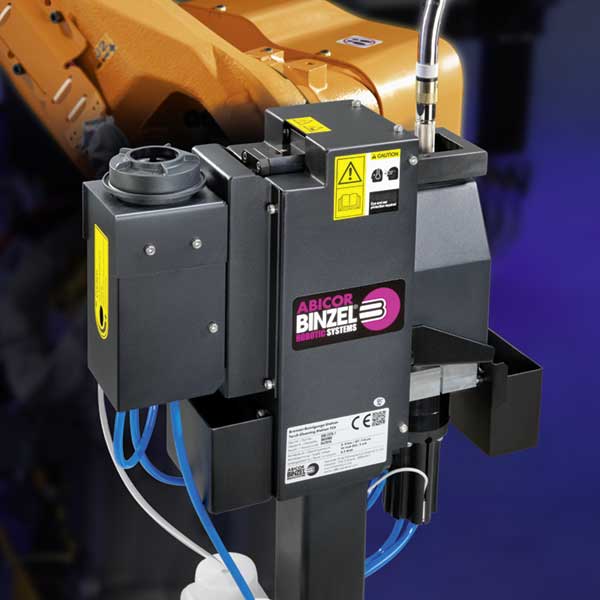 Cleaning intervals for wear parts such as gas nozzles, contact tips etc. extend the service life of a robot welding torch and ensure system availability. The TCS Compact torch cleaning station automatically takes over the regular cleaning and preparation of the wear parts with anti-spatter spray and also cuts the wire with a sharp cut for a safe start of the arc.
Gas Management System EWR 2/EWR 2 Net –
economical welding and CO2 reduction
The gas management system EWR 2/EWR 2 Net always enables optimal and constant shielding gas coverage with up to 60 % savings in shielding gas consumption. By installing one of these devices, the volume flow is regulated synchronously with the welding current and even leaks or other obstacles in the gas flow are automatically compensated. The use of the EWR 2/EWR 2 Net actively ensures a reduction in CO2 emissions from the very first second – for the sake of the wallet and the environment.
Seam tracking sensor TH6D/TH6i –
the eye of the robot
Inaccuracies in the tolerances or the weld joint in the case of displaced components are recorded with these seam tracking sensors and balanced directly. With the »eye of the robot« faulty welds and expensive reworking or even rejects are excluded, so that the acquisition costs of a TH6 amortise within a very short time.  
Fume extraction system xFUME® ADVANCED & xFUME® ROBO fume extraction kit –
for assured health and safety at work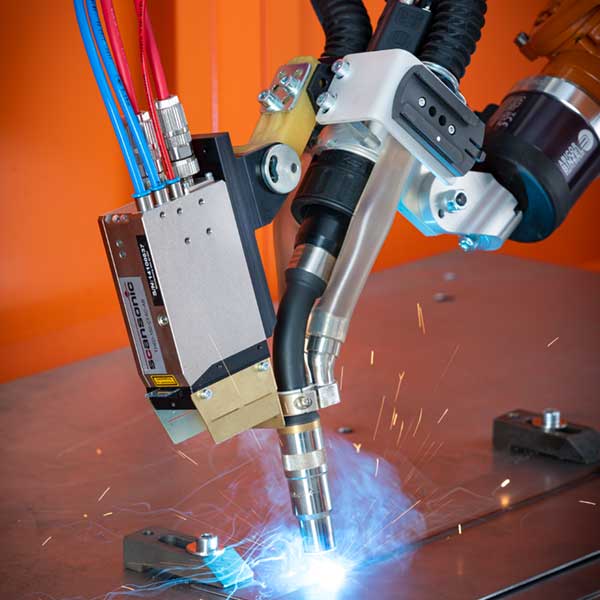 The inexpensive system solution for healthy air at the workplace, in order to collect welding fume where it is generated. The xFUME® ROBO extraction kit, which is mounted on the torch neck, captures the harmful fumes directly at the process through extraction at the source and forwards them to the xFUME® ADVANCED fume extraction unit. There the harmful particles are filtered out and the cleaned air is then released back into the environment. An inexpensive and professional solution for guaranteed health and safety at work when welding.
Welding cell equipment with KUKA components
KUKA welding robot and positioner especially for the production of small parts.
KUKA welding robot
The main features of the KR10 R1440-2 CYBERTEC nano are the slim design, compact size and high precision, which makes it an ideal welding robot for this automation solution. Its extremely high repeatability of 0.04 mm is a great advantage, especially at high work speeds. For further information and technical details, please refer to the product documentation.
KUKA positioner
Positioners simplify the automated welding of small components by picking up the component and holding it in one position for the welding process. Depending on the version of the KUKA cell4_arc compact powered by ABICOR BINZEL, a manual or automated rotary table or a 5-axis positioner are used.
Optional welding cell equipment by KUKA
Innovative programming and robot control through manual approach and subsequent push of a button. Robot programming can be that easy.
Navigation system ready2_pilot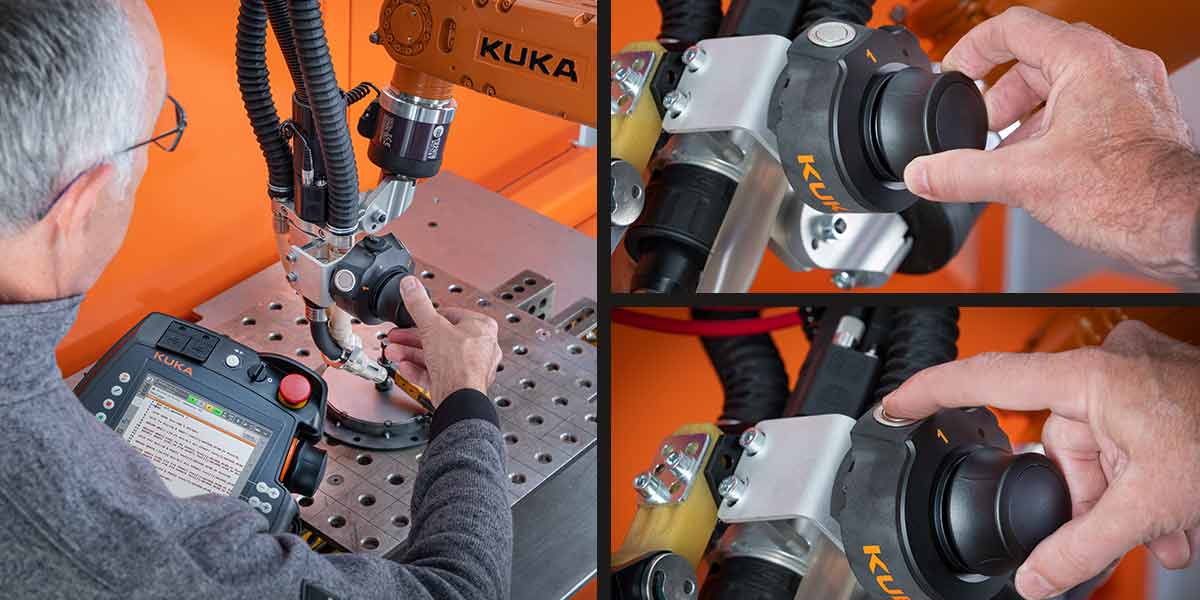 This little extra feature makes it possible to move and thereby teach the welding robot in a user-friendly and intuitive manner. It is ready for use within a very short time. With an attachable so-called 6D mouse used as a navigator, the robot can be easily moved to the desired position – just as if you were welding yourself. In this way, process and path points are saved at the push of a button and converted into commands by the KUKA smartPAD manual control unit. At this point the welding robot has learned the process sequence and can follow its precise welding paths.
For more information and technical details please refer to the product documentation.
Smart welding cell system solution for metal fabricators
Programming industrial robots without a training course