ABICOR BINZEL positioning bands
The smart solution for orbital welding systems
If pipes are to be welded semi-automated, suitable guide rails are also part of the equipment or the complete system in addition to the orbital welding tractor including welding torch and wire feed. These so-called positioning bands are stretched around the pipe and serve as a guide for the automatic welding tractor. Their function is to guide the orbital welding tractor with low friction, smoothly and precisely around the pipe. The robust and long-lasting positioning bands from ABICOR BINZEL enable pipe welding companies to have vibration-free automatic welding guidance on pipes with small diameters (6.625 "–12.75") up to pipes with large diameters without maximum diameter restrictions (50 "–∞).
Positioning bands are always specially manufactured to match the pipe diameter. There are almost no limits to the size. Small bands start for example at ø 160 mm (6.625 ") and go up to ø 300 mm (12.75"), medium sized bands range from 400 mm (16 ") to ø 700 mm (28"). Large sizes cover diameters from 800 mm (30 ") to ø 1400 mm (56").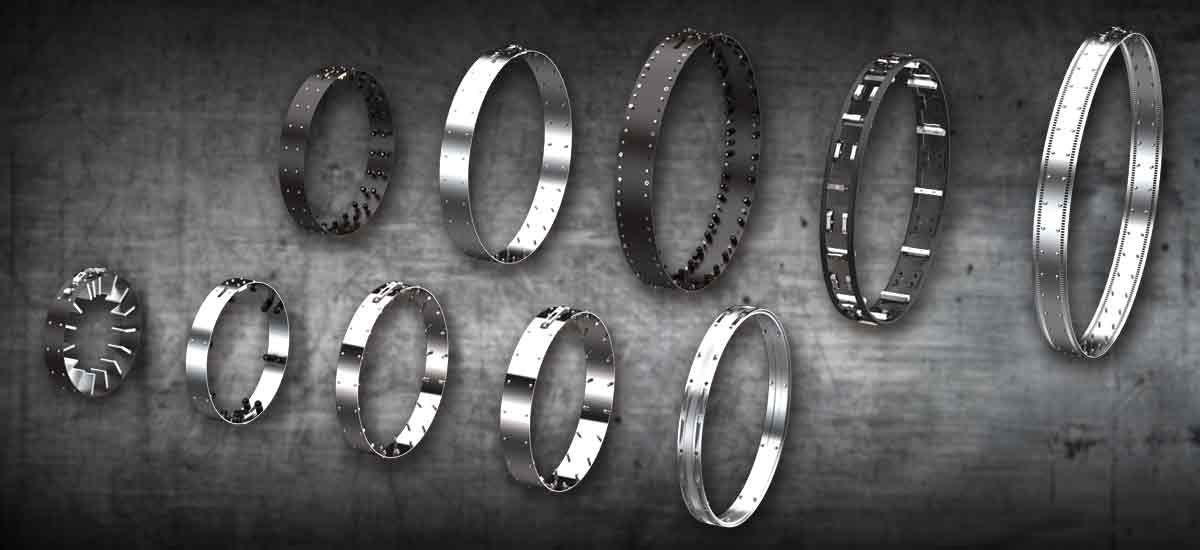 Other factors are considered for the configuration of positioning bands. These are:
Outer pipe diameter
Coating of the pipe
Environmental conditions
Is the pipe is preheated or not
Important:
There are no standard guide rails. Each one is manufactured individually to match the corresponding orbital welding tractor, the application and the respective pipe diameter.
Positioning bands resp. guide rails from ABICOR BINZEL guarantee a long service life with a high duty cycle and are manufactured on precision machines with the highest possible quality.
Positioning band resp. guide rail design
The main components of a positioning band – regardless of its diameter – are laser-cut band strips made of spring steel, stainless steel or duplex steel. Depending on the place of application, like in an environment with salty air or strong weather influences for example, guide rails can also get a special surface treatment by black oxide finishing or chemical or galvanic nickel plating.
Positioning bands with a smaller diameter of up to approx. 300 mm (12.75 ") also require a hinge so that they can be opened and closed easily. Guide rails with a larger diameter from 1270 mm (50 ") consist of two or more shell segments, all medium sizes between 355 mm to 1220 mm (14" -48 ") have a closed ring.
Which positioning band for which pipe?
How to find the right guide rail or the right positioning band for a pipe must be considered individually. In addition to the pipe size, the type and the equipment of the automatic welding tractor, also factors like base material, coatings and the choice of hinges and spacers play a role in how the ultimately required positioning band should be. The best way is to contact an ABICOR BINZEL expert who can configure the right band for your application.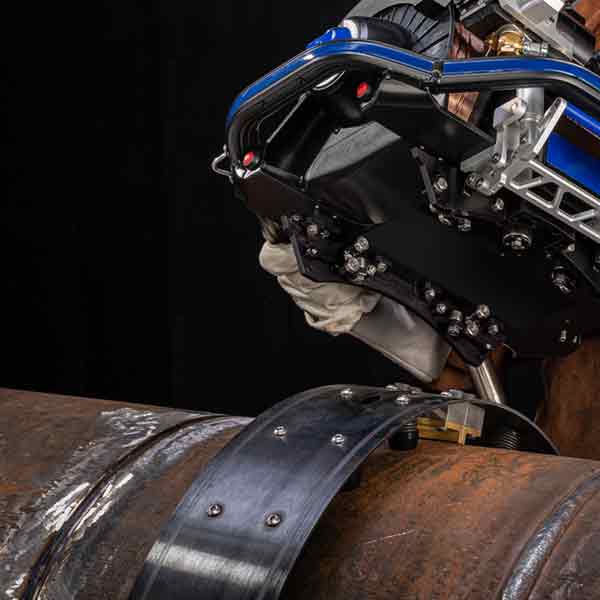 Guide rail hinges & latches
Hinges and latches
Small positioning bands are equipped with an additional hinge for easy opening and closing. In order to compensate for possible pipe expansions when the pipes are preheated to welding temperature, the closures can also be equipped with a spring. This so-called spring lock guarantees a proper, play-free and perfect fit of the positioning band on the pipe.

Spacers
There are different stand-offs depending on the application and type of guide rail or positioning band. The stand-offs also differ in shape and structure:
Solid aluminum stand-offs in square block form (standard) – good hold and conductivity
Solid aluminum stand-offs provided with a radius – for precise, punctual support on sensitive surfaces for example
Stand-off with spacer sleeve and cap nut, screwed – good conductivity
Stand-off with spring – when the positioning bands are closed, they also compensate for any expansion of the pipe when it is preheated
Combination of the above mentioned stand-offs at different heights – for example to compensate for a PE coating if the pipe is already coated

Advantages of ABICOR BINZEL positioning bands
The precision guide rails and positioning bands from ABICOR BINZEL are manufactured on the basis of many years of market knowledge in orbital welding using high-tech processes. They are resistant to wear and tear and guarantee a correspondingly long service life.
Positioning bands from ABICOR BINZEL are individually manufactured, every order is unique. Contact our sales team directly if you want to buy positioning bands or guide rails. We are happy to support you with your individual solutions.