TCS-FP Torch Cleaning Station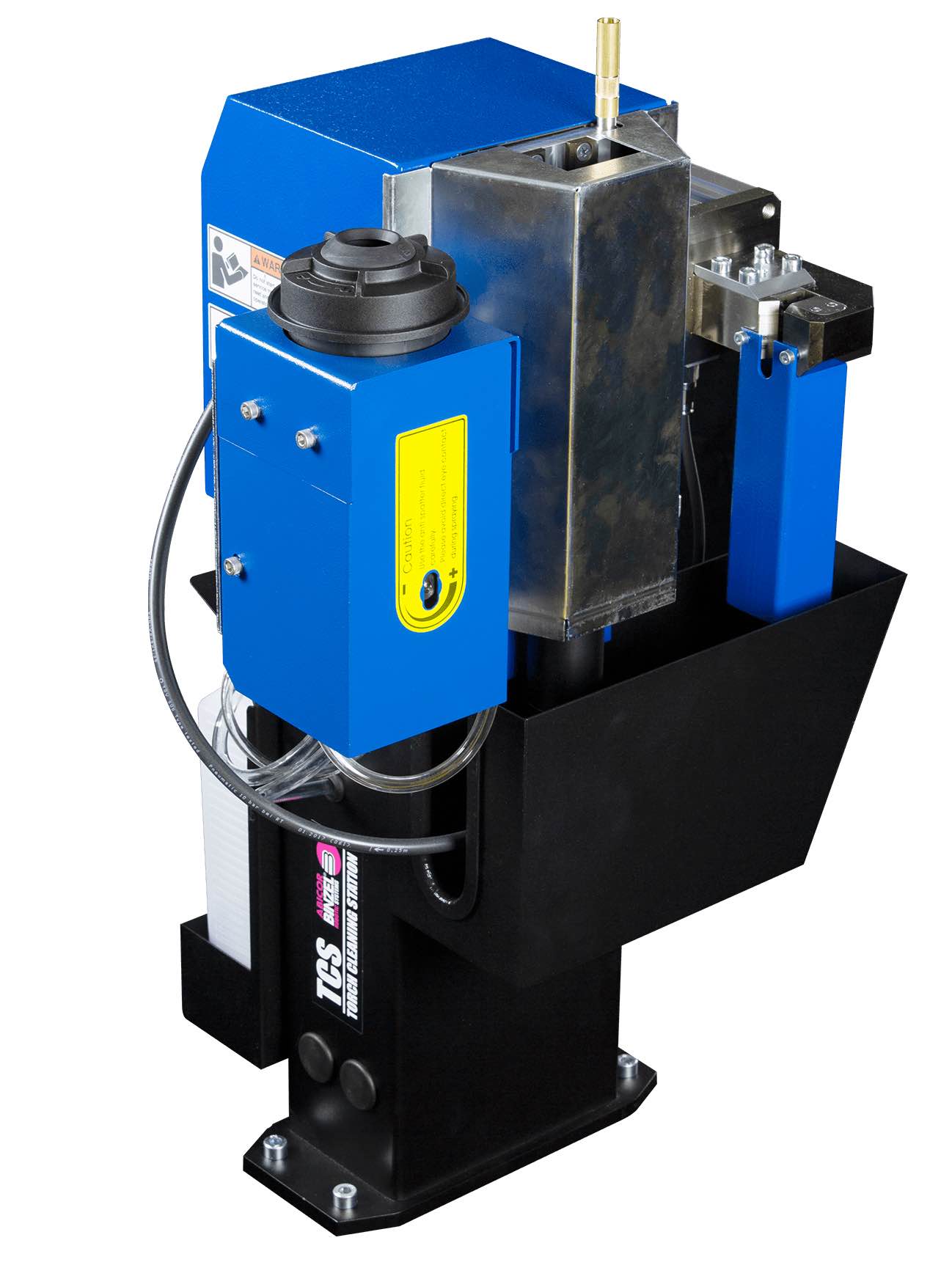 The Full Package in Robotic Welding Torch Maintenance
The all-in-one TCS-FP from ABICOR BINZEL is a true plug-and-play solution for robotic welding torch maintenance. Featuring a single-point connector system, the TCS-FP comes equipped with catch tray covers on the reamer blade and wire cutting station for a cleaner, more efficient reaming cycle.
The anti-spatter injection unit for the TCS-FP is a new pneumatic-based application that eliminates the need for a solenoid and allows for activation via the robot's motion.
The protective covering around the injector improves coverage to the welding nozzle and collects more overspray.
TCS-FP Features and Benefits:
Solenoids integrated into station stand for improved protection and easy access
Single point connector for a true plug-and-play torch cleaning solution
Optimized module stand height for simpler access and easier placement in the weld cell
Anti-spatter Injector easily adjustable and able to be maintained tool-free
Future Fieldbus integration available soon
TCS-FP Features at a Glance:
Nozzle Reaming & Clamp set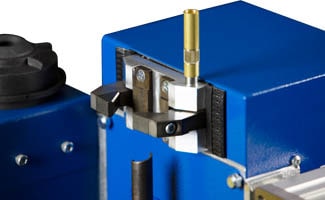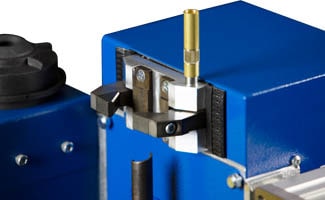 Reamer blade especially suited to the welding torch nozzle with clamp sets available for each nozzle diameter. A strong, high-quality air motor powerfully cleans debris from the nozzle for a reliable process.
Wire Cutting Station WCS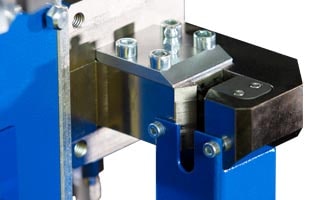 Unique clamp and shear wire cutting motion gets a cleaner cut and better arc starts. This method allows for more reliable arc starts throughout the process. Simple reprogramming every 10,000 cuts gives the wire cutter up to 50,000 cuts.
Anti-spatter Injector TSi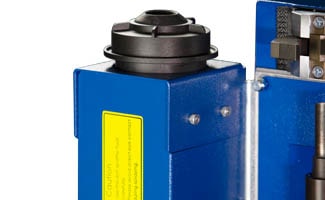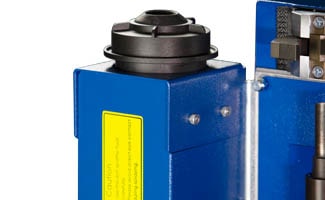 A simple, motion activated design allows for anti-spatter application via the robot motion. Highly efficient unit is easily adjustable, produces low consumption, is cleaner and environmentally friendly, and can be maintained without tools.
TCS-FP Features in Detail
Turck Connection Cable
| | |
| --- | --- |
| Description | Part Number |
| 5m Turck Connection Cord | 175.0819 |
Reamer Blades & Clamp Sets
ABIROB W 300 | ABIROB W 500 | ABIROB W 600

NOZZLE NO.
INNER-Ø / LENGTH
REAMER BLADE
CLAMP SET

145.0592

16 mm / 68 mm
831.0487
831.0166

145.0593

16 mm / 70 mm
831.0487
831.0166

145.0594

16 mm / 65 mm
831.0589
831.0166

145.0595

14 mm / 68 mm
831.0592
831.0166

145.0596

14 mm / 70 mm
831.0592
831.0166

145.0597

14 mm / 65 mm
831.0593
831.0166

145.0599

13 mm / 68 mm
831.0604
831.0166

145.0601

13 mm / 65 mm
831.0604
831.0166
Return to Top
NOZZLE NO.
INNER-Ø / LENGTH
REAMER BLADE
CLAMP SET

145.0580

16 mm / 75 mm
831.0488
831.0148

145.0581

16 mm / 77 mm
831.0487
831.0148

145.0582

16 mm / 72 mm
831.0591
831.0148

145.0589

13 mm / 75 mm
831.0180
831.0148

145.0590

13 mm / 77 mm
831.0180
831.0148

145.0591

13 mm / 72 mm
831.0169
831.0148

145.0586

14 mm / 75 mm
831.0592
831.0148

145.0587

14 mm / 77 mm
831.0592
831.0148

145.0588

14 mm / 72 mm
831.0593
831.0148

145.0583

16 mm / 75 mm
831.0488
831.0148

145.0584

16 mm / 77 mm
831.0488
831.0148

145.0585

16 mm / 72 mm
831.0591
831.0148
Return to Top
NOZZLE NO.
INNER-Ø / LENGTH
REAMER BLADE
CLAMP SET

145.0495

13 mm / 44.5 mm
831.0180
831.0147

145.0564

16 mm / 48.5 mm
Contact Us
831.0147

145.0494

16 mm / 44.5 mm
831.0576
831.0147
Return to Top
NOZZLE NO.
INNER-Ø / LENGTH
REAMER BLADE
CLAMP SET

145.0479

13 mm / 75.5 mm
831.0413
831.0147

145.0556

13 mm / 77.5 mm
831.0413
831.0147

145.0466

16 mm / 72 mm
831.0216
831.0147

145.0568

16 mm / 72.5 mm
831.0216
831.0147

145.0553

16 mm / 75.5 mm
831.0023
831.0147

145.0544

16 mm / 75.5 mm
831.0023
831.0147

145.0480

16 mm / 77 mm
831.0023
831.0147
Return to Top
NOZZLE NO.
INNER-Ø / LENGTH
REAMER BLADE
CLAMP SET

145.0689

18 mm / 92 mm
831.0162
831.0781

145.0686

21.5 mm / 86 mm
831.0747
831.0781

145.0687

21.5 mm / 86 mm
831.0763
831.0781

145.0688

21.5 mm / 95 mm
831.0764
831.0781
Return to Top
NOZZLE NO.
INNER-Ø / LENGTH
REAMER BLADE
CLAMP SET

145.0090

15.5 mm / 62 mm
831.0022
831.0146

145.0135

13 mm / 62 mm
831.0361
831.0146

145.0472

15.5 mm / 57 mm
831.0237
831.0146

145.0473

13 mm / 57 mm
831.0356
831.0146

145.0547

13 mm / 59 mm
831.0356
831.0146

145.0159

11 mm / 62 mm
Contact Us
831.0146
Return to Top
NOZZLE NO.
INNER-Ø / LENGTH
REAMER BLADE
CLAMP SET

145.0480

15.5 mm / 77 mm
831.0023
831.0147

145.0544

15.5 mm / 75.5 mm
831.0023
831.0147

145.0466

15.5 mm / 72 mm
831.0216
831.0147

145.0479

13 mm / 75.5 mm
831.0413
831.0147

145.0553

15.5 mm / 75.5 mm
831.0023
831.0147

145.0554

15.5 mm / 85.5 mm
831.0023
831.0147

145.0561

20 mm / 70 mm
831.0369
831.0147

145.0520

15.5 mm / 67 mm
831.0021
831.0147

145.0668

15.5 mm / 75.5 mm
831.0023
831.0147
Return to Top
NOZZLE NO.
INNER-Ø / LENGTH
REAMER BLADE
CLAMP SET

145.0689

18 mm / 92 mm
831.0162
831.0159

145.0687

21.5 mm / 86 mm
831.0763
831.0159

145.0688

21.5 mm / 95 mm
831.0764
831.0159

145.0686

21.5 mm / 92 mm
831.0747
831.0159
Return to Top
NOZZLE NO.
INNER-Ø / LENGTH
REAMER BLADE
CLAMP SET

145.0574

18 mm / 84 mm
831.0587
830.0781

145.0575

21.5 mm / 84 mm
831.0547
830.0781

145.0606

18 mm / 82 mm
831.0587
830.0781
*V-Blocks for TCS Compact serial numbers below 30017428749 use Part No. 830.2161 for WH 652T Nozzles. Contact Technical Support for details.
Return to Top
Technical Specifications
General data
Total weight:

approx. 23 kg/50.7 lbs

Ambient temperature:

+ 5°C to + 50°C

Relative humidity:
Up to 90 % at 20 °C
Dimensions

11.8 in x 13.8 in x 25.6 in

300 mm x 350 mm x 650 mm
Pneumatic distributor block
| | |
| --- | --- |
| Connection OD: | min. Ø 6 mm or 1/4 in |
| Nominal pressure: | 6 bar / 90 psi |
| Operating pressure: | 6–8 bar / 90-120 psi |
Pneumatic motor
| | |
| --- | --- |
| Pnuematic motor / nominal speed with oiled air: | Approx. 650 rpm at 6 bar / 90 psi |
| Air consumption: | Approx. 400 l/min |
| Container (anti-spatter fluid): | 1 liter |
| Air supply connection: | Inner width 6 mm or 1/4 in |
| Maximum torque: | 8 Nm |
Electrical connections
| | |
| --- | --- |
| Operating voltage: | 24 VDC / 15 W |
| Permitted range: | 20 - 30 VDC |
| Permitted residual ripple: | Vss <10% |
Electrical connections - Two 5/2 internal directional valves
| | |
| --- | --- |
| Actuation: | 24 VDC |
| Power consumption per valve: | 2.8 W |
Electrical connections - One 5/2 external directional valve for Wire Cutting Station
| | |
| --- | --- |
| Actuation: | 24 VDC |
| Power consumption per valve: | 2.8 W |
Anti-spatter injection unit
| | |
| --- | --- |
| Bottle capacity: | 1 liter |
| Operating pressure: | Max. 6 bar / 90 psi |
| Maximum actuation time: | 4 seconds |
| Anti-spatter fluid consumption: | Depends on desired dosage |
Wire cutter
| | |
| --- | --- |
| Cutting capacity: | 6 bar |
| Solid wire: | Up to 1.6 mm / .062" |
| Cutting time: | 1 second |
Catalog & Operating Manual