TCS Compact Nozzle Cleaning Station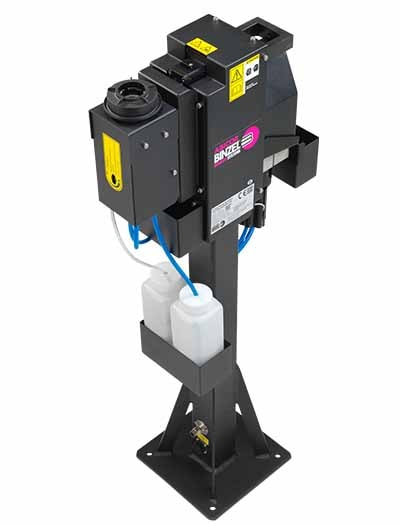 Economical Robotic Welding Torch Maintenance
The state-of-the-art torch cleaning station TCS Compact from ABICOR BINZEL allows for quick and easy installation to practically all robot brands and types, top reliability and long performance life thanks to high-quality components, environmental friendliness, and workshop safety by fully enclosed maintenance functions.
Ensure process stability in robotic welding with the TCS Compact's preventive torch cleaning, wire cutting, and anti-spatter spraying. Get your robotic weld cell quick and effective gas nozzle cleaning for a reliable welding process and an increase in plant availability – torch maintenance at it´s best!
TCS Compact Features & Benefits:
Powerful high-quality air motor thoroughly cleans the welding gun nozzle in a ream cycle
V-block suited for each nozzle diameter holds nozzle securely
Reliable pin and cut wire cutting device produces a sharp repeatable cut for a clean arc start
Full covered anti-spatter injector produces a full anti-spatter coat in an eco-friendly design
Highly efficient anti-spatter spray function performed by simple robot activation
Maintenance-friendly anti-spatter injector able to be serviced tool-free
TCS Compact Features at a Glance: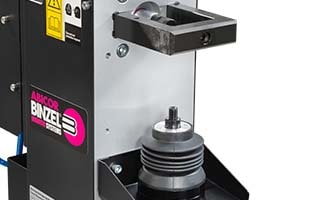 A powerful air motor and durable reaming blade give the robotic torch a thorough cleaning and clearing of spatter. The motor and reamer blade are housed to protect from dirt and dust.
Wire Cutter & Anti-spatter Injector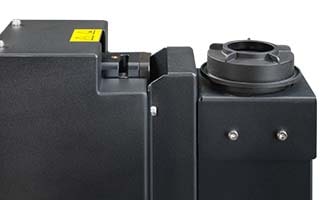 The TCS Compact wire cutter unit uses a strong and reliable cutting device that sharply cuts the welding wire. Plunger style anti-spatter injector is motion activated and low consumption.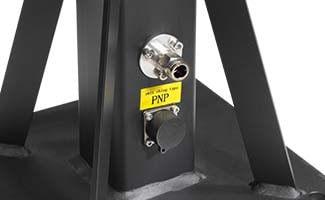 The simple Plug and Play connector of the TCS Compact allow for a single point of connection to operate the electrical outputs. Connect to compressed air and you're ready to go.
TCS Compact Product Videos:
TCS Compact Product Overview
TSi Anti-spatter Injector Application for TCS Compact
TCS Compact Part Numbers
| | |
| --- | --- |
| DESCRIPTION | PART NUMBER |
| TCS Compact Long Stand with 5m cable | 830.2376.1 |
| TCS Compact Short Stand with 5m cable | 830.2366.1 |
TCS Compact Replacement Parts
ABIROB W 300 | ABIROB W 500 | ABIROB W 600

NOZZLE NO.
INNER-Ø / LENGTH
REAMER BLADE
V-BLOCK

145.0592

16 mm / 68 mm
830.2165
830.2358

145.0593

16 mm / 70 mm
830.2165
830.2358

145.0594

16 mm / 65 mm
830.2165
830.2358

145.0595

14 mm / 68 mm
830.2207
830.2358

145.0596

14 mm / 70 mm
830.2207
830.2358

145.0597

14 mm / 65 mm
830.2207
830.2358

145.0599

13 mm / 68 mm
830.2199
830.2358

145.0600

12 mm / 70 mm
830.2199
830.2358

145.0601

13 mm / 65 mm
830.2199
830.2358

*V-Blocks for TCS Compact serial numbers below 30017428749 use Part No. 830.2156 for A 360 Nozzles. Contact Technical Support for details.

Return to Top
NOZZLE NO.
INNER-Ø / LENGTH
REAMER BLADE
V-BLOCK

145.0580

16 mm / 75 mm
830.2164
830.2361

145.0581

16 mm / 77 mm
830.2164
830.2361

145.0582

16 mm / 72 mm
830.2164
830.2361

145.0589

13 mm / 75 mm
830.2187
830.2361

145.0590

13 mm / 77 mm
830.2187
830.2361

145.0591

13 mm / 72 mm
830.2187
830.2361

145.0586

14 mm / 75 mm
830.2207
830.2361

145.0587

14 mm / 77 mm
830.2207
830.2361

145.0588

14 mm / 72 mm
830.2207
830.2361

145.0583

16 mm / 75 mm
830.2164
830.2361

145.0584

16 mm / 77 mm
830.2164
830.2361

145.0585

16 mm / 72 mm
830.2164
830.2361
*V-Blocks for TCS Compact serial numbers below 30017428749 use Part No. 830.2159 for A 500 Nozzles. Contact Technical Support for details.
Return to Top
NOZZLE NO.
INNER-Ø / LENGTH
REAMER BLADE
V-BLOCK

145.0495

13 mm / 44.5 mm
Contact Us
830.2359

145.0564

16 mm / 48.5 mm
830.2187
830.2359

145.0494

16 mm / 44.5 mm
Contact Us
830.2359
*V-Blocks for TCS Compact serial numbers below 30017428749 use Part No. 830.2157 for W 300 Nozzles. Contact Technical Support for details.
Return to Top
NOZZLE NO.
INNER-Ø / LENGTH
REAMER BLADE
V-BLOCK

145.0479

13 mm / 75.5 mm
830.2190
830.2359

145.0556

13 mm / 77.5 mm
830.2190
830.2359

145.0466

16 mm / 72 mm
830.2188
830.2359

145.0568

16 mm / 72.5 mm
830.2188
830.2359

145.0553

16 mm / 75.5 mm
830.2168
830.2359

145.0544

16 mm / 75.5 mm
830.2168
830.2359

145.0480

16 mm / 77 mm
830.2168
830.2359
*V-Blocks for TCS Compact serial numbers below 30017428749 use Part No. 830.2157 for W 500 Nozzles. Contact Technical Support for details.
Return to Top
NOZZLE NO.
INNER-Ø / LENGTH
REAMER BLADE
V-BLOCK

145.0689

18 mm / 92 mm
830.2186
830.2363

145.0686

21.5 mm / 86 mm
830.2379
830.2363

145.0687

21.5 mm / 86 mm
830.2379
830.2363

145.0688

21.5 mm / 95 mm
830.2379
830.2363
*V-Blocks for TCS Compact serial numbers below 30017428749 use Part No. 830.2161 for W 600 Nozzles. Contact Technical Support for details.
Return to Top
NOZZLE NO.
INNER-Ø / LENGTH
REAMER BLADE
V-BLOCK

145.0090

15.5 mm / 62 mm
Contact Us
830.2357

145.0135

13 mm / 62 mm
830.2202
830.2357

145.0472

15.5 mm / 57 mm
Contact Us
830.2357

145.0473

13 mm / 57 mm
830.2202
830.2357

145.0547

13 mm / 59 mm
830.2202
830.2357

145.0159

11 mm / 62 mm
Contact Us
830.2357
*V-Blocks for TCS Compact serial numbers below 30017428749 use Part No. 830.2155 for WH 242 Nozzles. Contact Technical Support for details.
Return to Top
NOZZLE NO.
INNER-Ø / LENGTH
REAMER BLADE
V-BLOCK

145.0480

15.5 mm / 77 mm
830.2168
830.2359

145.0544

15.5 mm / 75.5 mm
830.2168
830.2359

145.0466

15.5 mm / 72 mm
830.2188
830.2359

145.0479

13 mm / 75.5 mm
830.2190
830.2359

145.0553

15.5 mm / 75.5 mm
830.2168
830.2359

145.0554

15.5 mm / 85.5 mm
830.2168
830.2359

145.0561

20 mm / 70 mm
830.2189
830.2359

145.0520

15.5 mm / 67 mm
831.0021
830.2359

145.0668

15.5 mm / 75.5 mm
830.2168
830.2359

145.0556

13 mm / 77.5 mm
830.2190
830.2359

145.0568

15.5 mm / 72.5 mm
830.2188
830.2359

145.0616

20 mm / 75.5 mm
830.2189
830.2359

145.0550

13 mm / 75.5 mm
830.2190
830.2359
*V-Blocks for TCS Compact serial numbers below 30017428749 use Part No. 830.2157 for WH 500 Nozzles. Contact Technical Support for details.
Return to Top
NOZZLE NO.
INNER-Ø / LENGTH
REAMER BLADE
V-BLOCK

145.0689

18 mm / 92 mm
830.2186
830.2363

145.0687

21.5 mm / 86 mm
830.2379
830.2363

145.0688

21.5 mm / 95 mm
830.2379
830.2363

145.0686

21.5 mm / 92 mm
830.2379
830.2363
*V-Blocks for TCS Compact serial numbers below 30017428749 use Part No. 830.2161 for WH 600 Nozzles. Contact Technical Support for details.
Return to Top
ROBO WH 652T
NOZZLE NO.
INNER-Ø / LENGTH
REAMER BLADE
V-BLOCK

145.0574

18 mm / 84 mm
830.2198
830.2363

145.0575

21.5 mm / 84 mm
830.2196
830.2363

145.0606

18 mm / 82 mm
830.2198
830.2363
*V-Blocks for TCS Compact serial numbers below 30017428749 use Part No. 830.2161 for WH 652T Nozzles. Contact Technical Support for details.
Return to Top
General data
Total weight:

approx. 30 kg/66 lbs (long stand version),
approx. 22.3 kg/49 lbs (short stand version)

Ambient temperature:

+ 5°C to + 50°C

Air consumption:
approx. 400 l/min. (14 CFM)
Pneumatic motor / nominal speed with oiled air:
approx. 650 rpm at 6 bar
Pneumatic connection
| | |
| --- | --- |
| Connection OD: | min. Ø 6 mm |
| Nominal pressure: | 6 bar / 90 psi |
| Operating pressure: | 6–8 bar / 90-120 psi |
Electrical clamping block
Input:


3 inputs for triggering the 5/2 directional control valves

Control voltage:

24 V DC

Power consumption:
2.8 W
Output:
2 outputs from inductive proximity switch
(normal open switch) (pnp / npn)
Operating voltage:
10 – 30 V DC
Continuous current:
max. 100 mA
Current consumption:
approx. 4 mA (24 V)