TSi External Anti-Spatter Injector Unit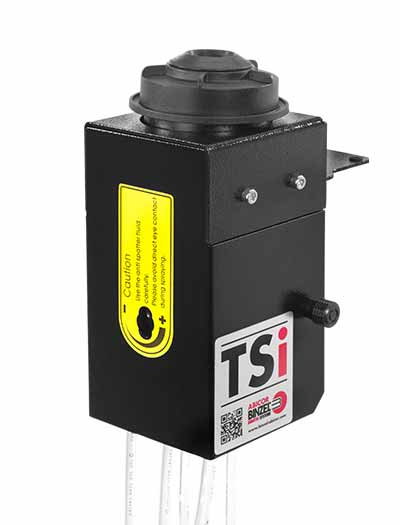 Plug & Spray Anti-spatter
The TSi from ABICOR BINZEL – the stand-alone welding torch injection unit for simple integration in existing or new processes. The spray pulse is triggered by the integrated activating mechanism as soon as the welding torch is moved into the TSi vertically up to the spraying position. This eliminates the need for a complicated electric actuator or integration into the robot controller.
In addition, the TSi scores with an economical and environmentally-conscious spraying process. The sealed spraying chamber prevents the antispatter fluid from escaping during the spraying pulse and the infinitely variable spray fluid setting ensures correct dosing. Both enable the lowest possible consumption of anti-spatter fluid and increase a safe and clean welding work environment.
TSi Anti-Spatter Injector Features & Benefits:
Simple start – electric actuator not required
Spray pulse activated by the robot movement
No integration into the robot controller
Sealed and highly efficient spraying process – no overspray
Environmentally-friendly and economical
Clean and safe welding environment
TSi Anti-spatter Injector Features at a Glance:
Tool-free Maintenance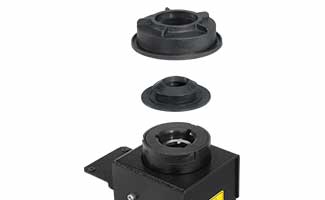 Bayonet fitted sealing inserts and device covers allow for simple replacement and installation of parts without the use of any tools. Very maintenance-friendly on the work cell.
Sealed Spraying Chamber
The sealed chamber of the TSi means no overspray of the workpiece and surroundings. Evenly coats the nozzle inside and out. Easily adjusted dosing with a flathead screwdriver.
Roller Pushbutton for Precise Control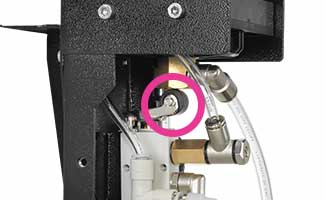 The integrated motion-activated mechanism lets the robot start the spraying pulse by pushing down on the pushbutton to start the anti-spatter injection. Reliable and maintenance-free.
TSi Application Video & Maintenance Demonstration:
TCS-FP Breakdown Featuring TSi:
| | |
| --- | --- |
| DECSRIPTION | PART NUMBER |
| Injector Unit TSi including 1 liter anti-spatter fluid and 3 sealing inserts (Ø 20, 24, & 30 mm) | 830.2285 |
Replacement Parts
| | |
| --- | --- |
| DESCRIPTION | PART NUMBER |
| Device cover | 830.2237 |
| Sealing insert Ø 20 mm | 830.2232 |
| Sealing insert Ø 24 mm | 830.2233 |
| Sealing insert Ø 30 mm | 830.2234 |
| Pressure flange | 830.2265 |
| Injection nozzle | 830.2133 |
| Collecting tank | 830.2240 |
Technical Specifications
| | |
| --- | --- |
| Weight: | 1.5 kg (without anti-spatter fluid) |
| Ambient temperature in operation: | 0 °C to +40 °C |
| Relative humidity in operation: | up to 90 % at 20 °C |
Pneumatic connection
| | |
| --- | --- |
| Connection port: | Ø 8 mm |
| Operating pressure: | min. 0.5 MPa up to max. 0.6 MPa |