Torch Exchange Station TES for WH Welding Guns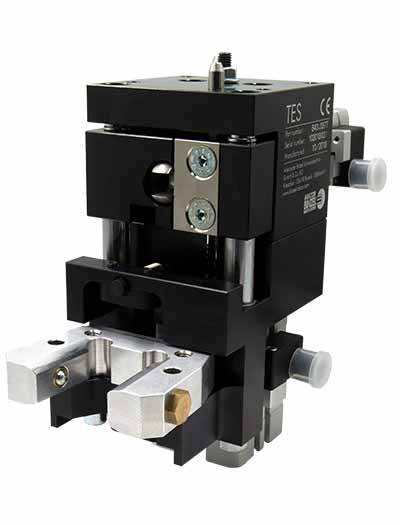 Increased Robotic Welding Flexibility & Productivity
The torch exchange station TES can be used anywhere where welding torches need to be exchanged quickly and reliably. The strengths of the system include a change of torch geometry or even preventive torch changes for servicing wear parts of a TIG welding torch ABITIG® WH or MIG/MAG WH welding torch.
The torch exchanging movement is carried out by the welding robot. This allows excellent flexibility in positioning the exchange stations in the welding cell regardless of whether it is on a gantry welding system or in compact welding cells in mass production facilities. In combination with the proven MIG/MAG WH welding torch necks, the integrated cutting of the wire ensures safe and secure exchanges.
Torch Exchange System TES Features & Benefits:
Modular system offers a simple and inexpensive solution for automatic torch neck exchanges
PLC or Fieldbus system integration offers widespread use and easy control of the unit
Sensors integrated into the system record position of the movement to recognize the torch position
Available for ROBO WH in MIG and TIG* welding torch systems
* currently only without cold wire feed
Torch Exchange Station Features at a Glance:
For MIG Welding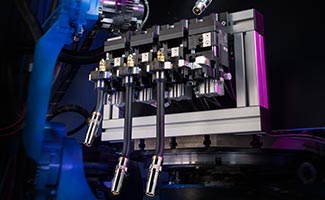 Combine up to 4 TES docking stations to load up on all sorts of different swanneck lengths and bends with different ratings - or keep the setup uniform to maximize arc-on time.
For TIG Welding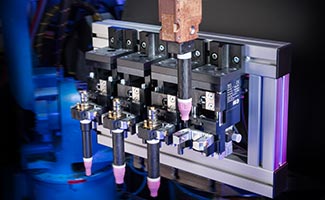 If robotic TIG welding without a cold wire feed, you can use TES stations for your ABITIG WH Robotic Torches and get the most out of your robot welding cell setup.
MIG & TIG Combined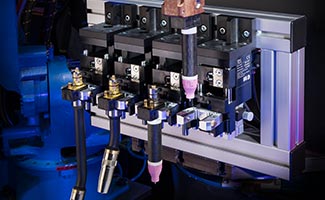 Using both a MIG and TIG robotic welding arm in close proximity? Use a TES station to dock both ROBO WH and ABITIG WH welding torch necks and interchange neck changes between robots.
Torch Exchange Station Videos:
Torch Exchange Station Application Video
ROBO WH Product Overview (for use with TES)
Torch Exchange Station System Overview: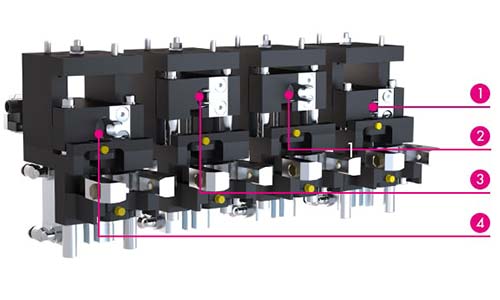 1. Zero position, locking body down with locking fork retracted
2. Locking body up, locking fork extended
3. Locking body up, locking fork retracted
4. Locking body down, locking fork extended
1. Pneumatic cylinder end position sensors
Part Numbers
| | |
| --- | --- |
| Description | Part Number |
| Torch Exchange Station TES Single Module (without Pneumatic Connection Set) | 840.0377 |
| Torch Exchange Station TES Single Valve Unit Cluster (one required for each install of TES Single Module) | 840.0395 |
Technical Specifications
Operating pressure:
max. 116 psi / min. 87 psi
Pneumatic connection:
Connection Ø 6 mm
Electrical connection:
Cable connections M12

4 Outputs
– Proximity switch 24 V DC / max. 200 mA
– Switch output pnp No

2 Outputs
– Proximity switch 24 V DC / max. 200 mA
– Switch output pnp No

2 Inputs*
– 5/2 solenoid valves 24 V DC
– Power consumption 2.8 W

* depending on the PN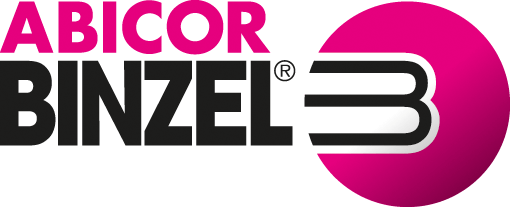 ABICOR BINZEL USA, Inc.
650 Medimmune Ct., Suite 110
Frederick, MD 21703
Google Maps
001-301-846-4196
ABICOR BINZEL world-wide - everywhere at your side ...