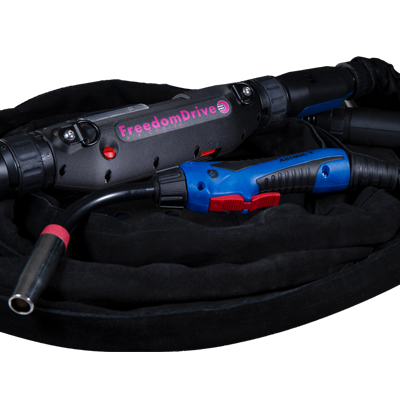 The FreedomDrive push-pull system is designed to free the welder of the typical heavy, bulky handheld push-pull gun; giving the welder a more comfortable, reliable, and efficient way to weld in push-pull applications.
The FreedomDrive uses the internal components found in our current line of push-pull torches and places them into a highly durable, impact and heat resistant housing. The FreedomDrive™ provides consistent, reliable wire feeding; with a lightweight, ergonomic MIG gun on the front end to reduce strain on the welder.
FreedomDrive Features and Benefits:
20' & 30' options give the welder the freedom to move around as needed
Up to 55% reduction in weight and improved ergonomics over competitive push-pull guns
Improved access to tight spaces by relocating the bulky components from the handle to 6' down the cable
Internal routing of the gas, water, power, and control wires reduces snagging when moving the cable into position
Same handle & consumables as the ABIMIG® AT/WT. A wide variety  of readily available parts and consumables; including various neck lengths & angles, as well as narrow-gap consumable options
How it works
The FreedomDrive™ utilizes an assist drive approximately 6' downstream of our standard, lightweight gun handle. The assist drive is powered directly from select push-pull ready power sources, or by a separate ABICOR BINZEL power control box.
In either case, the assist motor will feed slightly faster than the main wire feeder, which places tension on the weld wire through the rear cable assembly. This allows the wire to be fed over longer distances than a typical push only MIG gun.
One of our lightweight AT/WT MIG guns is attached to the front of the FreedomDrive™ making it easier than ever before to weld in push-pull applications. You can find more details on the AT/WT MIG guns here.
The FreedomDrive™ is available in both air-cooled and water-cooled, with options for different amperages, and cable lengths to accomodate your specific application.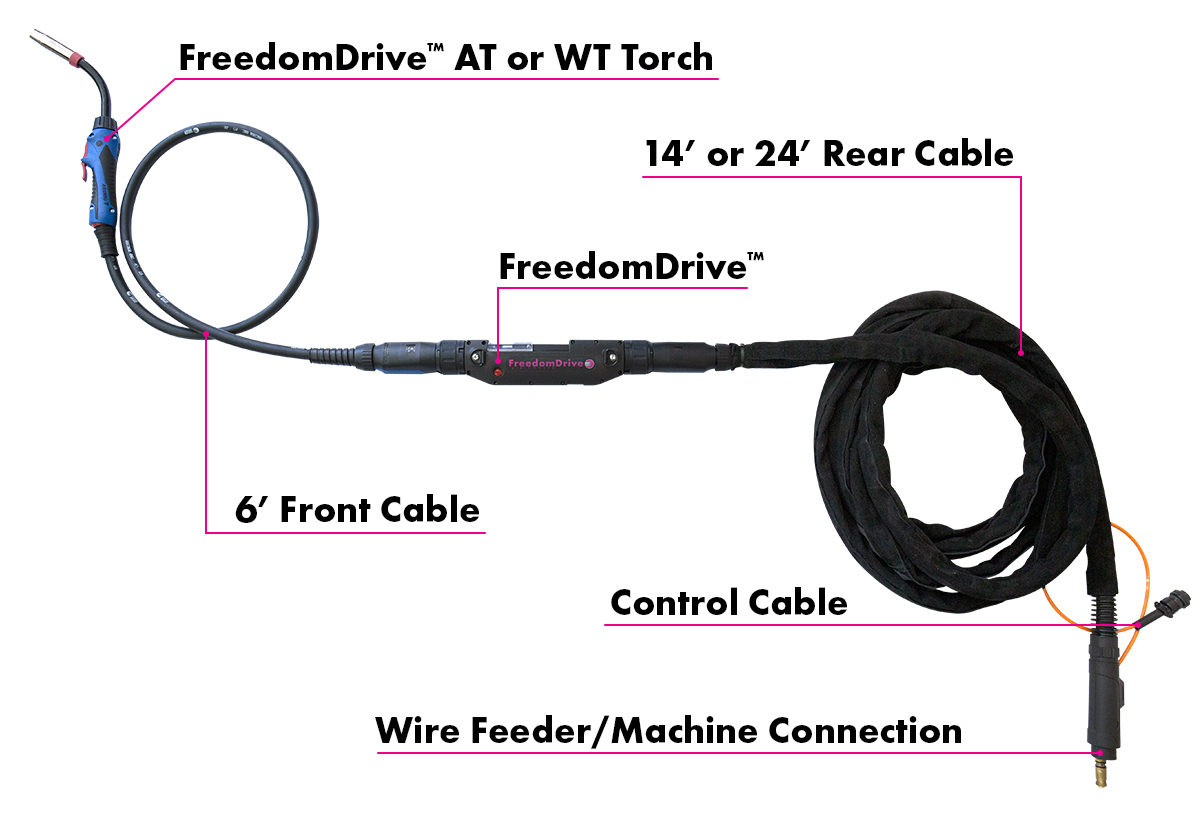 FreedomDrive™ Features at a Glance:
Sturdy Dual Driven Motor and Drive Rolls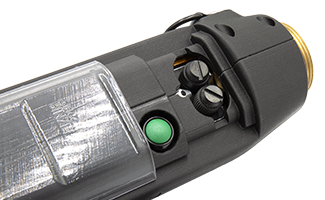 Sturdy pull motor guarantees optimum wire feed by overcoming frictional losses within the cable. The contact pressure of our electrically isolated, dual driven drive rolls reduces wire deformation and wire slippage.
Rear Interface & Compatibility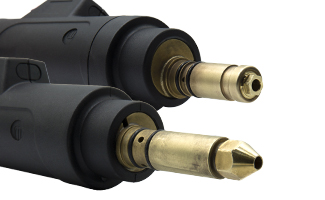 The FreedomDrive's back-end is compatible with all major welding machine manufacturers, while the front-end interfaces with FreedomDrive specific AT/WT guns.
Drive Roll Tension Release Knob
Release the tension of the drive rolls quickly and easily by rotating the red release knob with the provided tip wrench. When closing the drive rolls, tension on the wire is pre-set with internal spring pressure.
Robust Housing Design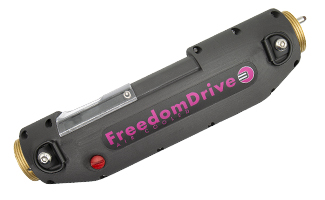 Sleek and durable housing is lightweight and easy to manage while providing protection to internal components against demanding industrial environments.
FreedomDrive Interface Blocks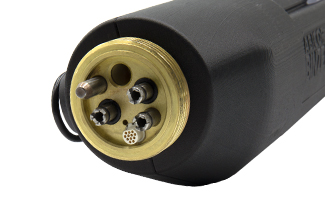 The FreedomDrive interface blocks provide a secure connection to the front and rear cables with internal routing of the water, gas, power, and control wires.
Lightweight & Ergonomic Torch Handle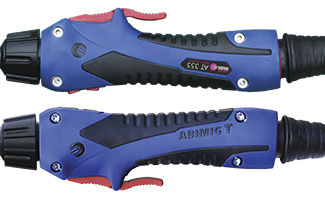 Features of the FreedomDrive AT & WT torches, such as an ergonomic molded handle, ball-socket cable strain relief, rotating necks, and extended trigger make getting comfortable on the job easier than ever. Torches also available with WFS control in the handle.
Technical Specifications
Technical data (EN 60 974-7):
Type:

FreedomDrive™ with AT

FreedomDrive™ with WT

Rating:
Air-cooled
Water-cooled
CO2:
340 A
500 A
Mixed gases M21*:
320 A
450 A
Duty Cycle (%):
60
100
Wire Ø:

.030" - .062"
(0.8 - 1.6 mm)

.030" - .062"
(0.8 - 1.6 mm)
*according to DIN EN ISO 14175
Rated using power source with VDE standard volt/amp characteristic (U=14+0.05xl). When pulse welding, reduce rating by 35%.
Are You Ready to Feel the BINZEL Welding Difference?
Get started today and see what the combination of a welder-forward design, premium consumable profile, and ergonomic handle design can get you on work productivity and welder satisfaction.
You can schedule an in-person demonstration of our welding gun solutions, get a quote based on your unique needs and welding parameters, or contact us for additional information.
Want to speak to someone immediately? Call us at 800-542-4867.