Spooltech, Houston, Texas
Spooltech Grows Their Business and Utilizes Premium Welding Solutions to Lower Parts Spend
Spooltech has spent 30 years cultivating a sterling reputation in the Houston area as a manufacturer committed to empowering their welders. The quality of their products has a reputation as well.
From spools to skids to piping to vessels, Spooltech expertly serves some of the largest energy and marine companies in the United States.
As the business expanded, so did their need to control cost and help their welding staff be more productive and comfortable.
Decrease in Consumable Usage
Welder Acceptance and Buy-in
Contact Tip Life Improvement
The Challenge
As Spooltech expanded it's product portfolio to serve more fabrication needs, it also "fanned the flame" for their shop personnel to bring new solutions and standards to the table to meet their business expectations.
For the weld technicians at Spooltech, as well for the Supervisors, constant contact tip changes and bulky, heavy welding guns were dragging down the welding staff and holding production back.
The moment the welders held the ABIMIG AT, the reduced weight was evident. And even better, it held up even more than their current solution to keep production moving at a breakneck pace.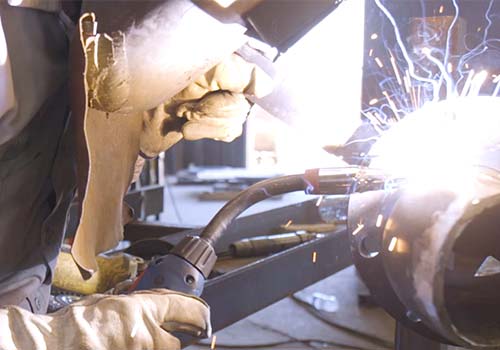 Life After ABIMIG
For the Operations Manager at Spooltech, more arc-on time means the welders are productive and company production more efficient. The weld staff at Spooltech going from using 2 contact tips a day per torch to only using 1 contact tip in a week was a huge boon toward management and welder acceptance.
The ability of the ABIMIG's rotating torch neck to allow the welder to adjust his access to the joint has allowed ABIMIG to flourish whether the team at Spooltech has needed them for their pressure vessel manufacturing, skids, or anywhere in between. Narrow gap consumables, the ability to use ABIMIG in a variety of positions, and strong local support from the area BINZEL staff have made Spooltech looking at BINZEL as a partner who's gone "above and beyond" to assist in their success.