Lake Area Technical Institute, Watertown, South Dakota
Preparing the next generation of industry professionals
The award-winning Lake Area Technical Institute is more than just a welding school. It is a two-year master class in metalworking preparation. Students undergo rigorous and detailed instruction in all processes of welding and welding procedures, and the students are assisted with the help of ABIMIG air-cooled MIG guns and ceramic spray for their MIG welding tutelage.
A better student experience
Lake Area Technical Institute has been in existence since 1965, and attracts students from all over the world - as far as South Africa - thanks in large part to the preparation they give their students in the welding program for the rigors of fabricating. Lake Area counts Terex and Worthington Industries among many other companies who readily take Lake Area welding program graduates into their workforce.
When Lake Area Technical was looking to change MIG welding torches, they were searching for a solution that would enhance the student experience while creating superior value in terms of consumable life, safety, and comfort. They found it with the ABIMIG air-cooled line of torches.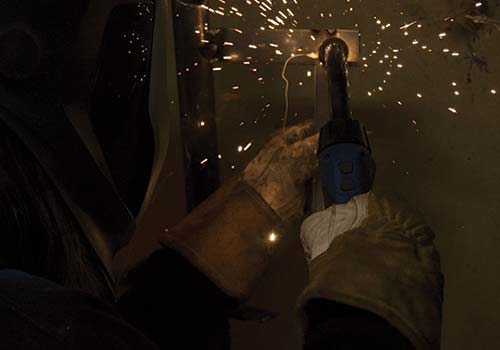 Better consumable life and torch performance
In 2017 the welding school at Lake Area Technical has switched completely to the ABIMIG AT Lightweight MIG guns for their MIG welding leads. Its 360-degree rotating neck, robust neck construction, the long service life of wearing parts, and reliable build helps create a safe student welding experience while better preparing them for the rigors of the welding and metalworking industry to come. The ergonomic handle and the cable assembly, which is 30% lighter, relieves the load on the students, as well.
The school also uses ABICOR BINZEL's Anti-spatter Ceramic Spray and Coating Cap, applying it to the inside and outside of the welding nozzles at the end of each day to ensure the greatest life span possible from their welding consumables. So far, the experience with BINZEL torches has shown a considerable reduction in contact tip and nozzle cost to the school with a torch the students enjoy using every day.
Ready to feel the lightweight welding difference?
Get started today towards making your welders happier, more productive, and less strained while performing their work.
Browse our lineup of air-cooled manual welding torch solutions and begin saving on costly consumables, downtime, and inventory.