Coated contact tips for narrow gap welding
Longer service lives for contact tips, reduced downtimes, increased process stability and lower process costs – in narrow-gap welding, this can be achieved with coated contact tips. Coated contact tips are used in particular in pipeline construction. Especially in the pipeline industry, time and cost pressures are extremely high. The highest performance is expected from welding torches and wear parts, such as the contact tip. Coated contact tips from ABICOR BINZEL offer enormous advantages, particularly for narrow-gap welding on pipe joints: they prevent short circuits through contact with the workpiece wall and thus insulate against unwanted arcs and copper inclusions in the weld seam. The coating acts as an insulation and thus reduces the thermal load on the contact tip as well as spatter adhesion, which leads to a longer service life.

Coated contact tips for narrow-gap welding from ABICOR BINZEL guarantee process optimisation and process reliability. We offer various geometries of coated contact tips for every application in narrow-gap welding of pipes, for example in the onshore and offshore sector or in high-temperature processes. Whether conical, cylindrical, tapered or sword-shaped - we can provide every type.
Welding pipes with partly thick walls and narrow, deep gaps is a challenge in knowledge and technology. With uncoated contact tips, welding errors are a daily occurrence, which can be avoided by using coated contact tips right from the start.
Copper inclusion is the most serious defect in narrow-gap welding, which occurs when an uncoated contact tip gets into contact with the side walls of the weld joint. This can happen, for example, through direct contact of the tip with the workpiece wall or through weld spatter adhering to the contact tip. As a result, a short-circuit occurs, which leads to overheating and copper inclusion. Copper inclusions are not wanted as they reduce the strength and deformability of the weld and thus the welded component. This means costly reworking or even rejects.
Coated contact tips from ABICOR BINZEL reduce spatter adhesion on the surface, protect against unintentional short circuits and additionally insulate the base material against heat radiation. Deformation or wear and consequently downtimes are prevented, which ensures a longer service life and thus the operating time of the current contact tip.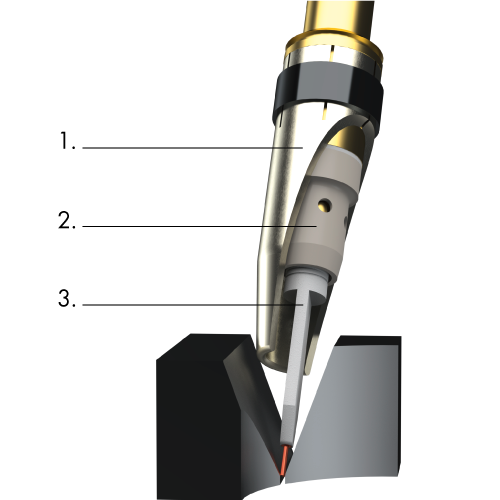 Standard gas nozzle
Standard gas diffusor and contact tip holder
Coated contact tip – prevents spatter adhesion and copper inclusions when touching the side wall of the weld
Contact tip coatings and properties
Due to a special coating process, the differently composed coatings are always applied homogeneously and are absolutely reliable in tough industrial use for narrow-gap welding. The coatings consist of boron nitride, aluminum oxide as well as aluminum titanium oxide. Depending on the type of coating, these offer protection against spatter adhesion and are generally resistant to high temperatures and thermal shock. All three coating ceramics provide extreme insulation.
Coating
Boron
nitride

Aluminum
oxide*

Aluminum
titanium oxide
Chemical formula
BN
Al₂O₃
Al₂O₃+TiO₂
Coating color
beige / grey
white
grey
Spatter protection
+++
++
++
Thermal load capacity
+
+++
++
Abrasion resistance
+
++
+++
Protection against copper inclusion
+
++
++
Costs
€
€€
€€
*Only suitable for rounded shapes without sharp edges.
Boron nitride coating (BN)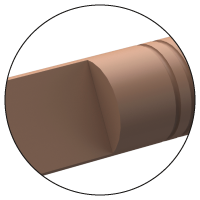 The best protection against spatter and also the most cost-effective coating is the boron nitride coating. However, compared to a titanium oxide coating, it is less resistant to wear, heat and thermal shock and shows a higher risk of arcing when touching the weld joint wall. A contact tip with a boron nitride coating is best suited for standard pipe welding applications or for root processes with low energy input.
Aluminum oxide coating (Al2O3)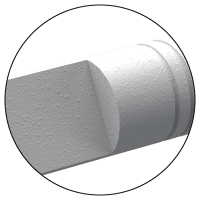 This coating provides the highest resistance to thermal radiation from the welding process and is especially effective at keeping heat radiation out of the interior of the contact tips. It is ideal for applications where high temperatures and thermal shocks prevail, such as high-amperage MAG narrow gap welding and submerged arc welding applications.
Aluminum titanium oxide coating (Al2O3+TiO2)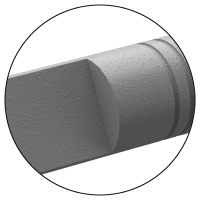 The aluminum titanium oxide coating is most resistant to mechanical wear and abrasion and offers the best protection against copper inclusions. It is particularly suitable for long-term use, for example, when the component is difficult to reach. Furthermore, the aluminum titanium oxide coating guarantees process reliability.
Contact tip shapes for narrow-gap welding
The different geometries of the coated contact tips provide an influence on every process with special welding requirements. In pipeline construction, where narrow-gap welding is used very frequently, these special contact tip geometries minimise particularly complex seam preparations, which relatively reduces process costs. This means: With coated contact tips from ABICOR BINZEL, it is possible to weld with lower opening angles on the flanks of the pipe, which saves a lot of time, for example, in the use of filler material.
Depending on the process, the user and the welding requirements, special contact tip geometries, screw-on or slip-on types and wire diameters are available:
Contact tip geometry

The different geometries of these coated contact tips from ABICOR BINZEL cover all shapes and sizes of joint types. Depending on the orbital welding head and its pendulum movement as well as the available space in the weld joint, the appropriate contact tip geometry can be selected.
Contact tip thread
ABICOR BINZEL offers all common threads and holders for contact tips: whether slip-on, metric or non-metric thread. We offer the right contact tip for any application!
Wire diameter
The coated contact tips are available for all common wire diameters and types. In pipeline construction, wire diameters of 1.0 mm and 1.2 mm are mainly used, both with solid wire and with flux-cored wire.
Fields of application of coated contact tips
The use of coated contact tips is increasing in all industries involved in pipe production or narrow-gap welding. Classic pipeline construction in the onshore and offshore sector, pipeline construction for newer power lines, oil and gas as well as communication lines or shipbuilding are the fields in which coated contact tips are used. Their geometry and properties make them ideal components for narrow-gap welding, where work is usually carried out under time and cost pressure and particularly high demands are placed on welding torches and contact tips.

Other fields of application for coated contact tips from ABICOR BINZEL are high-temperature processes in which welding is carried out with a high level of energy. In other words, wherever the consumables of the welding torch are exposed to above-average loads and are subject to very rapid wear without a coating.