Robotic MIG Torch Maintenance Guide
Robotic welding torch maintenance should be an integral part of your everyday tasks in a manufacturing facility.
Why? Because proper maintenance of your equipment will extend the life of your equipment, prevent costly downtime, ensure proper operation and allow the focus to move to more
important issues within your manufacturing plant operations.
Robotic torch maintenance can seem much more intimidating and daunting if the majority of your experience is with manual welding torches. However, many of the same basics apply. No matter which brand or model of robotic welding
torch you have in your facility, there are many more similarities than dissimilarities.
Let's review the steps needed to ensure the best performance from your robotic GMAW (gas metal arc welding) or MIG (metal inert gas) equipment by practicing proper and regular maintenance procedures.
Want the Printer Friendly PDF? Click the Button Below to Download:
Table of Contents
Maintenance Planning

Wire Feeding

Robotic MIG Torch

Peripherals

Consumables

Wire Liners

Preventative Maintenance
About the Author
Jeff Barron has a long and established career in the welding and manufacturing sector. Starting off as a Sales Representative for welding goods distrubutor Roy Smith Company, Jeff landed at Tregaskiss where he rose to become Director of Sales.
Following his tenure at Tregaskiss, Jeff formed his own successful metal product manufacturing company – Barron Industries – before dissolving it to become President at DINSE USA, Inc.
Jeff continues BINZEL's efforts to work more closely with automotive manufacturers and increasing BINZEL's product presence at key companies.
Jeff can be reached at: jbarron@abicorusa.com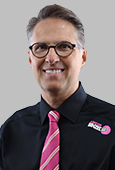 Proper Robotic Welding Mainteance Protects Your Investment
Preventive maintenance (PM) of the entire robotic welding system, including the robotic MIG torch, consumables and cables is an important step in protecting your investment in this technology and equipment.
Neglecting maintenance can easily lead to unscheduled downtime, poor quality parts and/or costly repairs. It may even lead to failures that require costly equipment replacement.
It is not only the cost of the replacement equipment, but the increase in associated downtime that comes with poorly maintained welding equipment that should be motivators to ensure your welding equipment is being properly maintained.
It is recommended for companies to assess their individual needs and schedule planned preventive maintenance accordingly. Some companies see benefits of contracting an outside maintenance crew/company to provide both daily and preventive maintenance of their welding equipment.
The schedule for conducting maintenance checks is up to the discretion and planning of the individual doing the checks and their supervisor or manager.
Some routine maintenance can occur in between shifts or during breaks such as cleaning off the fixture or changing consumables.
Other more involved activities like greasing the robot's joints may occur less frequently and during a longer scheduled downtime.
The most important action you can take is putting together a plan to maintain the equipment in which you have invested so that it serves you well for many days, weeks, months and years to come.
Below are the various items to look at to ensure proper maintenance of your robotic welding system.
Maintenance Frequency
The frequency of maintenance checks will vary based on your application, duty cycle, how many days and shifts you run your operation, how clean your plant is and how well your team performs routine and preventative maintenance. There are many items to maintain in a robotic MIG welding system. What follows is a guide to assist you in troubleshooting and setting up your own preventive maintenance plan.
Robot and Controller
Follow the robot manufacturer's instructions to understand their recommendation for review and proper maintenance of the particular make and model of robot and controller present in your plant.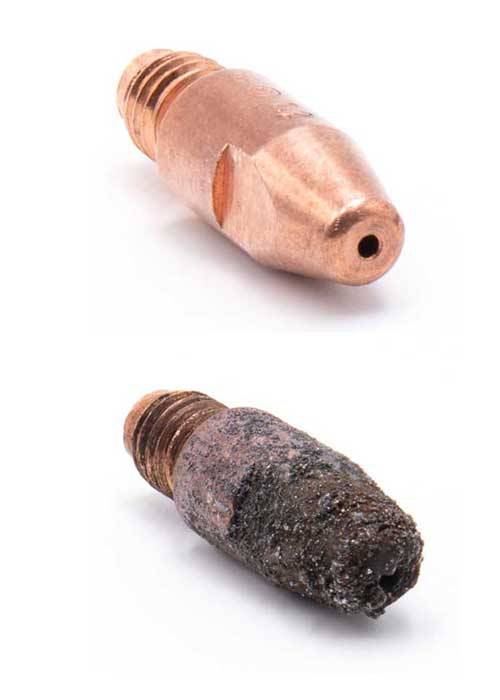 Tool Center Point Check
Checking the robot TCP (tool center point) and insuring its accuracy is critical to robotic welding performance and results. Follow the robot manufacturer's instructions for checking and maintaining the TCP.
Should you find your TCP location is off:
Tighten consumables to the manufacturer's torque specifications. If the manufacturer does not provide torque specifications, the general rule of thumb is one quarter turn past finger tight
Avoid cross-threading the contact tip, as this will cause the contact tip to be at an angle to the swanneck

Ensure clutch safety mount is in the home position

Inspect the clutch safety mount for movement and replace if it's worn.

Create a TCP Check Program in the robot utilizing the pointer on the cleaning station

Check the TCP once a week or if the welds start to move off seam
If weld is moving out of seam:
Check contact tip for wear/spatter buildup
Run check on TCP program to look for a bent swanneck
Look for spatter build up on fixture
Check part trim edges to make sure part is to print
Program the robot so the arm, robotic MIG torch and cable are clear of tooling and the weld cell wall - this prevents worn cables, insulating disc breakage and bent swannecks

Check your TCP to discover if the swanneck is damaged or bent, and if it is bent:
Determine type of swanneck. Some manufacturers print or engrave the part number on the neck
Manufacturer
Amperage
Type: air-cooled or water-cooled
Degree or angle of bend (180°, 22°, 45°, custom)
Length
Use a swanneck inspection fixture to adjust the tolerance of the neck to the TCP after an impact
If the swanneck is unable to be properly bent back to original TCP, then procure and install a new swanneck from your spare parts inventory, crib, local welding distributor or the original manufacturer
NOTE: Before checking electrical connections throughout the system, shut down all power and follow all safety and lock out procedures prior to entering the welding cell.
Electrical Connection Check
Because welding utilizes electricity to pass current through a variety of different points, if there is a loose connection anywhere, it can cause an erratic or unstable arc resulting in lower consumable life and poor-quality welds. Even when losing your ground intermittently, the wire will still feed, but voltage will drop resulting in a poor weld.
If the connection points are loose or the cable is cut or frayed or showing signs of wear, this will add resistance to the overall system and not only affect weld performance, but will also cause the cables to generate more heat and may negatively impact your system performance. Pay special attention to the electrical connection points throughout the system. Check them on a regular basis. A good suggestion is to start inspecting connections and cables at one end of your system and work your way toward the other insuring every connection is checked and tight and there are no cut or frayed cables. For example, you might check for tightness and wear of:
Contact tip
Tip holder / Gas diffuser / Retaining head
Swanneck or Gooseneck / Torch neck / Conductor tube
Torch cable/ Welding torch/ Cable Lead/Hose Pack
Power pin at rear of torch
Wire feeder
Power cable from the welding power supply to the wire feeder
Ground cable
Rotary grounds
Verify they are properly lubed with special conductive grease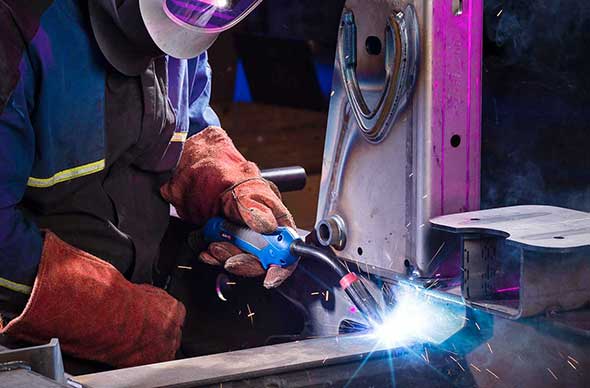 Torch Cable
The torch cable is the primary carrier of current, shielding gas, and welding wire.
There are two styles of robotic MIG welding torches:
Over the arm torches are routed exterior to the upper arm of a welding robot
Through the arm torches are routed interiorly through a designed hole in the upper arm of the robot
Fraying, tearing and breaking of the internal copper strands is caused by the repetitive twisting, bending and stretching motion of the robot.
This causes the cable to lose its conductivity and create resistance or heat.
Some ways to determine if the torch cable is failing:
Feel the cable immediately after welding:
Does the cable feel hotter in one area?
Is the cable extremely flimsy in one spot?

See if the torch cable or components shows signs of discoloration (blue, purple, orange, gold)
Periodically check neck, cable, and power pin connections. Loose connections can cause overheating and premature failure

Tight bends and loops in the cable should be avoided. With over the arm robotic torches, counterbalances can be attached to or above the robot to help eliminate excessive bends and keep the cable clear of welding fixtures and hot weldments.

Avoid rough surfaces and sharp edges that can cause tears and nicks in cable jacket which can cause premature failure.

Periodically check all ground cables and connections.

Use anti-seize on all threaded connections.

Ensure your torch cable length is properly sized for the application. This is especially important with through the arm torches. Excessive slack (more than ~2") or overly-taught (short) cables will lead to premature failure.
Weld Fixture
Weld spatter, metal shavings and other debris may accumulate on the weld fixture over time resulting from the manufacturing process.
This buildup of material can negatively impact part fit-up and sometimes prevent a part from seating properly in the fixture prior to clamping and welding.
There are numerous methods for cleaning the fixture:
Compressor air can be used to blow spatter and debris from the fixture
Ensure proper safety equipment (goggles, ear plus…) are worn
Be certain no one else is present in the area prior to blowing off debris

Additional tools may be required to remove spatter if some time has elapsed since the last cleaning.
Water Chiller/Cooler
Some applications require use of water-cooled robotic torches. These systems include a water chiller/cooler to keep the torch components cool during welding. Proper maintenance of the water chiller/cooler will help ensure maximum life of your welding torch and consumables.
If the manufacturing environment has machining or grinding processes nearby, the oil, dirt and dust produced from these processes can collect on the cooling fins and intake and exhaust vents and thereby diminish the cooling performance of the whole system.
To ensure optimum operation of your chiller, there are several maintenance procedures to follow:
Check hoses for leaks
Check all clamp and quick connect fittings for leaks
Verify the coolant fluid levels are above minimum and below maximum on your chiller fill bottle
Check the clarity of coolant fluid
If not maintained properly, the water or coolant will be cloudy due to algae growth
If cloudy, drain and replace coolant
Ensure the air intake and exhaust is clear from blockage and clean and is able to exchange heat efficiently.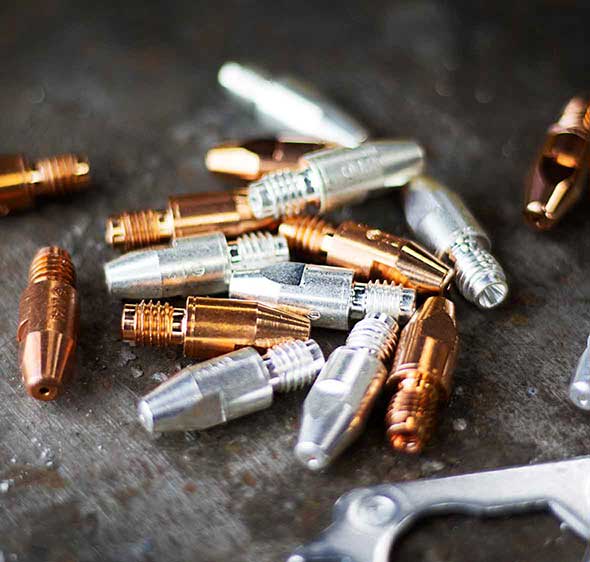 Shielding Gas
There are some applications that utilize a self-shielding welding wire. However, most welding applications utilize separate welding wire and shielding gas.
If shielding gas flow is too high or too low it can negatively impact the weld by providing too little or too much shielding gas.
Providing too much shielding gas can be detrimental by creating a condition that pulls air into the weld puddle causing porosity in the weld.
So, it's good practice to occasionally check the system:
Check all the gas hoses, connections and fittings for leaks
Validate the pressure and flow are within specified range or limits.
Use a gas flow checker to verify actual gas flow at the nozzle.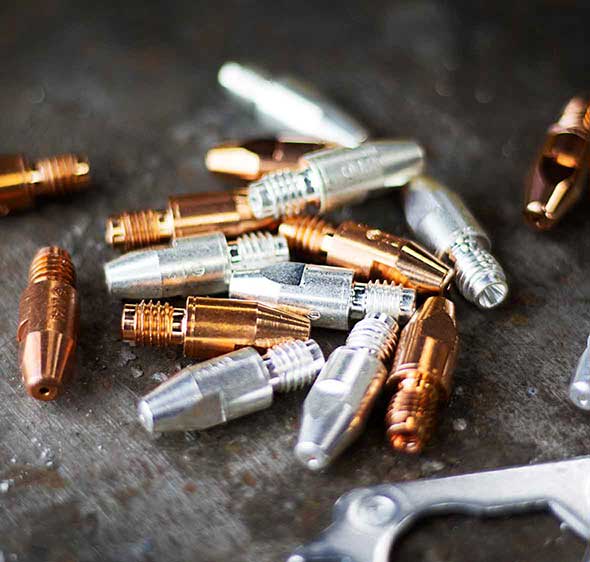 Troublshooting Matrix
Here is a troubleshooting matrix to assess possible causes of porosity and solutions to evaluate. While shielding gas is one of the more common reasons for porosity, it could be the result of other components within your robotic welding setup, as well.
Possible Cause
Possible Solution
1
Insulator worn
1
Replace nozzle/insulator
2
Tip holder or retaining head damaged
2
Replace retaining head
3
Extreme heat or duty cycle
3
Replace with heavy duty consumables
4
Gas supply line solenoid faulty
4
Replace solenoid
5
No shielding gas
5a
Install new shielding gas tank
5b
Check shielding gas supply
5c
Check for gas hose leaks
6
Gas flow improperly set
6
Adjust gas flow
7
Gas ports plugged
7a
Clean or replace gas diffuser/retaining head
7b
Clean nozzle
8
Ruptured gas hose
8
Repair or replace gas hose
9
Control circuit loss
9
See "Electrode does not feed" below
10
Worn, cut, or lost o-ring in torch gas supply line
10
Replace o-rings. Contact supplier for wear item
11
Loose fittings
11
Tighten torch and cable connections
Drive Rolls
Drive rolls feed welding wire into the robotic welding torch. Drive roll tension is important for proper welding wire feeding.
Too much tension can mishape the wire, create sharp edges on the wire which subsequently saws a groove into liners and contact tips casuing premature failure of these parts.
Too little tension can cause the drive rolls to slip and intermittant wire feeding while welding resulting in an erratic arc and bad weld.
Remedy:
There are a few ways to set up your wire feed drive rolls. One approach is to:
Loosen the drive roll tension
Lay the torch out straight as possible
Feed the wire through the torch and bend the end of the wire where it exits the contact tip.
As you are feeding wire into a wooden block or metal plate, slowly increase the tension until the wire no longer slips in the drive rolls when resistance is applied.
Tighten the drive rolls and additional ¼ turn, and your drive roll tension should be properly set.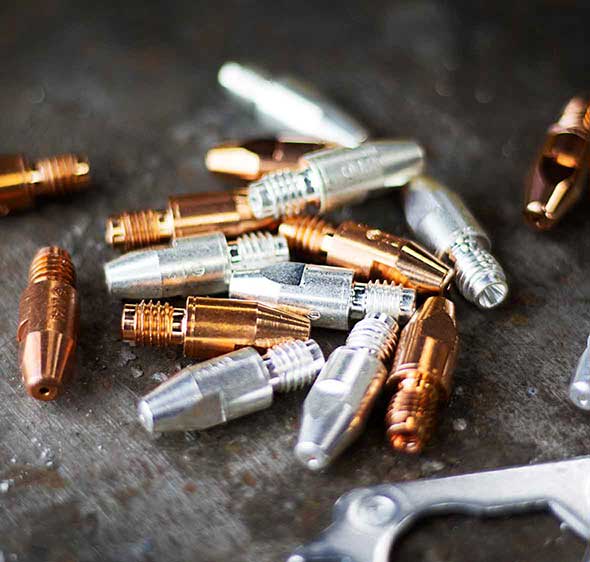 A general rule of thumb is:
V-groove drive rolls for solid wire
U-groove rolls for aluminum and other soft metals
Knurled drive rolls for flux core wire
Wire dereeling
It is important to have your wire feeding system set up for success from the moment it leaves the spool, coil, reel or drum. The wire conduit should be straight with as few bends as possible.
Any bends should be gradual. Ensure the conduit is clean by regularly blowing out the build up of wire dust and debris.
The dereeler should be set up with minimal drag, but enough to keep the wire from despooling when welding stops.
Filler Metal (weld wire) Package
Reducing downtime for routine filler metal package changeovers can be one of the most effective ways of maximizing return on investment and productivity. There is a variety of different packages available for welding wire from fiber spools, to wire baskets to wooden reels to drums/drum packs.
Depending upon the diameter, welding wire is available from 30# spools to 1000# drum, drum packs or coils. Filler metal manufacturers typically ship their products in airtight or hermetically sealed containers.
Once opened, the wire is at risk of absorbing moisture, dust, oil or other contaminants that can affect its welding performance and ultimately cost money to replace, not to mention downtime to change over.
Drums are particularly sensitive to being dropped or tilted too severely.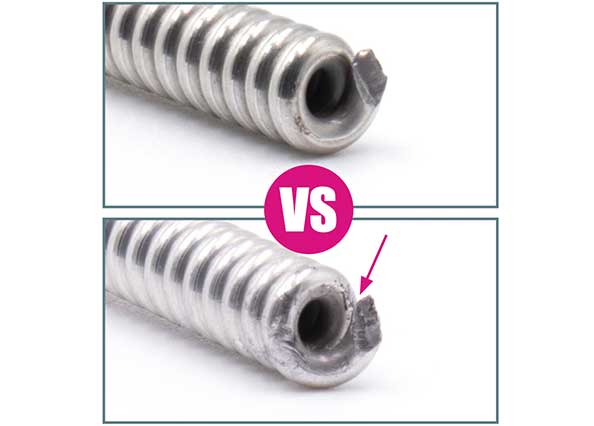 Please take care to keep these containers upright when transporting and moving into place.
Select a package that is large enough to minimize wire changeovers, but not so large that the same wire will remain on the shop floor for more than a couple of weeks.
Consider the type of filler metal package used. For instance, recyclable filler metal packaging can reduce costs and labor for properly separating and disposing of recyclable and non-recyclable packaging materials.
Wire Feed Troubleshooting
If your robotic torch is experiencing wire feed issues, apply the steps in this matrix to assess possible causes and test solutions.
Possible Cause
Possible Solution
1
Feeder relay / malfunction
1
Consult feeder manufacturer
2
Broken control lead
2a
Test and connect spare control lead
2b
Install new cable
3
Poor adapter connection
3
Test and replace leads and/or contact pins
4
Worn or broken switch
4
Replace
5
Improper drive roll size
5
Replace with proper size
6
Drive roll tension misadjusted
6
Adjust tension at feeder
7
Burn back to contact tip
7
See "Contact tip burnback"
8
Wrong size liner
8
Replace with correct size
9
Buildup inside of liner
9
Replace liner, check condition of electrode
10
Worn drive roll
10a
Replace with new drive roll
10b
Stone edge of groove on drive roll
11
Improper guide tube diameter
11a
Adjust/replace guide close to drive rolls
11b
Eliminate all gaps in electrode path
12
Improper wire guide diameter
12
Replace with proper guide diameter
13
Gaps at liner junctions
13
Replace with new liner
14
Contact tip
14
Inspect and replace
Having the right style and amperage MIG torch for the application can help minimize downtime for overheating and potential failure. It can also save money by preventing the purchase of a larger (and costlier) torch than necessary for the job.
Air-cooled robotic MIG torches (rated at 500 amps) operate comfortably in the range of 200 to 300 amps at approximately 100 percent duty cycle with mixed gases. They are good for welding thinner materials — typically less than 1/4" or 6 mm thick.
The cost of ownership for these torches is usually relatively low since there is less maintenance from an absence of a water cooler/chiller and the corresponding maintenance. Air-cooled torches work well for shorter welds on high-volume applications and are quite durable.
For higher-amperage applications, with thicker materials 1/4" or 6 mm or more, or higher duty cycle where there is prolonged welding, it's necessary to have a torch capable of dissipating the increased heat.
A water-cooled MIG torch which handles 300 to 600 amps of power and 100 percent duty cycle is a good option to help reduce costs. This is accomplished by preventing torch failure or downtime for overheating. These torches cost more to maintain, however, so it's important to implement a good PM program for them to avoid any costly surprises.
Torch Necks
A swanneck delivers welding wire to a specific location. It also delivers current to the contact tip and then to the welding wire, and is another integral piece in the welding process.
Use of an alignment jig is recommended to ensure a repeatable TCP.
Ensure neck connections are properly torqued. Loose Connections = Resistance, and Resistance = Excessive Heat.
Insulating Discs
Insulating discs are designed to protect your robotic investment by insulating robots and their controllers from the welding current
This sacrificial part is designed to absorb the impact and potential fracture or break in the event of a robotic collision
Available with different bolt patterns for attaching a robotic MIG torch to various brands of robots
To keep these discs aligned and working correctly on your robotic torch:
Follow the manufacturer's torque specifications to ensure the disc screws are tightened in the correct order and to the proper torque. Overtightening may crack the disc.

Set the robot path correctly to avoid collisions.

If the disc is broken, remove and replace with identical disc.

Note: Ensure the proper length screws are used to prevent electrical arcing and damage to your robot and/or welding equipment.
Robotic Torch Troubleshooting
Here's a table of troubleshooting tips for robotic torches if you are experiencing problems:
Robotic Torch Running Hot
Possible Cause
Possible Solution
1
Exceeding duty cycle
1a
Replace with properly rated and cooled torch
1b
Decrease parameters to within torch rating
2
Loose or poor power connection
2a
Clean, tighten, or replace cable ground connect
2b
Tight torch and cable connections
Possible Cause
Possible Solution
1
Worn contact tip
1
Check and replace if worn
2
Debris buildup inside of liner
2
Replace liner, check condition of electrode
3
Wrong contact tip size
3
Replace with correct size contact tip
4
Neck too straight (180 degree)
4
Use reduced bore diameter "tight tolerance" tip
Torch cleaning stations, wire cutters, wire straighteners, neck inspection tools, TCP inspection tools anti-spatter fluid applicators/injectors are all additional equipment that can protect the robotic welding system investment, maximize its effectiveness and reduce costs.
This equipment is particularly helpful in minimizing downtime that leads to offline maintenance or repairs of the equipment or its components (e.g., the robotic MIG torch, cables or consumables). Unfortunately, some companies view this equipment as an unnecessary cost and don't realize that it can play an important role in improving quality and increasing productivity.
Peripherals require an up-front investment, but the payback period is relatively short and within 12 to 18 months.
For example, a reamer, also called a nozzle cleaning station or torch cleaning station, minimizes spatter build-up in the nozzle and with it the opportunity for electrical shorting between the contact tip or gas diffuser and the nozzle that could lead to premature failure of the robotic MIG torch or consumables.
Failure of the torch or the consumable, of course, increases the cost for replacements and requires downtime for changeover — downtime that puts the robot offline and stops it from making parts and making money.
A clean nozzle also allows for good shielding gas flow, thereby minimizing quality issues that could be costly to repair.
Torch Cleaning Stations
Use the reamer/cutter to remove accumulated spatter as needed. Anti-spatter spray can be applied independently between ream cycles.

Torch Cleaning Station cycles can be "hidden" during table indexing or part loading to minimize downtime.

Ensure the unit is supplied with the manufacturers recommended air pressure which is typically 87-116 psi (6-8 bar). Air supplied must be clean filtered air while under load to ensure optimal results.

Ensure the torch is programmed to the proper position.
Broken Reamer Cutter Blades
Be certain the nozzle is concentric to the cutter blade during reaming and the insertion depth on the nozzle goes past the gas holes on the diffuser.

Apply anti-spatter liquid and/or increase reaming frequency to prevent excessive spatter buildup in the nozzle (which can break cutter blades).
PM Schedule - Reamer
Daily
Weekly
Monthly
As Necessary / Yearly

Visually inspect alignment

Check: Nozzle and torch position

X
Check lubricator to ensure it is working and set up properly (i.e. fill oil, clean/replace filter)
X
Check LEDs to ensure reamer and controller communications
X
Clean station exterior
X
Check cutter for damage, dullness, or clogging
X
Complete clean-up of reamer and sprayer
X
Check alignment & insertion depth of torches to reamer with program gauge
X
| | | | | |
| --- | --- | --- | --- | --- |
| PM Schedule - Sprayer | Daily | Weekly | Monthly | As Necessary / Yearly |
| Check reservoir to ensure it is full of anti-spatter fluid | X | X | | |
| Check spray coming out of spray head to ensure it is normal | | X | | |
| | | | | |
| --- | --- | --- | --- | --- |
| PM Schedule - Wire Cutter | Daily | Weekly | Monthly | As Necessary / Yearly |
| Lubricate through the grease nipple | | X | X | |
| Check cutting blade | | X | X | |
There are a variety of consumable items in a welding operation that need to be replaced on a regular basis.
Some consumables to check include torch liners, contact tips, nozzles, and gas diffusers. The condition of these items will all vary based on usage, welding conditions, etc. The frequency of when these consumables need to be changed will also vary.
A general rule of thumb is that the closer an item is to the weld the more frequently it will need to be changed. General recommendations for that frequency can be obtained from the welding equipment supplier.
Storage and Handling of Consumables
To protect consumables against costly damage before even placing them on the robotic MIG torch, it is important to employ proper storage and handling practices:
Always keep consumables in their original packaging until they are ready for use
Avoid opening packaging and placing components in a bin whenever possible
May lead to external scratches or dents that allow spatter to adhere during welding
Storing consumables in open or dirty containers or bins can cause dirt and/or oil to accumulate on or in the consumable causing:
Loss of shielding gas coverage from blocked gas holes
Prevention of mating parts seating properly
Installation
Always follow the MIG consumable manufacturer's suggestions for installing consumables and use the proper tools in order to gain the best performance and reduce the risk of damaging them.
Some manufacturers provide torque specifications for various parts on the welding torch.
While these practices may seem simple, they can go a long way toward minimizing consumable replacement and preventing downtime that keeps the robot from reaching its optimal throughput during a shift.
Contact Tips
The contact tip transfers current from the welding torch to the welding wire and is the most quickly worn item in a robotic MIG welding torch.
Besides transferring current, the contact tip is also a key component in positioning the welding wire into the weld joint.
There are a large variety of factors that impact the durability or longevity of your contact tip, which makes it one of the most critical items in your robotic welding torch.
Avoid the temptation to skimp or cut corners on quality.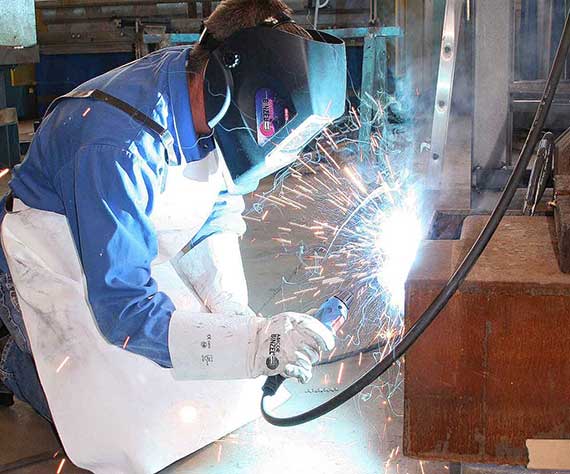 Contact Tip Material
Contact tips are made from a variety of materials:
Copper
Copper chrome zirconium
Copper chrome zirconium silver plated
Copper chrome zirconium HDS (heavy duty silver plated)
Copper chrome zirconium silver plated HDS ceramic insert
Beryllium – no longer in use due to health and environmental concerns
These materials vary in conductivity, hardness and price, so it is important to work with your welding professional to determine the best material, i.d. and o.d. as well as cost effectiveness of the contact tip for your particular application.
Size
Inside diameter of the contact tip is important to be sized to the welding wire outside diameter and type of wire.
Some welding wires because of their design or material expand more when heated than others.
If the contact tip i.d. is too tight – wire will feed poorly or not at all and could burn back to the contact tip
If the contact tip i.d. is too loose – wire will not be in joint and may experience erratic arc
Some manufacturers also provide tight tolerance (TT) contact tips specifically designed for robotic MIG welding applications where the welding wire pays off a drum or reel relatively straight with low cast and helix.
The smaller inside diameter of a tight tolerance contact tip ensures the welding wire is always in contact with the inside diameter of the contact tip providing excellent welding current transfer from tip to wire.
Wear
How can I tell when a contact tip is worn?
The front orifice is no longer round
The wire is no longer targeted to the proper position on the welding joint
Quality
There are significant differences in contact tip quality…from the purity of the copper utilized to the design features of the tip to whether the inside diameter is drilled, high speed drilled from Binzel or extruded. Drilled contact tips, especially high speed drilled ones provide a smoother interior finish and improved arc characteristics. Consult your welding professional for assistance in choosing the best and the most cost-effective contact tip for your particular application.
Tip Holders, Retaining Heads, Gas Diffusers
Inspect tip holder or retaining head for spatter adhesion, blocked gas ports and carburized contact surfaces. Clean as often as possible.
Ensure all consumables are tightly fastened and sized properly for your application.
Here is a troubleshooting matrix to use if you're experiencing contact tip troubles with your robotic torch:
Contact Tip Burnback / Short Contact Tip Life
Possible Cause
Possible Solution
1
Improper voltage and/or wire feed speed (WFS)
1
Set amperage (WFS) and voltage parameters properly
2
Erratic arc
2
See 'Erratic Arc'
3
Improper tip stickout
3
Adjust nozzle / tip relationship
4
Improper electrode stickout
4
Adjust torch to base metal relationship
5
Faulty ground
5
Repair all cables and connectors
6
Worn tip holder or retaining head
6
Replace contact tip and/or tip holder on retaining head
7
Improper tip installation
7
Install per product technical or maintenance manual
8
Extreme heat or duty cycle
8
Replace with heavy duty consumables
Nozzles
The nozzle delivers shielding gas to the molten weld puddle.
If anti-spatter is used, do not use excessive spray times as this will saturate the nozzle insulator and will degrade the insulating material.
Nozzle should be cleaned as often as possible. Spatter buildup can often lead to poor gas shielding or short-circuiting between the contact tip, tip holder or retaining head and the nozzle.
Spatter should be removed with the proper tools designed for spatter removal.
In high temperature welding applications, heavy duty consumables are recommended.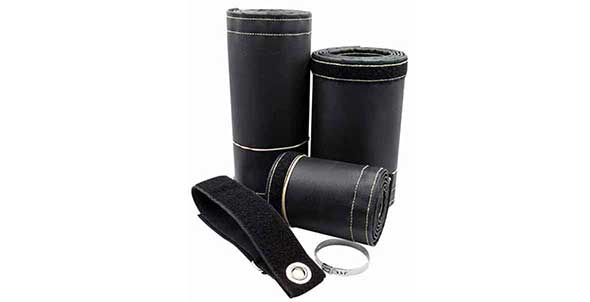 Stick-out or Recess
A nozzle that is too long or too short can also be the source of problems. A good rule of thumb is the higher the current (amperage) the more the contact tip should be recessed into the nozzle.
Electrode Stickout
Consistent electrode stick-out is key in maintaining a consistent weld. Check the distance from the end of your contact tip to the end of the welding wire.
Troubleshooting Matrix
If you are experiencing excessive spatter buildup – be that on your nozzle or on your workpiece, use this troubleshooting guide to assess causes and apply solutions:
Extreme Spatter
Possible Cause
Possible Solution
1
Improper power source parameters
1
Adjust amperage and voltage parameters
2
Improper tip installation
2
Adjust nozzle / tip relationship
3
Improper shielding gas
3a
Verify shielding gas coverage at nozzle
3b
Verify gas mixture
4
Contaminated wire or work piece
4
Clean wire and work piece
5
Improper torch position or angle
5
Replace contact tip and/or tip holder on retaining head
The liner is a wear or consumable item that protects the internal components of your welding torch. It is a critical component of your robotic welding torch since its purpose is to smoothly deliver the welding wire from the wire feeder drive rolls to the contact tip.
Liner life varies based upon your welding conditions, duty cycle, type of wire being used, etc. Allowing dirt, debris and metal shaving to build up in a liner over time will cause shortened liner life and may cause other welding problems as well.
A properly maintained welding system can allow your liner to last a long time.
Some causes of premature liner failure are:
Improper length
Burrs or sharp edges
Incorrect liner type
Incorrect liner size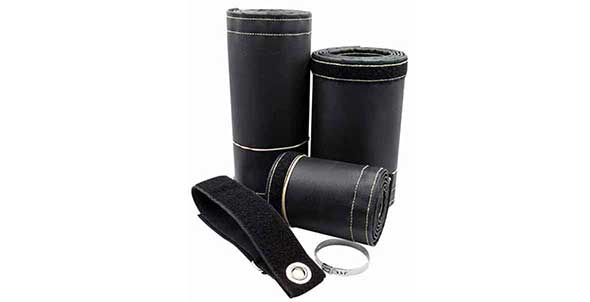 Remedy
A good preventive measure you can take is to blow the liner out with compressed air monthly.
Length
When a liner is cut too short, it typically leads to wire feeding problems like bird-nesting. Some manufacturers print markings on the outside of the weld cable to show when the cable is twisted, providing welding operators the opportunity to straighten it fully in order to measure for the correct liner length. Other manufacturers offer liner gauges as a guide.
Some manufacturers offer optional spring-loaded modules that work in conjunction with a front-loading liner in order to minimize issues if a welding operator cuts the liner to an incorrect length (too short). These modules are housed in the power pin and put forward pressure on the liner after the welding operator installs it from the front of the torch. They allow up to 25 mm of forgiveness if the liner is too short.
Remedy:
When installing a new liner, be sure it will be compressed after cutting. When installing the gas diffuser and contact tip or rear liner retaining nut, the diffuser or rear retaining nut should compress the liner inside the torch. This will ensure there are no gaps in the liner supporting the welding wire and avoid potential wire bird-nesting.
Type
Wire liners come in a wide variety of sizes and materials.
The key to selecting the proper liner is to first identify the following:
Make and model of welding torch (e.g. – ABICOR BINZEL WH500)
Welding wire type (e.g. – ER70S-6)
Welding wire diameter (e.g. – .035" or 0.9 mm)
Softer wires like aluminum typically require softer plastic or Teflon based liners for wire feeding to avoid damaging the wire as it feeds through your torch.
Size
Always make sure to select the correct diameter liner for the diameter wire being used.
Using too large of a liner for too small of a wire may allow the wire to wander, causing poor wire feeding and/or premature liner failure due to excessive wear.
If a liner is too small for the wire diameter, the wire will not be able to feed smoothly, resulting in poor weld quality and potentially an erratic arc and a clogged liner.
Remedy:
Work with your authorized welding distributor in selecting the correct liner for your welding wire type and diameter
Set Screw
Some torches are not designed with a liner retained by set screw, but if the torch manufacturer has designed a set screw to hold the liner in place, it is important to utlize this feature for proper liner performance.
Wire Pull Test
One useful way to check if the liner is good and sized properly is to perform a pull test.
Disengage the wire feed drive rolls
Straighten the welding torch to minmize bends and twists
Pull the wire through the torch by hand and feel the amount of resistance
A well-practiced rule of thumb is if you cannot pull the wire by hand, both the wire feed system and the liner need evaluation.
Liner is Discolored (Full Length)
Possible Cause
Possible Solution
1
Short circuit to electrode
1
Isolate electrode reel from feeder and drive block.
Consult manufacturer's manual
2
Broken copper stranding in the power cable
2
Replace torch cable assembly
Preventive Maintenance (PM) is another critical way to save money on robotic welding, primarily by preventing unscheduled downtime, poor quality parts and/or costly repairs.
It can even help prevent failures that require equipment replacements. The robot, as well as the robotic MIG torch, consumables and cables can all benefit, too.
Certain maintenance can occur in between shifts, such as cleaning off the robot or changing consumables, for example.
Other activities, such as greasing the robot's joints usually occur less frequently and during a longer scheduled stop.
Companies should assess their individual needs and plan the preventive maintenance schedule accordingly.
For larger companies, hiring a maintenance crew to take care of preventive maintenance may be desirable.
Predictive Maintenance: The Future
Great strides have occured in factory automation communicating with PCs and other factory automation. Through digital technology and Ethernet communication, a new world of data has been made readily accessible.
Now with the internet of things (IoT), more data is collected per machine than ever before. That abundance of information has made it possible to add more intelligence to automation and collect data to be used with various algorithms and trend analyses.
It is now possible to monitor and, in some instances, predict when a machine needs attention. This technology is helping to reduce downtime caused by unscheduled and unforeseen events. For instance, it is now possible to tell, based on previous performance data, when a particular machine is not meeting established requirements.
In some cases, this information also communicates from welding power supplies independently or through the robot to help provide an overall status report on the health of that weld cell.
In conclusion, there are a wide variety of parts that make up a robotic MIG welding system. It is imperative for each of these parts to perform optimally, because each one plays an integral role in delivering welding wire, gas and amperage and voltage to the exact location of the weld joint.
Adopting a regular routine for inspecting your weld cell and all the various components that are part of it, will ensure your equipment stays at the quality level you expect and will aid you in getting the longest possible life out of your equipment.
New technology is gradually becoming capable of making this process simpler and more proactive rather than reactive.