Introduction and basic knowledge "Optical seam tracking"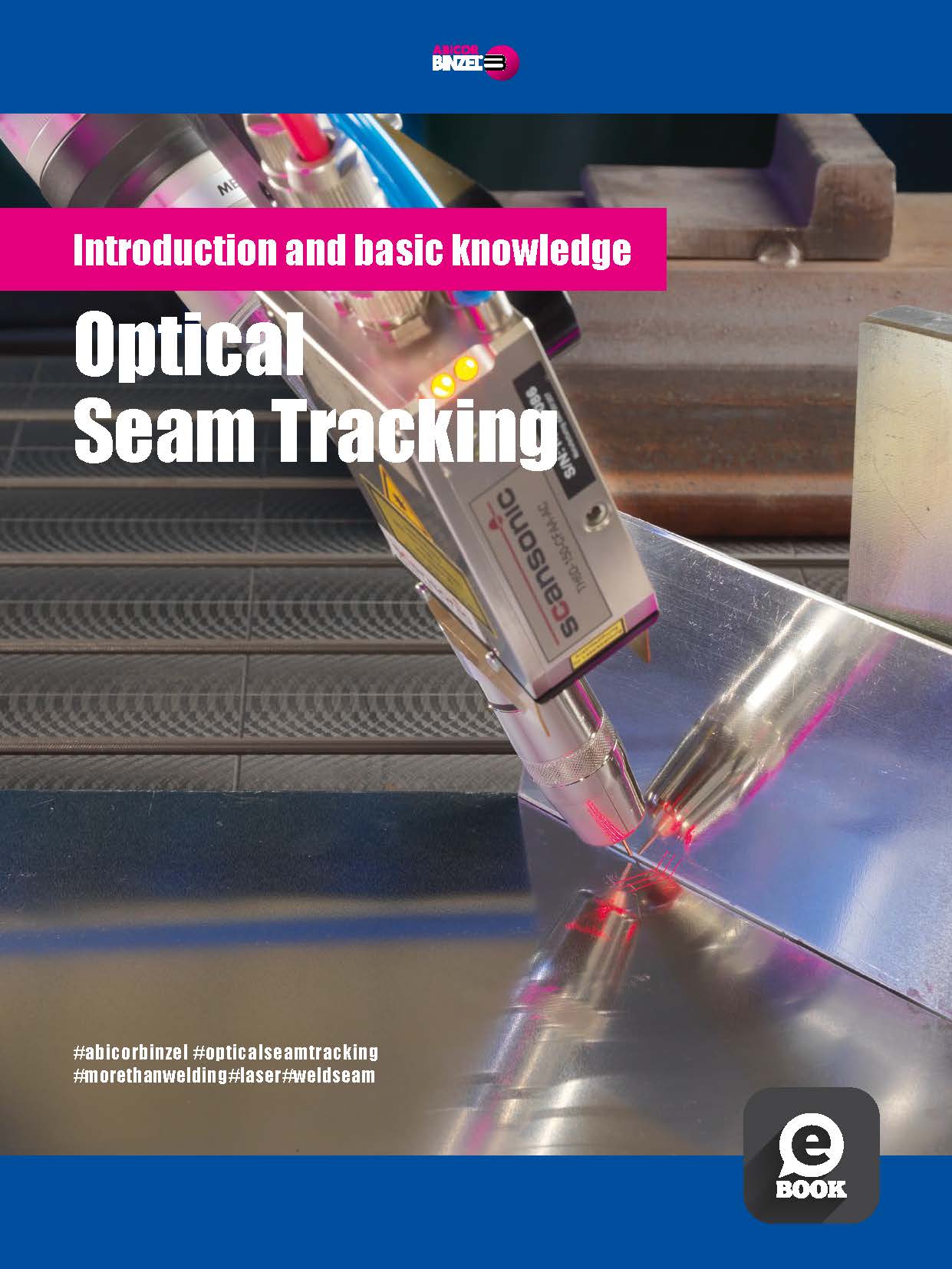 On almost 30 pages, our eBook provides you with an introduction to the topic of optical seam tracking in robot welding and shows you how you can optimize your production process and reduce costs in the long term.
You will get answers to questions like these:
What is optical seam tracking and how does it work?
For which applications is this type of seam tracking suitable?
What do I have to consider when deciding on such a system?
How can optical seam tracking be integrated into my existing welding process?
How do I recognize a good seam tracking system?
What needs to be considered for maintenance and installation?
Find out how seam tracking has evolved over the past years until today, which possibilities are now offered by optical seam tracking and how it can be used in a way that requires far less programming and technical know-how than you might have imagined.
If you are thinking about optical seam tracking, this eBook is just the right start for you!

... or scroll down to read the complete guide.
Enjoy!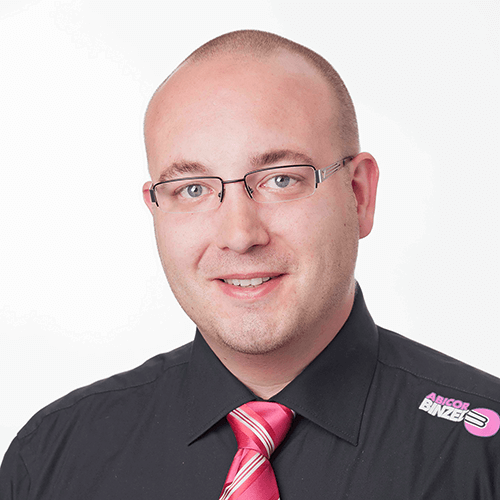 Jörg Ehling
Due to his many years of experience in the automation of joining processes for various industries and the close cooperation with customers and end users as Technical Sales / Key Account Manager, he is the ideal contact person for plant planning and process optimization.
In his position as Knowledge Manager, Jörg Ehling considers the sensor not only as an «online tracking sensor», for him it is «the eye of the robot»...
What you can expect from this eBook
In this eBook we cover basic topics around optical seam tracking and how it can improve your production. This type of seam tracking applies to all applications in which a web is traversed exactly such as applying adhesive, cutting sheet metal, etc. In this eBook we mainly refer to the welding process. You will find out what to look for when deciding, how versatile the technology is and how easy it can be to integrate it into your welding process.
Are you aware of these problems with the weld seam ?
Workpieces are to be welded and there are always components where the weld seam is not where it should be. Either the unmachined parts are manufactured outside the tolerance or the tolerance is too large and cannot be improved due to the preceding production steps. Or the parts cannot be perfectly positioned in the clamping fixture.
A robot travels along the programmed path and the welding torch welds, regardless of whether welding is to take place at this point or just a few millimetres away.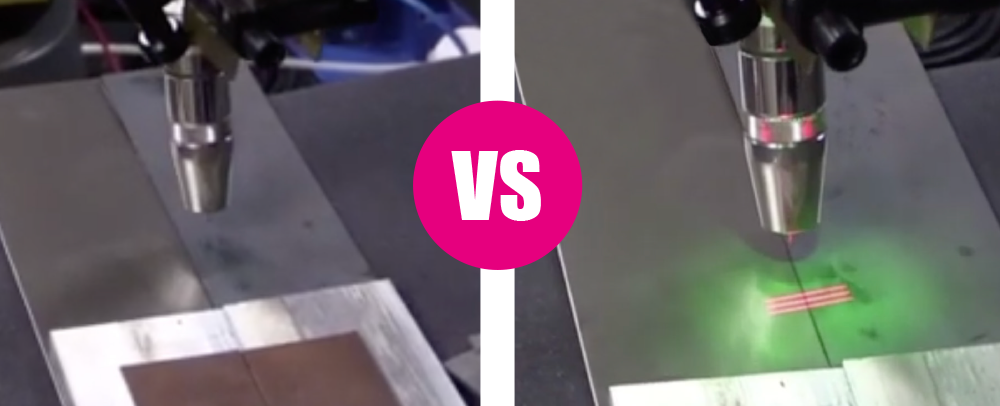 Welding with (right) and without seam tracking system (left)
At this point, a seam tracking system can significantly improve the quality of the components. Welding is carried out only where required not a few millimetres to the left or right of the nominal seam. Height offsets can also be compensated. This reduces scrap and rework. The number of complaints decreases and the cost of the sensor system are repaid within a short time.
Thousands of teams of engineers and all those who are involved in precision welding on a daily basis in production face these challenges. And it is not limited to robot cells. How can the challenge of part variance be mastered when the customer demands perfection and the tool used cannot adequately meet this requirement ?
Fortunately, there is a solution to this problem. Many of you have already read and seen something about optical seam tracking. Perhaps they have even thought about using a system in their own production, but were not sure whether it would be worthwhile.
For many production teams, optical seam tracking is the best option to reduce scrap and rework in production processes.
In this eBook you will learn how the subject of seam tracking has developed over the past years until today and which possibilities optical seam tracking now offers. And how you can succeed with less technical know-how than you might have ever imagined.
What is seam tracking and how does it work ?
In this section you will get a basic introduction to seam tracking, learn a little about the historical development and how this supports the whole production. We will also look at how seam tracking works, what is involved and how it can help the user to simplify the production process. Basically, laser/seam tracking is an additional technology that is applied to your robot. It makes it possible to change the programmed path in real time to better match it with the workpiece and its position in relation to the program path.
Optical seam tracking provides the robot with position data of the actual seam position, which it uses to move its programmed path so that the robot welds where it has to weld and not where it was programmed. In short, seam tracking eliminates errors and allows variation from part to part. What is seam tracking and how does it work?
Welding by hand (left) and with seam tracking system (right)
How it all began
Seam tracking itself has been around in the welding industry since the 90s. It all began with the ability to find the component by «tactile touch». A process in which a low voltage was applied to the wire and the moment the robot touched the part, a short circuit occurred. The robot then detected this change and recorded this position in a data register.
The next development of tracking used arc features to track a seam. Arc tracking, known as arc sensor, was designed to take advantage of voltage fluctuations caused by arc length changes during torch movement and the resulting arc along the weld seam. Since the system sees a change in the arc length/current, the robot could change its path to stay in the seam. This type of seam tracking is typically limited to fillet welds where oscillation must be used. Then as now, seam tracking offers a simplification in programming for those who want to correct misalignments.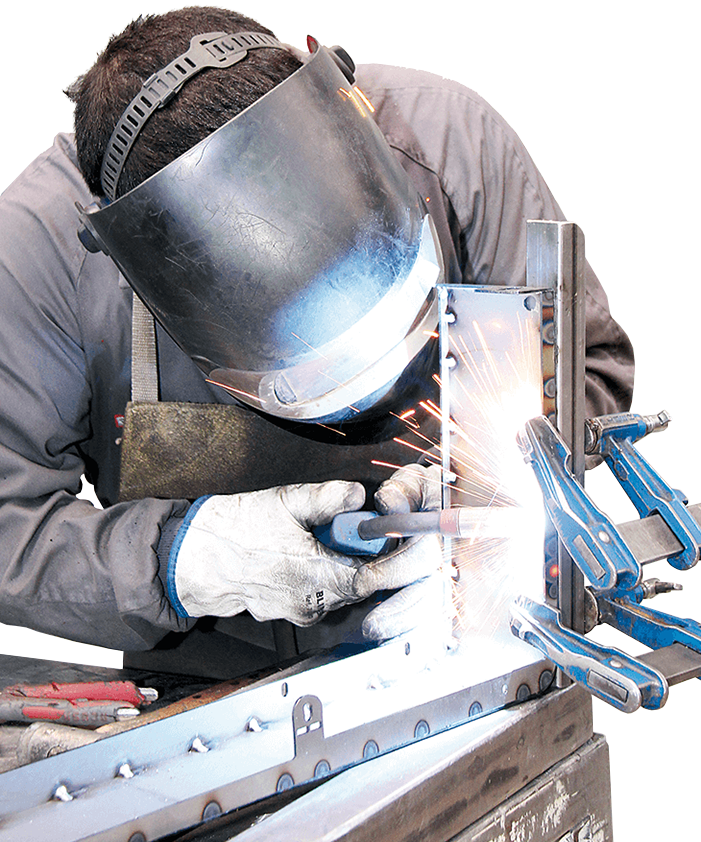 This arcing process reduces reworking. A few years ago they were revolutionary welding technology, but did not always solve the problem of welding automation because of problems with the quality level.
In addition, there are also the mechanically touching (tactile) systems. A sensor that touches the workpiece travels along the path, and if there are deviations, it is deflected and gives a signal. The signal strength indicates how large the deviation is and the robot can be tracked. There are two other systems on the market: offline sensors and vision systems. Offline sensors track the component, as the name suggests, offline and thus before the actual welding process. The component must be traversed twice, once to record the position data and once to execute the work step. This means a longer cycle time and factors such as thermal distortion are not considered.
Vision systems detect the component by means of a camera, which involves only a minimal increase in cycle time, but also only record the component before welding, as these systems have no protection against radiation from the welding process. Therefore, only offline use is possible here as well.
A matter of quality
Visual or optical seam tracking is a more complex solution than the transmitted arc. This seam tracking is considered faster and more reliable and was first introduced in the late 1990s. Since its introduction, significant improvements have been made in data filtering, speed of information exchange and general ease of use, which coincided with the development of computer programs.
Optical seam tracking is a process improvement. It can be used to make welding processes more efficient, achieve higher throughput and improve welding quality. In the long term, this means lower overall costs in the automated process. Consider problems and defects of your robot welding cell as results caused by old solutions like TAST. Larger deviations in the welding process result from deviations of individual parts. Take a look at your automated process.
If you look from batch to batch or from run to run, changes in material properties come together (such as expansion, springback after forming, etc.). Although this is checked, not everything can always be detected and requires additional set-up times or adjustments during the changeover. The robots themselves do not adapt to these changed conditions because the part is not always in the process. Laser seam tracking as an adaptive tool brings your process in line with the joint.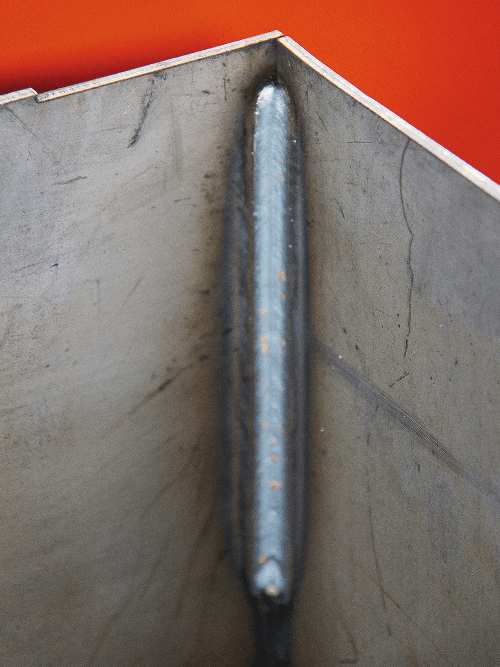 What are the benefits of optical seam tracking ?
In short: You have many advantages if you exploit the full potential.
Used correctly, optical seam tracking reduces your heat input and eliminates over welding, reduces potential metallurgical problems and allows your automated process to work faster and much more efficiently. One thing is certain: you will end up with a better quality product. The robot can adapt more easily and gets an agile solution for the welding process.
What is seam tracking and how does it work ?
First of all, there is the seam tracking sensor itself. The main part of the seam tracker is a sensor package consisting of sensor, communication/power cables, air hoses for cooling / cleaning and system control (similar to a small PC). The controller is typically integrated into a robot system or a system with a multi-axis carriage, sends position data to the motion control package of the fixture and instructs it to deviate from a programmed path.
Welding seams with special requirement profiles are a challenge without optical seam tracking. Good quality cannot always be achieved.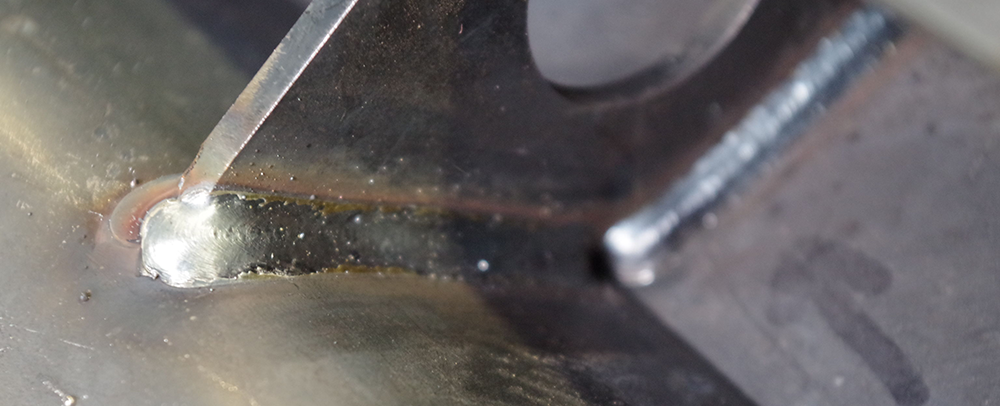 This deviation provides improved joint accuracy because it is directly tied to the desired weld path rather than a general path programmed on another batch of parts.
There is a digital or analog interface on optical seam tracking packages that you can use to set the parameters of the system. These parameters include the joint type, lighting and aperture configurations, and the seam profile (overlap, fillet, etc.), allowing the system to formulate the best tracking conditions for the particular seam.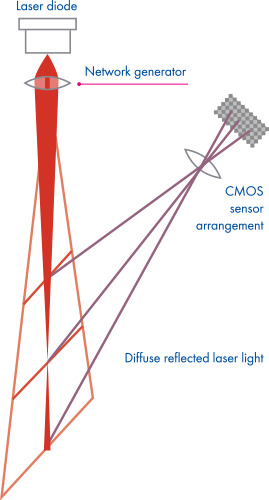 The intensity of the laser light and the aperture speed can be adjusted to achieve the best visibility of the seam. Filters can be used to exclude parts of the field of view that are not relevant to the joint being processed. Fading out parts of the field of view is a particularly important step when several seams are in close proximity to each other and only one should be selected.
After having integrated the seam tracker, which usually requires only a few lines of program data depending on the device, the system and the sensors start working. With optical seam tracking sensors, a laser beam is emitted by a diode, which is either integrated in the device or is part of a liner generator package. The beam is then converted into one or more lines by an optical liner generator depending on the sensor make. The laser line then shines out of the diode and strikes the target. It then reflects diffusely at an angle so that a cloud of individual, more or less bright light spots hit the camera chip. The individual pixels are then filtered and further processed.
Filters, both software and hardware related, remove reflections and other light influences. The data is then calculated by the seam tracking controller and the position of the light points on the chip is converted into process-related position information. A profile of the seam is assembled and the results are compared with the seam profile selected by the user.
Other supporting parameters are then calculated in real time in relation to the profile and compared with the defined values of the planned weld path. The offset data is determined and then output to the machine controller, resulting in a modified robot motion according to the offsets found during the tracking process. This eliminates the tiny programming errors of operators and robots that interfere with the welding automation processes.
The technology of the TH6 system is based on laser triangulation. A diode generates 3 laser beams, which are aligned to the weld metal. When the laser beam hits the object, a reflection process of the laser light occurs. The reflected light goes to the CMOS sensor placed inside the camera. The entry point of the reflected line depends on the distance between the laser diode and the surface of the workpiece. The result is a set of raw data that represents the real 3D conformity of the measured object.
The information output from the sensor package includes information such as X, Y and Z positions, gap, discrepancy and angle (rotation, pitch and yaw) about the sensor reading.
Analysis of the data provided can provide information about where in the process major adjustments can be made to the deviations of the parts. This information can then be used to determine not only how the current product can be optimized, but also how future product designs can be improved.
Optical seam tracking in practice
You may have read articles about optical seam tracking or watched videos about it, but you are not sure if this is something for you.
You should know that optical seam tracking has almost unlimited applications in production and manufacturing. It can be used to handle some of the most difficult parts in your process. In this section we will go into this in more detail.
When would the optical seam tracking be suitable for you ?
Optical seam tracking adapts to virtually any process that requires adaptive technology to adapt to variations in the workpiece where robots or various semi-automatic applications are used.
In cases where the variation from part to part is greater than the repeatability of the programmed path of the machine, alternative technologies are required to ensure that the interaction between machine and part is correct. These adaptive technologies include vision, tactile seam tracking, optical seam tracking or other sensor means to ensure where the part is located – either inside the machine, on the machine or in front of the machine, i. e. in the machine's working area.
Robots go where you tell them to go. If the part is not there, the process will not run properly. This leads to scrap, poor quality, loss of sales, loss of working hours, etc. Seam tracking allows you to bring quality into the process instead of relying on human programming errors. Optical seam tracking is a means to ensure that the process is performed correctly the first time.
In situations where the part is too large for exact positioning, only rough clamping devices can be selected. Large parts usually mean several welded joints or large and long welded joints. Seam tracking is ideal for such applications as it reduces programming complexity and increases throughput.
In simple applications it is only necessary to store the start point and the end point at the end of the process in a security zone. By not reprogramming a part with the robot, a lot of time is saved.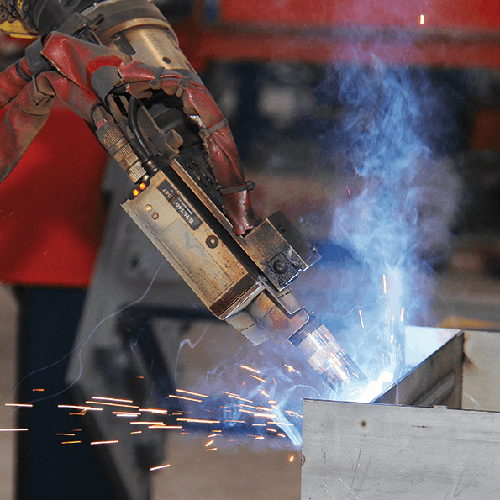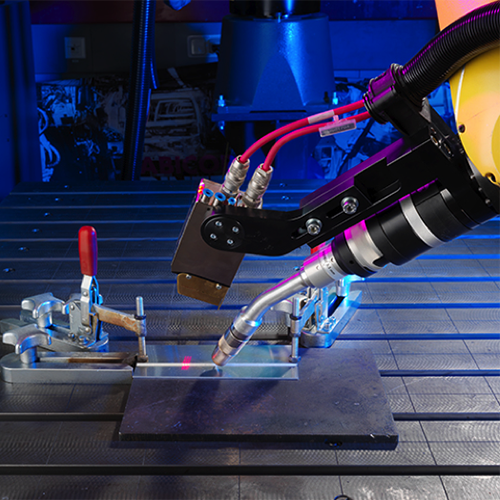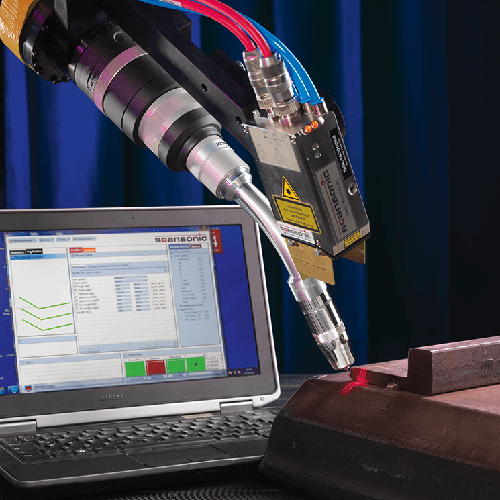 In situations where the part is too large for exact positioning, only rough clamping devices can be selected. Large parts usually mean several welded joints or large and long welded joints. Seam tracking is ideal for such applications as it reduces programming complexity and increases throughput.
Seam tracking can be used for different materials in different industries. Optical seam tracking is conceivable when applying seals, making holes or removing material. It can help to improve the accuracy of the process on a specific part. Its possibilities are not limited to a single industry or process. It can be used to provide adaptive motion control to automate products, ensuring part and process consistency.
Despite the wide range of possible applications, seam tracking is not suitable for every process or application. The shape, size, accessibility, etc. of the component play a role in deciding whether seam tracking is a good technological solution for your automation requirements. The age of your current equipment is another factor.
Seam tracking can be applied in most current technologies. In welding, butt welds and highly reflective materials are two application challenges that have been problematic for seam tracking for years because the sensor is not able to process large amounts of deflected light together with others. But today, with the right optical seam tracking system, this problem no longer exists.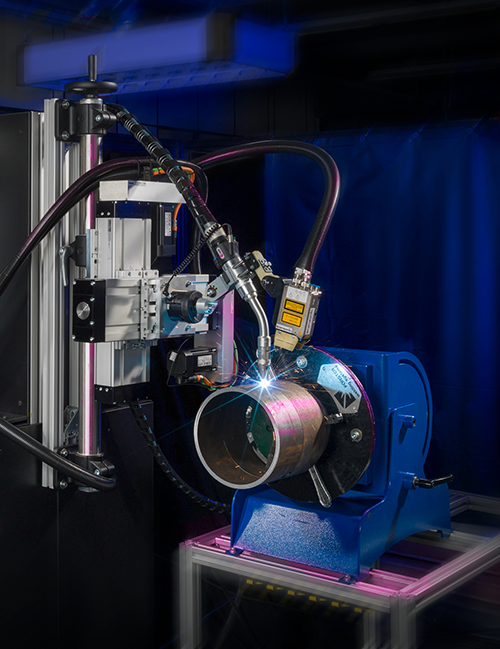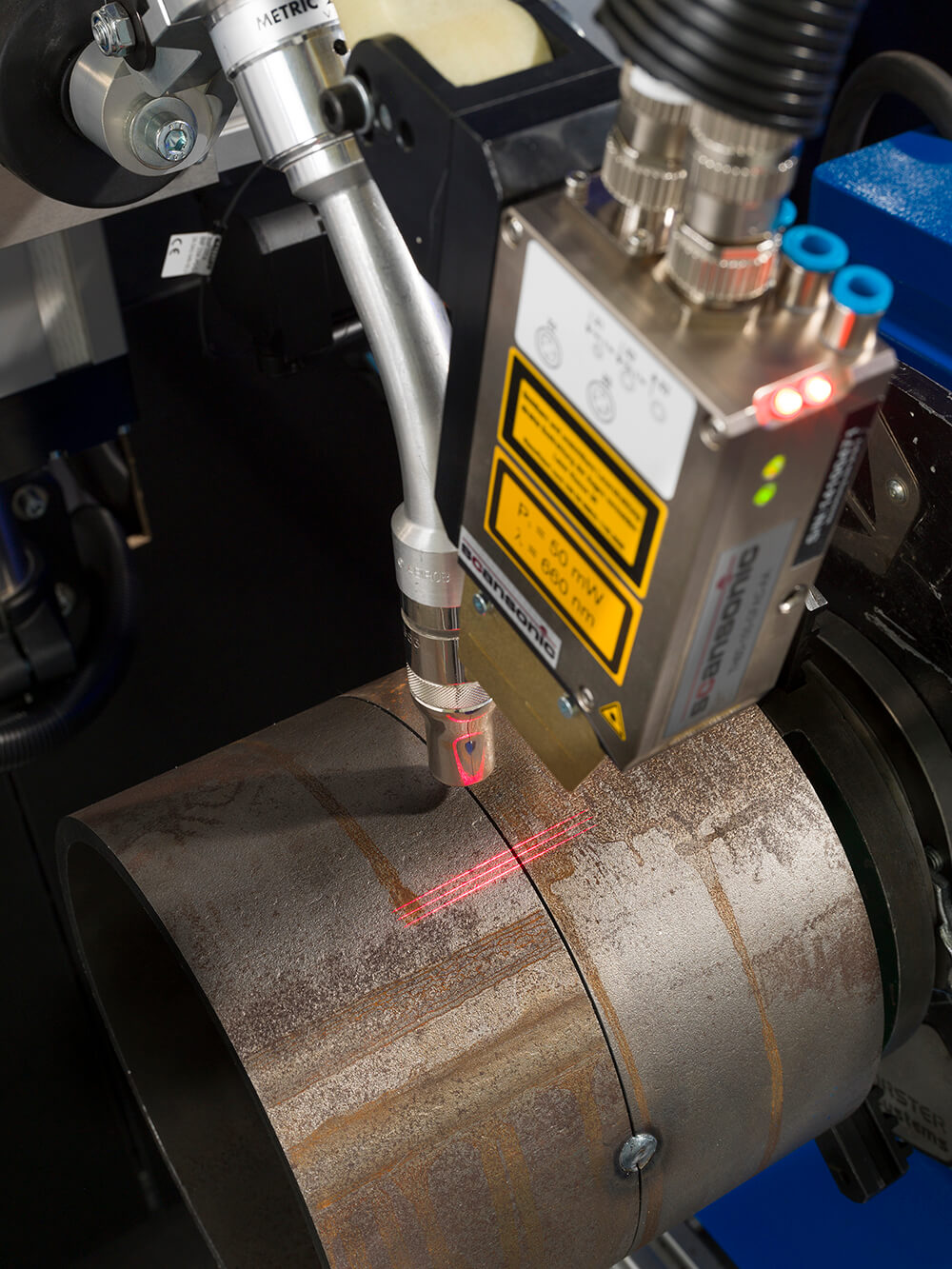 What equipment is used for optical seam tracking ?
Optical seam tracking is ideally designed for robot applications. Major robot manufacturers such as Fanuc, Kuka, Yaskawa-Motoman, ABB, etc. integrate optical seam tracking via a sensor interface package that is integrated into the robot controller. Newer robots will rely on an Ethernet-based interface, which is faster and easier to use than an analog one. Analog interfaces are more common on older robots or hard automation solutions such as gantries, etc. Depending on what your system is equipped with and how critical your cycle time is, it will decide whether a newer Ethernet-based solution is needed or whether an analog solution will work.
The focus when mounting a seam tracking device is on the tool center point (TCP) of the robot. It guides the robot in such a way that data is collected, the information is sent back to the robot controller and the robot motion is offset so that the actual part position can be aligned with the programmed path of the robot.
Submerged arc welding, tank welding, gantry and rail components with single or dual axis positioning are other applications that can make very effective use of optical seam tracking. In these cases, the sensor is integrated into the controller via an analog base, since most of these controllers are not set up via Ethernet and do not have the motion control protocols required for processing the path adjustment. The analog interface then provides a voltage-dependent value to guide the motors and instruct them to deviate in one direction or the other based on the data collected.
Think of optical seam tracking in hard automation as an operator with a joystick moving a carriage up or down to compensate for process variations. The operator sees a deviation, then moves the joystick in one direction or the other to compensate for this deviation.
The sensor does the same. It processes the data, outputs the response to a controller and sends a signal to the motor to shift this path.
In addition to MIG welding applications, seam tracking can also work with plasma welding, plasma cutting, TIG welding, laser welding, laser cutting, grinding and other various assembly applications. You can also use it in some areas to perform sealing operations.
Many of these applications depend on whether the tool set can be equipped with a sensor and whether the robot is programmed to support technologies such as seam tracking in its process.
What can I track with an optical seam tracking system ?
There are three main elements that the seam tracking must pay attention to: the type of welded joint, the material (especially metals) and the axes.
1. Connections
In terms of joints, there are nine main joint types that most optical seam tracking systems can track. In many seam tracking systems, however, these joints are not stored in the system. You must take the time to develop these welds or have them developed.
Any optical seam tracking system that comes with the pre-fabricated joints provides an advantage over other solutions. Some products require welders to scan the weld before programming and defining joint targets. This can be time consuming and increase the ossibility of operator error, especially for someone new to the technology.
These nine joints are the main types of joints that an optical seam tracking system should be able to easily track, depending on the material.
1 – 9: Common seam examples for seam tracking.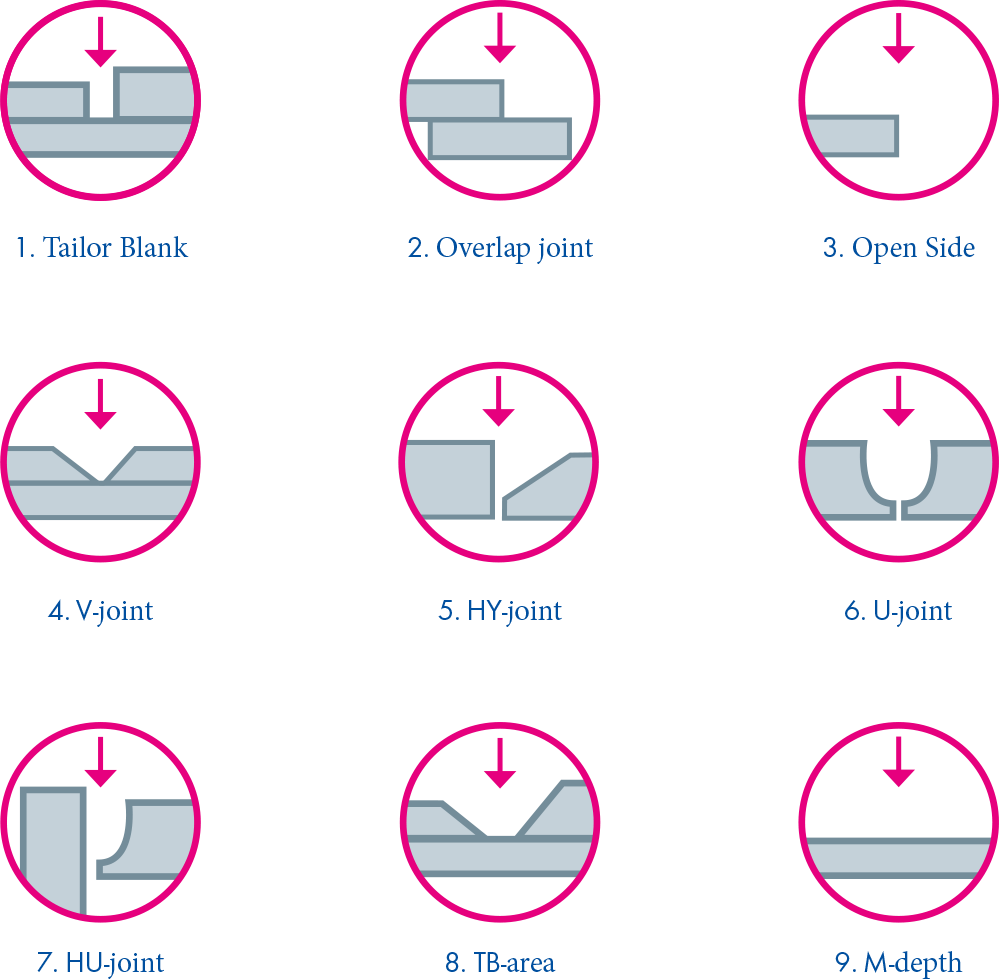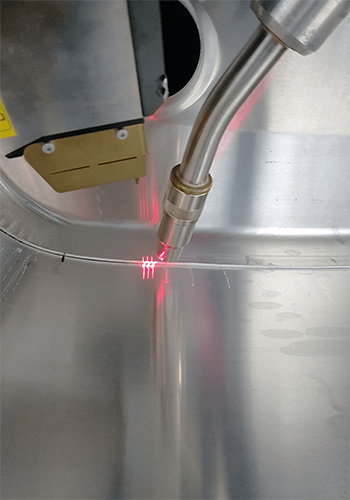 2. Materials
Good seam tracking systems can track seams on almost all reflective and non-reflective materials. There are seam tracking systems that can track seams even on extremely reflective materials like aluminum and even diamond plates.
A seam tracking system that can track reflective metals is a unique proposition if it can also track them reliably. For manufacturers using, for example, diamond plates and aluminum, there has never been a seam tracking system that would reliably track a joint because the reflection of the material made sensor sampling inconsistent and unreliable.
Because these seam tracking devices incorporate state-of-the-art sensor technology, there are now ways to track this type of material.
The seam tracking system in use for reflective surfaces (left) and large components (below)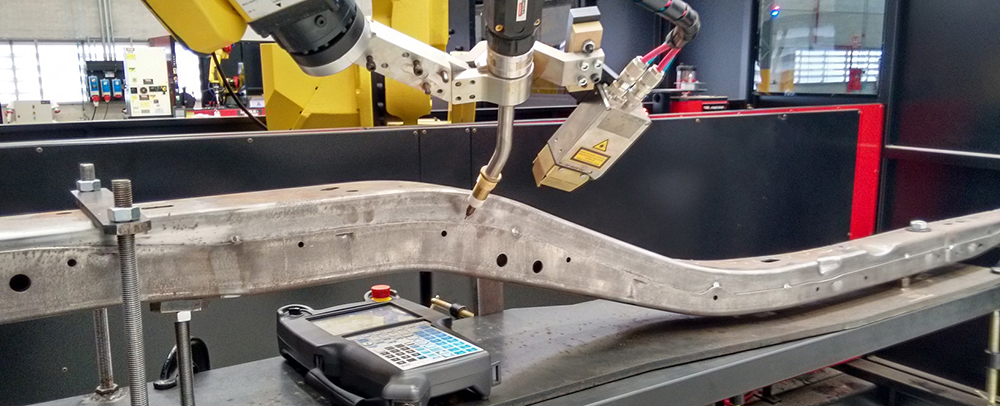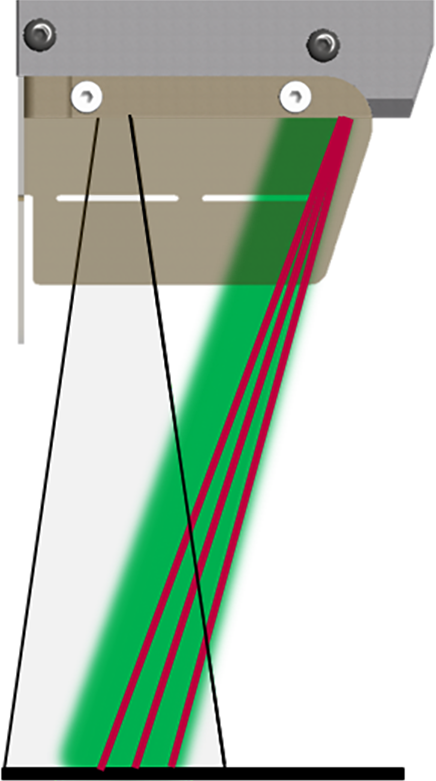 3. Axis
Some seam tracking systems exclusively offer the advantages and capabilities of a threebeam seam tracking system. Such a system has many advantages, including:
1. the ability to calculate deltas around the X, Y and Z axis planes. With a three-beam sensor, the sensor provides Y, Z, gap, area, discrepancy and length of the laser line. Also available are angles (rotation, inclination and yaw) via the sensor reference point. Some robot manufacturers use this available data, while others do not do this. It should be noted that for some robots the advantages of three lines cannot be fully utilised.
2. the redundancy of the track data information, which in turn allows reflective materials, reduces the probability that the system provides incorrect information.
3. the angle detection of the workpiece in relation to the angle of the camera. This development enables more accurate TCP positioning. It determines and calculates the TCP through one scan cycle as opposed to several scan passes or to manually set the TCP for other seam tracking solutions.
The big difference in the recording and use of data from three lines of the seam line technique is the possibility to determine the average value from the three lines. Pitch, rotation and yaw can also be determined to allow a more accurate calibration of the robot at the weld joint.
All robot interfaces have the ability to use the average value of the three lines to get an advantage of three beams.
Schematic representation of the gray image camera, which is used in conjunction with the green light beam for butt joint detection, by perceiving a dip in brightness (contrast) at the joint edge. 1 Measurement lines, 2 Measuring object (component), 3 Green light, 4 Camera lens of the grey image camera and visible contrast line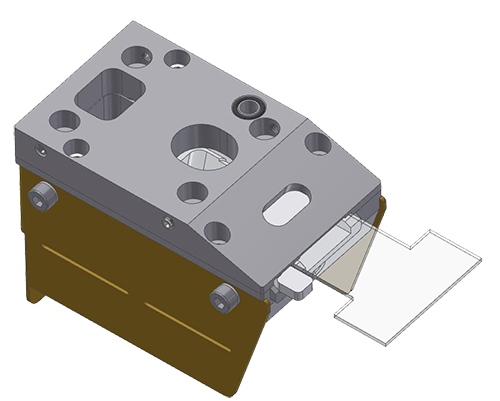 Maintenance
Maintenance is largely comparable for different seam tracking sensors. The maintenance depends on the frequency of cleaning or replacement of the protective glasses. The protective glass is an interchangeable element that is typically located between the actual optics of the sensor and an air jet that blows air parallel to the sensor to remove smoke from the sensor's field of view and spatter from the weld arc. Maintenance is an important factor for your process. Considerations include how much smoke is emitted from the welding cycle that comes into contact with the lens and the amount of spatter that can occur on the lens of the seam tracker.
Often with seam tracking sensors, maintenance is postponed until the sensor lens fails. Often the deterioration of the scan results in failures in seam tracking or when inspection and lens replacement are not considered a critical or routine part of the weld maintenance schedule.
Left: Protective glass
Below: Detailed view of an optical seam detector with protective plate and protective glass
Optical seam tracking sensor in use
A lack of understanding of the importance of the function of the protective glass is another common reason for problems in the maintenance of the seam sensor. If the protective glass needs to be replaced, the sensor should not be used any further. This is because the lens protects the camera and the laser shutter. And if one of these apertures is damaged because it comes into direct contact with contaminants (e. g. splashes or flux), maintenance becomes a much more expensive and time-consuming issue that often cannot be resolved on site. Why does this happen ? Usually it is due to new personnel, lack of training or a poor or ignored routine maintenance schedule.
Maintenance of a seam tracking sensor requires expertise and discipline. Remember to keep the lens of a seam tracker as clean as a torch through a cleaning station. It is a good idea to maintain the lens of a seam tracking sensor at a distance similar to the components of your torch – be it your nozzle, diffuser or torch neck. Integrate the lens maintenance of a seam tracker into a maintenance procedure just like any other welding tool and it will work reliably and for a long time in production.

Left: Seam tracking sensor TH6 with water cooling
Right: Connections seam tracking sensor TH6i: 1.1 Connection Cross Jet, 1.2 Air cooling connection Seam tracking sensor
Another maintenance point with seam trackers is the temperature of the hardware. Seam trackers that contain all their electronics in the sensor tend to run hotter than those with an external processor. Added to this is the total heat of the welding torch itself as well as the ambient temperature of the system (hot summer days). And usually you will need to install a cold air line in the rear port of the sensor to keep it cool during operation. All sensors require a low pressure airflow that acts as an air blower; air is blown near the lenses to keep contaminants away without affecting the shielding gas.
Another point to consider when installing and implementing a seam tracker is a filter on each compressed air line. Why is a filter required ? Sometimes air lines can become contaminated with oil or moisture getting into the sensor hardware causing failure. Compressed air line filters are therefore small but necessary components for a seam tracking sensor that maintains the function of the air blower and keeps the temperature at an acceptable level during operation.
For an application that would add significant heat to the hardware, a water cooling system can also be used, which runs through a plate attached to the sensor to keep the electronics cool during operation. Cold plates are usually also used in cold air lines. Seam tracers that experience less heat in the hardware are usually those whose processor is not built into the sensor but in a separate enclosure connected by a connector; rarely do they need to use water cooling and in many cases can rely on an air blower to keep the sensor sufficiently cool.
Software updates are another maintenance point that should be considered. Always stay in contact with your contact person from your seam tracking sensor to keep up to date on maintenance items in the seam tracking software. Such updates are usually carried out on a case-by-case basis.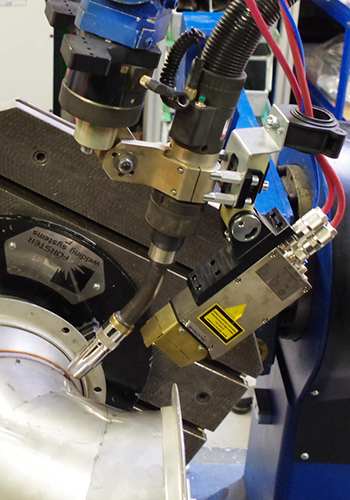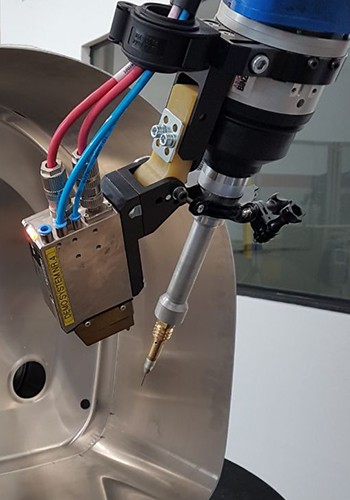 Above: Optical seam tracking in use
Right: TH6/FH6 with sensor holder for iCAT
Assembly
Sensors must be mounted in front of the welding torch to obtain correction data about the seam. Since there are a variety of torch types and even robot arms, there can be no standard «one for all» mounting. The mounting design must be such that it allows accurate and stable positioning of the sensor to the robot TCP. Whenever the seam tracker moves due to the strong torque of the robot, the tracking of the seam is impaired. A stable mount – like everything else on the robot – is crucial for reliable seam tracking.
During installation, a standard bracket makes it much easier to accommodate a seam tracker. For seam tracker suppliers who have torches as part of their product portfolio, this is usually much easier than for suppliers without, since mounting brackets for specific torch packages can be designed and standardized in advance, rather than having to be designed in one-off scenarios for third-party torch packages.
Access to the welding point is also an important aspect of assembly. When it comes to seam tracking, most limitations come from existing fixtures and the process that the end user has integrated into the robot – for example, if the torch is already programmed to reach into a tight welded structure or another part can block access. In most cases, robots are programmed with enough clearance to be able to weld with a sensor, but there are situations where access to the seam tracker is not possible under current conditions.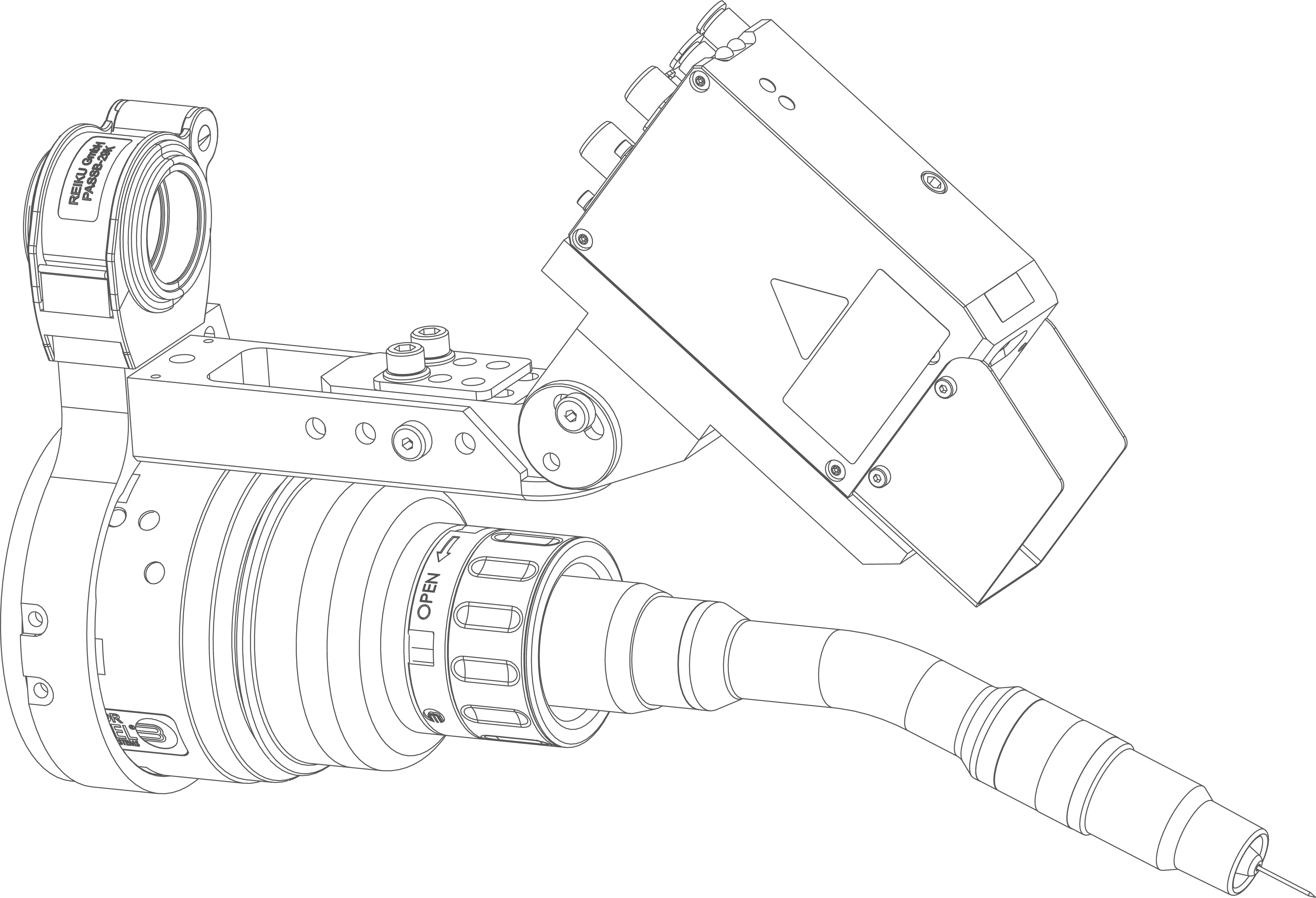 Another challenge in assembly with seam trackers is whether the seam tracker is to be introduced into a new or existing welding process. Existing processes can sometimes be fixed; often it is designed to be accessible only by the torch and another component such as a seam tracker has never been designed or intended for the process. Such situations can result in difficult assembly obstacles for seam tracking. Because of that, assembling a seam tracker can be a major challenge. On the one hand there is the retrofitting of tools, clamping devices, etc. as well as the new space that has to be created for this system. On the other hand, there are investments for a redesign of other aspects such as the device design or an adaptation of the robot welding process, which can again have a critical effect on the cycle time. This must be weighed against each other.
It is difficult for a welding engineer to change the torch angle, torch length, etc. to incorporate seam tracking into the process. Therefore, it is up to your seam tracking provider to have the right type of assembly that fits the process and accurately indicates the joint. Regardless of whether the torch is mounted on an overhead or hollow shaft robot, the assembly challenges are equally complex.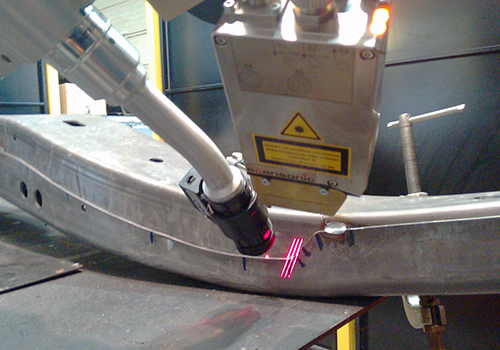 Welding robot with seam tracking sensor in use
In hard automation, there are various considerations when using submerged arc welding. One of them is that thanks to the flux there is normally no splashing or bright light, so maintenance (in terms of changing the protective glass) is much less. However, when using submerged arc welding with seam tracking, it is important to avoid welding flux entering the field of view of the sensor, which would lead to incorrect measurements. To avoid this, it is sometimes necessary to design a deflector plate for your seam tracking mount that prevents the welding powder from entering the sensor path.
In hard automation, the customized gantry or articulated arm systems that you will see more often there will present more challenges in fixture creation than in joint automation. Two-, sometimes three-axis carriages are also used to mount the seam tracking sensor and torch. A common question about seam trackers is how much they weigh and whether they can be mounted on a carriage ? Most of the time they are so light that this additional load is no problem for the system.
Tube segments with minimal joint gap can be welded with TH6i without problems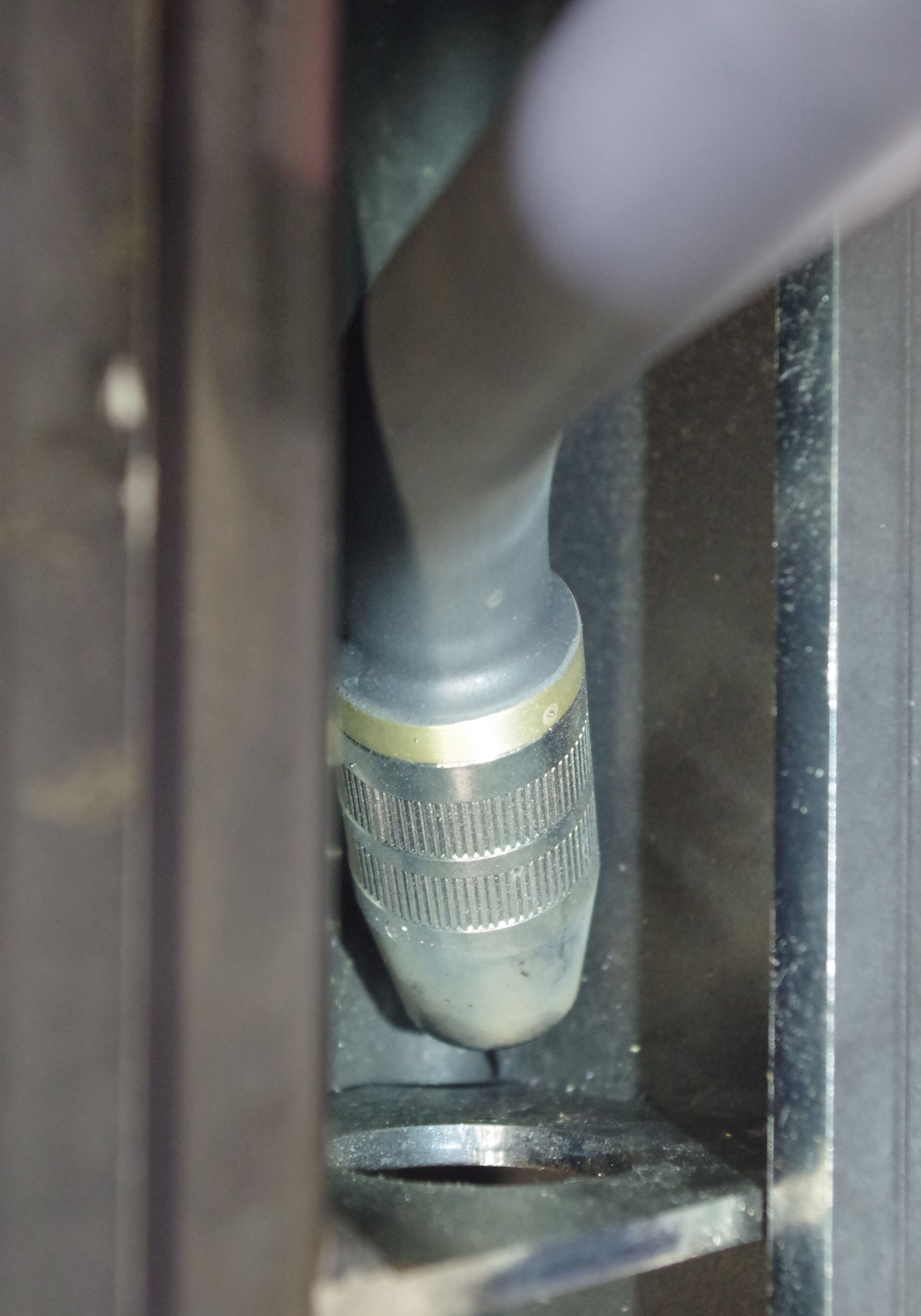 Is seam tracking user-friendly ?
Now that we've learned about the things that make seam tracking systems different, how seam tracking can be integrated into your automation and what exactly does seam tracking as a process do, to what extent can you use it?
It is actually much easier to use than the process you are currently using. The stated goal of a seam tracking system is to simplify the difficult parts of automated production. The seam tracking is user-friendly, especially when considering the alternatives. For a quality seam section, in some cases the number of programming points in the welding path can be as few as two programming points. The number of programming points depends on the complexity of the component. Seam tracking can work on parts when they are either flat and stationary or when they are integrated into rotating or moving positioners. Consider trying to weld a round shape with only one robot arm. You would create an infinite number of programming points and not achieve the same repeatability or quality. Optical seam tracking is a perfect fit for such a welding process.
Ideally, you want your software interface for optical seam tracking to be pre-constructed with the connections you want to track. In this way, you only want to make slight adjustments to the existing technical seams, program the points on the robot controller and get started. It makes communication with the robot much easier.
Please ask your supplier for technical support. It is best to have a system for optical seam tracking integrated into your system as a test so that you can see the advantages and user-friendliness directly. A good provider will help you perfect your automated solution.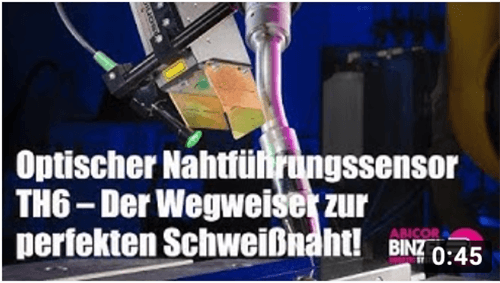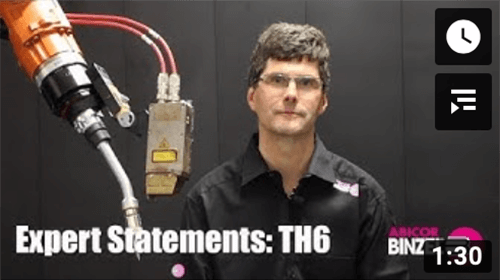 Would you like to learn more about the optical seam tracking solutions ? Are you curious how it could work for your production?
Then please contact one of our sales companies or the Key Account Team to get to know our seam tracking solutions personally. Visit the contact page on the ABICOR BINZEL website and speak to an ABICOR BINZEL representative in your country. Either at your location, at one of our sales companies or at our headquarters in Buseck, Germany.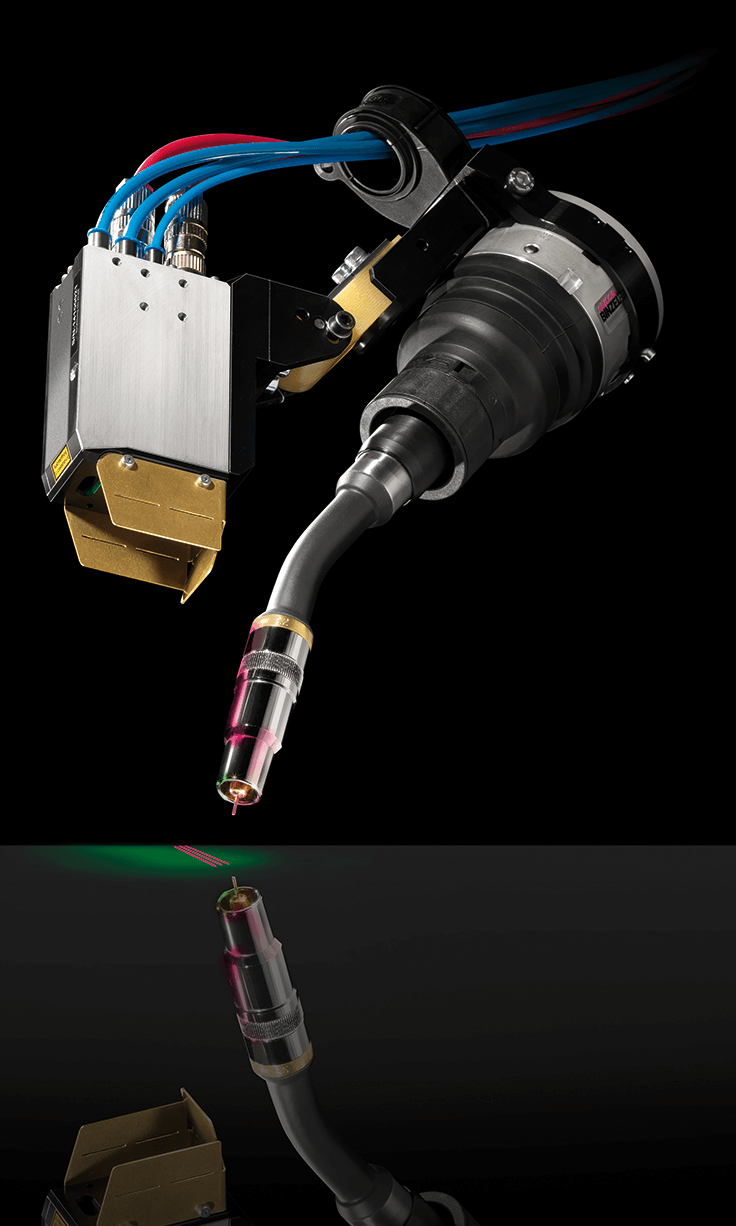 We hope that you enjoyed this eBook and that your expectations were met. Your suggestions and comments are always welcome. Many people have contributed to this eBook, in particular:
Team of authors ABICOR BINZEL USA, Inc.
Tom is a graduate of the Welding Engineering Program at Ohio State University and specializes in arc and laser welding processes and automated welding solutions. He heads the Key Account Group for ABICOR BINZEL and supports key customers from various industries.
Scott is a graduate of the Welding Engineering Program at Ferris State University. He leads the implementation of automated solutions for ABICOR BINZEL customers in the USA and Canada. These are designed to reduce cycle time and modify welding tools for automation processes.
Tom Thompson,
Key Account Manager ABICOR BINZEL, USA
Tom has worked for over 35 years with leading machine vision and optical seam tracking companies specializing in industrial laser applications. His main focus is on the introduction, training and implementation of seam tracking for customers in various market segments.
Alexander Binzel Schweisstechnik GmbH & Co. KG, Germany
Jörg Ehling, Knowledge Manager
Martin Oswald, Product Manager Torches and Periphery
Giuseppe Ravano, Technical Service
Björn Röhmig, Costumer Service / Key Account
Peter Kräling, Product Manager Sensor Technology
Bärbel Bangel, Marketing
Christine Rinn, Marketin

2020 by ABICOR BINZEL
© All rights reserved. This eBook is copyrighted and may not be reproduced, stored in a retrieval system, or transmitted in any form or by any means, electronic, mechanical, photocopying, recording, or otherwise, without the prior permission of the copyright owner.