Cobot welding – Automation is easier than expected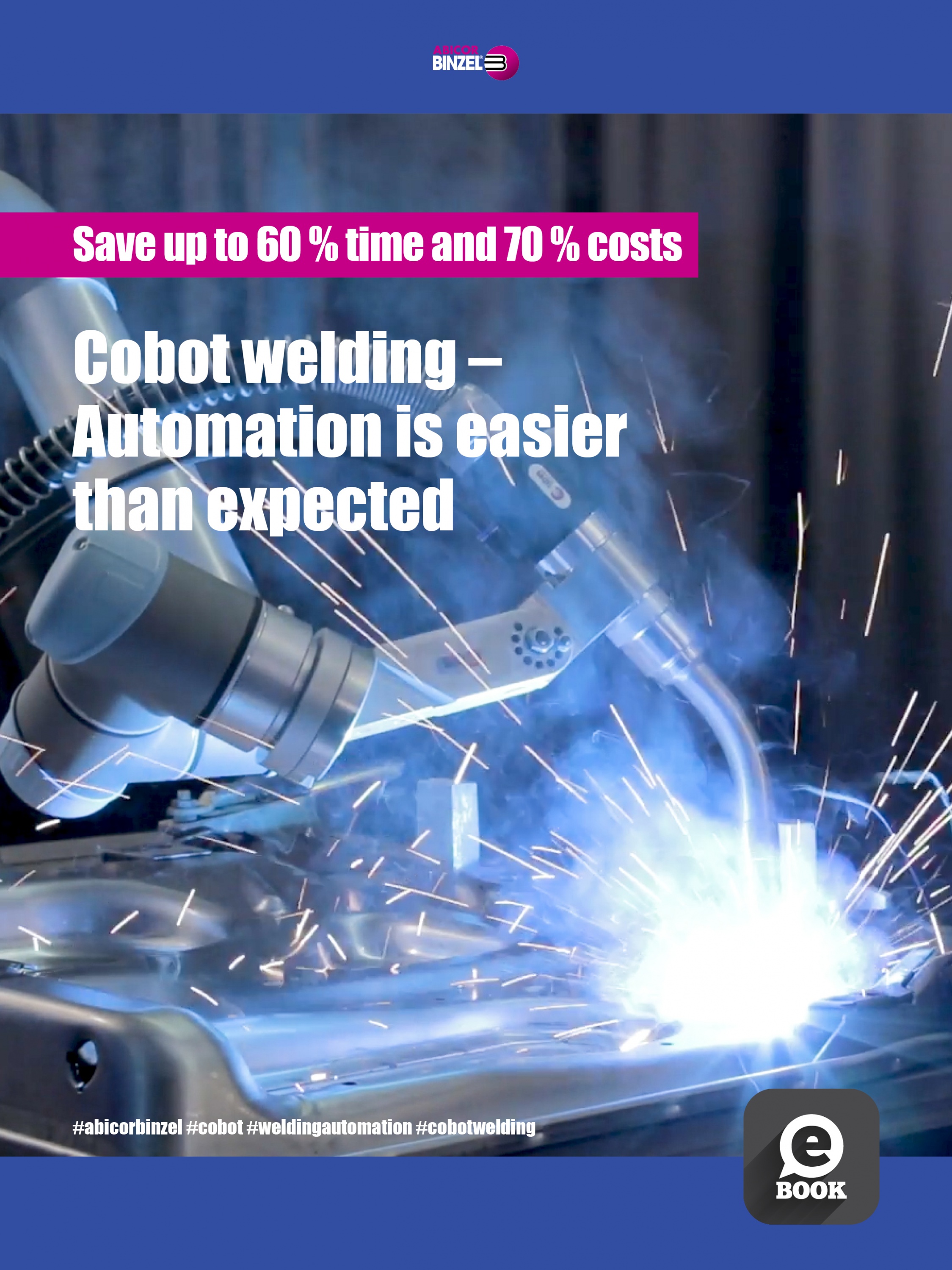 Do you also have to produce larger and larger quantities of the same quality but at lower costs? Then you will find valuable solutions to the challenge that many small and medium-sized companies in particular are now facing on the following 38 pages.
In the eBook "Everything you need to know about: Welding with Cobots - Automation is easier than expected" you will find answers to questions like:
What can we do when time and cost pressures arise in production?
What is the solution if the quantities are so large that the manual welder can no longer cope?
What is the alternative if the welding task places a heavy load on the manual welder and the quality of the weld seam decreases with increasing quantities?
What other option is there instead of investing in an expensive welding robot?
What is the least effort if we want to slowly move into automation?
If you have read this eBook, you will not only get answers to your most important questions, you will also be able to judge whether the next step into automation is worthwhile for you - and you will know how to get there.
... or scroll down to read the complete guide.
Have fun!
Simon Opper
After his apprenticeship as an industrial mechanic at ABICOR BINZEL in 2010, Simon
Opper joined the company's prototype construction department. He later graduated
from the Weilburg Technology Academy with the degree of »State-certified technician in
mechanical engineering, specializing in construction and development«.
With the subsequent supplementary course in technical business administration, he has the right knowhow for the cobot product manager. He interacts in close cooperation with the customer, the qualified partners and all those involved in the company and provides holistic support for the product in the market.

Simon Opper
Junior Product Manager Cobot,
ABICOR BINZEL ROBOTIC SYSTEMS
Producing faster, with consistent quality and the lowest possible costs – those who want to withstand today's tough competition have to rethink. Manufacturing companies that employ welders already have their backs against the wall because there is no new generation of welding specialists. In addition, increasing lots are pushing capacities to their limits. So actually, only the step towards automation helps. But small and medium-sized companies in particular are still hesitating ... the uncertainty in the investment is too high.
However, it doesn't have to be a fully automated welding robot. A cobot is the ideal entry-level solution!
In this eBook we would like to show you how you can get off to a good and easy start with automated welding with the help of cobots. You will get a lot of insights: including the different levels of automation in welding technology, a cost-benefit comparison, the properties of a cobot, information on welding quality, flexibility and the required equipment. You will also find answers to many questions that you have in mind before, during and after an introduction to welding with a cobot – and much more.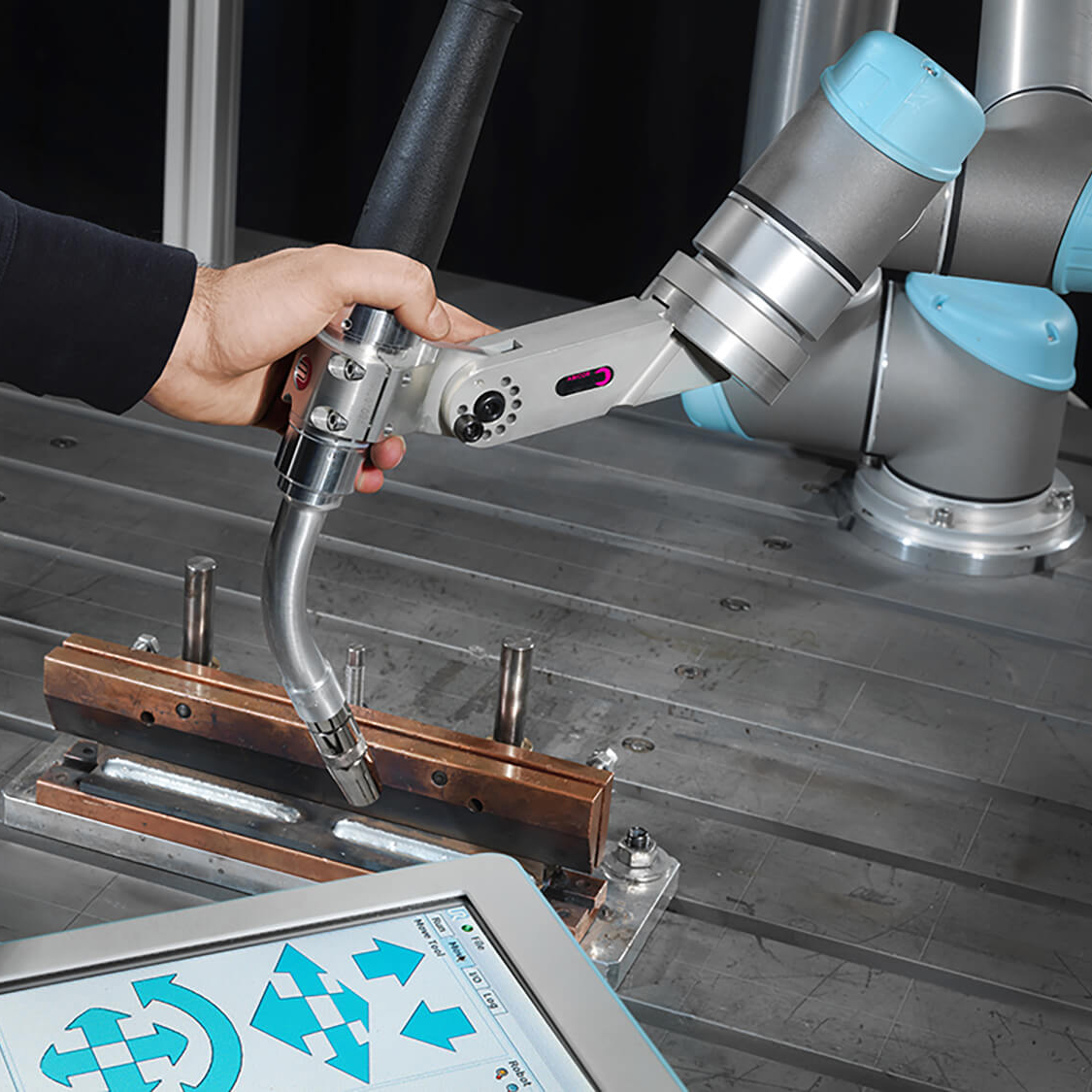 At the end, you will know how to get started with automation. Despite cost and time pressure, you will have clarity as to what your very individual next step will be and whom you can address. You will be sure that your employees and colleagues will acquire the know-how they need to use a cobot efficiently as an additional tool and that they will have fun welding also in the future.
Today, automation is an indispensable part of production. Get your knowledge investment for the future of your company with this eBook!
We have always welded this by hand
Manual welding is the supreme discipline, no question about it at all. In particular, small batch sizes and complex components can be welded faster by a manual welder than by a robot. With a welding robot, the programming time must be taken into account, a manual welder, on the other hand, is completely self-sufficient and can start right away.
As soon as the lot size increases, at some stage a point is reached where an automated process becomes interesting – even necessary, if you don't want to waste time and money. The statement "We have always welded this by hand ..." can then quickly lead to the fact that the specified number of pieces at the calculated costs can no longer be realized in the desired time. Then the competition is happy – and gets the job.
Maybe you are just standing on such a threshold where time and costs breathe down your neck. Perhaps you have already noticed that your employees lose interest in the monotonous work with increasing quantities, not to mention the decreasing quality. Under certain circumstances, you are in the middle of the situation that you have to retire experienced welding specialists and you lack qualified young people.
It is obvious: the current market situation – and even more intensely the future – calls for a rethink. None of us can avoid opening the door to automation technology.
However, many companies find it difficult to take the first step into automation because the robot is still seen as the enemy.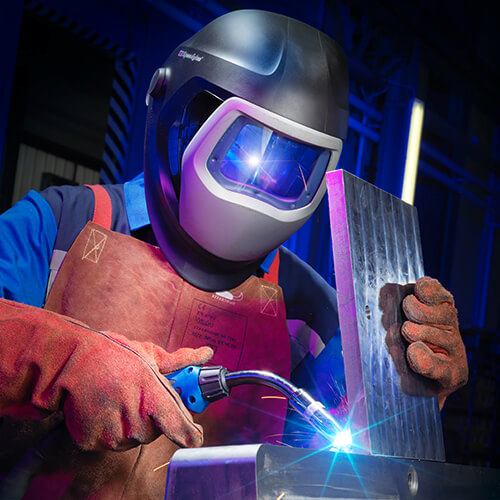 Enemy robot?
The first industrial robots were introduced to the market at the beginning of the 1960s. Right from the start, automation and welding technology belonged together directly wherever large quantities need to be welded quickly and cost-effectively. Once programmed, the welding robot delivers consistent quality. Fast and mostly reliable. So why did it take so long for robots to establish themselves in small and medium-sized companies over the past 60 years?
The robot is still seen as an enemy. Five main reasons for this are:
Getting into automation is a big step
Anyone who has previously only welded manually in their company and would like to switch to automation, must create conditions that mean a big step in change – for their own employees, the existing systems in production and also for safety.
There are still too many individual welding jobs
If most orders consist mainly of small batches and complex components, the manual welder is the measure of all things. A robot only brings advantages when the lot sizes increase, because fixtures have to be created and the robot has to be programmed first and that »eats up« time and thus costs.
Investment costs … and those afterwards
It is not only the investment costs for a welding robot, but also those that are still incurred after the purchase, such as those for the training required to operate the robot. This may also mean having to increase staff such as for example trained robot programmers. Therefore, new know-how is needed.
Required complex safety technology
The use of a welding robot requires defined safety technology so that people in the vicinity of the robot are not exposed to any danger. You have to get intensive information about these and also provide the appropriate area. UV radiation, welding fume and a possible collision between humans and robots must be avoided.
Fear of job loss
Who doesn't know the images of production lines, where more robots can be seen than busy people? This often implies that a welding robot will take away the job ofone or even several manual welders.
You may be very aware of these and similar fears yourself. Therefore, it is good that you now have a closer look at the subject. Let's compare how manual welding, mechanised welding and robot welding differ in terms of acquisition costs, flexibility, economy and constant welding quality.
Manual – mechanised – automated welding in comparison
Even in times of increasing automation, manual arc welding using the MIG/MAG process is the most widespread method worldwide. In the following figure we have graphically illustrated the decisive differences between manual welding, mechanised welding and automated welding in the MIG/MAG process. Welding with stick electrodes has not been taken into consideration as there are practically no automated processes for this, unless you switch to the MIG/MAG process. For a large number of applications it is definitely worth considering automation or analysing your own situation.

Manual welding
The flexibility is greatest with manual welding, as the manual welder can adapt very well to changing component geometries. This is a great advantage, especially where workpieces are welded very individually, for example on construction sites when welding staircase railings, balustrades, bridges, etc. But also when repairing vehicles and the like. Often mechanisation or even automation is not possible here. Investment costs are around 2,000 to 3,000 euros.
Due to human influence, the quality can vary. With repetitive tasks, the quality of the welding result will change slightly from component to component. Even an excellent manual welder has a bad day or the constant monotonous work leads to fatigue over a working day. The result is usually already visible on the surface of the seam and can lead to complaints in the case of visible seams.
Manual welding will be very economical if no other processes, i. e. no automation, are possible, for example, if the component is very complex. If the number of batch sizes increases, the profitability compared to automated processes decreases accordingly.
Mechanised welding
Mechanisation is typically used when welding components with simple geometries such as longitudinal seams or round seams with increasing batch sizes. These are one to two-dimensional linear undercarriage and tilt-turn tables with automatic torch feed. The given hardware severely limits the flexibility, only changes in length or diameter can be varied. The welding quality is consistently constant. If, in individual cases, manual intervention to correct the position and the parameters is necessary, this is possible with these systems.
The economic efficiency of these systems is quite good due to the low investment, but manual support is sometimes necessary for this. Investment costs for mechanised welding are between approx. 5,000 euros and 25,000 euros.
Robot welding
Before we get to the cobot, let's first look at automated welding with a conventional industrial robot. Today, robot welding systems are used wherever high quantities of constant quality are required at 100 %. The cost pressure on the manufacturer is very high due to the increased competition. Typical users are the automotive industry (body construction) with its suppliers (axles, exhaust-gas systems, seats), heavy machinery construction (earthmoving machines, trucks, wagon construction) but also other industries such as for example scaffolding, switch cabinet production, manufacturers of steel furniture, fitness equipment etc. The quite high investment for the acquisition of a welding robot, for which you have to calculate between approx. 80,000 euros and 120,000 euros, pays off quickly due to the producible quantities. As a result, the economic efficiency is also well in the upper range. Since a robotic welding cell consists of fixed automated devices and complex programs, the flexibility is not so high.
Cobot welding
Over the past years, after a triumphant advance in assembly and handling, cobots have gradually gained ground in welding technology. For the user groups, these are mainly small and medium-sized companies.
Cobots are used where small to medium quantities have to be welded and where the size and geometry of these changes again and again over time. If you consider that cobots represent an automated process, the flexibility is very high: programming and operation are easy to learn and implement. With simple part geometries, fixtures for components can be manufactured or adapted quickly. As with all automated processes, the constant quality of the weld seams is very high. Although the costs for a cobot can almost be equated with those for industrial robots, the investment of 60,000 euros to 80,000 euros is low due to simple devices and very fast availability. This means a high level of economic efficiency.
Why investing? Skilled labour shortage – pressing problem in the future
Why should you invest in cobots now? The answer lies in a widespread problem, namely that companies of all sizes are desperately looking for skilled workers. Demographic changes over the past years indicate that more and more experienced welders are retiring and that the welding profession is not attractive enough for young trainees. Large companies with the appropriate capital can afford to entice with good salaries. This is often not possible for many small and medium-sized companies. In the meantime, more and more welders are being recruited from abroad to fill the growing gap.
For years, the shortage of skilled workers has been a problem for many manufacturers. A survey by the DVS – German Association for Welding Technology – from 2008 among its member companies from industry and trade revealed the future of joining technology (source: Shortage of skilled workers in joining technology – inventory , analysis, measures and outlook; DVS – die-verbindungs-spezialisten.de, 2008):
75 % of companies have difficulties in finding skilled workers.
53 % of them are welders.
27 % of them are welding engineers.
For this reason, 42 % of the companies can only partially or not at all execute orders.
The situation of small and medium-sized companies.
Do you have one or the other problem as well?
Rate yourself!
| | | |
| --- | --- | --- |
| Question | Yes | No |
| Do you have enough welders? | | |
| Do you have enough junior welders? | | |
| Can you complete all orders in the requested time? | | |
| Can you complete all orders in the requested quality? | | |
| Are your welders satisfied with their working situation? | | |
| Do you have the necessary conditions to increase your productivity? | | |
| Are you flexible enough to switch from small batch sizes to larger batch sizes without much effort? | | |
| Do you have all the technical requirements to grow with your company? | | |
Let's be honest: If you answered »no« to just one of the questions, a cobot can help you solve these problems over the long term.
What is a cobot?
Before diving into joining technology with a cobot, here are a few basic details that define a cobot.
General definition cobot
"A collaborative robot or cobot for short is an industrial robot that works with people and is not separated from them by protective devices in the production process.
The specialty of collaborative robots is that they can work in close proximity to humans and even together with them. This assumes that the robots cannot cause injuries to humans. Fences and other protective devices are then no longer necessary, as the robots have their own sensors that prevent injuries to human employees. The robots switch off automatically when they touch an obstacle."
Safety and occupational health
"When the standards relevant to industrial robots were revised, the new field of application of collaborating robots was also created. The standards ISO 10218, parts 1 and 2 and ISO/TS 15066 define the safety requirements for robots. The collaborating robot defined in the standards also includes the tool that is attached to the robot arm and the objects moved with it. The close or direct contact between the collaborating robot and the working person inevitably results in collision possibilities. The robot manufacturer's risk assessment must therefore include the intended operational workplace. In addition to the machinery directive, this risk assessment is based on the EN ISO 10218 standard, parts 1 and 2" (Source: Wikipedia, as of 04.06.2020).
Different models – simple, flexible, fast
So far, so good. Now you should learn more about the possible suppliers, what makes a cobot so special, which cobots are suitable for welding and also about programming a cobot. After all, this should be an advantage of this so-called »welding assistant« that should not be disregarded.
| | |
| --- | --- |
| Productivity | High with consistent quality |
| Component flexibility | Suitable for small to medium lot sizes (components with low complexity) |
| Programming knowledge | Simple programming; easy to learn |
| Investment costs | Medium to high |
| Physical stress | None |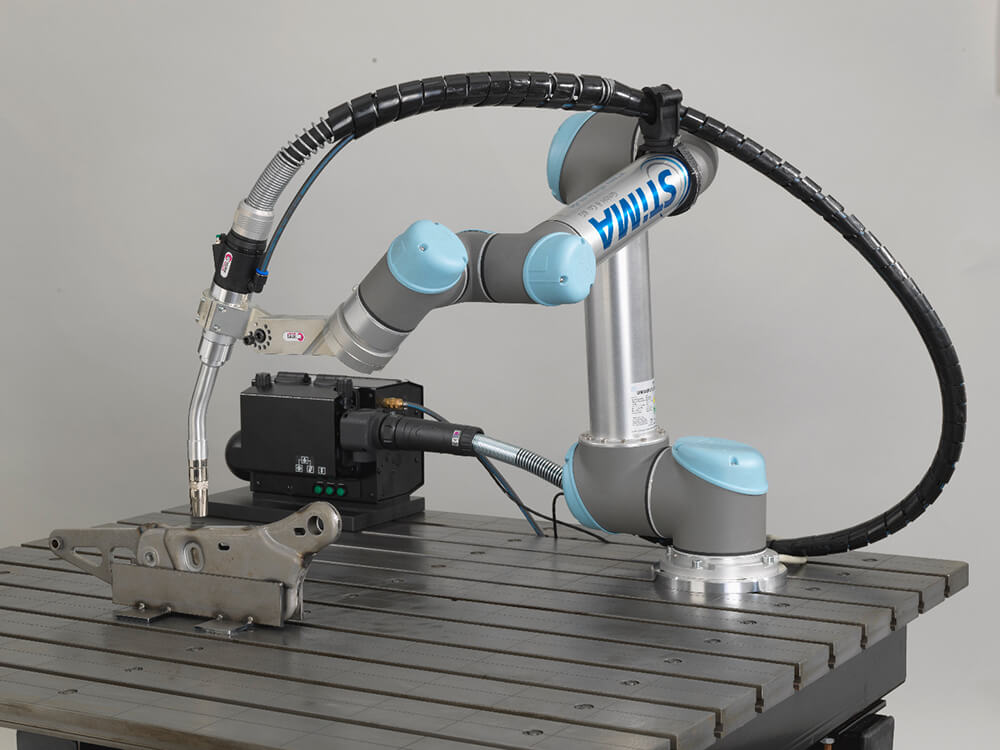 There are many cobot manufacturers on the market and not all of them offer models for welding applications. The following overview of the different cobot manufacturers is given without evaluation and makes no claim to completeness, as the range of products is constantly expanding.

Cobot models that are also suitable for welding, as of June 2020.
* All mentioned trademarks and images are property of the respective companies.
What makes the cobot so interesting for welding is, above all, the quick learnability through intuitively guided programming, which ensures a correspondingly high flexibility for changing component geometries. The cobot shows all its advantages in components with low to medium complexity or geometry as well as changing small to medium lot sizes, where simple fixtures are created.

Cobot programming – quite simple ...
The operation and programming of a cobot is easy and can be learned in a short time. Basic knowledge can be acquired through self-study and free online training. The manufacturer or your sales partner can provide more in-depth knowledge in a one or two-day training course, if required.
If one of your colleagues or employees is technically interested and finds it easy to work with modern electronics, the cobot programming can also be done by him instead of a welding specialist. Of course, the technical welding knowledge still comes from the welder.

Advantages for the welder
Is relieved in case of recurring welding work such as small series
Contributes the experience in setting the welding parameters, correct selection of shielding gas and torch position
Gains time for welding difficult tasks and components that cannot be automated, but are often better paid by the customer

An analysis by the International Federation of Robotics (IFR) in cooperation with the Fraunhofer Institute for Production Technology and Automation (IPA) from 2019 shows that more than half a million new robot systems are currently put into operation every year. For small and medium-sized production companies, this means that if you want to keep up, you must also invest in automation. In addition, the need for this becomes even clearer when you take a closer look at the development of the available labor force: in 2013, there were still around 44 million available, but this is expected to drop to 40–42 million by 2030. These figures make it painfully clear that companies have no other option than to invest in automation if economic strength is to be maintained.
The previous chapter has already made it obvious why conventional industrial robots do not make sense in every manufacturing company and why the step into full automation is associated with many questions, uncertainties and hurdles. In addition, there is the quite natural further development of products. On average, these are optimised at ever shorter intervals, i. e. after only about two to three years. In practice, these facts mean that robot technology must also become more flexible.
Cobots cannot only meet the increased demand for flexibility, they can also really score points in terms of profitability and payback period.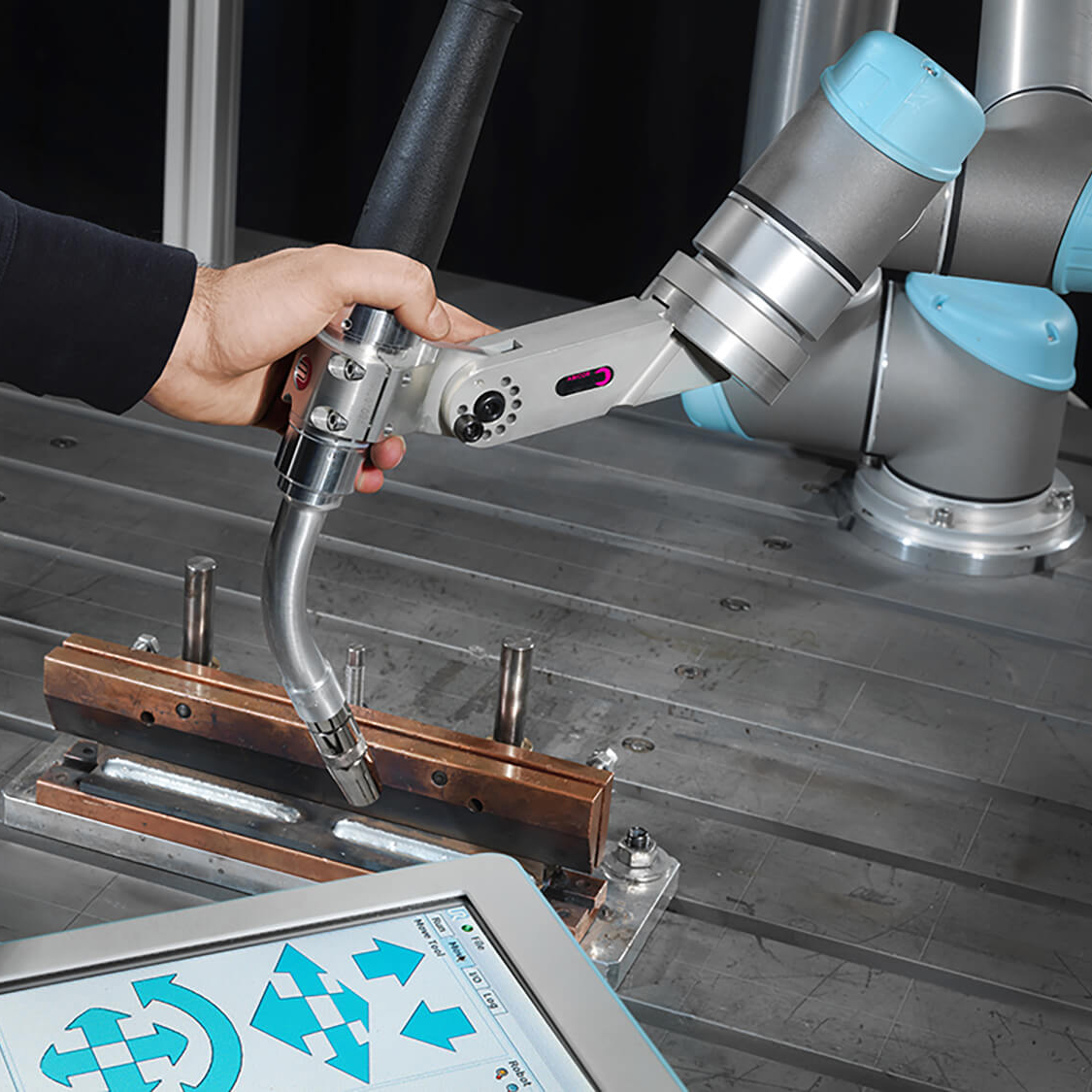 Manual welding and robot welding in comparison
A robot-welded seam meets the requirements for consistent quality – whether it is good or bad. The welding performance of the robot can only be as good as it is programmed. In direct comparison, any experienced manual welder can produce a weld seam which is absolutely comparable to that of a welding robot. However, even the best and most persistent manual welder gets tired and cannot provide exactly the same high-quality weld seam as with the first component as the number of pieces increases – which is only natural for humans. In this respect, the robot has clear advantages and welds with the same quality even after hours, if the process runs smoothly. The same applies to welding with a cobot.
How does this relate to set-up time? It doesn't take long for a manual welder to set all the parameters and start welding. It takes a little longer before the cobot can get started: parameters for the power source, torch position, track speed, start and seam end must be programmed once via the cobot. In addition, the entire device must be designed in such a way that a reproducible component position is guaranteed. In many cases it is necessary to slightly adjust the welding sequence, the seam preparation, the tacking, the clamping and, if necessary, also the construction of the component, so that the cobot can weld. This is where the welder brings in all his experience.

Flexibility: Just show once is enough
One of the biggest advantages of welding with a cobot – and not only for small and medium-sized companies – is its flexibility. Especially for welding companies with different welding tasks. The cobot is »shown« the welding task once and literally gets going. Once a welding task has been programmed, it is stored, can be assigned to the device and can be recalled at any time if required. In this way, it is always quickly available for repetitive jobs. Set-up costs are reduced and productivity is increased.
The simple programming allows a quick »changeover« to the next small series. Many users have a large number of components with associated robot programs and fixtures which they can quickly access if necessary.
A cobot will become a very valuable part of your welding team, which will certainly no longer want to miss this automated helper. The right equipment is essential to ensure that man and cobot can work together in the best possible way and that safety and health regulations are also met. On the other hand it is also good to know how a cobot fits into your individual requirements and processes. Not to mention the know-how to get the most out of your welding cobot. In the following we will refer to all these aspects in detail.
Welding technology and more all around the cobot
The cobot is the core element, which only becomes an ideal welding companion with all the essential details. The following diagram illustrates the technical welding aspects of welding with a cobot. Must-haves as well as optional features.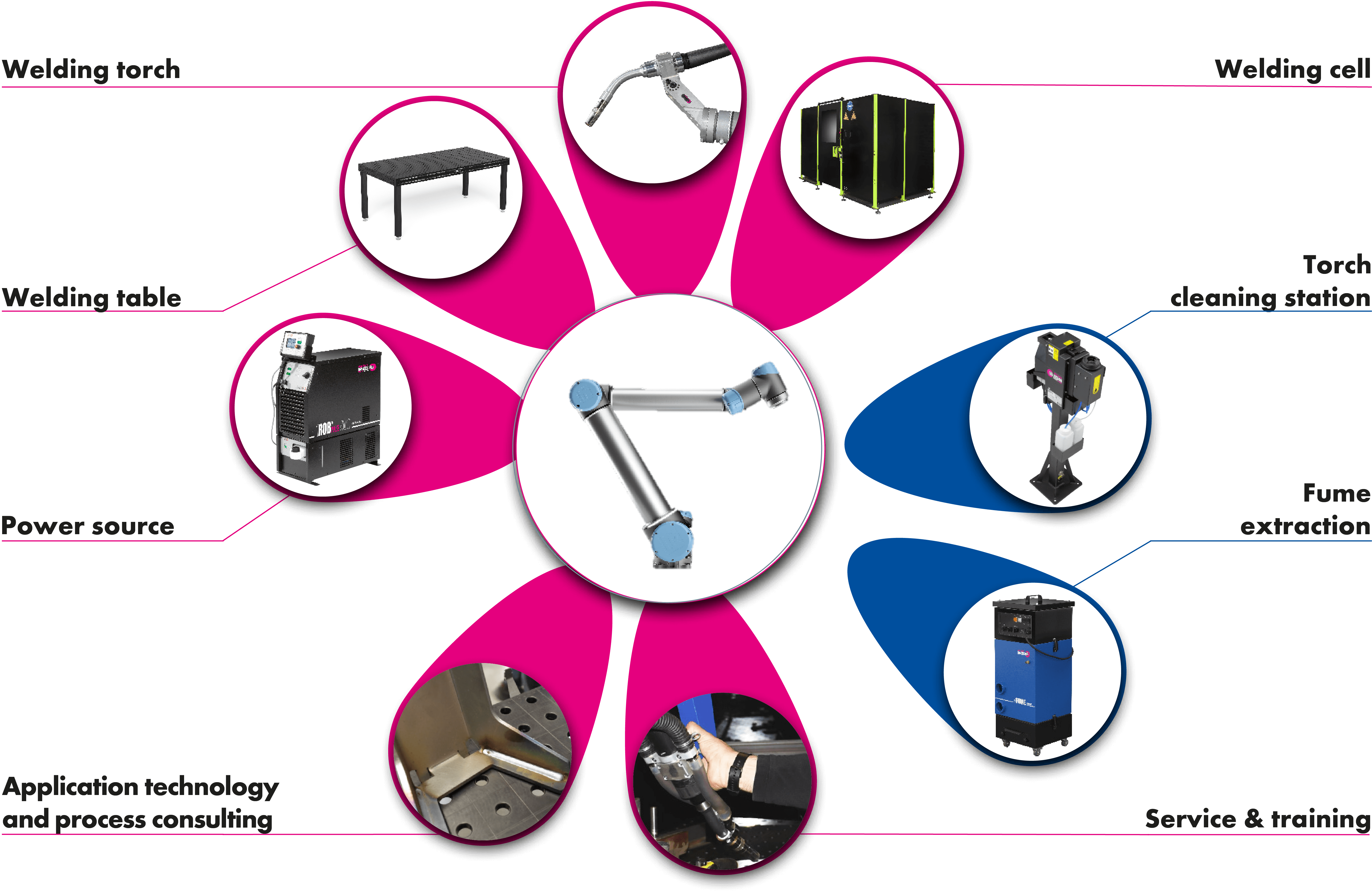 If you are thinking of integrating a cobot into your welding processes, you certainly ask yourself: "How do I get all this? Is there a contact person for me, and who will arrange for the installation of the cobot in the production hall? And what are the individual steps and processes until I can use the cobot?" These are important questions, which we will answer in detail.
With ABICOR BINZEL you have a system supplier who:
offers the welding equipment for the cobot
introduces you and your employees to the world of cobot welding
can test the feasibility of your component in practice together with you
can carry out real welding tests for your component with the cobot
works together with you to optimise welding processes
cooperates with the right qualified partners to set up your cobot cell CE-certified

Quick and easy integration by qualified partners
A welding system with a cobot requires only a few components and can be installed quickly and easily. The installation itself is usually carried out by a partner who assembles all the system components of the cobot welding system and works individually with you to meet your requirements and component spectrum.

From a cobot core element to a CE-compliant welding system
Power source, welding torch and more
What are the requirements for a robot welding torch to be mounted on a cobot? Are there any specific requirements for the power source to be able to work with a cobot? What about the communication between cobot and the operator of the system? Moreover, is there perhaps something like a complete system solution for setting up a welding cobot?
The welding power source
There are no special requirements for the power source to be connected to a cobot. In principle, any power source that can be used on robots is suitable. However, there is one feature that has a special advantage for welding with a cobot: a bus interface integrated into the power source – i. e. a direct communication interface between power source and cobot for interaction and program retrieval. Ideally, the robot and power source have such a bus interface. In combination with the corresponding software, this offers a lot of possibilities.
The interface provides extensive access to the functions of the power source, which can also be controlled via the program user interface. Thus, almost all power source functions can be accessed from the panel of the cobot.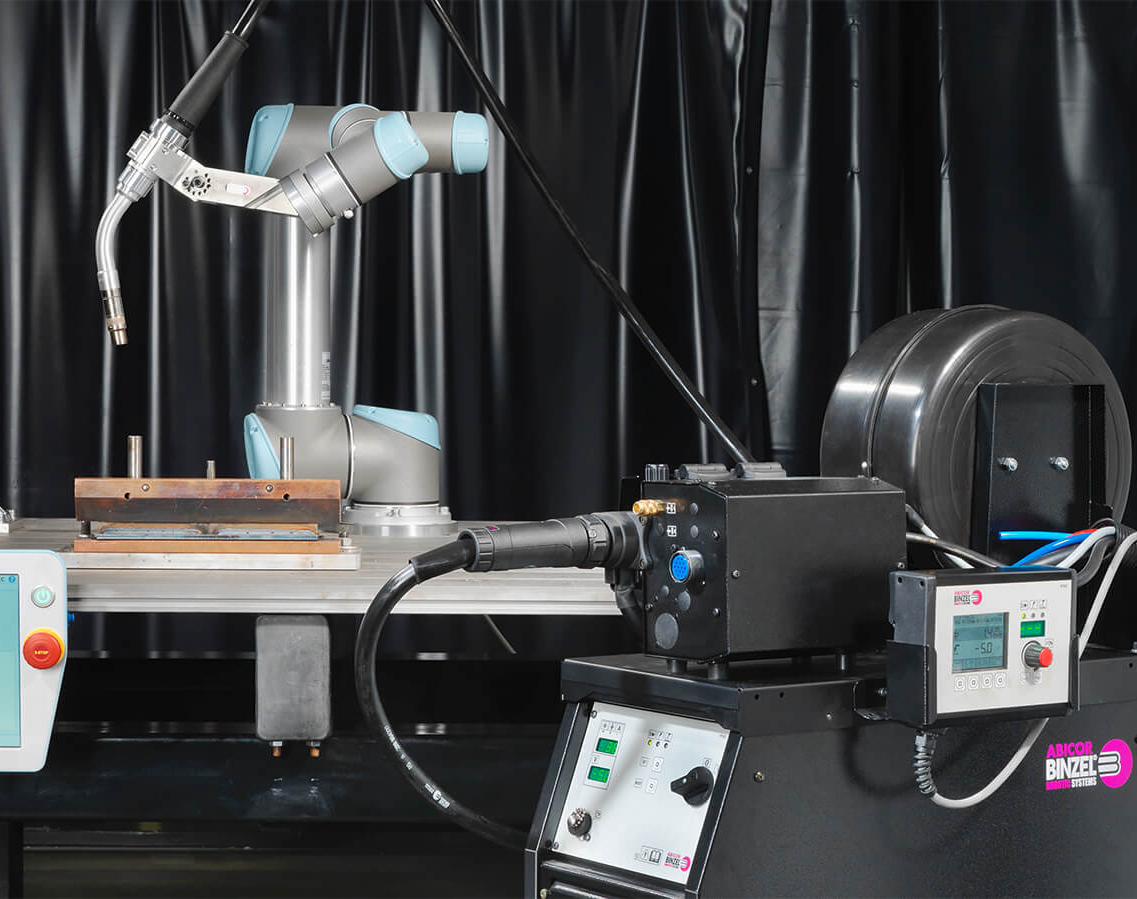 Cobot and power source – two that get along well
The robot control and the power source must be coordinated via an interface, so that the cobot and the power source can communicate ideally with each other. In the perfect case, the linking allows that the most important power source parameters can even be set on the basic user interface of the robot. This saves a lot of time during programming and enables simple, subsequent fine adjustments of the programs. The URCap program, for example, is designed for this.

Interface between power source and cobot
The iROB power source from ABICOR BINZEL, for example, is equipped with a bus interface and the cobot with the corresponding software (URCap). Therefore, this power source can be ideally used to equip a certified cobot welding system and can also be integrated into the process quickly and easily with its »ready to weld« solution.
The robot welding torch
The requirements for a robotic welding torch in combination with a cobot do not differ substantially from those for a welding robot: A continuous and precise welding process must be guaranteed. A modular design is also a major advantage, so that the torch neck can be quickly replaced when changing the torch without losing the TCP (Tool Center Point = working point of the cobot). This allows automated, in-process maintenance of the torch head outside the welding cell. The contact tip and gas nozzle are replaced remotely from the process, the torch neck is checked and cleaned. Meanwhile the cobot continues welding with another torch neck. The welding process is only interrupted for a very short time, increasing the productivity of the system. To increase productivity even further, the use of an automatic torch cleaning system is recommended.
Depending on the sheet thickness and the resulting welding current, an air cooled or liquid cooled welding torch is used. For applications above 300 amps, the use of a liquid cooled system including the necessary components such as cooling unit and cable assembly is recommended. With proper cooling of the torch head and its wear parts, the torch life is significantly increased while the cost of maintenance time is reduced.
The most important requirements for the robot cable assembly are low weight and high flexibility. This prevents the very sensitive cobot from switching off during fast and complex movements. In combination with an optimal suspension of the cable assembly, a uniform wire feed is guaranteed.
All these features are provided by the ABIROB® A 360 and ABIROB® W 500 welding torch systems from ABICOR BINZEL, thus, ensuring a continuous and precise welding process.
Complete system solution for cobot welding – »ready to weld«
Choosing the welding torch and cable assembly, finding the power source, adding the wire feed ... putting everything together individually for a complete cobot system solution, so that the desired result is achieved in the end, can be complex and time-consuming. The providers of complete solutions have been busy in this respect and offer complete packages for welding with a cobot. ABICOR BINZEL also has such a system solution with the ROBiPAK – as a complete package for the cobot.
Advantages of the ROBiPAK system solution:
Can be adapted to any robot application
Contains an integrated package of characteristic curves and a process and gas flow monitoring system
Enables pulse welding as well as double pulse welding
Can be retrofitted with a pendulum function for linear or circular seams – for thicker sheets or for bridging gaps
The air cooled or liquid cooled welding torch system contained in the ROBiPAK can be quickly installed on any cobot
The iROB power source and the cobot communicate through the URCap program, the programming can be done quickly with own program commands
Connect the system via »plug & play« and it is »ready to weld«

Safety first – Guidelines for CE-compliant equipment
All machines and plants in manufacturing companies in the European Union must have CE-compliant equipment to protect operators and personnel from possible hazards and injuries. For this purpose, the so-called machinery directives are applied. There are a number of criteria to be observed for welding systems with cobots. A competent system solution provider will inform you about these requirements and implement them for you accordingly.
Please find in the following some important design features – freely quoted from directive 2006/42/EC (machinery directive) 1 – from which you can see that the collaborative properties of a cobot only play a minor role in normal welding operations. However, the cobot does take full advantage of its simple operation and programming when welding.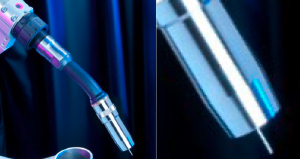 Moving machine parts
Moving parts must be designed and constructed in such a way as to prevent any risk of accident due to contact with those parts; where risks exist, moving parts must be fitted with guards or protective devices, whether or not separating.
Required: Safety fence, housing, visual surveillance
Hot parts, spatter
Any risk of injury by touching hot machine parts [...] must be excluded by suitable precautions. The necessary precautions must be taken to avoid spatter, hot materials [...].
Required: Safety fence, housing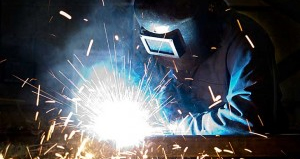 Radiation
Unwanted radiation emissions must be eliminated or reduced to a level where they do not have harmful effects on humans.
Required: privacy screen, curtain, window pane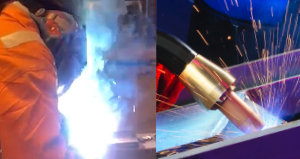 Inhalation of hazardous substances
The machinery must be designed and constructed so that the risk of inhalation [...] of dangerous materials and substances produced by the machinery [...] can be avoided.
Required: welding fume extraction system
Welding fume extraction: solutions for cobots
As with any other welding process, welding with a cobot produces toxic fumes. To prevent health hazards for the people working directly with the robot – but also for anyone in the immediate vicinity of the welding robot – this fume must be properly extracted. Welding fume extraction is therefore also part of the basic equipment of a cobot.
Welding without extraction is a no-go!
This raises the question which extraction system is the right one for cobots – so that the regulations can be observed, but the process is not disturbed.
Conventional, decentralised fume extraction for welding robots
Usually a welding robot is encased in a robot cell and the welding fumes are discharged via a pipe system with a central extraction and filter system, which is located either inside or outside the plant. When welding large workpieces or those that even have to be lifted out with an overhead crane, the air is usually filtered in a circuit throughout the plant. However, with this conventional welding fume extraction system, the welding fumes must first pass the people working in the production hall before they are extracted – and that is not ideal.
A retrofit of this or a similar scope means considerable investment in performance systems and air filtration equipment, which usually involves an additional reorganisation of the production hall and can result in additional downtime. Not every company can afford such an extensive retrofitting. Fortunately, there are other ways of extracting the welding fumes when welding with robots or cobots.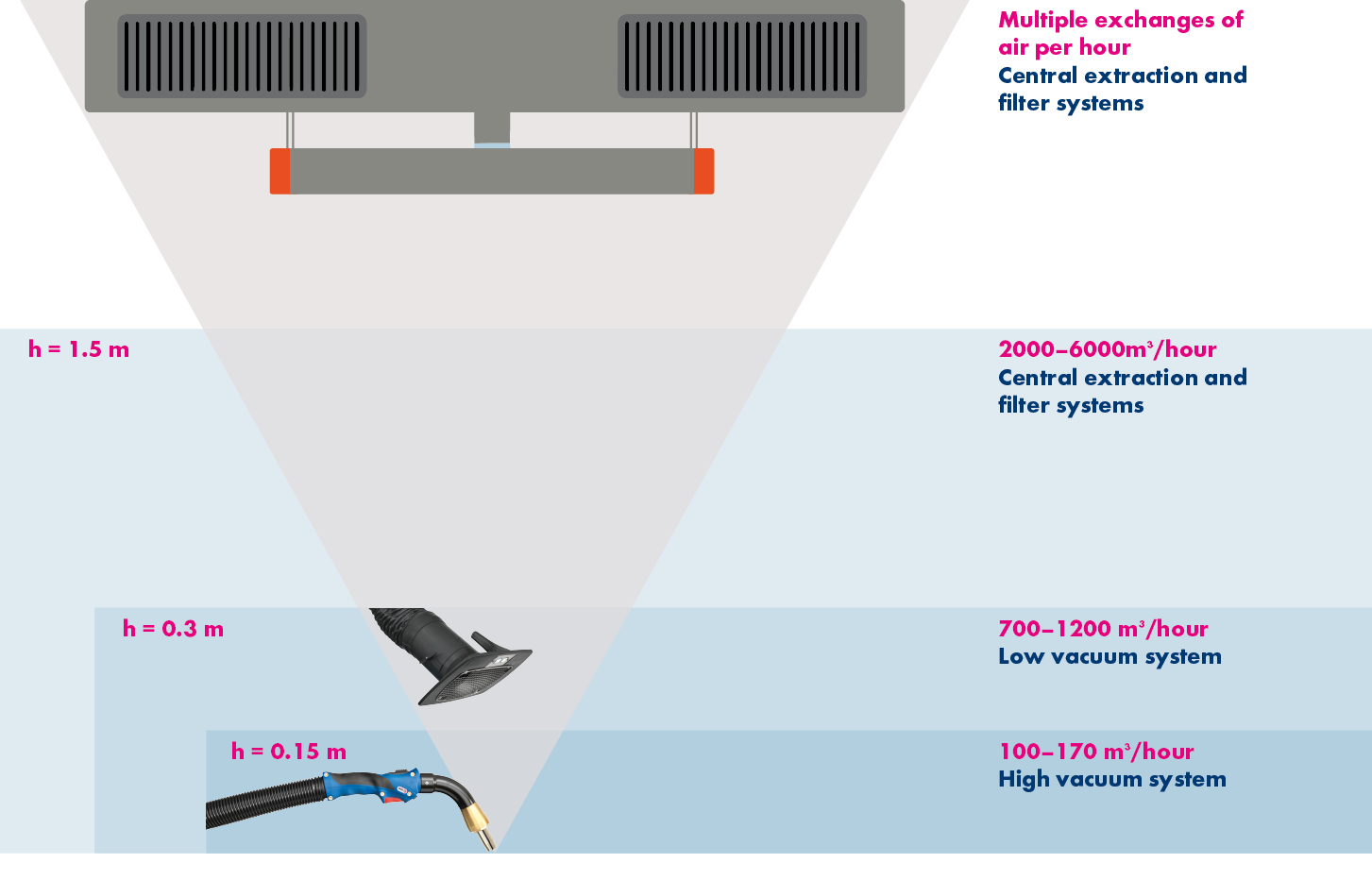 Overview of the possibilities of welding fume extraction
Extraction at the source with robots
Alternatively, there is the possibility of extracting the welding fumes directly at their source. The advantages:
This source extraction is more efficient than conventional extraction systems.
A single fume extraction unit can cover several different workplaces.
ABICOR BINZEL offers all these systems – for cobot welding we recommend extraction directly at the point of origin. For source extraction during cobot welding ABICOR BINZEL recommends the mobile extraction units xFUME® ADVANCED and xFUME® PRO.
Three major advantages of xFUME® extraction systems at a glance:
Extract hazardous fumes at the source
Enable optimum working cooperation with the welder
Can be easily integrated into the workshop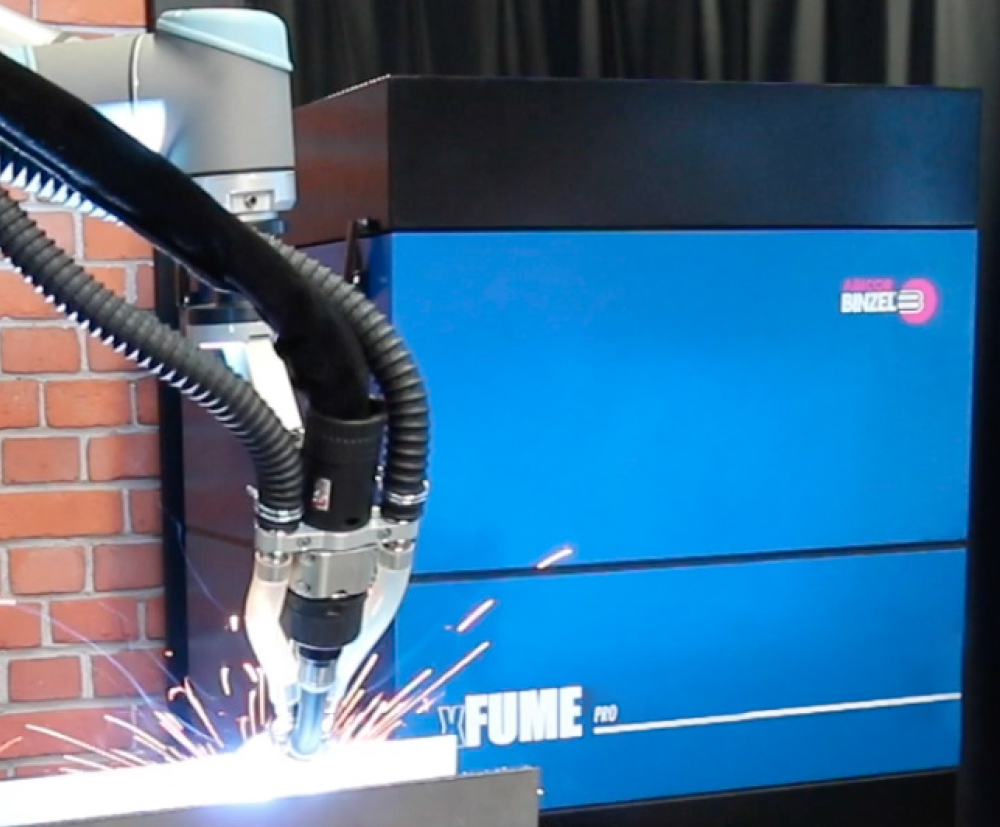 Cobot with extraction kit connected to an xFUME® PRO
Advantages of source extraction with extraction kit on the robot torch:
Small system, little space required
Highly flexible in use, ideal for a cobot
Extraction directly at the source
Optimum protection for employees
High efficiency
Works for all MIG/MAG processes
Lower costs compared to other extraction systems
Coordinated system
The regulations on welding fume extraction have become even stricter in 2020. Source extraction is expressly recommended!
Cleaning station – good care pays off
In almost all MIG/MAG welding applications, weld spatter is produced which settles on and in the gas nozzle over time. Sooner or later this leads to an impairment of the shielding gas coverage, which in turn results in poor seam quality such as porosity due to air inclusions. Constant reworking or even rejects quickly cause production costs to skyrocket. You can prevent this with the right care!
The front end of the welding torch must be regularly cleaned of weld spatter and soot particles – manually or automatically. Especially for larger component throughput and high demands on seam quality, the use of automated torch cleaning or torch maintenance is also recommended for cobots. Such a system eliminates the human error factor for reproducible cleaning.
A good torch cleaning station:
can be quickly and easily mounted on a robot
is highly reliable and has a long service life
consists of high-quality, environmentally friendly components
guarantees occupational safety and process reliability in automated welding
includes torch cleaning, wire cutting device and anti-spatter protection
increases system availability
The TCS Compact from ABICOR BINZEL combines all of these features. This cleaning station can be easily integrated into the system via the power source and only needs to be programmed once. Attention: Not all types of other suppliers of cleaning stations include this feature.
In a cleaning cycle the wire is first cut to the correct length for the next welding start. In the second step, the gas nozzle edge and the interior of the gas nozzle are cleaned, which is done by a cleaning mill adapted to the torch. In the third and last step, the front torch area is lightly sprayed with an anti-spatter fluid. This reduces the possibility of new spatter and also makes it easier to remove in the next cleaning cycle.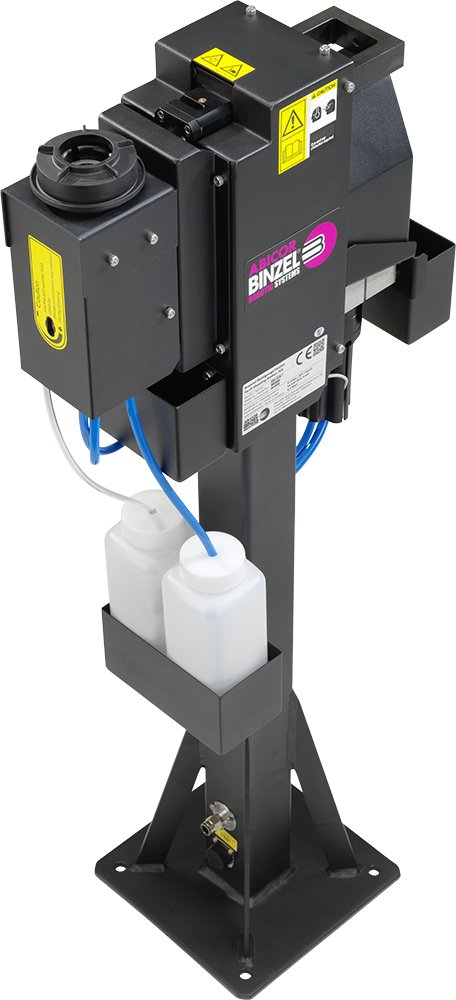 Torch cleaning station TCS Compact from ABICOR BINZEL
Why should small and medium-sized companies use cobots? 10 reasons for this:
More quality welds in less time
Ideal for small batches – the welder can perform more demanding welding tasks in parallel
Quick and easy integration
Intuitive operation and programming
Easy to learn
Constant seam quality
Relieves the welder's workload
Flexible use for changing small batches
Creates potential for additional orders
Facilitates entry into automation
Now to the point:
How can this be realised in practice?
Up to this point it was all about the whole theory around the use of a cobot. You know what equipment you need and what you have to consider. In this chapter you will learn how to get your cobot as a system solution, which preparations have to be made and how to learn best to operate it with your applications.
In the following you will find an overview of the individual steps on the way to your cobot, just as you would experience it at ABICOR BINZEL: from your wish to integrate a cobot into your production, to checking whether and how this can be implemented best in your company, to the possibility of what you can do in case of a question or problem.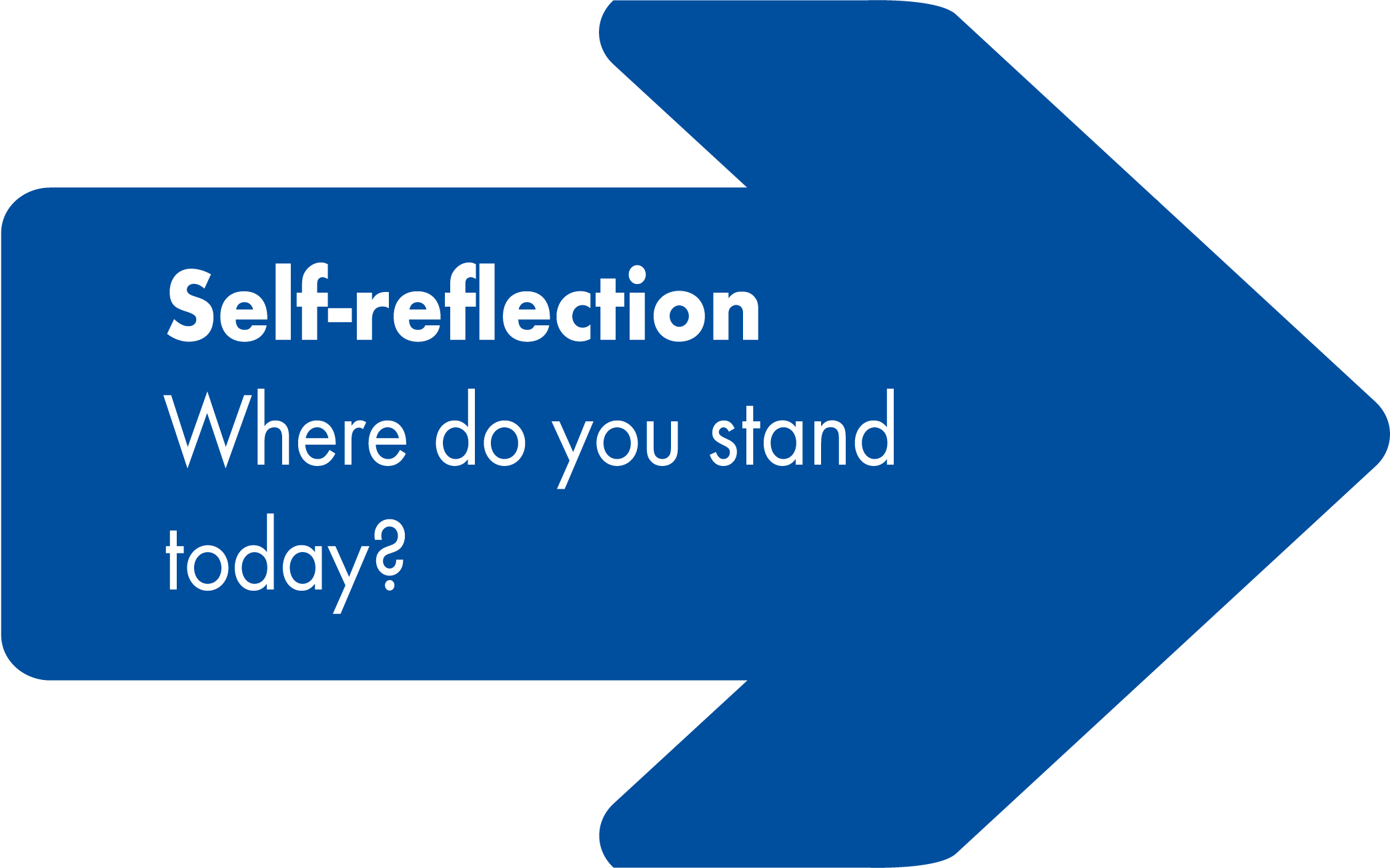 Therefore, we are treading water ...
Do you know this from your company?
Well-trained and experienced welders have to do more and more work for which they are actually overqualified
Your quantities are still too small for an industrial robot, so that an investment in this direction is not worthwhile
You have only welded manually up to now and would like to relieve your employees, also because the quantities are constantly increasing
You also weld in several layers and this is a real torture for your employees
You have already thought about automation, but shy away from the initial costs
Your applications are very special and yet they recur
Your welders have been complaining for some time about one-sided, repetitive welding work and have reached their limits – physically and emotionally
The fear of job loss is very great, even though the increasing numbers of units can no longer be achieved with manual welders
You must be 100 % convinced before you invest in robot technology
In order to optimise your welding work, we want to examine your current welding tasks together: What is welded and how? Maybe there is already a serial production, maybe »only« a small series?
In spite of all your fears, it is clear to you: You need automated support to maintain your competitiveness and to relieve your welders. With ABICOR BINZEL you will not only be introduced to cobot welding step by step, but you will experience for yourself that a cobot will be a real benefit, which will serve your welders and your productivity well.
No fear of technology!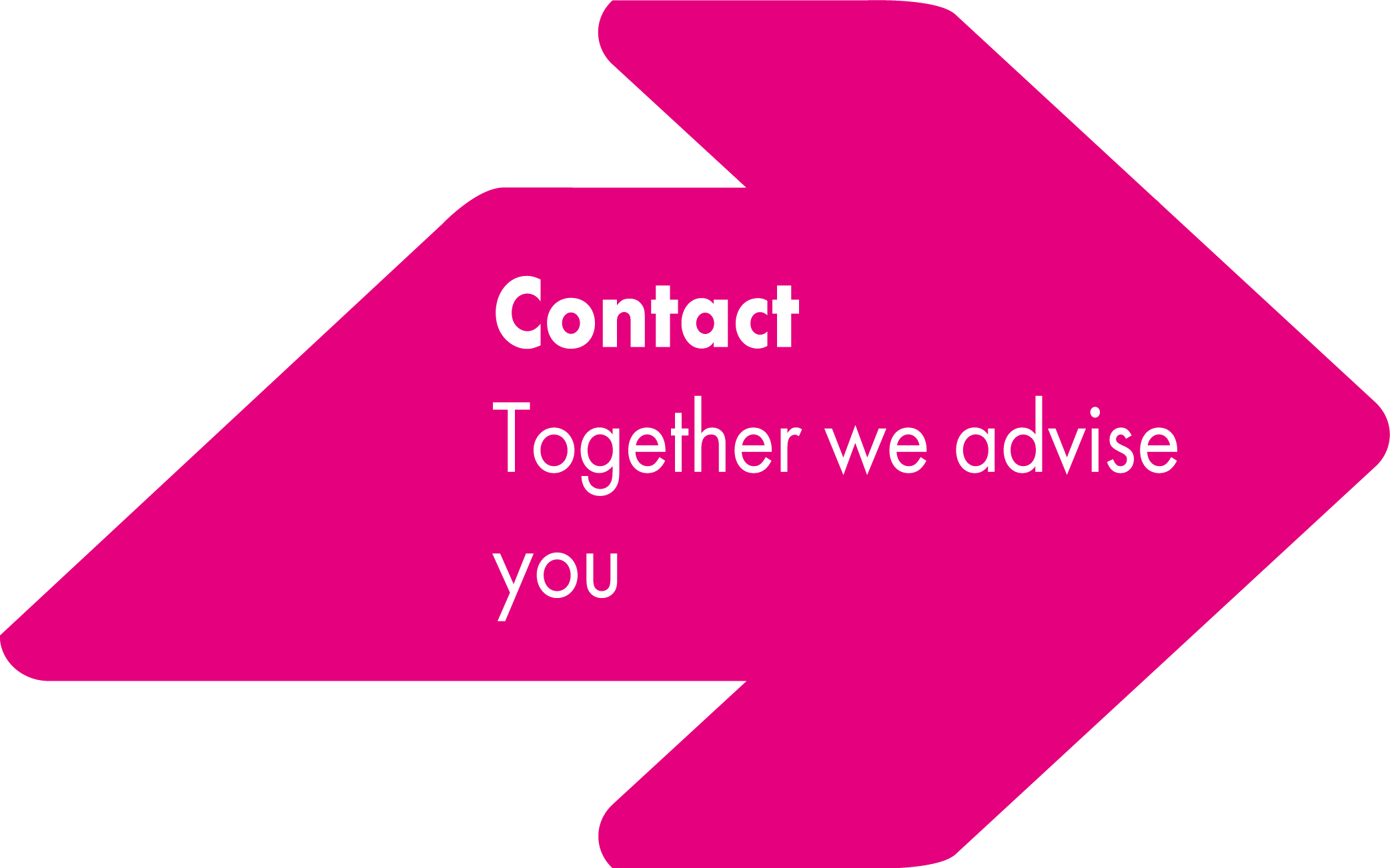 What is the best way to get started?
You may start your search with research on the internet, where experience shows that many questions arise. You may already get initial answers from your trusted distributor. If you have already found a supplier for a complete solution with a cobot, the contact details of their office and field service will also help. Often suitable partners can also be reached via social media channels. If you are interested in working with ABICOR BINZEL, you will find the contact details at the end of this eBook.
First appointment at your site
In a first visit to your company, the ABICOR BINZEL field representative will clarify the possibilities of automation in your company. This will show whether your processes allow welding with a cobot or perhaps with an industrial robot. In the same step, we will discuss with you the possibility of test welds on your own components in our innovation and technology center. In the course of this chapter we will go into this in more detail.
To prepare for this, you should ideally have components, drawings or similar at hand. The more information that can be included in the discussion, the better it will be for the course of further planning. Your thoughts about possible problems during welding can also be very helpful and should definitely be included.
During the first meeting, the need for clamping devices for a cobot cell can already be discussed. Experiences of the past years have shown that templates and clamping devices for small series or individual production can be produced with little effort. Welding tables with hole grids, which are used in almost all cobot applications, have proven themselves due to their easy handling. We would be pleased to support you in implementing them.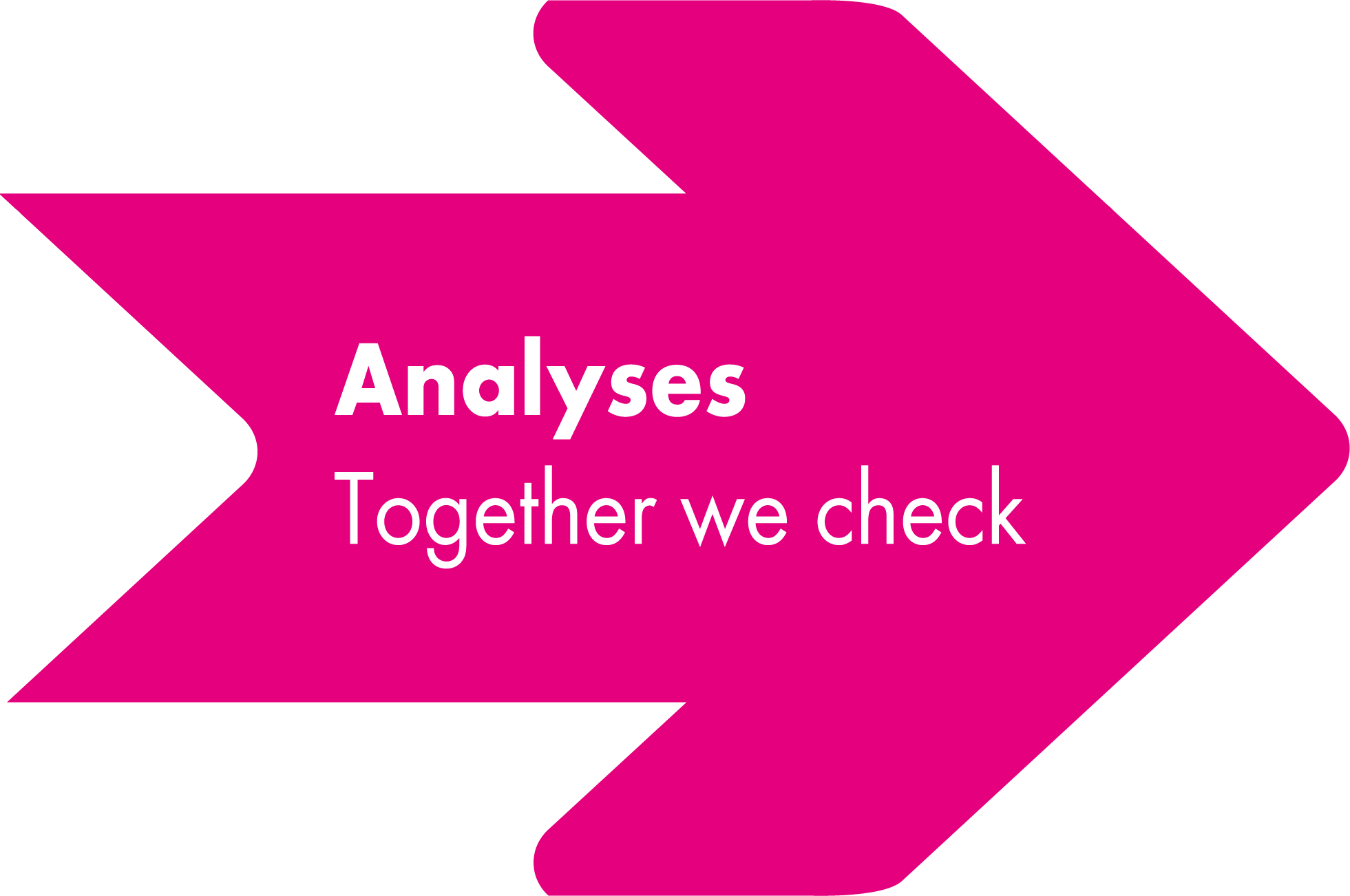 What are our possibilities – no more options?
In order to provide you with a reasonable concept for your cobot solution, we will examine current workpieces in your production together with you:
Do you have many not OK (NOK) parts?
Do you already have clamping fixtures?
How are the components prepared for welding (seam preparation)?
If you have a higher number of NOK parts, it is possible to reduce this significantly with a well planned cobot application. In any case, an already existing clamping fixture makes the handling of a robot system easier. In addition, a good seam preparation is important for an automated solution, because the better the preparation, the smaller the reject of badly welded parts. In automation it is said: the worse the seam preparation, the more expensive the jig and fixture construction.
Get to know the cobot
Whether your components can really be welded with a cobot, we can test together with you in our Innovation and Technology Center – ITC. There, we carry out professional welding tests and, in connection with this, a feasibility analysis with regard to accessibility, process optimisation, potential savings, etc. Based on the feasibility analysis, costbenefit calculations can also be prepared.
With videos and photos of this welding work, direct comparisons can be made with the current status. Micrographs can be created in our metallography to ensure that the quality requirements for the weld seam are met. Of course, these comparisons also include information on the welding parameters such as welding current or wire feed speed, welding voltage, type of gas, gas supply, wire diameter, welding speed, basic material, filler material, etc.
The possibilities in the ITC at a glance
Application analyses/feasibility analyses
Process optimisation
Tests with own components
Metallography/QA
Visit procedure in simple steps
1. Analyse components brought along
2. Define parameter specifications
3. Determine welding sequence with the cobot
4. Clamp the component
5. Programming of the cobot
6. Welding process
7. Joint evaluation of results
8. Discussing optimisations

Customer component: Mounting for agricultural machinery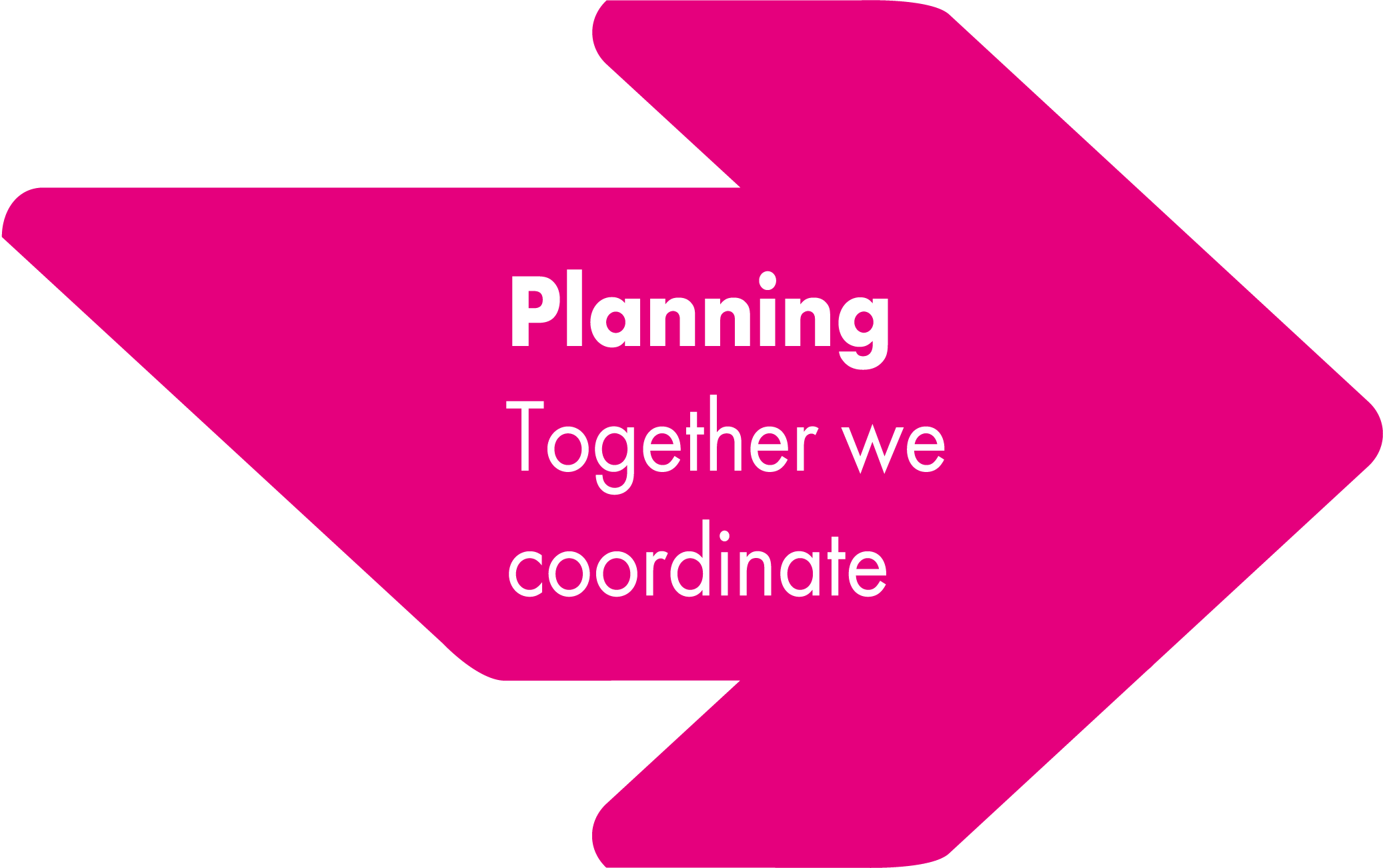 Who is needed? The team for the fine-tuning
How is a cobot welding system set up? This is a short, but at the same time an important question, because it is about your safety, the safety of your colleagues and also about the legal basis.
This is how your ideal cobot can look like
Let us assume that we have jointly test welded your components and prepared a feasibility analysis. This data now serves as a basis for the qualified partner who contributes table, fixture and housing for the complete solution. As a result you will see what the optimal cobot can look like for you, for example:
as a combination with a welding table
suspended mounted
with turning devices
with a longitudinal seam travel range or a linear unit
with fume extraction
with cleaning station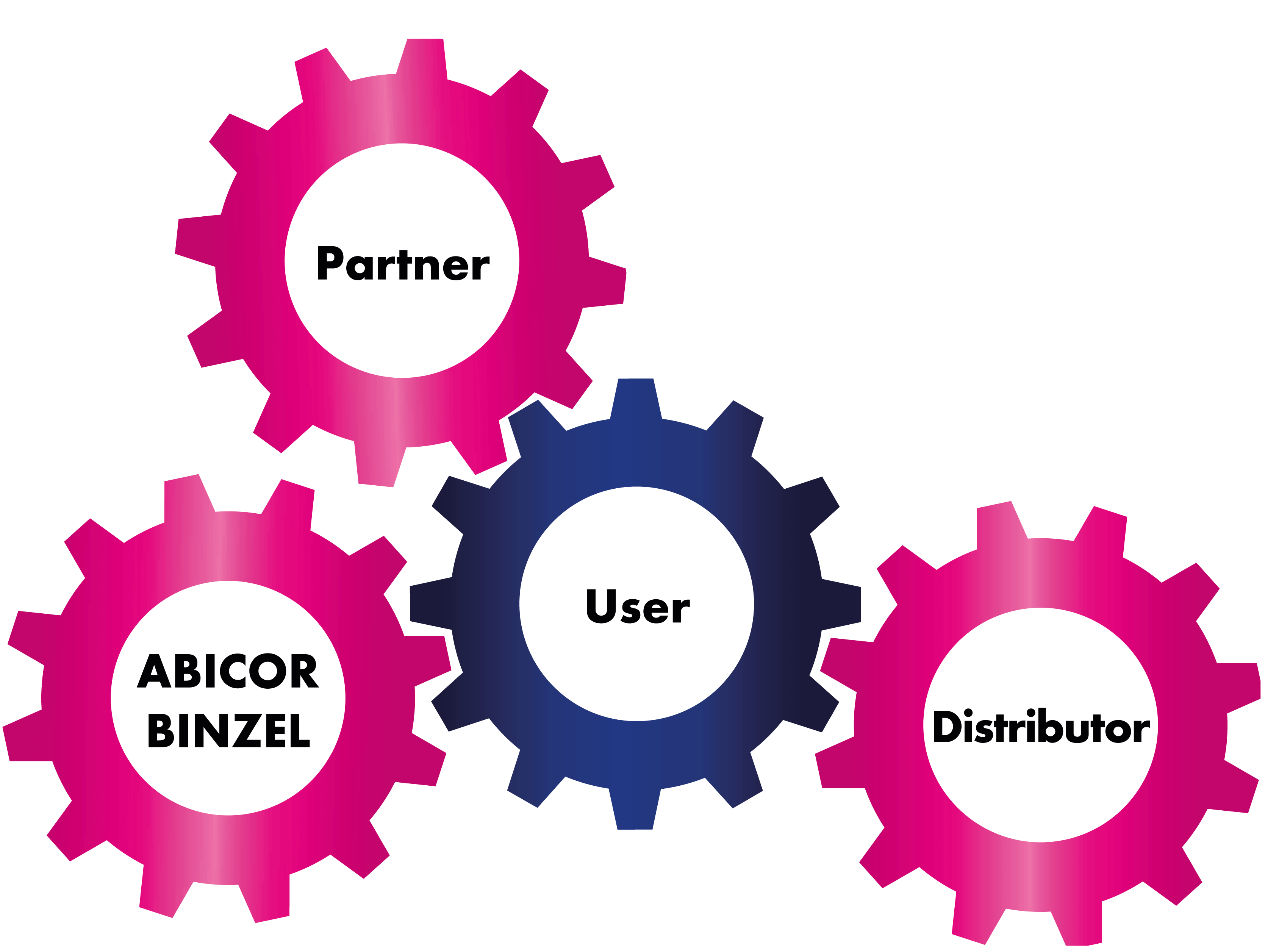 When planning a cobot, all those involved work closely together – then »it runs smoothly«
The networks of local distributors and partners make it possible to »tailor« a cobot system exactly to your needs. The qualified partner configures the cells, prepares the quotation and guarantees the service. The trusted distributor remains the continuous contact person.
All you have to provide for the integration of a cobot is:
power connections
gas supply
compressed air connection for fume extraction
If you have already taken a closer look at the subject of cobot and have already done more in-depth research, you have certainly heard the term marketer. Their role has extensive effects on your decision, whether you want to plan a cobot welding system by yourself or have it planned.
The marketer is responsible for ensuring that the machinery directive 2006/42/EC, which we have described in more detail in chapter 3, is complied with. Therefore, if you decide to plan a cobot welding system by yourself, you will become the marketer. This means: If there is no own or third-party manufacturer for a machine, the machinery directive 2006/42/EC passes on the responsibility to the person who places a machine on the market or puts it into operation. In this case to you.
This also applies if you purchase a collaborative robot with the complete welding equipment as a set and attach it independently to an existing welding table, for example. In this case you are responsible for CE-conformity! You must always take this into account in your planning.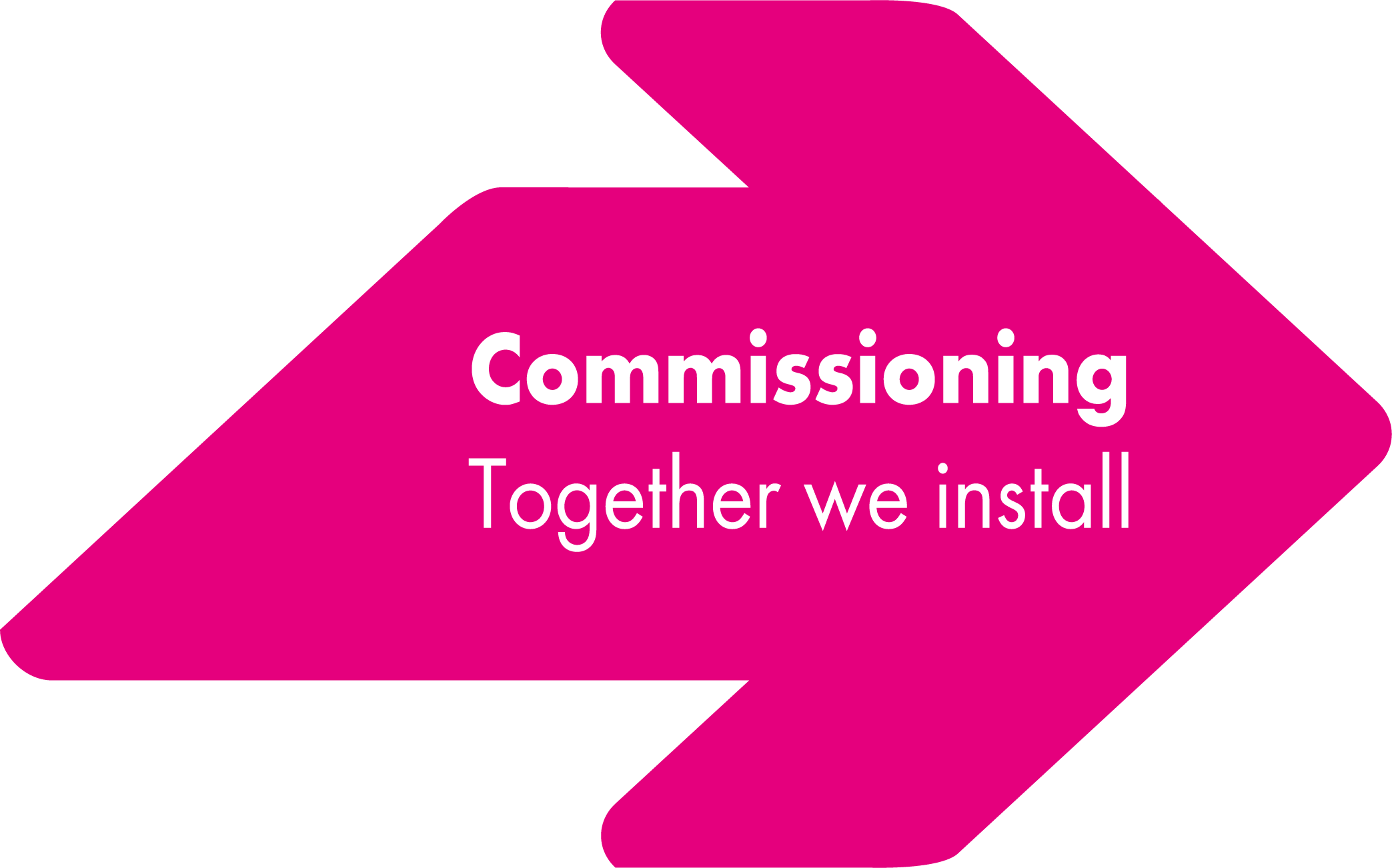 Here we go ...!
Your cobot is planned, you are not the marketer and the order has been placed. Once the whole process has been completed, the next step is for your qualified partner to set up your cobot system. Ideally together with you or the persons responsible in your company, who can deal with the cobot in detail. The installation of a cobot system can be completed within one working day. This means that the first training for you or your employees or colleagues can take place on the same day.
Training on a cobot should be »just in time« for all participants: The first training before commissioning, the second directly on the day of setup at your site. It is not advisable for the first training to take place several weeks before the cobot system is set up, because too much time passes and what has been learned is quickly forgotten without subsequent practice. Once the cobot has been set up and put into operation, the users learn how to program or control the cobot practically »on the job« in the weeks that follow. Because the controls are intuitive, they can get straight down to programming for welding components.
About two to three weeks later, the acquired knowledge is then deepened by further training. ABICOR BINZEL will continue to support all those involved with welding technology requirements and solutions.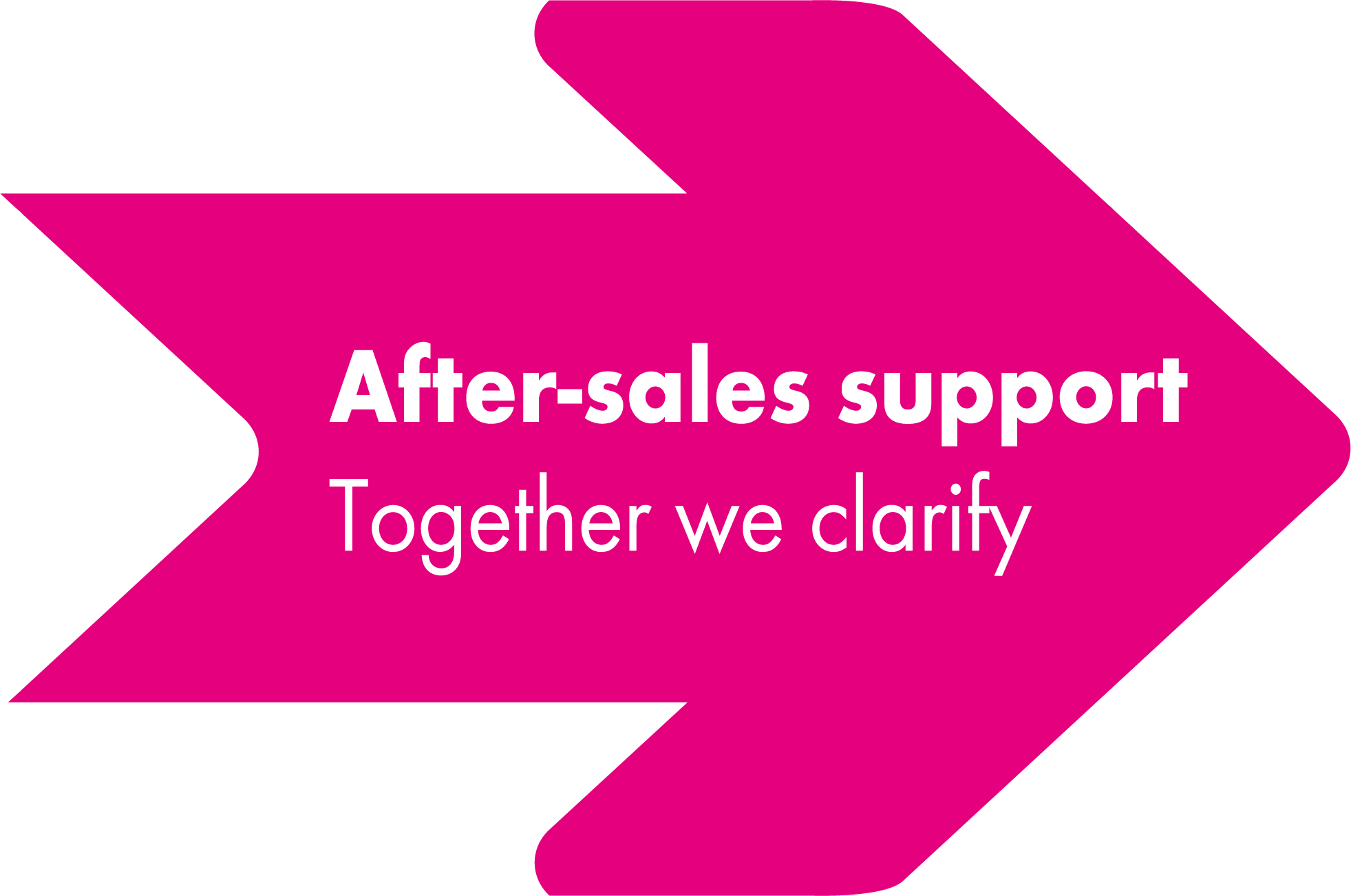 What happens after the cobot is put into operation?
You are in regular contact with the distributor you trust, our partner. He is always involved and informed throughout the entire process. Especially, after the installation of your cobot, he remains your first contact person in all matters, such as the supply of wear parts. The same applies to the contact with the qualified partner who has installed the cobot together with the equipment in your company in conformity with CE standards. ABICOR BINZEL is in close contact with your contact persons via the sales representatives.
Certainly you can contact ABICOR BINZEL for other solutions and welding technology
enquiries. If welding parameters need to be optimised after installation, we will of course
be happy to assist you.

How to get the most out of your cobot welding system
When investing in a cobot welding system, of course you want to get the most out of it. The right equipment is one thing, the right operation and the handling of this welding system in busy everyday life is quite another. With the services described below you will be able to use your cobot to its full effectiveness – provided that they are optimally coordinated:
When choosing your service provider, make sure that these aspects are covered and interlock optimally. Should you decide to work with ABICOR BINZEL, you will have a partner at hand with whom all the pieces of the puzzle fit together perfectly so that you get the maximum benefit from your cobot system.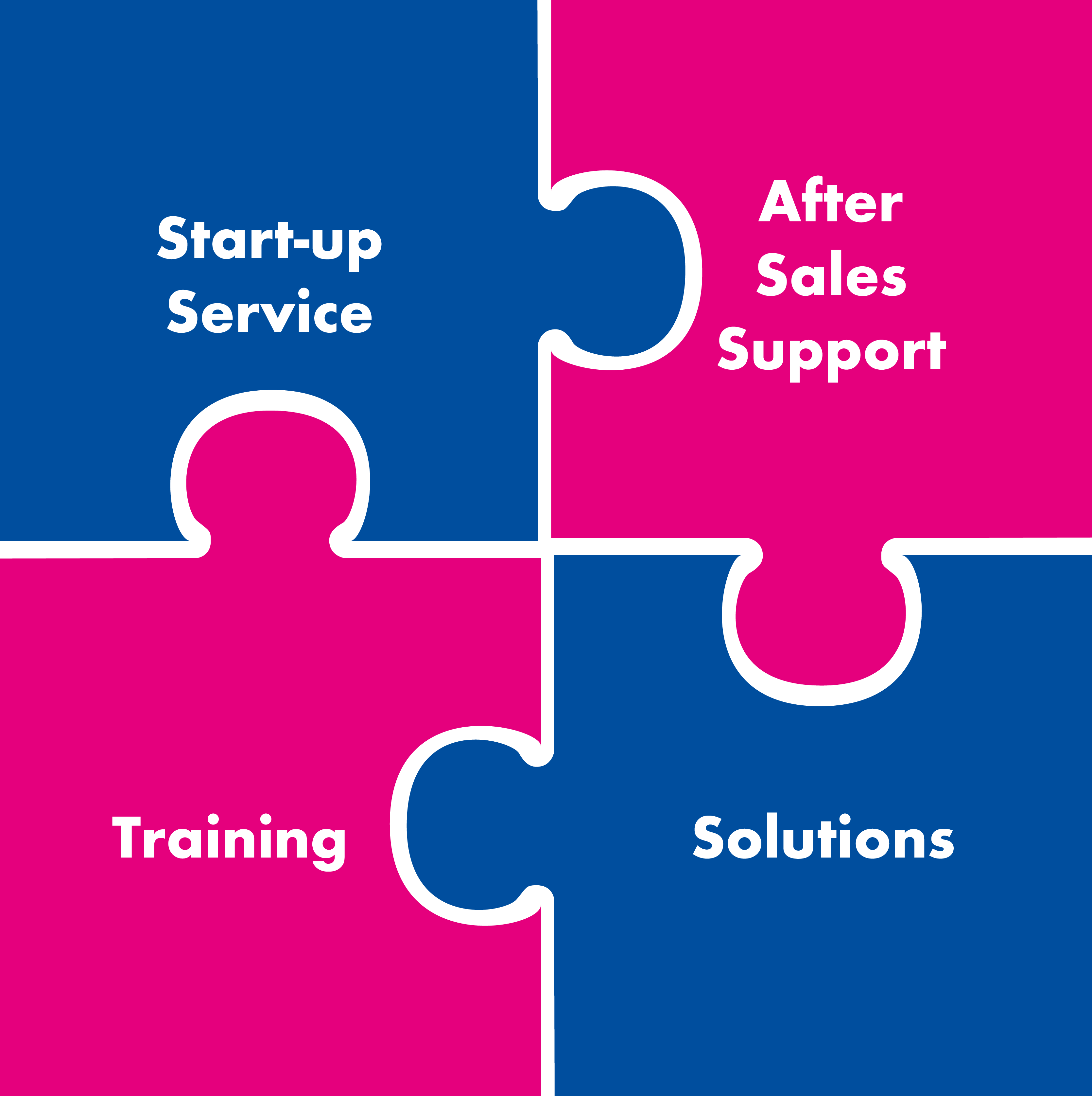 These services get the most out of your cobot welding system
The customer service in a cobot project
Especially in a cobot project the customer service is involved in the planning from the very beginning. This enables specialist departments and partner system houses to respond jointly to your wishes and requirements at an early stage.
The following figure shows the individual steps and responsibilities from the planning of a
cobot project at ABICOR BINZEL up to the maintenance of the system after implementation, which is also carried out by the qualified partner. It may sound like a lot, but based on our experience it is a fast and smooth process.
Please consider two important aspects when planning your cobot welding system:
Involve your employees in the process so that they do not regard the cobot as an enemy, but as a valuable helper who can relieve them.
Take a little more time at the beginning to achieve the best result at the end.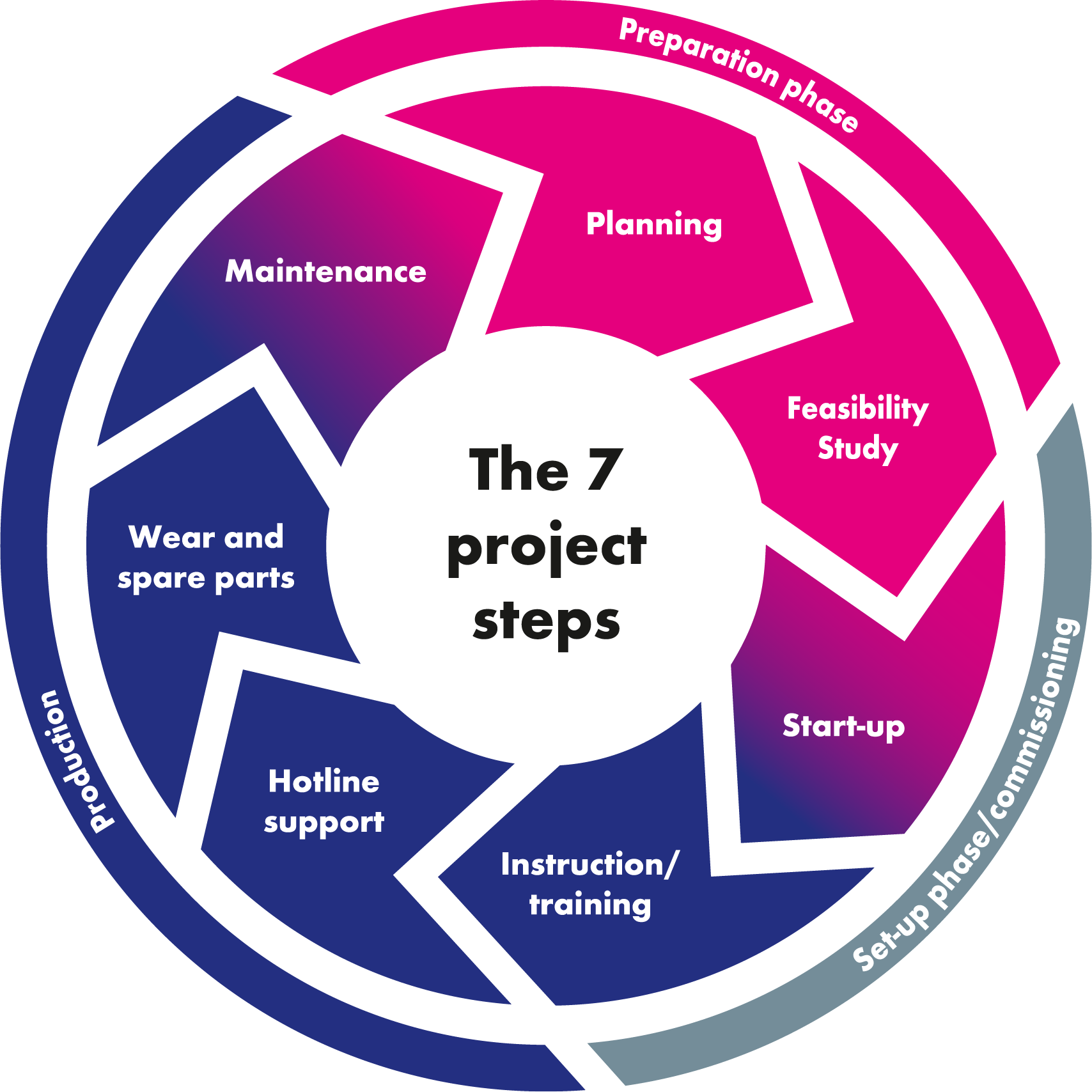 Interaction of ABICOR BINZEL (magenta) and
partner system houses (blue)
How to get your own cobot now? Here you will find some impressions and insights:
Feedback from the user
A qualified partner explains the installation process
The people involved in a project
"Who knows the goal, can decide,
who decides, finds peace,
who finds peace, is safe,
who is safe, can consider,
who considers, can improve."
- Confucius
We hope that this eBook has given you a good overview of the challenges and opportunities involved in getting started in automation with a cobot, and that you have been able to gather lots of tips and tricks for welding with cobots – and that we have been able to provide you with valuable assistance in making your decision.
Let us get in contact when you have decided to give a cobot a chance in your production. In case you are still unsure whether welding with cobots is the right solution for you, let us get in contact as well. Please feel free to ask companies that have already realised a cobot project with us – we will be glad to arrange the contact for you. It's important you have a good feeling, when you approach this project. In the spirit of Confucius.

Should you have any further questions, please do not hesitate to contact us:
We hope you enjoyed this eBook and that your expectations were met.
Your suggestions and comments are welcome.

Many people have contributed to the development of this eBook:
ABICOR BINZEL, Deutschland
Simon Opper, Junior Product Manager Cobot ROBOTIC SYSTEMS
Frank Müller, Director Product Management Global
Ingo Frischkorn, Global Key Account Manager ROBOTIC SYSTEMS
Sebastian Geltl, Product Manager Power Sources ROBOTIC SYSTEMS
André Faber, Head of Extraction Technology
Jörg Ehling, Knowledge Manager
Markus Preis, Sales Germany, Field Representative
Carmen Laux, Marketing
Christine Rinn, Marketing
Theresa Zimmermann, Marketing