Komatsu UK Ltd., Birtley, UK
In endurance test for more than 30 years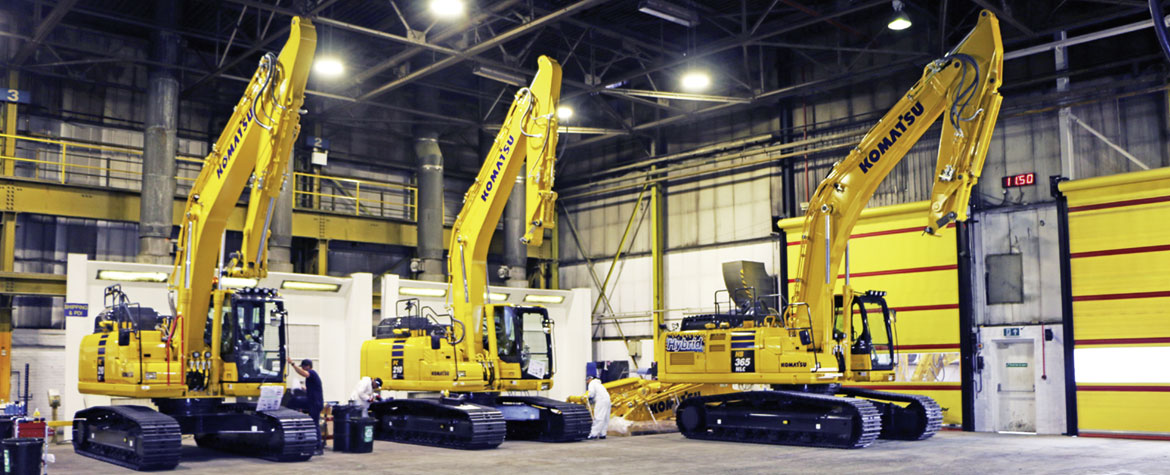 Komatsu UK Ltd, located in Birtley, is one of Komatsu's 93 production plants, which has been developing, manufacturing and selling construction, mining, industrial, forestry and operating equipment worldwide for nearly a century. Founded in 1985 in the North East of England, the company is now part of the world's second largest manufacturer and supplier of construction and mining machinery and one of the most successful production facilities in Europe - and has been relying on ABICOR BINZEL products for over 30 years.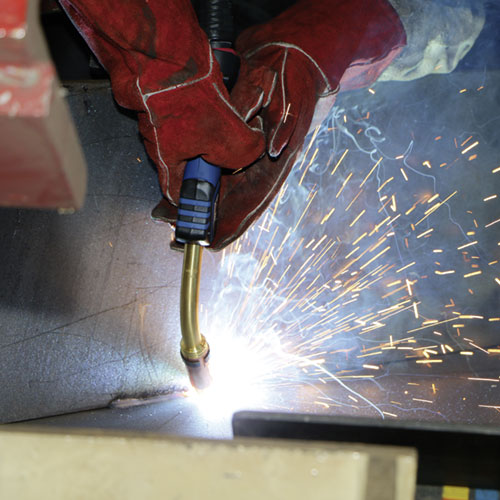 Big parts, thick welds, reliable cooling
Anyone passing large construction sites knows them - the giant yellow crawler excavators, which have to pass every endurance test in operation. Therefore, every welding seam must be reliable. Welders "love" the ABICOR BINZEL welding torches right from the start, because the cooling is completely reliable at constantly high currents and high radiated heat of the workpiece. The first welding torch in use at Komatsu UK was the RB 610 - some of the torches are already ten years old today. In parallel to this torch type, the MB ERGO 501 was used in production. Today the new MB EVO PRO 501 torches from ABICOR BINZEL offer excellent cooling, so that the welders can even stabilise them with their free hand.
The new liquid cooled RAB GRIP 501 HE is currently being tested during welding of an eleven meter long boom, as Komatsu UK is well aware that health protection will play an increasingly important role in welding in the future. Komatsu UK also has 13 Komatsu welding robots developed in-house with liquid cooled ABICOR BINZEL welding torches of the WH series including cleaning stations in use. In continuous operation, they ensure an efficient welding process and high quality welding seams. Even with the toughest challenges.
A pioneer in fuel economy
Conventional construction machines are operated exclusively with diesel. Komatsu has set a benchmark in the market with the launch of the first hybrid excavator worldwide. The HB365NLC reduces fuel consumption by up to 30%. With every swing during the slow down phase energy is converted into electricity and stored. This energy is used to support the diesel drive during acceleration. Regenerated energy instead of high fuel consumption.
Komatsu UK employs approx. 450 staff and exports 17 models of medium sized and large crawler excavators, 18 to 80 tons, mainly to Europe and North Africa. Komatsu's mission is to improve the workplace of value creation and realise innovation to create benefit. Together with the customers. And ABICOR BINZEL is a part of it.
Read the complete article: open PDF