RLW-A | Joining of Fillet Welds with Remote Laser Welding
Prehľad
Zníženie emisií CO2 je záležitosťou osobitného záujmu. S cieľom prispieť k zníženiu spotreby energie vyvinula spoločnosť Scansonic zodpovedajúcu výrobnú technológiu, ktorá umožňuje zváranie zaoblených zvarov v preplátovanom spoji pomocou vzdialenej laserovej techniky.
V telese pri bielej výrobe sa v súčasnosti používajú hlavne prekryté spoje, ktoré môžu byť nahradené zaoblenými zvarmi. Pri zaoblení zvarov spojovacie príruby môžu byť redukované, proces je stabilný aj bez prípravy švov a je potrebná menšia laserová energia pre rovnaký prierez švu.
Ako to funguje
Vedenie optického švu, ktoré je integrované vo zváracej hlave, rozpozná spoj a umiestni laserové zaostrenie na kĺbe. Vďaka vysokej pracovnej vzdialenosti je hlava schopná prejsť napínačmi a obrysmi obrobkov. Potrebný procesný čas je v porovnaní s hmatovými systémami podstatne nižší a je len o niečo väčší ako u štandardných laserových diaľkových hláv.
Laserový systém RLW-A kombinuje optické sledovanie švov a vysoko dynamické skenery. To umožňuje použitie zložitých 3D geometrií so širokou škálou typov spojov. Počas pohybu robota RLW-A vníma a sleduje šev nastavením zrkadla podľa nameraných údajov sledovania švu. Laserový lúč a meracie svetlo sú riadené tým istým optickým systémom.
Výhody
Vysoko účinný proces zvárania umožňuje redukciu materiálu pre prírubové aplikácie v podvozku vozidla.
Úspora materiálu a hmotnosti vedie k zníženiu spotreby paliva a emisií CO2.
Systém Plug & Play. Nie je potrebná žiadna integrácia na zložitých robotických rozhraniach.
Veľká pracovná vzdialenosť do bežiaceho procesu umožňuje prejsť cez svorky a upínacie prípravky, doba cyklu je v porovnaní s inými laserovými zváracími systémami oveľa kratšia.
Vysoko dynamický systém sledovania švu zaisťuje spoľahlivé vyhľadávanie a sledovanie švu. Tolerancie materiálu a upínacieho zariadenia sú spoľahlivo vyvážené.
Veľkosť bodu môže byť prispôsobená a tiež môže byť namontovaná počas procesu pomocou automatického zaostrenia.
Veľmi nízke náklady na spotrebu stlačeného vzduchu pri použití menšieho krížového prúdu kvôli menším krycím sklám.
Veľká pracovná vzdialenosť znižuje kontamináciu spôsobenú rozstrekovaním procesu, dymom atď.
Použitím súpravy Scansonic scapacs® je systém modulárny. Je možné takmer akékoľvek prispôsobenie optických vlastností, vláknových spojok, rozhrania priemyselnej zbernice atď.
Odolné a kompletné riešenie s ultramoderným dizajnom, ktorý obsahuje ovládače, snímače a dokonca aj regulátory na báze zbernice.
Vysoko presné vedenie švu vďaka určenia polohy koaxiálne vo vzťahu k laserovému lúču.
Technical Data
| | |
| --- | --- |
| Power supply | 400 V / 32 A (extern), 24 V / 55 A (intern) |
| Weight | approx. 25 kg |
| Operating wave length | 1030 ... 1080 nm (thin-disc laser to fibre laser) |
| Permissible laser power | max. 8 kW |
| Total angle of divergence Φ; BPP | Φ = 250 mrad (99 % of power capacity); BPP ≤ 25 mm∙mrad |
| Current magnification factor | 1:2.9 |
| Field size | X = ± 32 mm / Y = ±16,5 mm / Z = ± 10 mm |
| Operating clearance | approx. 280 mm, with focal distance f = 500 mm |
| Dynamic positional accurracy | X = 0.1 mm / Y = 0.1 mm / Z = 0.5 mm |
Accessories
Media coupling MEKO
Media coupling general application interface MEKO-GAS (HTK box)
Pointer with adjustable focal point
Optic for remote laser hardening RLH-A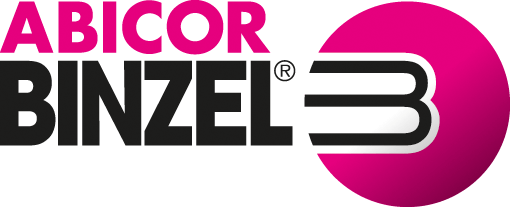 ABICOR BINZEL SLOVENSKO, s.r.o.
Priemyselná ulica 1239
93101 Samorin
Google Maps
00421 31 562 25 25
ABICOR BINZEL world-wide - everywhere at your side ...