Optika pre remote laserové stuženie RLH-A
Prehľad
Tak ako v kompletnom automobilovom priemysle, aj v celom hnacom ústrojenstve existuje neustály trend k minimalizácii pohybu hmôt, pričom sa zároveň zvyšuje funkčná zložitosť a samozrejme za znížené náklady. V dôsledku toho sa v motoroch a prevodovkách používajú stále zložitejšie komponenty. Tieto vysoko namáhané komponenty vyžadujú kombináciu tvrdosti a húževnatosti - čo je kombinácia, ktorá sa s tradičnými procesmi kalenia veľmi ťažko dosahuje. Preto spoločnosť Scansonic vyvinula kaliaci optický systém, ktorý môže byť špeciálne prispôsobený pre rôzne úlohy kalenia.
RLH-A v scapacs-optic blokoch sa nachádza 1-D skener s integrovanou vysoko dynamickou reguláciou teploty, ktorý umožňuje vytvrdzovanie komponentov selektívnym a riadeným procesom.
Výhody
Umožňuje vytvrdzovanie komplexných a variabilných komponentov pri spevňovaní hnacieho ústrojenstva
Variabilne nastaviteľné parametre procesu: stredný bod trasy; šírka dráhy vľavo a vpravo; teplota predohrevu, teplota a výkon kalenia; rozostrenie; a emisný koeficient. Parametre sa môžu meniť aj počas procesu.
Spoľahlivé kalenie a kvalita: vďaka vysoko dynamickému mechanizmu regulácie teploty prostredníctvom variabilného zrýchlenia skenera a s pomocou pomalého riadenia výkonu lasera (na základe patentu EP 08 022 027 B2).
Výrazne skrátený čas nastavenia; proces možno ľahko prispôsobiť; voliteľný modul automatického zaostrovania umožňuje zmenu priemeru bodu bez zmeny pracovnej vzdialenosti.
S komponentmi scapacs® môže byť optický systém optimálne prispôsobený k zdroju lasera a parametre procesu (priemer vlákna, zdroj lasera, požadované rozloženie výkonu).
Do systému je možné integrovať monitorovaciu kameru.
Voliteľne s externým projektorom pre optimálne nastavenie pracovnej vzdialenosti.
Features
Variable fibre coupling
Trumpf-D
Trumpf-B
Optoskand QBH
Optoskand MMI
Collimation
Fixed collimation or with integrated auto-focus module.
The auto-focus module allows the focus diameter to be modified based on the process. The stand-off clearance to the component does not need to be adjusted.
An additional safety glass under the end of the glass fibre prevents contaminants from penetrating while the fibre is being changed.
Pyrometer
Integrated camera-based pyrometer.
The path of the pyrometer measurement beam is coaxial with the path of the laser beam.
Thus the scanner also moves the pyrometer's measurement field.
The measurement distance from the pyrometer to the laser focus is constant which allows it to be optimally adjusted.
An error in the scanner positioning does not affect the measurement result.
Temperature fields can be selected using software functions. No mechanical adjustment of the sensors is required.
Monitoring camera
Integrated coaxial-aligned monitoring camera; camera observation is independent of the position of the scanner mirror.
Thus the component remains still for the observer (this is not the case for the pyrometer camera).
The location of the hardening track can be checked easily and securely using the camera.
So the initial commissioning process is faster and less prone to errors.
Scanner unit
Highly dynamic scanner unit.
1-D linear projection.
Variable programming options for the scanned line (wide left, right and centre position).
External cooling for the entire optics and the scanner unit. This prevents the penetration of cooling water into the optical system.
Flange mounting on the robot
Can be quickly swapped out with high-precision tool coupling.
Measurement for the optics, just as for all scapacs® devices, is enabled at the appropriate measuring stations.
Safety glass drawer
Dust-proof drawer for safety glass.
Additional protective glass between the lens and the safety glass drawer: offers extra protection for the focusing lens.
Efficient cross-jet module (not shown here).
Process jet uses nozzle from Silvent (not shown here) in order to prevent water vapour from the quenching bath from reaching the optics.
Controller
Modern, bus-based control strategy.
Actuators and sensors are bus nodes.
The RLH controller is the bus master and is separated from the RLH processing head.
Controller can be installed as needed (for example, in the facility's equipment cabinet).
The RLH system can communicate with the production facility on different Fieldbus types, such as Interbus, Profibus, Devicenet or Profinet.
A facility PC can be used for parameterization.
Technical Data
Power supply
±24V / max. 10A
Weight
approx. 15 kg
Limiting acceleration (mechanical), in/not in operating mode
3 g / 5 g
Protection class
Based on IP64 (when plugged into fibre)
Cooling water quantity
1,4 l/min at 6 bar (estimated)
Type of cooling water
Suitable for DI water (stainless steel version), conductivity to 2 μS/cm
Ambient temperature range
Storage: -25 °C to 70 °C, cooling water drained; during operations:
10 °C to 45 °C, non-condensing
Power supply
24 V
Video signal
BAS
Fieldbus types
Selection of: Profibus, Interbus, Profinet, Devicenet. Number of
assigned words: 6. Parameterization using facility PC, communication with RLH controller via TCP/IP
Operating wave length
1000 to 1080 nm, thin-disc laser to fibre laser
Fibre coupling
Selection of: Trumpf B and D, and Optoskand models QBH and MMI
Permissible laser power
max. 6 kW
Total divergence angle / angle of acceptance
250 mrad (99 % power capacity)
Beam parameter product, laser power unit
better/equal 25 mm mrad
Track width, max. in TCP
50 mm (in the regular system; extensions possible)
Accessories
Pointer with adjustable focal point
External line projector
Monitoring camera
Optic for remote laser hardening RLH-A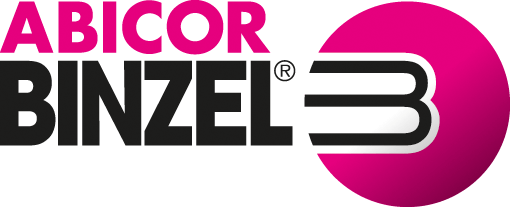 ABICOR BINZEL SLOVENSKO, s.r.o.
Priemyselná ulica 1239
93101 Samorin
Google Maps
00421 31 562 25 25
ABICOR BINZEL world-wide - everywhere at your side ...