ABICOR BINZEL at Workshops of the Bavarian State Opera in Munich
We are the iron core of the sets
The Bayerische Staatsoper is one of the world's leading opera houses. Over 40 operas and more than 20 ballets are staged in one season in Munich. This demands not only top performances from singers and actors, but also from the workshops. The in-house metalworking shop produces all metal constructions for the scenery, sometimes for very elaborate stage sets. The metal workers like to work with ABIMIG® A T LW torches from ABICOR BINZEL.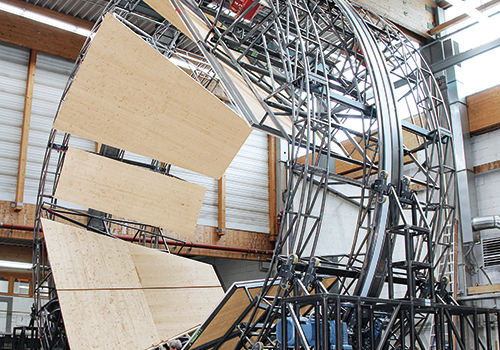 Complex constructions made to measure
The team of the metalworking shop consists of eleven employees, all of them certified aluminium and steel welders. They design and implement three to five complex large-scale projects per season. An example from the 2017/18 season: the stage design for Giacomo Puccini's opera "Il trittico", consisting of a rotatable drum nine metres in diameter, a huge funnel and a ten-metre-long and metre-high tunnel. This gigantic construction must also be able demountable to container dimensions for transport and be easy to set up and dismantle.
As the basis for the stage sets, high precision and stability are essential for the metal construction. Further challenges for the metalworking team are the very different welding tasks depending on the stage design and the often difficult accessibility. Therefore, it is important to have a modular, flexible, lightweight welding torch available.
Modularity and weight inspire
A short test operation convinced the metal workers of the MIG/MAG welding torch ABIMIG® A T LW 255. With its rotatable and exchangeable torch necks in various lengths, it offers the necessary flexibility for the many different welding tasks and enables relaxed working even in constrained positions. The extremely light BIKOX cable assembly and the ergonomic handle make welding even easier. The metal workers of the Bayerische Staatsoper will also profit from the ABIMIG® advantages in the future, because it is planned to exchange all torches with fixed neck against the change neck torches of ABICOR BINZEL.
Read the complete article: open PDF