RLH-A | Remote Laser Hardening - Adaptive
Generelt
Det er en trend i tog bransjen, akkurat som i hele bilindustrien konstruksjon bransje, mot å minimere objekter i bevegelse. På samme tid blir den funksjonelle kompleksiteten økt og kostnadene redusert. Som et resultat, er det stadig mer komplekse komponenter som brukes i motorer og tannhjul. Disse høyt belastede komponenter krever en kombinasjon av hardhet og seighet - en kombinasjon som er meget vanskelig å oppnå med tradisjonelle herding prosesser. Således har Scansonic utviklet et herde optisk system som kan tilpasses spesielt for en rekke herde oppgaver.
RLH-A er "scapacs-optiske" byggeklosser i en 1-D scanner med integrert svært dynamisk temperaturkontroll . Dette systemet gjør det mulig for komponentene beskrevet ovenfor i å bli herdet i en selektiv og kontrollert prosess.

Fordeler:
Tillater herding av komplekse og variable komponenter og herding av applikasjoner.
Trinnløs justerbar prosessparametre : spore midtpunktet ; spore bredde venstre og høyre; forvarming og herde temperaturer; defokusering ; og fjerning av avfallstoffer. Parametere kan også endres under prosessen
Pålitelig herding og kvalitet: gjort mulig av den svært dynamisk temperaturkontroll mekanisme via den variable skanner speil hastighet og laser -kontroller (basert på EP 08 022 027 B2)
Betydelig redusert klargjøings tid ; Prosessen kan enkelt tilpasses og justeres ; valgfri autofokus modulen kan punkt justeres og varieres uten å kreve en endring i drifts klaring
Ved å bruke scapacs® -komponenter , kan det optiske system bli optimalt tilpasset laserkilden og prosessparameterne ( fiber diameter , laserkilden , nødvendig strøm justering )
Overvåkingskamera kan bli integrert i systemet
Kan leveres med ekstern kamera for overvåkning av optimalt innstillling
Egenskaper
Forskjellige fiber koblinger:
Trumpf-D
Trumpf-B
Optoskand QBH
Optoskand MMI
Collimation
Fast "collimation" eller med integrert autofokus modul.
Auto-focus modulen tillater fokus diameter å bli justert basert på prosessen. Kontakten med komponenten behøver ikke å justeres.
Et ekstra sikkerhet glass under enden av glassfiber hindrer forurensninger fra å trenge inn samtidig som fiberen blir uendret.
Pyrometer
Integrert kamera basert på pyrometer.
Banen av pyrometeret målestrålen er koaksial med banen for laserstrålen
Skanneren beveger seg således i pyrometer`s måle område
Måle avstand fra pyrometeret til laserfokuser konstant som gjør at det kan justeres optimalt
En feil i skanneren posisjonering påvirker ikke måleresultatet
Temperatur felt kan velges ved hjelp av programvare funksjonen . Ingen mekanisk justering av sensorene er nødvendig.
Overvåknings kamera
Integrert koaksial - justert overvåking kamera. Kameraet observasjon er uavhengig av posisjonen av skanneren speilet.
Således er komponenten fremdeles tilgjenglig for observatøren (dette er ikke tilfelle for pyrometer kamera).
Plasseringen av herde sporet kan kontrolleres enkelt og sikkert ved å bruke kameraet
Igangsettings prosessen er raskere og mindre utsatt for feil .
.
Skanner eneheten
Meget dynamisk skannerenhet
1 - D lineær projeksjon
Variable programmerings alternativer for det skannede linjen ( bredde venstre, høyre og midtstilling )
Ekstern kjøling for hele optikk og skannerenheten.Dette hindrer inntrengning av kjølevannet inn i det optiske system
Flens montering på roboten
Kan raskt byttes ut med høypresisjon verktøy kobling
Måling for optikken , akkurat som for alle scapacs® enheter , er aktivert på riktig målestasjonene

Sikkerhets glass rengjøring
Støvtett skuff for sikkerhetsglass
Ekstra beskyttende glass mellom linsen og sikkerhetsglass skuff : gir ekstra beskyttelse for fokusering
Effektiv "cross- jet" modul ( ikke vist her )
Prosessen bruker gasshylse fra Silvent (ikke vist her ) for å hindre vanndamp fra kjølingen å nå den optiske målingen
Kontroller
Modem, "bus" basert controll strategi
Aktuatorer og sensorer er "bus" noder.
RLH -kontrolleren er bussmaster og er adskilt fra RLH bearbeidingshodet
Kontroller kan installeres etter behov ( for eksempel i anleggets utstyr skap )
RLH systemet kan kommunisere med produksjonsanlegg på forskjellige feltbusstype, som Interbus, Profibus, Devicenet og Profinet.
En PC kan brukes til parametrisering
Tekniske Data
Power supply
±24V / max. 10A
Weight
approx. 15 kg
Limiting acceleration (mechanical), in/not in operating mode
3 g / 5 g
Protection class
Based on IP64 (when plugged into fibre)
Cooling water quantity
1,4 l/min at 6 bar (estimated)
Type of cooling water
Suitable for DI water (stainless steel version), conductivity to 2 μS/cm
Ambient temperature range
Storage: -25 °C to 70 °C, cooling water drained; during operations:
10 °C to 45 °C, non-condensing
Power supply
24 V
Video signal
BAS
Fieldbus types
Selection of: Profibus, Interbus, Profinet, Devicenet. Number of
assigned words: 6. Parameterization using facility PC, communication with RLH controller via TCP/IP
Operating wave length
1000 to 1080 nm, thin-disc laser to fibre laser
Fibre coupling
Selection of: Trumpf B and D, and Optoskand models QBH and MMI
Permissible laser power
max. 6 kW
Total divergence angle / angle of acceptance
250 mrad (99 % power capacity)
Beam parameter product, laser power unit
better/equal 25 mm mrad
Track width, max. in TCP
50 mm (in the regular system; extensions possible)
Tilbehør
Pointer with adjustable focal point
External line projector
Monitoring camera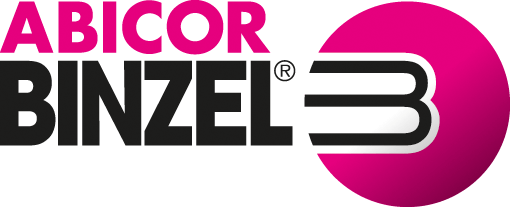 Binzel Norge A/S Sveiseteknikk
Industriveien 1
3300 Hokksund
Google Maps
0047-32 25 19 90
ABICOR BINZEL world-wide - everywhere at your side ...