RLH-A | Optika nuotoliniam lazeriniam grūdinimui
Apžvalga
Gaminant transmisijas, kaip ir visoje automobilių pramonėje, siekiama optimizuoti procesus. Variklių ir pavarų dėžių konstrukcijose naudojami vis sudėtingesni komponentai - šie ypač didžiules apkrovas atlaikantys komponentai privalo būti patvarūs, o tai labai sunku pasiekti naudojant tradicinius grūdinimo metodus. Taigi Scansonic sukūrė optinę grūdinimo sistemą, kurią galima adaptuoti daugelyje skirtingų grūdinimo darbų.
RLH-A scapacs- optika yra 1-D skeneris su integruota dinamine temperatūros kontrole. Ši sistema leidžia minėtuosius komponentus grūdinti pasirenkamu ir kontroliuojamu procesu.
Pranašumai
Galima grūdinti sudėtingus ir kintančius transmisijos komponentus

Įvairiai reguliuojami proceso parametrai: vidurio taškas, plotis į kairę ir į dešinę, išankstinis pašildymas, grūdinimo temperatūra ir galia, fokusavimo taško anuliavimas bei emisijos koeficientas. Be to, visi parametrai gali būti keičiami proceso metu

Patikimas grūdinimas ir aukšta kokybė dėka temperatūros kontrolės mechanizmo, varijuojančio skenuojančiųjų veidrodžių greičio bei papildomos lėtojo lazerio galios kontrolės (užpatentuota "EP 08 022 027 B2")

Ženkliai sutrumpintas nustatymų laikas. Visi procesai gali būti lengvai pritaikyti ir reguliuojami, pasirenkamas automatinio fokusavimo modulis leidžia spindulio taško skersmeniui kisti nekeičiant darbinio atstumo

Naudojant scapacs® komponentus, optinę sistemą galima adaptuoti prie lazerio šaltinio ir proceso parametrų (pluošto matmenų, lazerio šaltinio, būtino galios paskirstymo)

Jums pageidaujant, į sistemą galima integruoti stebėjimo kamerą

Su išoriniu linijiniu projektoriumi galite nustatyti optimalų darbinį atstumą
Savybės
Kintamojo pluošto movos:
Trumpf-D
Trumpf-B
Optoskand QBH
Optoskand MMI
Kolimacija
Nustatyta kolimacija arba su integruotu auto-fokusavimo moduliu
Su auto-fokuso moduliu diametrus galima modifikuoti proceso metu
Papildomas apsauginis stiklas po stiklo pluoštu apsaugo nuo teršalų prasiskverbimo keičiant pluoštą
Pirometras
Integruotas kameros tipo pirometras
Pirometro matavimo spindulys yra koaksialus lazerio spindulio keliui, todėl skeneris taip pat seka pirometro matavimus
Matavimo atstumas nuo pirometro iki lazerio fokusavimo taško yra pastovus, todėl jį galima optimaliai koreguoti
Skenerio pozicionavimo klaidos neturi įtakos matavimo rezultatams
Temperatūrą galima nustatyti naudojant programinės įrangos funkcijas. Mechaniniai sensorių koregavimai nebūtini
Stebėjimo kamera
Integruota bendraašė stebėjimo kamera - stebėjimas ja nepriklauso nuo skenerio veidrodžio padėties
Naudojant kamerą, stebėtojas mato stabilų komponentą (antraip nei su pirometro kamera), o grūdinimo vieta gali būti lengvai ir saugiai tikrinama, todėl procesas yra greitesnis, jame pasitaiko mažiau klaidų
Skeneris
Itin dinamiškas
1-D linijinė projekcija
Gausu programavimo opcijų (plati kairė, dešinė ir centrinė pozicija)
Išorinis visos optikos ir skenerio aušinimas - optinė sistema apsaugota nuo aušinimo vandens prasiskverbimo
Ant roboto montuojamas flanšas
Greitas keitimas
Atitinkamose stotyse galimas optikos matavimas, kaip ir visuose scapacs® prietaisuose
Apsauginio stiklo stalčiukas
Dulkėms atsparus apsauginio stiklo stalčiukas
Papildomas apsauginis stiklas tarp lęšio ir apsauginio stiklo stalčiuko - tai papildoma fokusavimo lęšio apsauga
Efektyvus skersinės srovės modulis (nepavaizduotas)
Proceso metu naudojama "Silvent" tūta (nepavaizduota) apsaugo optiką nuo vandens garų, kylančių iš aušinimo vonios
Valdymas
Modernus valdymas, paremtas sisteminėmis magistralėmis (BUS)
Pavaros ir sensoriai - tai sisteminės magistralės mazgai
RLH kontroleris yra magistralės valdantysis elementas, atskirtas nuo RLH galvos
Pasirinktinai instaliuojamas valdymas (pvz., įrangos valdymo spintoje)
RLH sistemą galima sujungti su gamyba (per Interbus, Profibus, Devicenet arba Profinet)
Įrangos kompiuteris gali būti naudojamas parametrizavimui
Techniniai duomenys
Apkrova
±24V / maks. 10A
Svoris
≈ 15 kg
Pagreičio apribojimas (mechaninis), darbo/ nedarbo metu
3 g / 5 g
Apsaugos klasė
Grindžiama IP64 (kai įjungta į pluoštą)
Aušinimo vandens kiekis
1,4 l/min esant 6 bar
Aušinimo vandens tipas
Tinka DI vanduo (nerūdyjančio plieno variantas), laidumas iki 2 μS/cm
Aplinkos temperatūra
Sandėliavimui: nuo -25 °C iki 70 °C, kai išleistas aušinimo vanduo; darbo metu:
nuo 10 °C iki 45 °C, be kondensato
Maitinimas
24 V
Video signalas
BAS
Sisteminės magistralės
"Profibus", "Interbus", "Profinet", "Devicenet". Žodžių skaičius: 6. Parametrizacija atliekama naudojant įrangos kompiuterį, ryšys su RLH valdikliu vyksta per TCP/IP
Operacinės bangos ilgis
nuo 1000 iki1080 nm
Pluošto mova
Pasirinktinai: Trumpf B ir D, Optoskand modeliai QBH bei MMI
Leistina lazerio galia
maks. 6 kW
Bendras divergencijos kampas/ priimtinas kampas
250 mrad (99 % našumas)
Produkto spindulio parametrai, lazerio galios vienetai
>= 25 mm mrad
Siūlės plotis, maksimalus TCP
50 mm (įprastinėje sistemoje; galimi prailginimai)
Priedai
Taikliklis

su reguliuojamu fokusu
Išorinis linijos projektorius
Stebėjimo kamera
Optic for remote laser hardening RLH-A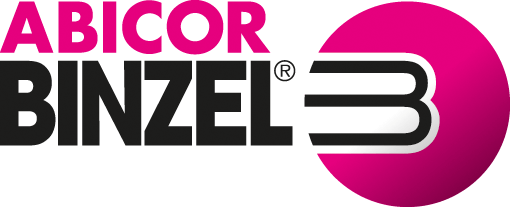 UAB Binzel Baltic
Naujoji Street 7-2
96124 Gargzdai
Google Maps
00370 46 401 673
ABICOR BINZEL world-wide - everywhere at your side ...