Exceptional prize 2008
ABICOR innovation award for life's work
After 37 years of service with IBG of which 22 years were served at ABICOR BINZEL as Managing Director and spokesman of the board, Juergen Sohn has now retired. During the Customer Appreciation Day about 150 business friends visited ABICOR BINZEL. On this occasion Juergen Sohn was officially relieved of his duties and presented with a wonderful surprise.
During a commemorative speech Dr. Ing. Klaus Middeldorf, DVS General Manager, acknowledged Juergen Sohn's achievements in having such a great impact ABICOR BINZEL's development.
Just to mention a few: Building up the German market with a comprehensive distributor network, developing Binzel central adaptor meanwhile known as the euro – connector, involved since the early start with robot welding technology, the globalization of more than 30 internationally operating sales subsidiaries, helped with the integration of Kurt Haufe Schweisstechnik in Dresden and the development of Eastern European markets. Furthermore Juergen Sohn was a member of the ISF Friends of the RWTH in Aachen and actively cooperated with the CCI Giessen. He was also a chairman of the Vendors Association for Welding and Cutting Technology VFFS and participated in many DVS committees, German Association for Welding and Similar Practices e.V. (registered society).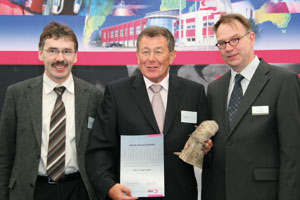 Dr.-Ing. Emil Schubert (left) and Dr.-Ing. Klaus Middeldorf (right)
present the ABICOR innovation award to Juergen Sohn for his
life's work.

He was the originator of the ABICOR innovation award in 1995 donating every other year as the highlight of welding technology for having a sustainable sponsorship in Research and Development.
Juergen Sohn was even more surprised this time for being the one to receive the award on his life's work. The award was presented by Klaus Middeldorf and the head of ABICOR BINZEL management, Dr. Ing. Emil Schubert, his successor.
During his thank you speech, Juergen Sohn (keeping the customer as the center of attention at all activities) emphasized that he will always be a part of the welding and cutting world in the future.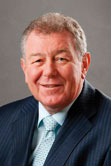 Jürgen Sohn
Alexander Binzel Schweisstechnik
GmbH & Co. KG