ABICOR Innovation Award 2006
At opening of the "Große Schweißtechnische Tagung" that took place in Aachen from 20th to 22nd of September 2006, the ABICOR Innovation Award has been awarded. Dr.-Ing. A. Gärtner, president of the DVS and M. Scoffield, manager of the Alexander Binzel Schweisstechnik GmbH & Co. KG, both introduced the winners.
With the ABICOR Innovation Award, that is already being awarded for the fifth time this year, the company Alexander Binzel Schweisstechnik GmbH & Co. KG and the DVS conduct new ideas and developments in the field of arc welding and cutting. Especially trainees in science and economy are to be supported. The proposed elaborations are being evaluated and selected by an independent committee of scientists and specialists from industry as well as the DVS.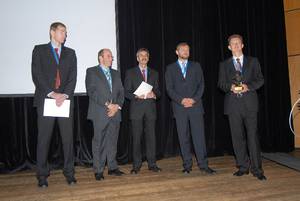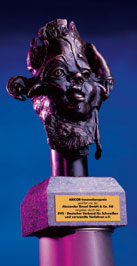 Dr.-Ing. Sven-Frithjof Goecke, EWM Hightec Welding in Mündersbach, won the 1st price, which is endowed with 5,000 €. He has been awarded for his elaboration "EWM-coldArc – Energy-reduced short arc". The special feature of the technically matured development is that all interventions in this process occur electronically; this alternative MSG-process emphasizes the possibilities of welding thin plates with less spatters and only slight drafts; brazing and welding operations even are applicable manually because there are no mechanical interventions necessary in the wire feeding or into the process cycle.
The 2nd price has been won by a team of the Institute for Welding- and joining technology (ISF) of the RWTH Aachen. Dipl.-Ing. K. Willms, specialist for the development of sensors and welding-process-observation in the ISF, and Dipl.-Ing. F. Höcker, scientific employee of the ISF in the fields of arc welding and -brazing have been awarded for their elaboration "VarioWire – MSG-welding of aluminium using thin welding wires".
The 3rd price has been given to Dipl.-Ing. G. Kremer, Subaqueous technical school Hannover, for the "Further development of the contact light arc metal cutting process (CAMC)". As area manager of the subaqueous technical school in the institute for material science of the university Hannover he advanced the CAMC-process for the cutting of thick-walled structures to a robust and automated process.