ABICOR Innovation Award 2006 (3rd Place)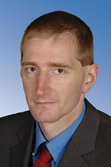 Dipl.-Ing. Guido Kremer (Inst. für Werkstoffkunde der Universität Hannover)
Further development of the contact light arc metal cutting process
When nuclear plants are being decommissioned, the dismantling of radioactively polluted large-scale components is one of the most complex and difficult tasks to be carried out. For one thing, this work usually has to be carried out completely remotely. For another, it sometimes has to take place under water cover with highly radioactive components. In addition, the dimensions are large and the structures and installation situations complex. Conventional cutting technologies often reach their limits in such cases. Contact Arc Metal Cutting (CAMC) offers the potential to close the gap in the range of tools available.
CAMC is a thermal cutting method that can be used to cut all conductive materials almost independently of their component geometry. In this process, the workpiece is separated under water by a light arc produced by a live sword-shaped cutting electrode. So far, problems with the method have restricted its use. Thus the clamping of the electrode in the kerf, the burning of secondary light arcs and the tendency towards permanent short-circuit have led to poor electrode service life and low process stability. For this reason, the method has only been used in a few exceptional cases and with manual control.
Basic investigations of the process behaviour led to a deeper understanding of the processes which take place here. Thanks to the constructive implementation of this knowledge, the CAMC method has been able to be further developed into an effective and stable method that can easily be automated. The capacity was impressively proved during the dismantling of reactor installations in the multi-purpose research reactor. After this impressive proof of suitability for practical conditions, there is nothing to stop a more widespread use of this application in future. Alongside the use in the decommissioning of nuclear plants, other interesting fields of application can be found in the offshore sector. Here, too, cutting technologies are required to enable metallic structures which cannot be accessed at all or only with great difficulty to be cut easily and reliably using a remote process.