ABICOR Innovation Award 2004 (1st Place)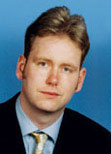 Dr.-Ing. Michael Rethmeier (Volkswagen AG)
MIG welding of magnesium alloys.
During the MIG welding of magnesium alloys, special material-related aspects must be considered in comparison with aluminium alloys: the most serious difference is in the narrow temperature interval between melting and evaporation of magnesium alloys, which is only approx. 500 K in comparison with approx. 1800 K with aluminium alloys. This results in an extremely high sensitivity of the welding process in comparison with the amount of heat applied. For this reason it is not possible to simply use conventional MIG current sources to weld magnesium alloys; spatter losses of more than 50 % can hardly be avoided.
The principle suitability of different types of arcs for MIG welding of magnesium alloys could be established. With the aid of high-speed images, drop separation and spatter formation were analysed and improved. Based on the knowledge gained, a new type of power source characteristic adapted to the special requirements of magnesium alloys - the triggered short arc - was developed and optimised. The heat transfer was controlled in such a way that the filler metal is melted safely without evaporating. This is a U-I controlled short light arc process with subsequent current pulse. This process makes sufficient fusion penetration possible and produces very few spatters. Advantages in comparison with other MIG methods versions for welding magnesium (e.g. short arc with superimposed pulse) result from a large number of adjustable welding parameters which offer the possibility of specifically influencing weld seam geometry and guaranteeing an optimum welding process without using a bath support. Application possibilities were able to be documented for complex structures and for use with robots. As well as the current-voltage curve, further important pre-requisites such as the use of a push-pull torch system, the quality of the weld wire, surface finish and the extremely rigid clamping fixtures were also worked out.
The quality of the weld seams was verified in comprehensive metallurgical tests. In addition, mechanical-technical material tests were used to determine material strength values important for the design engineer under both quasi-static and oscillating conditions.
Furthermore, the knowledge gained can be transferred to the welding or soldering of other materials which are sensitive to high temperatures such as aluminium-steel mixed compounds, for example.