ABICOR Innovation Award 2002 (3rd Place)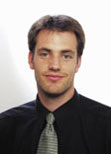 Dipl.-Ing. Jan-Dirk Reimers (RWTH Aachen)
Development of a welding head guide system for pulsed arc welding.
A welding head guide system for the economic automatic joining of modern aluminium structures has been developed based on a new approach. Balancing the heat flows on the welding torch showed that the incorrect positioning of the torch produces a change in heat balances and/or heat flows. This was able to be measured using temperature sensors, with the subsequent design of a heat radiation recording unit. The behaviour of the arc radiation when the position of the arc was changed in the weld joint was detected and converted into electrical signals. In a welding head guide system controlled by a micro-controller, these signals were able to be used to trace the seam during pulsed arc welding of build-up and fillet seams. The function of the vertical and lateral control was verified reproducibly.
The seam guide principle is able to use sensor guiding technology to weld aluminium and can also be used for steel. In comparison with a conventional arc sensor the signal amplitude of this new system is 3-4 times better on steel material. In addition, the inductive sensor system generally does not have to be oscillated for lateral guidance.
This system represents a technical basis for a wide range of industrial applications: the welding head guide system is particularly suitable for modern economical production lines using steel and especially aluminium in plant and mechanical engineering (e.g. rail and commercial vehicle building and in the ship-building industry).