ABICOR Innovation Award 2002 (2nd Place)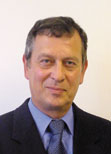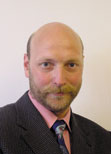 Dr. Dieter Hinneberg, Jörg Anders-Ehlers und Bernd Eisenstein (HDW Kiel)
MAG downward seam welding of butt joints and fillet welds in shipbuilding.
Up to now, downward seam welding of butt joints has not been able to be solved using any welding technique. For this reason, there are no relevant technical specifications contained in any requirements (e.g. GL requirements).
The applicants carried out welding tests with various metal powder wires on fillet welds in a downward position. The good weldability of one of the metal powder filling wires and the good fusion penetration led to the idea of using this method to weld butt joints (l and V seams) in downward positions as well. When welding sheet metals of up to t = 7.0 mm, however, fusion penetration is not sufficient. For this reason, the development team had the "crazy idea" of increasing the air gap in the I-seam to such an extent that the light arc burns between the narrow ends of the metal and the melt.
These tests led to the discovery of a phenomenon previously unknown in welding technology. It was possible to weld a root in the neutral fibre of the steel, so to speak, in the centre of the metal (seen in the direction of thickness). As later investigations showed, the root had connected well in terms of metallurgy and did not lead to any angle shrinkage.
Due to the fact that the root has a concave shape, cover layers can be welded from both sides. The new welding technique is highly productive and has no angle shrinkage, i.e. the blunt seam does not have to be flattened after welding. The technique described is straightforward for I-seams (metal thickness: t = 3.0 to 7.0 mm) and V-seams (metal thickness: t = 7.5 to 15.0 mm). The weld seam connection can easily be checked by NDT (e.g. X-rays).