Anti-spatter spray especially for gas nozzle & co.
During MIG welding and MAG welding, more or less welding spatter is produced depending on the arc. These spatters settle especially at the front end of the welding torch, i. e. inside the gas nozzle, at the contact tip and the gas diffuser and disturb the laminar gas flow for shielding gas coverage. Although the formation of weld spatter can be reduced by optimising the welding parameters, it cannot be completely prevented. However, the adhesion of weld spatter can be reduced considerably by spraying the front end of the torch with anti-spatter spray, such as the Super Pistolenspray.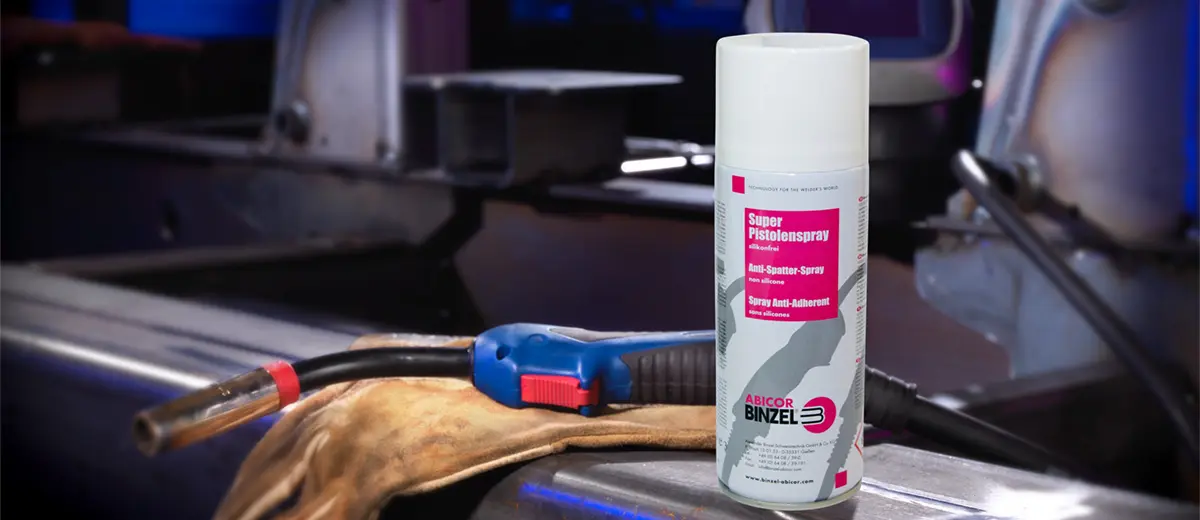 The anti-spatter agent Super Pistolenspray is only suitable for use on the gas nozzle, whereby the contact tip and the gas diffuser are also wetted with anti-spatter spray in the same step during treatment. The spray adheres well to the wear parts, but because of this adhesion it is not equally suitable for pre-treating the workpiece or the clamping elements.
A property of Super Pistolenspray that should not be neglected is its flammability, as the main ingredient of the 400 ml spray can is the propellant propane/butane. Thus, the smaller part of the contents of the Super Pistolenspray can consists of anti-spatter agent. Super Pistolenspray NF from ABICOR BINZEL is an alternative to Super Pistolenspray that is much safer and more productive.
The recommended anti-spatter agent: Super Pistolenspray NF
Super Pistolenspray NF from ABICOR BINZEL has several decisive advantages: 
It is non-flammable – NF stands for "non flammable" and therefore complies with the highest possible safety requirements.
The main ingredient is pure anti-spatter agent – the 400 ml spray can is three times more productive than the Super Pistolenspray or other anti-spatter sprays on the market
It can be sprayed on the wear parts like gas nozzle and contact tip as well as on the workpiece itself or the clamping element
The spray cans are only subject to the regulations for the transport of compressed gas cylinders, but not for the transport of dangerous goods

Another alternative for pre-treating of the gas nozzle and co. with anti-spatter agent is the ceramic spray from ABICOR BINZEL. With the appropriate spray aid attachment, the coating cap, the gas nozzle, contact tip, contact tip holder and gas diffuser are optimally covered with a fast-drying, uniform ceramic layer. This so-called multilayer protective film makes it very difficult for weld spatter to adhere. The ceramic spray is particularly suitable for welding processes with high duty cycles. And anyone who wants to prepare a workpiece specifically for welding is on the safe side with ABIBLUE NF.
Videos about anti-spatter agents
Anti-spatter spray – non-flammable, for torch and workpiece
Ceramic spray & coating cap – premium anti-spatter protection!