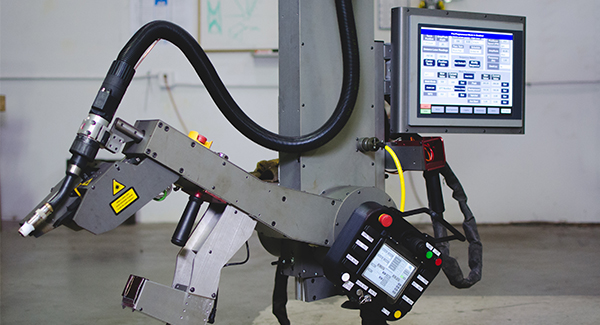 The collaborative welding robot to maximize performance in pipe production
With this Spool Welding Robot SWR you can increase the efficiency of your pipe production and reduce costs for pipe processing at the same time. Efficient welding technology and statistical reporting create synergies that guarantee consistently high quality. This collaborative welding robot maximizes production and flexibility in pipe production and reduces operating costs at the same time. Novarc Technologies and ABICOR BINZEL present the innovative Spool Welding Robot SWR – for welding pipes as turnkey solution.
Advantages at a glance:
Continuous welding pipes from root to cap
Always clear view of process with NovEye® camera
Documentation of welding parameters with NovData® data collection system
Its open platform with a small footprint of 1,2 m x 1,2 m allows up to 5 positioners by using small space of pipe production process
Ideal for welding pipe spools by GMAW & MCAW
FCAW as optional package
Offered as production solution
Spool Welding Robot Overview:
High-class technology by ABICOR BINZEL
With this Spool Welding Robot SWR you will get an excellent combination of ABICOR BINZEL welding solutions to achieve consistent quality and best results in pipe welding. These are in detail:
ABIROB® W robot welding torch
TH6D seam tracking sensor
MasterLiner
EWR 2 / EWR 2 Net as optional equipment
Process monitoring and analysis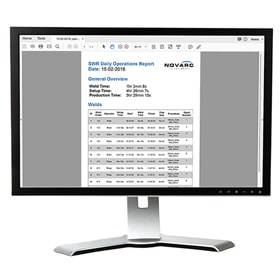 With the innovative NovEye® camera and the NovData® software, machine operators and welders have a very clear view of the welding process and the welding parameters during pipe production:
Weld performance (i. e. current, heat input, travel speed, wire feed speed, etc.)
The weld during operation
A daily operations report
Small footprint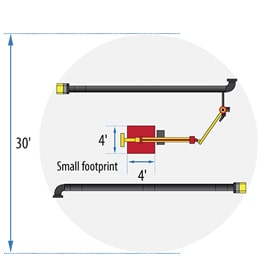 Simply install your pipe welding cobot for pipe production in your production hall. With its very small footprint, it takes up an area of just 1.2 x 1.2 m – with a maximum reach of 4.5 meters:
Use up to 5 positioners

Existing positioners can be integrated into the SWR
Easy to operate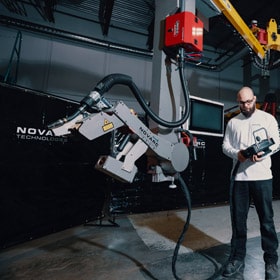 With this collaborative robot, pipes can be welded faster and more effectively from root to cap:
Simple operation that is just as easy to carry out by young welders as it is by plant managers or experienced welders
No specific programming knowledge required
No housing necessary
Just plug, set, weld.
Spool Welding Robot Videos:
SWR – the cobot for pipe welding
Explainer: Spool Welding Robot SWR
What is the Spool Welding Robot?
SWR Welding Various Pipe Shapes, Sizes, & Types
ABIROB® W and Spool Welding Robot
Spool Welding Robot vs. Manual Pipe Welding
TH6D Laser Seam Tracking and Spool Welding Robot
FAQs:
Whether or not to use a collaborative Spool Welding Robot in pipe production surely brings up many questions. To make things easier for you and get answers right away, we have collected the 22 most frequently asked questions on the collaborative Spool Welding Robot. We hope, these will help you in the first instance.