Orbital Welding System ABIBUG® 300
Welding tractor for efficient and precise pipe production
Onshore, in the production hall or on the construction site – speed and precision always count when welding pipes. Pipe components must be joint in the shortest possible time and with consistent quality. Manual welders are exposed to very high physical strain when welding pipes. Forced postures and repetitive movements cause extreme stress on the muscles. Consistent quality from the root to the cover layer is difficult to achieve under these conditions.
A welding tractor particulary designed for pipe welding, such as the ABIBUG® 300 from ABICOR BINZEL, relieves the welder and also welds in less time while maintaining the same quality. Pipe welding has never been as easy as with the ABIBUG® 300 orbital welding system – the term welding tractor is often used colloquially.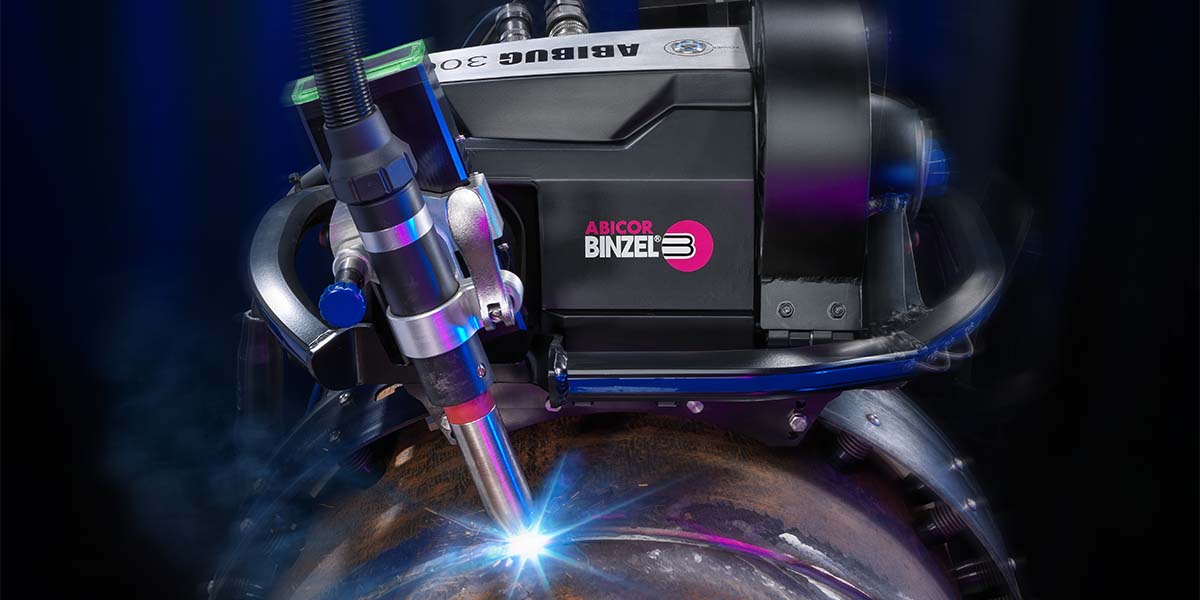 The ABIBUG® 300 has been specially developed for welding pipes, with particular attention to functionality and ergonomics as well as the low weight of less than 20 kg including the 5 kg wire spool is a major advantage for this orbital welding system. Intuitive controls and other facilitating components for precise and reliable pipe welding make the ABIBUG® 300 a valuable assistant on site or in the production hall.
All information at a glance
Advantages of the welding tractor ABIBUG® 300 for pipe welding
The main advantage of this orbital welding system compared to manual welding of pipes is the precision and the speed that can be achieved with flux cored wire (FCW) electrodes. In this regard, it is up to 400 % more efficient for filler and cover layers! Its low weight, of less than 20 kg including a 5 kg wire spool, facilitates transport and handling by just one person. The intuitive controls and ergonomic design also ensure easy assembly and handling.
The ABIBUG® 300 can be used with all analogue communicating welding power sources. The integrated spool support can take a 5 kg wire spool in just a few steps. In addition, the wire can also be fed through a direct connection to the wire feed unit of the welding power source. The possibility of infinitely variable adjustment of the angle of approach and the free wire length – the stick-out – guarantee perfect welding results for filler layers and cover layers on pipes with a diameter of ≥ 10.75 inches.
Advantages:
Compared to manual welding 400 % higher efficiency for filler layers and cover layers
Excellent for FCW
Easy handling and operation
Low weight (< 20 kg incl. wire spool) and robust design
Suitable for 5 kg wire spools or external wire feeder
Integrated position sensor enables automatic parameter adjustment depending on the working position  
Equipment & design of the ABIBUG® 300
In pipe welding every minute counts. Mounting the positioning bands, placing the welding tractor, setting it up for the new welding task – every move must be as easy and quick as possible. The special equipment of the ABIBUG® 300 orbital welding system as well as its practical design and low weight make this welding tractor a valuable assistant for the manual welder in pipe production.
Often, the challenge in semi-automated pipe welding starts with determining the right positioning band and continues with awkward assembly of band and machine as well as labour-intensive torch adjustment, complex programming or uncomfortable design. The orbital welding system ABIBUG® 300 is uniquely designed to relieve the manual welder in pipe production. Anyone who has ever used this welding tractor for pipe welding will be immediately convinced by its handling and welding quality.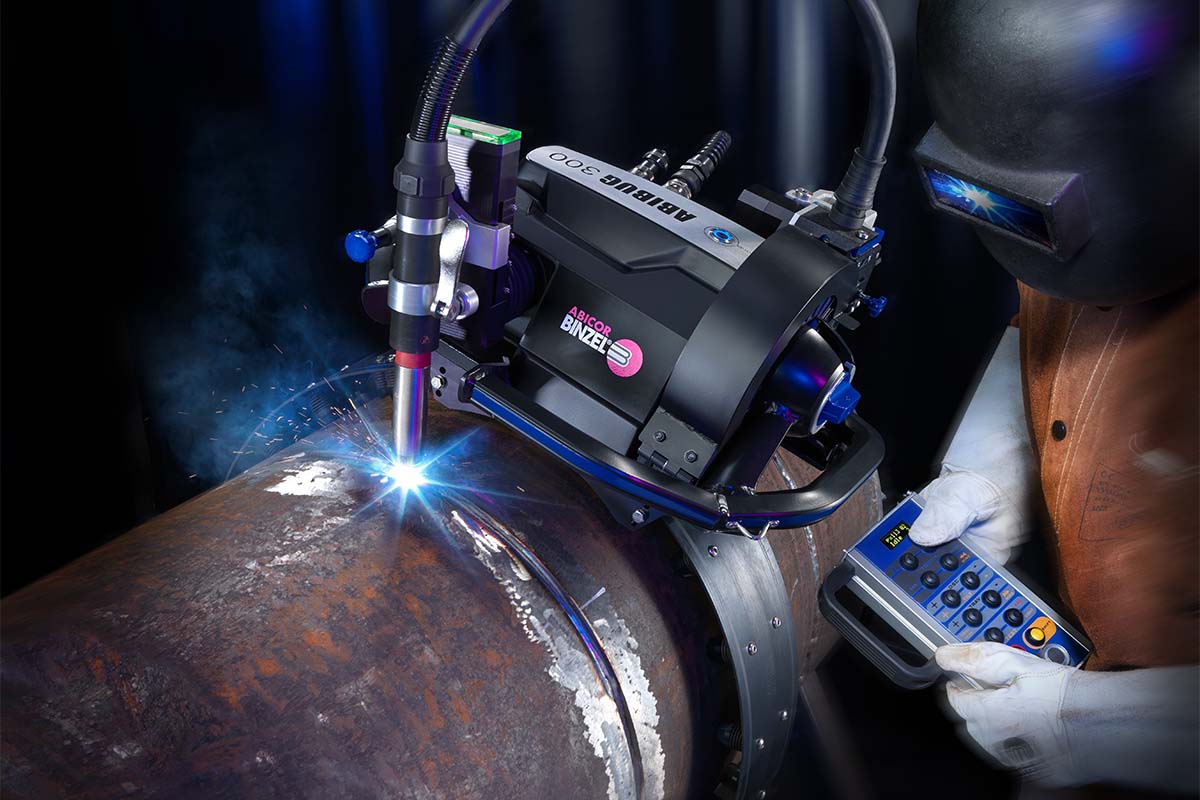 Technical data ABIBUG® 300
| | |
| --- | --- |
| Power consumption | 240 W |
| Weight | 13.5 kg (depending on equipment) |
| Dimensions | 474 x 403 x 519 mm (LxWxH) |
| Adjustability of welding torch |   |
| • horizontal | 65 mm |
| • vertical | 50 mm |
| • angle of inclination | ±25° |
| Oscillation |   |
| • Width | 35 mm |
| • Timing | 0–25 oscillation movements/cm |
| • Cross dwell time | 0–∞ (infinitely variable separately) |
| Moving speed | 0–160 cm/min |
| Wire feed speed | 0–16 m/min |
| Pipe diameter | ≥ 10,75" |
Undercarriage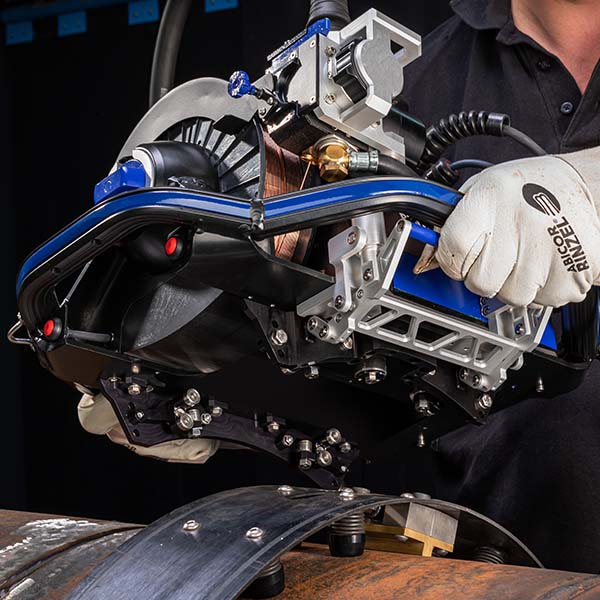 The unique, patented »rollercoaster« undercarriage with triple guidance via precision gearing on the positioning band allows the ABIBUG® 300 to glide smoothly, precisely and stably over the positioning band in all positions.
Quick positioning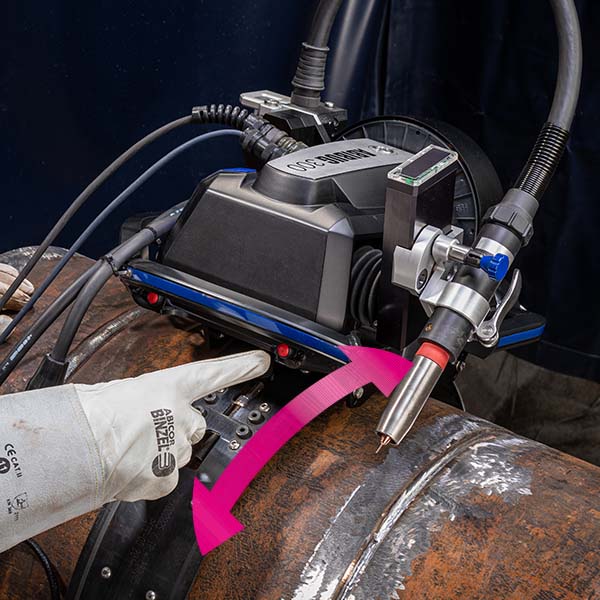 Pressing one of the four red unlocking buttons (two on each opposite side) releases the drive pinion and enables the ABIBUG® 300 to be moved and positioned quickly on the positioning band. This allows the user – whether left handed or right handed – easy and free access in any working position.
Torch quick adjustment
With this torch adjustment option, replacing consumables on the ABIBUG® 300 is quick and easy with just a few simple steps.
Wire feed unit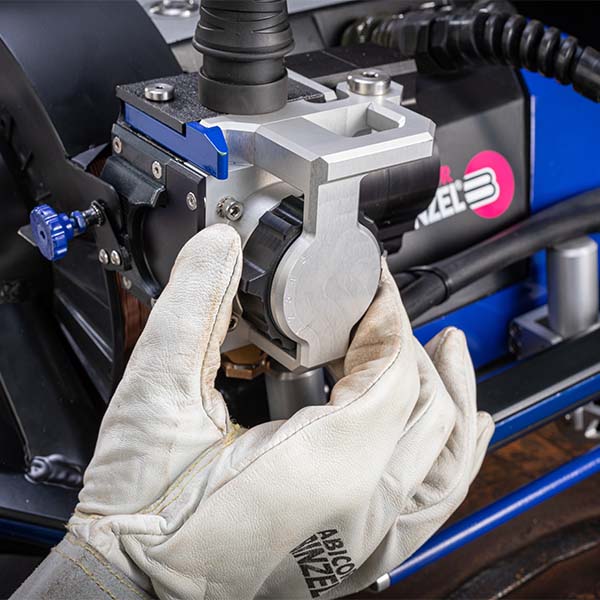 A contact pressure that can be regulated in 5 stages facilitates reliable wire feeding with different types of welding filler materials.
Spool system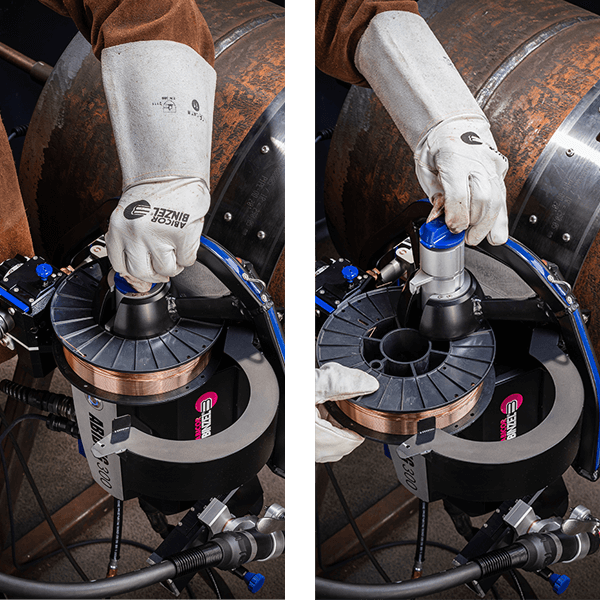 The patented bayonet quick release: positioning, pressing, turning, exchanging the wire spool – unsurpassed in speed and safety.
Parameterisation and programming
As part of the standard equipment, the software allows the selection of 11 pre-installed, customisable welding programmes. In this way, torch position, moving speed and oscillation can be individually defined for the ABIBUG® 300. With the integrated position sensor, it is easy to automatically change the job depending on the working position.
Operation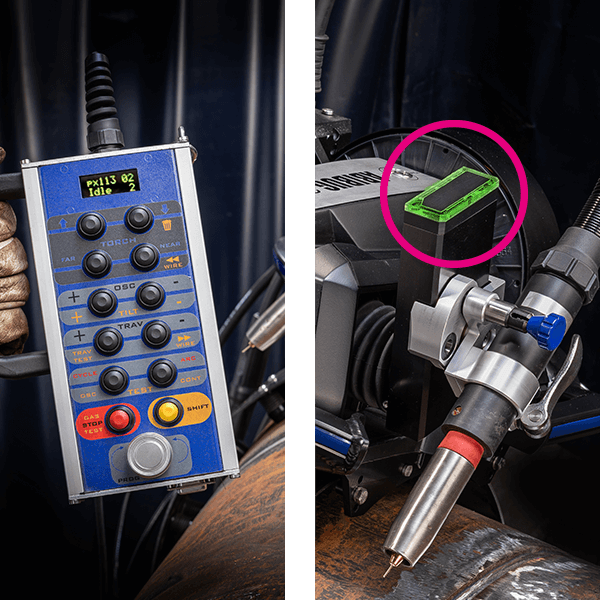 The control tablet can be used to call up welding programmes stored in advance and to adjust process parameters to a predefined extent. The frame of this control tablet is highly robust and specially designed for use under extreme conditions. The LED signal light on the torch mount indicates the current operating status.
Frame & Housing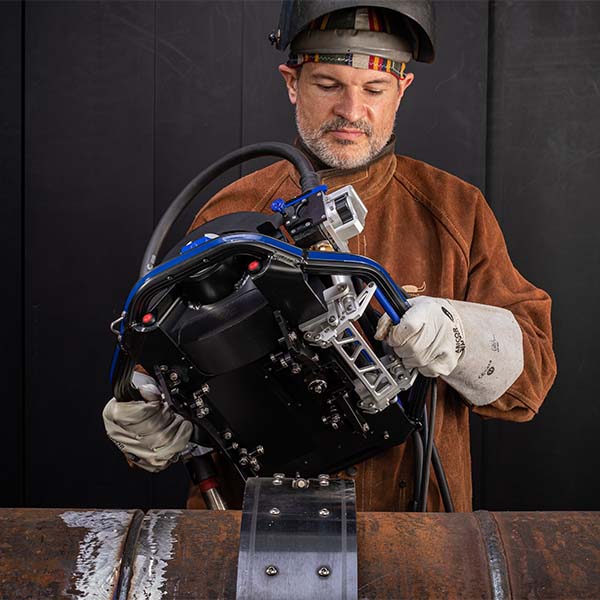 The circumferential shape of the frame, the so-called »space frame«, provides an excellent grip and easy handling in all positions while protecting against impacts. In addition, all relevant components are protected by the robust GRP housing.
Handling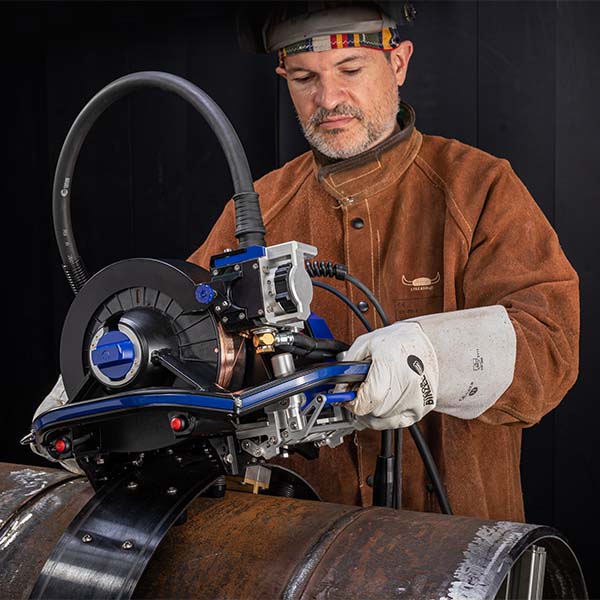 The patented release mechanism can be triggered with a simple pull, allowing the ABIBUG® 300 orbital welding system to be easily taken off sideways and put back on again.
With the suitable torch and the corresponding consumables from ABICOR BINZEL, the ABIBUG® 300 becomes unbeatable as a welding system for pipe welding.
ABIMIG® MT 305 Pipe
The air cooled welding torch ABIMIG® MT 305 Pipe has been specially designed for the ABIBUG® 300 and is based on the ABIMIG® series from ABICOR BINZEL tried and tested for decades. The robust design and the wear part system equipped with the high temperature resistant screwed gas nozzle allow high duty cycles and uninterrupted welding. The nozzle holder made of solid brass – also an original ABICOR BINZEL consumable – ensures a uniform, laminar gas flow and a secured shielding gas cover.

The cable assembly of the ABIMIG® MT 305 Pipe is exactly designed for orbital welding with regard to flexibility, length, wire feed and power reserve and turns the ABIBUG® 300 welding system combined with the welding torch into an ideal system solution.
Coated contact tips
Narrow gap welding on pipe joints requires special consumables – preferably wear parts that can be used to weld through from the root to the cover layer. Coated contact tips from ABICOR BINZEL are designed to prevent unwanted arcing and short circuits due to their shape and coating. Likewise, their thermal load as well as the spatter adhesion are reduced and thus their service life is significantly extended. All coated contact tips from ABICOR BINZEL with M8 thread can be used with the ABIMIG® MT 305 Pipe. This makes narrow gap welding of pipes even more efficient and process-reliable.

Regardless of the application in narrow gap welding of pipes or in high temperature processes, ABICOR BINZEL offers different geometries of coated contact tips. For more information, please click here.
Positioning bands
Positioning bands for use in pipe production are a subject of their own. In addition to the external pipe diameter, other factors such as the ambient conditions and whether or not the pipe needs to be preheated also play a major role in this context. Positioning bands from ABICOR BINZEL are suitable for all requirements in semi-automated and automated orbital welding. They are available in VA steel, duplex steel and spring steel, can be easily mounted on all pipe diameters in just a few steps and are also robust and durable.
The following options are available:
with hinge for small diameter pipes (6.625"–12.75")
as a complete closed band for medium diameter pipes (14"–48")
two or more shell segments for large diameter pipes with no maximum diameter restriction (50"–∞)
For the ABIBUG® 300, the positioning bands are individually manufactured to order and are available from a diameter of ≥ 10.75 inches.

The air cooled welding torch ABIMIG® MT 305 Pipe, the coated contact tips and the positioning bands from ABICOR BILNZEL combined with the orbital welding system ABIBUG® 300 provide a process-reliable welding system.
ABIBUG® 300 – Pipeline bug for challenging conditions