ABICOR BINZEL at BOMAG GmbH, Boppard in Germany
Testing the MB EVO PRO: lighter, more flexible and cooler
BOMAG specialises in machines for compacting earth, asphalt and waste. The global market leader based in Boppard at the river Rhine has around 2500 employees worldwide. ABICOR BINZEL welding torches have been used here for over 30 years for demanding welding tasks in steel construction work. In test operations over several weeks, the new air- and liquid-cooled MB EVO PRO welding torches convinced welders responsible straight away and those.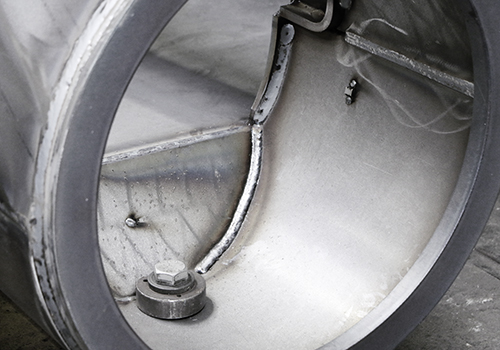 High welding quality for large components
Around 70 of the total of 120 welders work at the Boppard location in BOMAG'S steel construction division. Their task is to weld frames, hoods, operator's platforms and other components for various BOMAG machines perfectly and so that they can withstand heavy loads permanently.

Both welders and welding torches are equally challenged here. The welding torches must withstand high loads during tacking and pre-welding and be robust and mobile at the same time. Welders have to change their working positions frequently on workpieces that are fastened to huge turntables. Their wrists are subjected to great strain because the places that have to be welded are difficult to access. For this reason, it is important for BOMAG to use lightweight mobile welding torches that lie securely in the hand because of their ergonomic form.
Improved ergonomics are popular
Following the test operations with the new MB EVO PRO those responsible were certain that they had found the optimal welding torches. The MB EVO PRO product line has a completely new design concept and thanks to the new cable assembly and the new ball joint is even lighter, more mobile and cooler than the predecessor model MB ERGO. This is very popular with welders. In addition, those responsible appreciate the economic efficiency, the long service life of wearing parts and welding torches, as well as the ease of repair of the welding technology from ABICOR BINZEL. For this reason, the goal is to continue the long-term partnership in future through standardisation to the new MB EVO PRO welding torches.
Read the complete article: open PDF