Anti-spatter spray for workpiece surfaces
MIG welding and MAG welding produce weld spatter which is spattered onto and into the gas nozzle and contact tip as well as onto the workpiece. Depending on the surface, the weld spatter bounces off, gets stuck or burns in. A smooth surface allows less weld spatter to stick on than a rough one. If flying particles stick to the workpiece surface, they often have to be laboriously removed after welding and before the next step in further processing. All of this costs time and money unnecessarily. With the right pretreatment with anti-spatter agent on all areas of the component where weld spatter can accumulate, cling-to and burn-in can be significantly prevented.

Especially designed for spraying onto large areas of a workpiece is the anti-spatter spray ABIBLUE NF from ABICOR BINZEL. With its blue color indicator, this non-flammable welding protection spray shows exactly which area is already wetted and where anti-spatter agent still needs to be applied – without affecting the welding process, of course. On a workpiece surface that has been sprayed with ABIBLUE NF, weld spatter does not even get stuck and can easily be removed again after welding. This anti-spatter agent reduces reworking of the workpieces, which are then available again more quickly for the next step, such as painting.
NF stands for non-flammable and thus meets the highest possible safety requirements. The easily biodegradable ABIBLUE NF anti-spatter spray, which is based on water-soluble ingredients, is the ideal companion for the welder at his "hot" workplace. Weld spatter on large workpieces experience their nightmare with ABIBLUE NF.
All information at a glance
Why ABIBLUE NF?
MIG welding and MAG welding are processes that inevitably produce weld spatter. Indeed, their formation can be reduced a little by making fine adjustments to the power source, but they simply are part of MIG/MAG welding. Stuck weld spatter is very annoying, because it can usually only be removed with great difficulty. And that costs valuable time. In the worst case, the workpiece has to be scrapped, which means additional costs. Therefore, it is all the more important to prevent the weld spatter from sticking by applying a good anti-spatter agent before welding.
ABIBLUE NF can definitely be described as a surface miracle, because it adheres very well even to smooth surfaces. The blue color indicator shows the already wetted area on the workpiece, so that continuous protection against spatter adhesion is guaranteed and excessive consumption is prevented at the same time.
Silicone residuals excepted
Like all anti-spatter agents from ABICOR BINZEL, ABIBLUE NF is absolutely silicone-free! In this way, all concerns that silicone residues will remain on the workpiece surface and lead to adhesion problems during coating or painting can be easily eliminated.
We also recommend the Super Pistolenspray NF from ABICOR BINZEL as a further anti-spatter agent for workpieces. This anti-spatter spray is even suitable for spraying the workpiece, clamping elements and the front end of the torch with gas nozzle, contact tip and contact tip holder. Of course, Super Pistolenspray NF is also silicone-free!
Effect of ABIBLUE NF
As soon as ABIBLUE NF is sprayed onto the workpiece, it forms a protective film that prevents welding spatter from burning in and sticking. Due to its special consistency, it adheres well even to smooth surfaces. Sprayed areas can be recognized by the blue color indicator, which also significantly reduces consumption.
Weld spatter that hits the surfaces wetted with ABIBLUE NF anti-spatter agent, bounces off directly. If particles remain on the surface and cool there, they can be easily removed again without damaging the material. Residues of this anti-spatter agent can just as easily be washed off with water.
Fields of application of the ABICOR BINZEL anti-spatter agent ABIBLUE NF
ABIBLUE NF is the ideal non-flammable anti-spatter agent for large workpiece surfaces and is suitable for all welding and cutting applications as well as laser cutting processes. Welding in closed rooms is also no problem at all for the use of ABIBLUE NF, which makes this anti-spatter spray an ideal helper for a variety of applications, such as:
tank construction
shipbuilding
railway vehicle manufacturing
bridge building
pipeline construction
solar plant construction
ABIBLUE NF is also ideal for the production of:
construction and earthmoving machines
cranes
wind generators
aircrafts
trucks
automobiles
vehicles for e-mobility
Basically, it is a safe solution wherever there is insufficient ventilation. Of course, it can also be used for all other applications.
Composition of ABIBLUE NF
The ABIBLUE NF anti-spatter agent consists of an aqueous emulsion of vegetable oils and is not subject to any special safety regulations for use, storage and transport. It has adhesive components that enable it to adhere to smooth surfaces, is silicone-free, easily biodegradable and therefore not harmful to the environment. The water-oil emulsion is available in 5, 10 and 20 liter canisters and is filled into a spray bottle for spraying. ABICOR BINZEL offers a 400 ml metal spray bottle and a 500 ml plastic spray bottle, each with a pump vaporiser.
The workpiece can be welded through with ABIBLUE NF immediately after spraying on, which has been confirmed by an independent testing institute. Because it can be washed off with water directly after spraying and welding, it enables the workpiece to be processed directly, such as painting, coating or hot-dip galvanizing.
The properties of ABIBLUE NF anti-spatter agent to the point:
Especially suitable for large workpiece surfaces
Workpiece can be welded through directly after application
Non-flammable according to ABICOR BINZEL NF standard
Silicone-free, wax-free and washable with water
No risk during transport, storage and processing
Biodegradable and environmentally friendly
Suitable for all steel materials
ABICOR BINZEL NF standard: anti-spatter agent ABIBLUE NF
In their work environment, welders are exposed to dangers that can affect their health – if the appropriate protective measures are not taken. At ABICOR BINZEL, safety for the welder is a top priority. The anti-spatter agent ABIBLUE NF is one of three non-flammable products from the ABICOR BINZEL welding chemicals portfolio that is allowed to carry the suffix »NF« for non-flammable. In addition to the anti-spatter spray Super Pistolenspray NF and the coolants BTC-20 NF and BTC-50 NF, the ABIBLUE NF anti-spatter spray with the ABICOR BINZEL NF standard exceeds the legal rules and standards.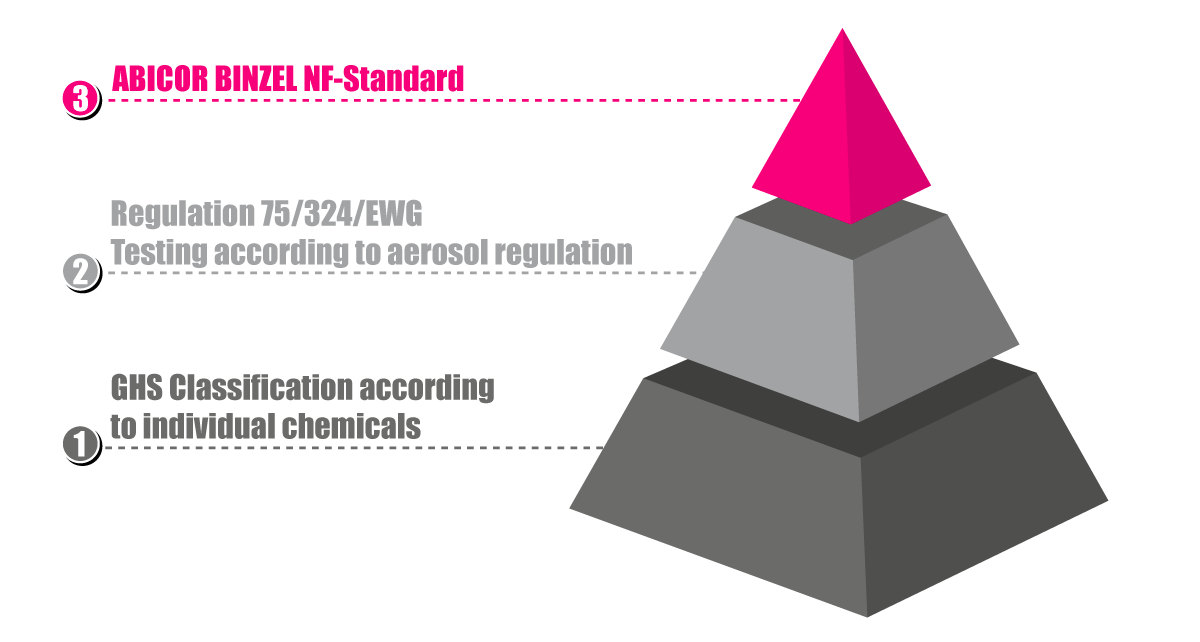 Legally stipulated rules and standards are:
The GHS (Globally Harmonized System), in which a classification is made according to the individual raw materials of the overall product with regard to the hazard  substance labeling.
The test according to the Aerosol Directive (Council Directive 75/324/EEC on the approximation of the laws of the member states relating to aerosol dispensers), in which the incombustibility of the anti-spatter agent is verified in its entirety by means of a flame spray test and a barrel test.
The ABICOR BINZEL NF standard even clearly exceeds Directive 75/324/EEC, because all ABICOR BINZEL products marked with the suffix »NF« have proven their non-flammability in additional, standardized welding tests under various practical conditions. For the welder, his employer and the production company, this means the highest level of safety. When used properly, nothing in the direct vicinity of the welder can suddenly go up in flames or anti-spatter agent cans can unintentionally catch fire.
When used properly, ABIBLUE NF from ABICOR BINZEL guarantees manufacturing companies non-flammability of the anti-spatter agent and the best results in welding.
ABIBLUE NF vs. Super Pistolenspray NF
While Super Pistolenspray NF is the ideal all-rounder for spraying the front-end of the welding torch, the workpiece and the clamping elements, ABIBLUE NF is the best non-flammable anti-spatter agent for larger surfaces. Due to its special nature, it also adheres excellently to very smooth surfaces. After welding, it can be easily washed off with plain water. In this way, the workpiece is quickly ready again for further work steps such as painting, coating or hot-dip galvanizing.