Laser Welding – Body Construction
Powerful technology package for welding hang-on-parts, car seats and battery boxes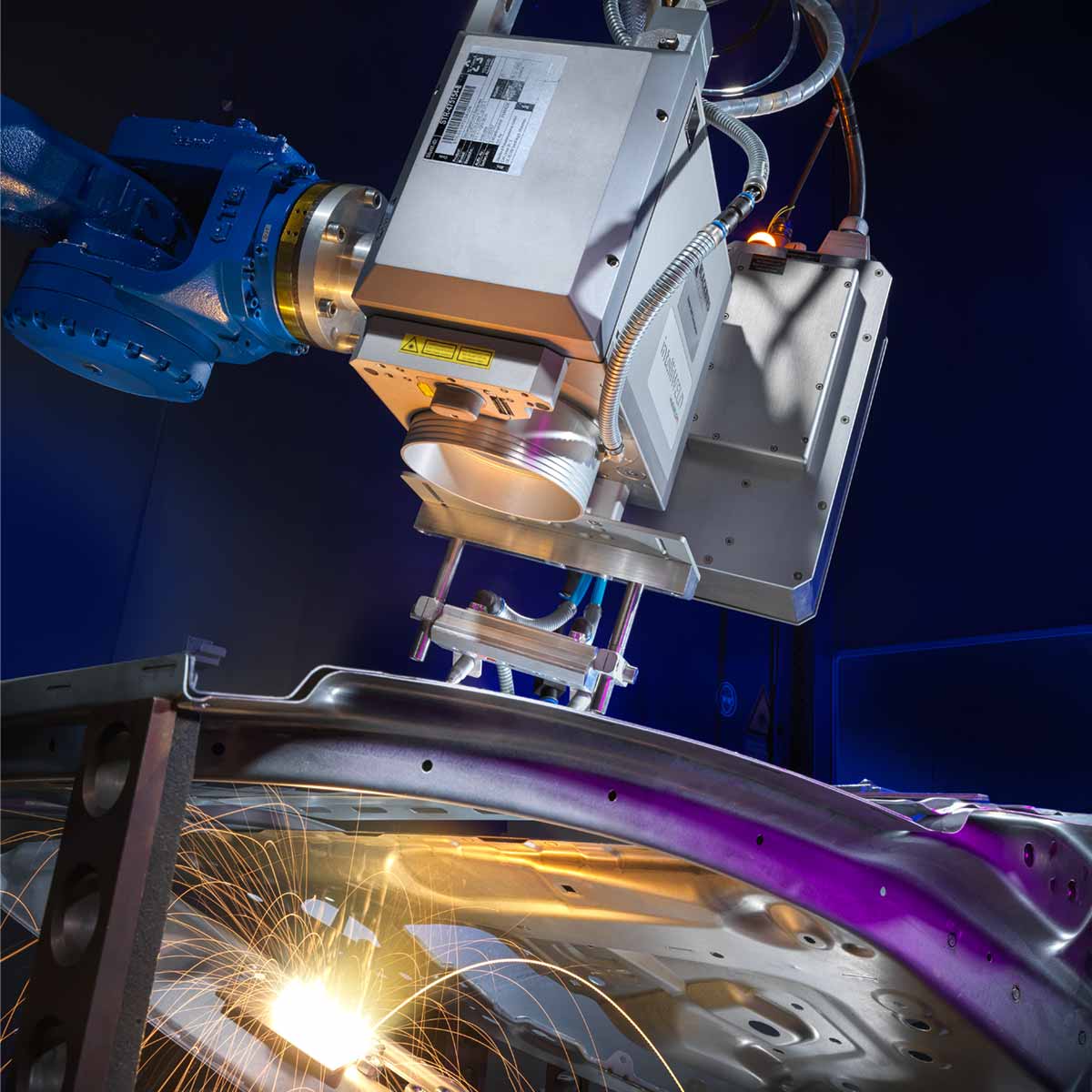 In order to be able to produce cost-effectively and competitively in automotive production, the demands on the manufacturing technologies are very high, because this is where profitability and precision count. The technology package from Blackbird in conjunction with the international sales and service network from ABICOR BINZEL offers a holistic and highly interesting solution for the remote laser welding of vehicle parts from an economic point of view.
Vehicle parts such as car doors, seats or battery boxes are subject to very high quality requirements. Weld seams must be set quickly and precisely at the same time because cycle times are short and rejects or even defectively welded vehicle parts are not permitted. Remote laser welding enables high-quality weld seams with high functional seam strength as well as good structural rigidity, small heat-affected zone, almost no component distortion and high reproducibility of the weld seam – highly precise, safe and extremely fast in the process.

On this website you will find important information about remote laser welding of body-in-white components.
All information at a glance
How does remote laser welding work?
Laser welding is fusion welding process utilizing a laser beam. The process energy – contrary to arc welding – is introduced by electromagnetic laser radiation without touching the workpiece, absorbed by the material and converted into thermal energy. The materials to be joined are melted and a weld seam is created. Accessibility to the welding point is only required for one side.
In remote laser welding, the laser beam is guided by fast-moving mirror systems in the scanner, which move the beam precisely to the welding point and focuses the laser beam on the workpiece surface. Simultaneously, the robot moves the scanner continuously over the component. In this way, movement times between the welding seams are significantly minimised, cycle times are reduced and part output is increased accordingly.
The term "remote" stands for "distance" and describes the advantage that the laser beam can be guided to the component from a distance of at least 300 mm up to 1,000 mm and more – the so-called focal length. The positive effect of this is that with every additional mm of distance between the remote processing head and the component, the wear of the components decreases. Further advantages are the better accessibility to the workpiece as well as the lower interference contours and the significantly minimised risk of collision between the optics and the laser welding system. In contrast to conventional laser welding, the optics do not have to be positioned in a time-consuming manner between the individual welding tasks.
Remote laser welding – effective for three-dimensional components
In remote laser welding, the welding optics are usually attached to a guiding machine such as an articulated arm robot. With such a robot, angles of attack from zero to almost 90° can be realised in remote laser welding. This makes it possible to weld large components in three-dimensional space with a high degree of flexibility and to realise even complicated seam geometries.
Challenges in laser welding of vehicle parts
When laser welding body-in-white vehicle parts, special attention is paid to their strength. In order to guarantee this required strength, some aspects have to be considered when welding doors, seat modules as well as battery boxes. These are listed below.
Welding vehicle doors
Fillet welding is being used more and more frequently for welding vehicle doors. For this purpose, the laser beam must be guided with high precision and with only a few tenths of a millimetre of permissible deviation for both steel and aluminum. It is also important to determine possible gaps between the joining parameters and to bridge them with the help of adaptive parameter adjustment.
Welding seat modules
Seat modules are very welding-intensive, have many overlap seams and have to be welded in short cycle times. This can only be achieved by decoupling the robot movements from the welding movements. Highly dynamic scanner systems make it possible to position the laser beam quickly and exactly in a reproducible manner. 
Welding battery boxes
Battery boxes are also part of the car body structure and must be simultaneously lightweight and yet very strong. Aluminum alloys with high strength grades meet these specifications, but these material compositions are very challenging to weld: a particularly critical moment in this context is the solidification of the weld seam. At this point, the formation of cracks must be reduced. The solution to this is precisely fitting static or dynamic beam shaping.
The Blackbird technology package
For every automotive production, the comprehensive Blackbird technology package with the sales and service network of ABICOR BINZEL means an economic benefit: highest process reliability, precise welds and reproducible seam properties in automated production can be realised through an international network anywhere in the world.
Sophisticated control technologies, precisely coordinated optics and highly dynamic scanner systems form the basis for future-oriented laser welding in modern automotive production.
Configuration specific to the application
RobotSyncUnit (RSU) – intelligent software
ScanControlUnit (SCU) – highly efficient control system
intelliWELD – powerful 3D scanner
This configuration makes it possible to weld steel alloys as well as aluminum alloys and to support the welding process by oscillation of the laser beam superimposed on the welding movement. With this oscillation, a continuously measured gap between the upper sheet and the lower sheet can be adaptively bridged for fillet welds at the lap joint.
Economical laser welding with on-the-fly synchronisation  
When welding many short seams at different positions with conventional fixed optics without scanner mirrors, each welding point must be approached and stopped above it. With on-the-fly technology, the robot moves the scanner optics along the workpiece at continuous speed and at a distance in a linear path. The mirror systems move the laser beam quickly and precisely to the points to be welded. With this on-the-fly technology, it is possible to significantly reduce unproductive downtime.
The powerful SCU (ScanControlUnit) enables on-the-fly welding with its short cycle times by synchronising the motion sequences between the scan system and the industrial robot and making optimum use of the laser beam as an energy source. The programming process on the component is additionally supported by the option of offline programming. In this way, an optimisation of the path time and cycle time can be carried out already on the PC.
The versatility of optical coherence tomography
Known from medical ophthalmology, optical coherence tomography (OCT) has been successfully used as an imaging technique in both weld inspection and seam tracking for several years. The OCT solution is a single-point, high-speed distance measurement based on interferometry. Blackbird's OCT solution takes advantage of industry-proven laser deflection systems and established OCT sensor technology to capture the best possible height profiles of the component before, during and after welding.
How coherence tomography works
A corresponding OCT scanner moves very quickly over the component and scans the surface with a light beam. A reference beam emitted simultaneously from the same light source falls on a reference mirror at a defined distance and is reflected back. Both beams meet again and overlap and amplify each other or weaken and cancel each other out – they interfere. The distance to the component can be precisely determined from the interference pattern generated. In combination with the deflection of the OCT measuring beam, any height profile can thus be recorded.
Advantages of optical coherence tomography
With optical coherence tomography, joints and component edges as well as surface deviations can be detected and even the depth of the keyhole can be determined during deep penetration welding. In this way, information on the seam depth is already obtained during laser welding.
In automated automotive production, coherence tomography is a powerful tool, especially in door production, as it can be used to detect impact positions as well as perform downstream inline inspection.
Optical coherence tomography is optionally included in the Blackbird ABICOR BINZEL technology package.
Remote laser welding of vehicle parts to the point
Highly flexible when processing steel and aluminum materials

Laser beam oscillation and gap bridging algorithms guarantee higher process reliability

Reliable in setting precise weld seams with short cycle times

On-the-fly technology and offline path programming enable laser welding processes with optimised cycle times

Economical in reproducing the seam properties

OCT process supports seam tracking, gap measurement and determination of seam topology
Solution package ABICOR BINZEL & Blackbird
Blackbird provides the powerful, advanced and reliable technology for remote laser welding of body-in-white vehicle parts, ABICOR BINZEL completes the overall package with its international sales and service network. In combination, this symbiosis results in a holistic, high-quality and valuable solution package for automotive production.
Advantages of this solution package for automotive production
Sophisticated technology package
International network of experts
Worldwide application and service support