Fume Extraction System xFUME® ADVANCED
Fume extraction for up to two manual workstations
In combination with the ABICOR BINZEL RAB GRIP and RAB GRIP HE torches, this versatile, compact fume extraction welding unit is ideally suited for mobile use at up to two adjacent MIG welding workstations. The xFUME® ADVANCED extracts the fumes directly at the source, ensuring maximum safety for the welder and other factory personnel. Fume extraction torches from other manufacturers can likewise connect to the xFUME® ADVANCED.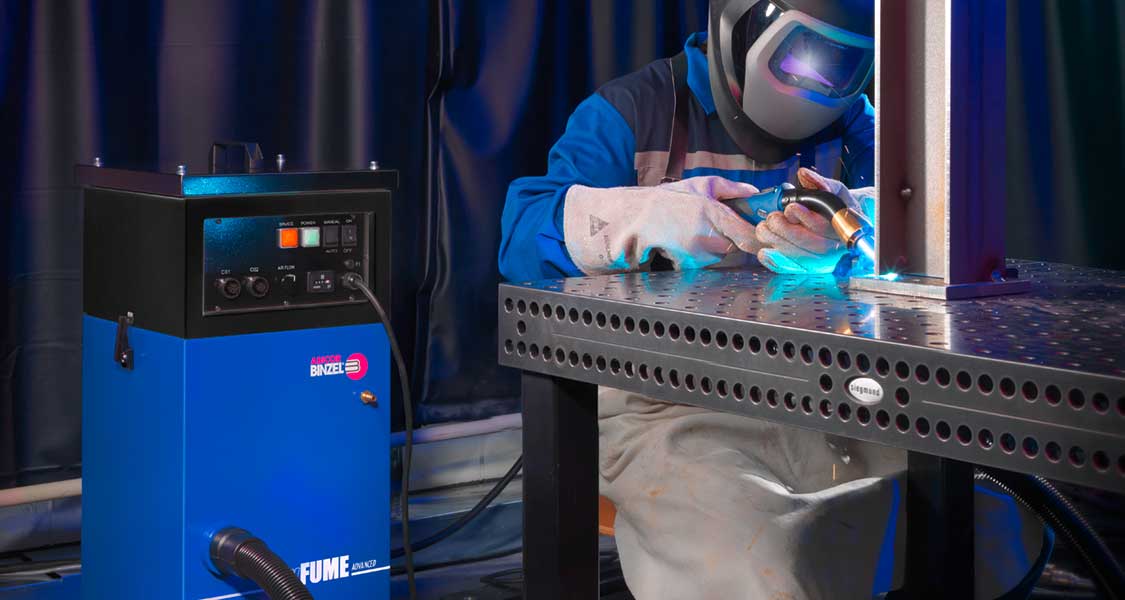 The xFUME® ADVANCED has two 0.8 kW motors and a particularly high fume extraction capacity with more than 16,000 PA vacuum. Both fume extraction welding torch connections can be controlled separately from each other. The built-in automatic start-stop system keeps operating costs low and reduces wear on the carbon brushes.
The cleaning of the collected fume particles is 100 % automated thanks to a regular compressed air pulse that ensures that all collected small particles are blown out and collected in a dust collection container. This is easily emptied in daily standard operation, eliminating maintenance downtimes.
Use xFUME® ADVANCED for up to two fume extraction welding torches when precise fume extraction is important.

Advantages:
Cleans the fumes from up to two fume extraction welding torches independently of each other
Powerful fume extraction technology: more than 16,000 PA negative pressure
100% automated filter cleaning
Filters out up to 99.76 % of all dust > 0.1 µm
Reduces operating costs and wear thanks to automatic start/stop - optionally via current clamp
Small, robust size with castors for maximum mobility
Technical data
Type
xFUME® ADVANCED
Max. air flow:
∼ 340 m3/h
Connections:
2
Connection diameter:
60 mm
Max. vacuum:
∼ 16.000 PA
Noise level:
≤ 68 dB (A)
Voltage:

115 V 50/60 Hz

230 V 50/60 Hz

–

Motor power:
2 x 0.8 kW
Filter efficiency:
≥ 99.76 %
Cleaning:
automatic
Automatic start/stop:
yes
Adjustable air flow:
yes
Weight:
40.0 kg
Size:
370 x 370 x 940 mm