xFUME® TIG: Fume extraction torch for clean TIG welding
Reliable extraction at the source for highly harmful welding fumes
TIG welding is considered an almost fume-free welding process. Compared to MIG welding or MAG welding, there is considerably less visible welding fume – but appearances are deceptive: the resulting fumes are mostly invisible, but even more dangerous if they are inhaled.
TIG welding is often used for welding work where visual appearance is important in addition to quality. Materials welded with the TIG process are, for example, stainless steel, also high-alloy stainless steel or aluminum, which look very nice when welded cleanly and evenly. However, welding such materials releases toxic welding fume particles that are mostly invisible, but no less dangerous. If these are inhaled, serious long-term consequences can occur, such as aluminum silicosis or, in the worst case, cancer in the respiratory tract. This means that invisible welding fumes still exist and must be absorbed and discharged directly at the process before they can enter the ambient air and the respiratory organs. With the air cooled as well as liquid cooled xFUME® TIG extraction torches, ABICOR BINZEL has developed fume extraction torches especially for TIG welding, which absorb the welding fumes at the point of origin and thus prevent toxic fumes from being inhaled.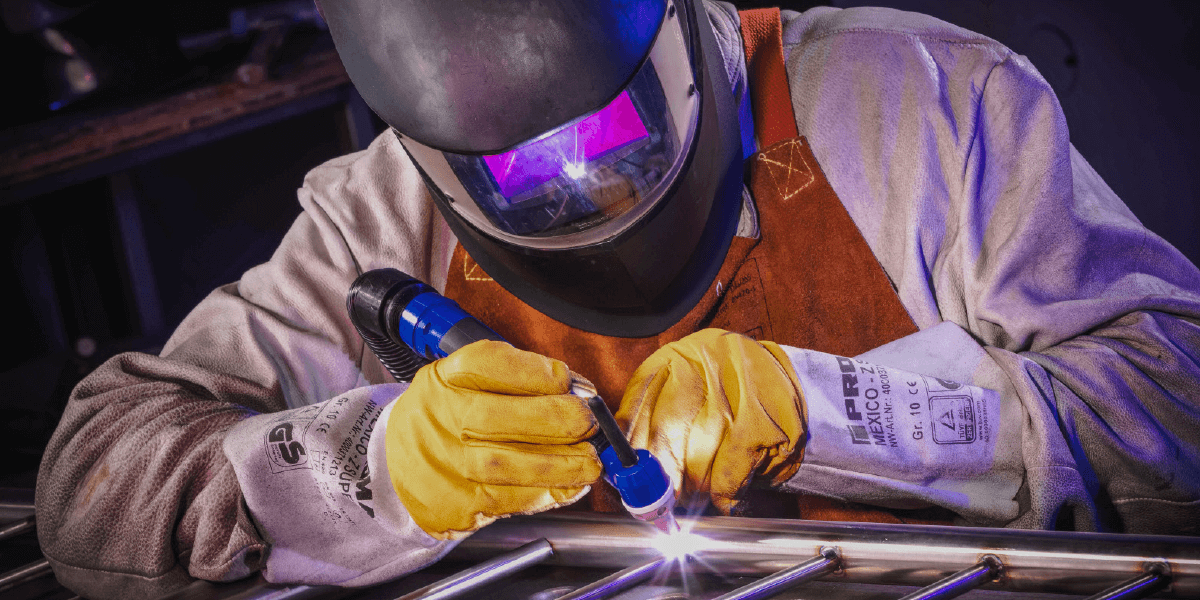 The xFUME® TIG fume extraction torches are ideal when used with a mobile welding fume extraction unit from ABICOR BINZEL such as the FES-200 W3 or the FEC W3. Both extraction units contain filters of smoke class W3 additionally for alloyed steel with alloying components such as nickel and chromium (high-alloy steel with x ≥ 30 % nickel-based alloys) and guarantee the reliable extraction of highly harmful fumes. Of course, the xFUME® TIG extraction torches can also be connected to other models from ABICOR BINZEL or fume extraction units from other manufacturers as well as extraction units without W3 approval.
All information at a glance
Which gases are produced during TIG welding?
The TIG welding process produces ozone and nitrogen oxide. The regulations for occupational health and safety TRGS 905 – Technical Rules for Hazardous Substances list of carcinogenic, germ cell mutagenic or reproduction toxic substances – state that ozone is one of the substances classified as carcinogenic. Ozone is formed from a reaction between nitrogen oxide and oxygen with the action of UV radiation produced by the electric arc during welding. If the amperage is higher, the intensity of the UV radiation also increases. Particularly high levels of ozone are produced when welding aluminum-silicon alloys and pure aluminum.
But ozone does not only escape from the process through the UV radiation outside the arc and thus into the environment, the shiny metallic surfaces of the workpiece itself also reflect the UV radiation. This means that ozone formation can occur even at a greater distance from the process. The low level of fumes produced during TIG welding also helps to increase the formation of ozone: Less fumes allow the UV rays to spread more easily.
Nickel oxide and chromium (VI) compounds are extremely harmful gases produced during TIG welding. They arise during the welding of stainless steel and are considered as a cause of cancer according to various studies. These gases can or may only be absorbed with a special filter with a W3 separation degree and disposed of in accordance with local environmental regulations.
Current regulations and rules for welding fume extraction
In the following we have listed some important rules and regulations that apply in Germany for the correct handling of welding fumes that are harmful to health – and explained their significance for manufacturing companies in welding technology. Many countries have similar, but also stricter rules and regulations. Therefore, it is important to obtain comprehensive information about these in each country.
Annex I No. 2 »Particulate hazardous substances«:
"Dust particles shall be captured as completely as possible at the point of origin or emission and disposed of in a safe manner. The extracted air shall be conducted in such a way that as little dust particles as possible get into the breathing air of the workers. The extracted air may only be returned to the work area if it has been sufficiently cleaned."
This means: If appropriate welding fume extraction devices of separation classes W2* and W3** are used for extracting welding fumes, the air extracted by these devices may also be returned to the working environment after filtering.
* approved for welding of alloyed steels with components of nickel and chromium in a proportion of 5 to 30 %.
** additionally approved for welding of high-alloy steels with an alloy content of more than 30 % nickel and chromium.
At the beginning of 2020, the welding fume regulations were adapted according to the latest findings and included in the Technical Rules for Hazardous Substances (TRGS) 528 »Welding work« – these are also the standard for the employers' liability insurance associations, which regularly visit companies. Companies that employ welders in their production must follow these rules consistently. This is the only way they can guarantee to fully comply with their obligations on the subject of occupational health and safety.
Specifically, the protective measures are divided into substitution, ventilation and structural measures, but also extraction in the area of origin, air recirculation, organisational measures and personal protective measures for welding work.
xFUME® TIG: fume extraction at the point of origin
The specifications for companies that employ welders are strict. Requirements for a healthy working environment demand further development of the technology. With the xFUME® TIG fume extraction torches, ABICOR BINZEL has developed air cooled as well as liquid cooled fume extraction torches that are in no way inferior to their MIG/MAG extraction torch counterparts such as those of the xFUME® PRO series and the xFUME® COMPACT when it comes to TIG welding with extraction at the source.
TIG welding with fume extraction is no less important than extraction for MIG welding and MAG welding, despite lower fume emission during welding. The two xFUME® TIG extraction torches from ABICOR BINZEL are lightweight, handy fume extraction torches that use a mobile fume extraction device to collect and filter out the harmful particles at their point of origin. Extraction units with filter class W3 are allowed to release the filtered air directly back into the environment. The FES-200 W3 and FEC W3 welding fume extraction units are such extraction units and, together with an xFUME® TIG, form perfectly coordinated welding fume extraction system solutions.
Extraction at the source in combination with a fume extraction unit is carried out with high vacuum systems. A low volume flow at high negative pressure flows at a high flow rate of the fumes extracted. The welding fumes released during the welding process are extracted with the help of a special TIG extraction nozzle at the front end of the TIG extraction torch and thus directly at the point of origin. The fumes are discharged into the mobile extraction unit, where they are collected in the W3 filter and the harmful particles are filtered out. The cleaned air is then released back into the environment.
Suitable fume extraction units from ABICOR BINZEL for xFUME® TIG:
TIG fume extraction torch xFUME® TIG in detail
The air cooled xFUME® TIG 150 up to 105 amperes AC (150 A DC) at 35 % duty cycle and the liquid cooled xFUME® TIG 260 W up to 185 amperes AC (260 A DC) at 100 % duty cycle are ideally suited for welding stainless steels, aluminum alloys as well as high-alloy materials in general manufacturing. The liquid cooled xFUME® TIG 300 W can show its strengths especially in high amperage AC processes – e. g. when welding aluminum materials. Of course, it can also be used for all other TIG welding processes.
Wherever materials are mainly welded which release harmful welding fumes during welding, the xFUME® TIG extraction torches are safe and reliable tools for welders.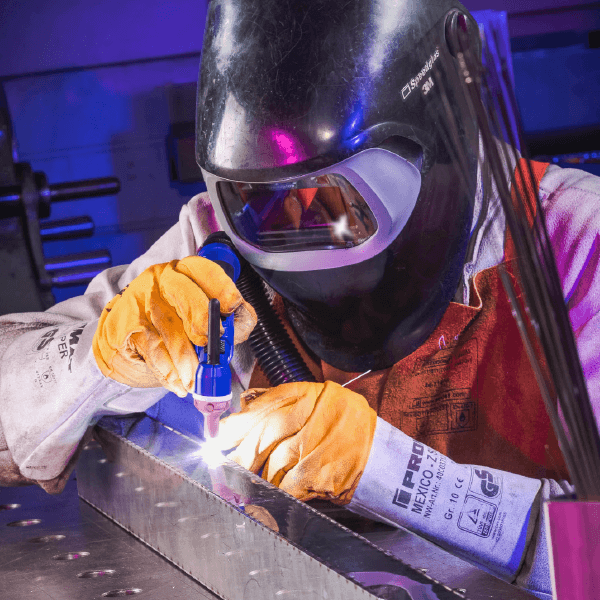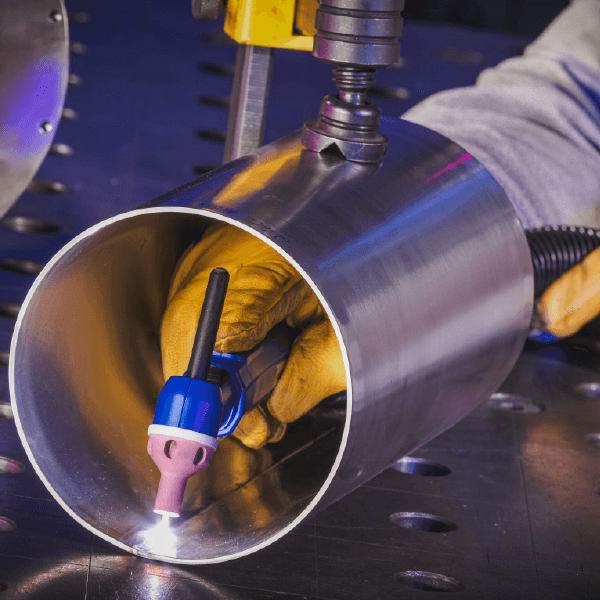 In addition to the newly developed, patented, combined protection and extraction nozzle, the xFUME® TIG fume extraction torches use ABICOR BINZEL's 1000-times proven high-performance wear part concept with electrode holder. This contains clamping sleeve and clamping sleeve housing combined in one part, offers a large surface for current transmission and heat dissipation and ensures perfect positioning of the tungsten electrode. Since with this concept the TIG wear part clamping sleeve is no longer required, this also has a positive effect on stock-keeping and operating costs.
TIG welding is used in applications where the weld seam should have a particularly good appearance. Because very fine and precise weld seams are often produced by this process, the TIG torch must be extremely handy as well as lightweight and ensure an ideal view of the process – and so must a TIG fume extraction torch. The TIG welding fume extraction torches xFUME® TIG have a combined ceramic protection and extraction nozzle, which has a slim front end and thus ensures a very good view of the welding process. TIG welding fume extraction becomes easy with xFUME® TIG.
The advantages of xFUME® TIG at a glance:
Reliable extraction of harmful fumes
Outstanding ergonomics and handling
Patented, combined ceramic protection and extraction nozzle for slim front end
Very good protective gas coverage
Suitable for all mobile fume extraction units, especially those with W3 filter class
Technical data
| | | | |
| --- | --- | --- | --- |
| Type: | xFUME® TIG 150 | xFUME® TIG 260 W | xFUME® TIG 300 W |
| Cooling: | air cooled | liquid cooled | liquid cooled |
| Rating (A) |   |   |   |
| DC: | 150 | 260 | 300 |
| AC: | 105 | 185 | 210 |
| DC (%): | 35 | 100 | 100 |
| Elektrode-Ø (mm): | 1.0 - 2.4 | 1.0 - 3.2 | 1.0 - 3.2 |
| Volume flow m3/h |   |   |   |
| Extraction nozzle: | 14.8 | 14.8 | 14.8 |
| Connector: | 28.9 | 23.7 | 26.7 |
Blogs about welding fume extraction
More information about extraction technology can be found in our »ABIBLOG«.
Explainer: xFUME® ADVANCED
 
xFUME® ADVANCED – Ideally suited for ABICOR BINZEL fume extraction torches