Gas Management System EWR 2 / EWR 2 Net
Up to 60 % Gas Savings!
More economical, more precise and perfectly suitable for the requirements of Industry 4.0!
The EWR 2 systems use a patented function principle with an extremely fast solenoid valve to regulate the gas flow in real-time and in synchronization with the welding current. External factors such as changes in ambient temperatures, changing gas inlet, or counterpressures from the connected cable assembly can be safely compensated. In this way, the EWR 2 guarantees the savings potential and controls the gas flow more precisely than traditional gas control systems.

Advantages that speak for themselves:
Reduction of gas consumption, therefore reduction in operating costs
Environmentally friendly; CO2 emission reduced
Calibrated gas regulation unit
Active, closed gas control loop by permanent measurement of the gas flow
Easy handling and monitoring
Recalibration at the job site possible
Data recording possible
ABICOR BINZEL Service Software for standard Windows computers incl. ROI calculator for the amortization period
Applications:
Can be used in both automated and manual welding processes
Easy installation on new and already existing equipment
Suitable for all types of gases
Gas inlet pressure 1 ‒ 6 bar
Flow range of 2 – 30 l/min
The devices at a glance
EWR 2
The base for efficient gas management!

1. Button ON/OFF
2. Jack connector
3. Display
4. Gas input
5. Status LED
6. Cross button for device settings
7. Gas output
8. Shunt connection
9. Power supply

All EWR 2 devices have a closed gas control loop at disposal, reducing the deviations between set and actual of gas volume current to a minimum. They are all equipped with an integrated LED display that allow easy overview of the current status and the system parameters. Settings can be done directly with the cross button. Furthermore, the system is equipped with a stereo jack that can be used to connect to a computer with installed ABICOR BINZEL service software.
EWR 2 Net
Easy networking for industry 4.0!

1. Ethernet interface
2. CAN open interface

EWR 2 Net has two additional interfaces and can be flexibly interconnected.
CAN open interface: The system can be connected by an additional gateway with any fieldbus systems and exchange data in real time.
Ethernet interface: Enables the EWR Net to be integrated into local networks in order to be able to access the appliance through these networks with the ABICOR BINZEL service software.
What our customers say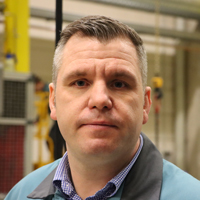 Like any company, we are always striving to reduce costs. [...] Then we found this [EWR 2] system. [...] And we were able to reduce gas consumption by 33 % right after the first run. [...] We are planning to continue with further testing, because we expect to achieve gas savings of up to 50 - 60 %. Furthermore, we also have an important effect for us, since our motto [...] is "For Earth, For Life", that we can thereby reduce CO2 emissions significantly.
Thorsten Ast
Leadership Team Robotics | KUBOTA Baumaschinen GmbH
Technical data
| | |
| --- | --- |
| Operating voltage: | 24 V DC ±20 % |
| Media temperature: | 10 – 40 °C |
| Ambient temperature: | -10 – +50 °C |
| Relative humidity: | 20 – 90 % |
| Flow rate range: | 2 – 30 l/min |
| Tolerance flow rate: | ±1 l/min |
| Shunt types: | 150 A / 300 A / 500 A |
| Gas inlet pressure: | 1 – 6 bar |
Additional interfaces at EWR 2 Net:
Ethernet interface
CAN interface
EWR 2 Service Software
Make settings on your EWR 2 or EWR 2 Net yourself very easily now – with the new service software.
This service software guides you in easy steps through adjusting the gas flow, gas selection, error messages and settings on the optional relay box. In connection with the EWR 2 Net, the data on welding current and gas flow can be displayed at any time via the network connection. Please note that the EWR 2 USB cable with a jack plug is required to connect the EWR 2 to a Windows PC.
Download the free service software for your Windows PC now.