Robot mount CAT3 PRO for welding robots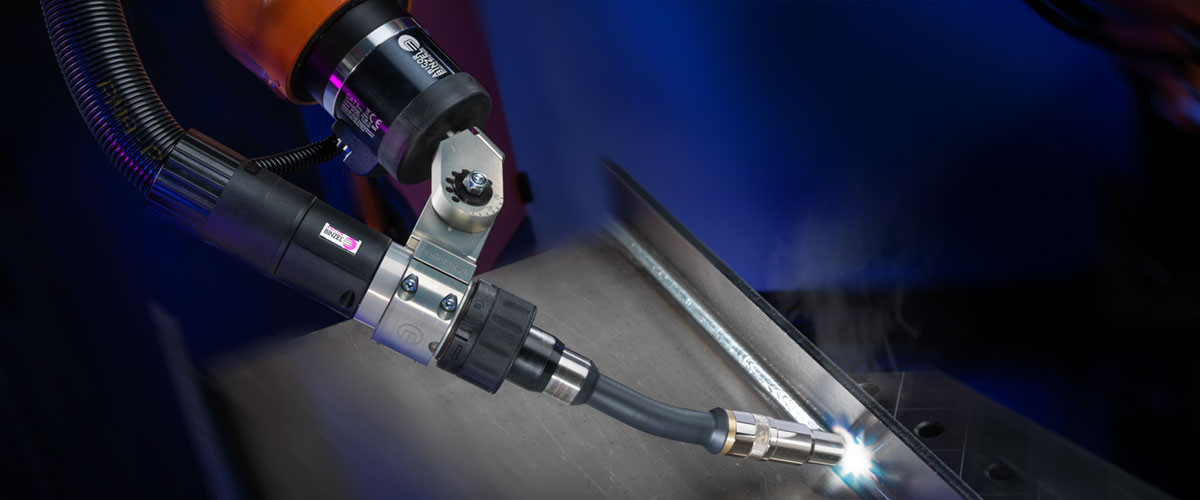 Where large quantities and high cycle times are part of everyday life, collisions with welding robots are more or less inevitable. A collision during robot welding ­– in MIG/MAG as well as in TIG processes – with the welding torch on the workpiece or the system itself can deform wear parts on the torch, damage the workpiece and destroy the robot torch itself. Every repair and every welding torch replacement costs time and therefore money. Downtime is expensive. If they occur more frequently, this can quickly shrink margins in manufacturing companies. An automated switch-off protection on the robot torch mount solves this problem. But this also has to be robust and reliable. The CAT3 PRO from ABICOR BINZEL is an ideal solution.
With the CAT3 PRO robot torch mount available in the versions CAT3 PRO CR (with cylindrical release flange) and CAT3 PRO TR (with conical release flange), an article is on the market that now protects the welding torch and its equipment even better in the event of collisions. The CAT3 PRO ensures that the robot switches off immediately in the event of a collision and thus prevents damage. Thanks to the excellent resetting accuracy, the welding robot is immediately available again – without any reteaching. This torch mount system from ABICOR BINZEL is designed for standard welding robots with an external cable assembly.
And best of all: without reprogramming the welding robot, CAT3 PRO CR and CAT3 PRO TR from ABICOR BINZEL simply replace the previous torch mounts:
All information at a glance
Special features CAT3 PRO
In the tough everyday industrial environment, the demands placed on welding units and all welding equipment are extremely high. Special attention is paid to quality and safety in order to keep downtimes as low as possible. The torch mounts CAT3 PRO CR and CAT3 PRO TR with integrated switch-off protection are even more stable and robust compared to their former versions CAT3, CAT2 and CAT2-HL. The reset accuracy (TCP) for the welding torches has been further improved, which reduces downtimes to an absolute minimum.
The big advantage: Anyone who has previously used CAT2, CAT2-HL or CAT3 can easily switch to CAT3 PRO CR with a cylindrical release flange and CAT3 PRO TR with a conical release flange. Why? CAT3 PRO CR has the same bracket mounting as CAT2 and the CAT3 PRO TR has the same bracket mounting as CAT3 and CAT2-HL.
Robot mount CAT3 PRO CR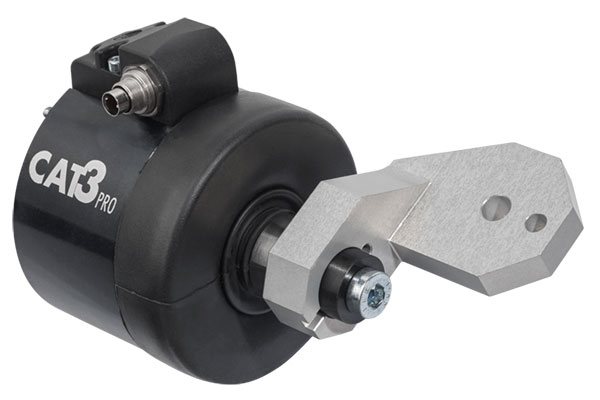 Robot mount CAT3 PRO TR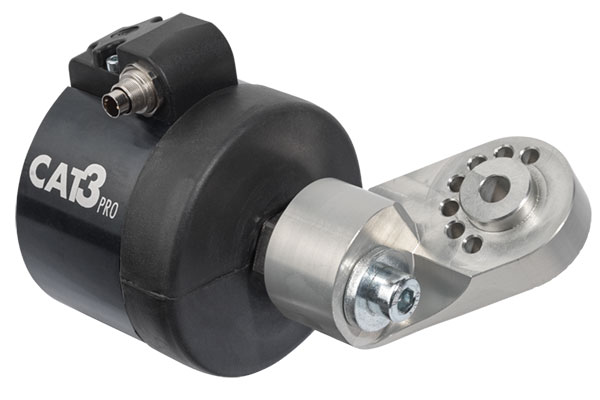 Overview advantages CAT3 PRO
As the new, universally applicable generation of torch mounts for welding robots, the CAT3 PRO offers reliable protection that simply fits:
Better performance thanks to the practical, robust design
Easy installation on the welding robot
Reliable switching functions
Exact reset accuracy (TCP) and minimized system downtime
Spring sizes in XL, L, and M (optional in S) make it easy to adjust to the tool weight
Replacements and repairs are easy to carry out
Excellent protection against dirt
100 % compatible with CAT2, CAT2-HL and CAT3
Dimensions:
Ø 77 mm, height 106 mm
Weight:
960 g (without holder and flange)
Release force:
(see figure 1)
Deflection CAT3 PRO CR / CAT3 PRO TR
Switch point:

Deflection in X- and Y-direction: 1.2°–1.5°
Deflection in Z-direction: 1.3 – 1.6 mm

Max. deflection:

Deflection in X- and Y-axis: approx. 7°
Deflection in Z-axis: 5 mm

Resetting accuracy:
(see figure 2)
X-, Y- and Z-direction: ± 0.04 mm (at 400 mm distance to the robot flange)
IP Protection class:
IP 21
Load capacity
safety cut-out:
max. 30 V DC / 100 mA
Ambient temperature:

in operation: -10 °C up to +55 °C
during storage and transportation: -10 °C up to +55 °C

Relative humidity:

in operation: up to 70 % at 20 °C
during storage and transportation: up to 70 % at 20 °C
Figure 1:
Release force of the robot mount CAT3 PRO CR and CAT3 PRO TR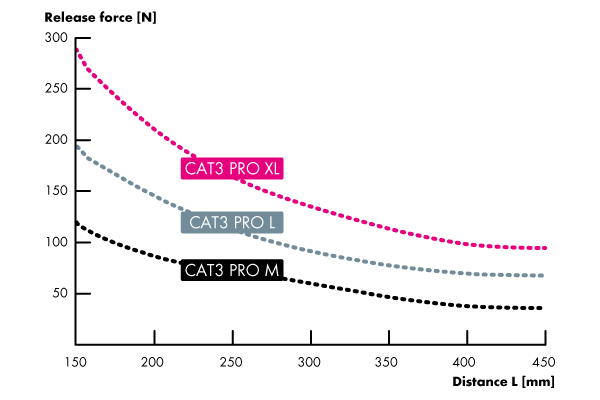 The above figure shows the static release force of the different spring types as a function of the distance to the flange surface (figure 2).
Figure 2:
Maximum deflection in X- and Y-axis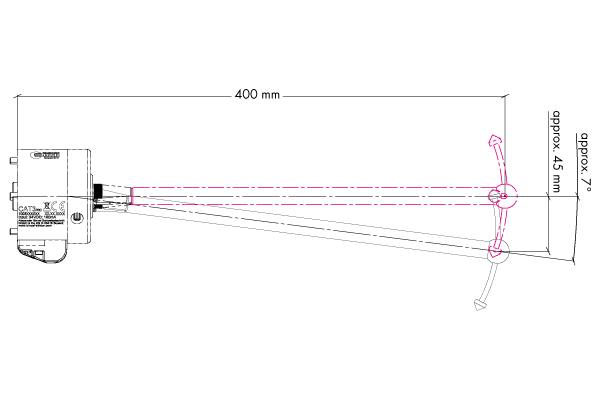 X-, Y- and Z-direction: ± 0.04 mm (at 400 mm distance to the robot flange)