Systém zváracích horákov MIG/MAG ROBO Standard

Výkonný, spoľahlivý a úsporný ...
Séria horákov "ROBO Standard" poskytuje maximálnu spoľahlivosť. Je optimálnou voľbou pre robotické zváracie bunky s nízkym stupňom automatizácie. Vďaka ich mechanickému vyhotoveniu sú robustné horáky obzvlášť odolné voči nárazom, čím sa minimalizujú prestoje a náklady na údržbu.
Okrem toho vynikajúci chladiaci výkon zaručuje vysokú životnosť spotrebných dielov so zníženou adhéziou rozstreku.
Systém zváracieho horáka má štandardne integrovanú funkciu airblast, spúšť pre automatické vedenie drôtu a pripájacie moduly pre robotický držiak CAT2.
Horáky "ROBO Standard" sa už dlhé roky používajú v náročných priemyselných aplikáciách.
Argumenty, ktoré hovoria sami za seba:
Technicky dokonalé a 100% spoľahlivé
Vodou chladené až do 600 A (CO2)
Držiak plynových hubíc (s 650 TS) samostatne chladený
Integrovaná funkcia airblast
Jednoduchá inštalácia a manipulácia
Stupeň automatizácie: Nízky
Oblasti použitia:
Výroba úžitkových vozidiel
Zariadenia na zemné práce
Výroba železničných vozidiel
Lodný priemysel
Kontajnerové konštrukcie
Strojové mechanizmy a oceľové konštrukcie
Letecký priemysel
Materiál:
Konštrukčná oceľ (potiahnuté / nepotiahnuté)
Chróm - niklová oceľ
Duplexná oceľ
Základné materiály z niklu
Zmiešané materiály
Hliníkové materiály
Horčíkové materiály
Medené materiály
Špeciálne materiály
Robot interface:
Bežný robot (montáž káblov na vonkajšej strane):
- Kolízny spínač CAT2
−Fixovaná konzola RTM
ROBO 455 D (liquid-cooled)

Technical data according to EN 60 974-7:

Cooling: liquid-cooled

Rating: 450 A CO2 / 400 A Mixed gases M 21 according to DIN EN ISO 14175

Duty cycle: 100%

Wire-Ø: 0.8 - 1.6 mm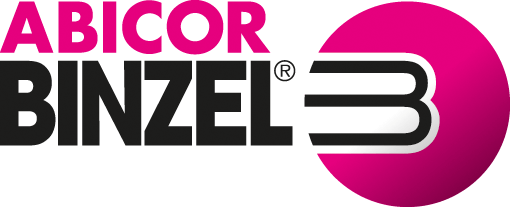 ABICOR BINZEL SLOVENSKO, s.r.o.
Priemyselná ulica 1239
93101 Samorin
Google Maps
00421 31 562 25 25
ABICOR BINZEL world-wide - everywhere at your side ...