MIG/MAG Welding Torch System ROBO Standard

Powerful, reliable & economical ...
The "ROBO Standard" torch series provides maximum reliability and is the optimum choice for robot welding cells with a low degree of automation. Their mechanical design makes the sturdy torches particularly crash-resilient, thus reducing downtimes and maintenance costs to a minimum.
In addition, the excellent cooling performance of the torches means they guarantee high service lives for the wear parts with reduced spatter adhesion.
As standard, the welding torch system has an integrated airblast function, trigger for automatic wire feed and connection modules for the robot mount CAT2.
"ROBO Standard" torches have been in permanent use in tough industrial applications for many years – proving their worth thousands of times over.
Advantages that speak for themselves:
Technically matured and 100% reliable
Water-cooled up to 600 A (CO2)
Gas nozzle holder (with 650 TS) cooled separately
Integrated airblast function
Simple installation and handling
Degree of automation: Low
Typical areas of application:
Commercial vehicles
Earth-moving equipment
Rail vehicles
Shipbuilding
Container construction
Machine and steel construction
Aerospace industry
Material:
Construction steels (coated / non-coated)
Chrome-nickel steels
Duplex steels
Nickel basic materials
Mixed compounds
Aluminium materials
Magnesium materials
Copper materials
Special materials
Robot interface:
Conventional robot (External cable assembly):
−Robot mount CAT2
−Fixed bracket RTM
Definition of the degree of automation:
Low = Torch neck change not possible
Medium = Torch neck change possible (manually)
High = Torch neck change possible (manually & automatically)
ROBO 455 D (liquid cooled)

Technical data according to EN 60 974-7:
Cooling:
liquid cooled
Rating:

450 A CO2

400 A Mixed gases M 21 (EN ISO 14175)

Duty cycle:
100 %
Wire-Ø:
0.8 - 1.6 mm


Documentation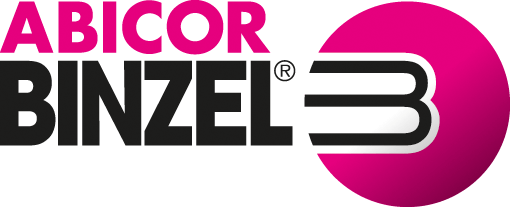 Binzel PTY Ltd.
42 Hinkler Road
3195 Victoria
Google Maps
0061 (0)3 95 80 65 00
ABICOR BINZEL world-wide - everywhere at your side ...