ABICAR: Efficient longitudinal seam welding without quality loss
The solution for physically straining manual welding
Every manual welder knows that when long seams are welded, the entire musculoskeletal system suffers in the long run – and the quality of the weld seam as well. Manual welding of a longitudinal seam on a long component with the MIG process or the MAG process means having to adopt a forced posture that is physically very stressful and fatiguing. With the ABICAR welding tractors from ABICOR BINZEL, welders get valuable support when welding long, straight seams, because the welding tractor takes over the continuous torch guidance – with consistent quality down to the last metre. The ABICAR welding tractors from ABICOR BINZEL keep this promise – even with upward welding.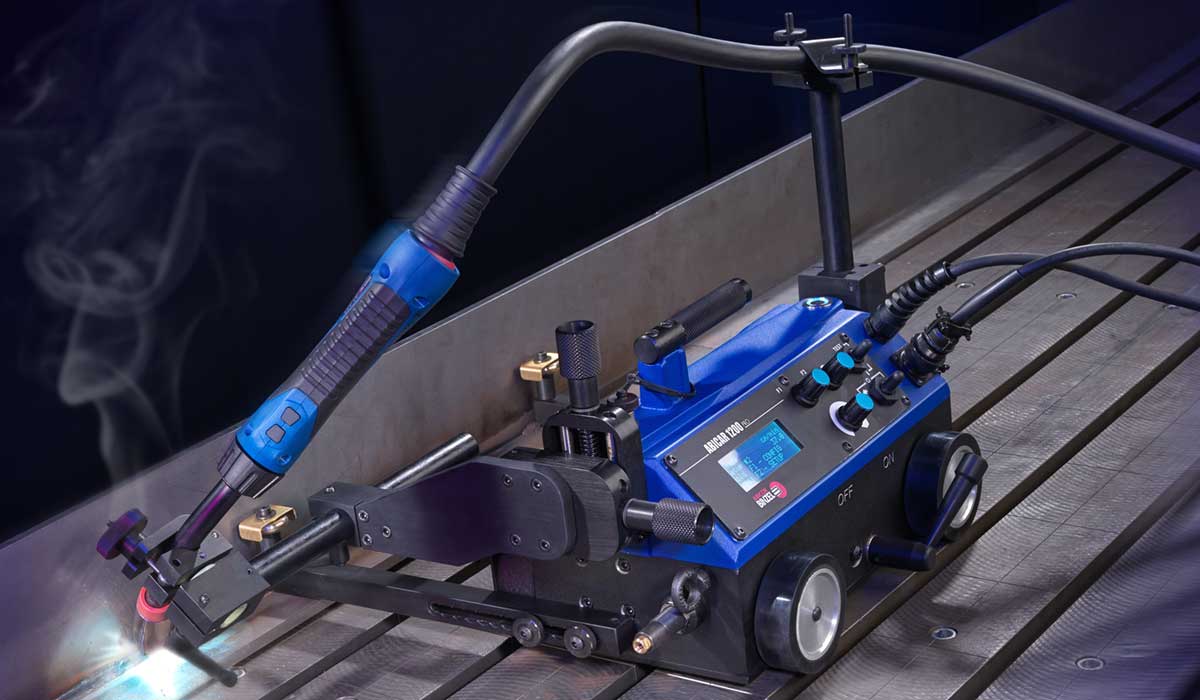 Welding 5 m without a portal or robot is no problem with the ABICAR welding tractors. By using these welding systems, longitudinal seams can be produced more quickly and costs for reworking can be reduced considerably. An ABICAR welding tractor enables cost savings of up to 60 % per year. In this way, companies benefit from increased profitability.
Why mechanised welding?
Manual welding or robot welding? The step into automation quickly means a larger investment – not only for the purchase of the equipment, the staff must also be trained accordingly to operate it. However, it doesn't have to be an expensive, fully automated solution to relieve manual welders. The welding of longitudinal seams over longer distances with a welding tractor – also upward welding – relieves welders significantly and also guarantees consistent quality down to the last metre. This partially automated solution increases profitability significantly and at the same time provides sufficient flexibility.
One advantage of mechanised welding of long components with a welding tractor is that the welder accompanies the entire process and can intervene at any time.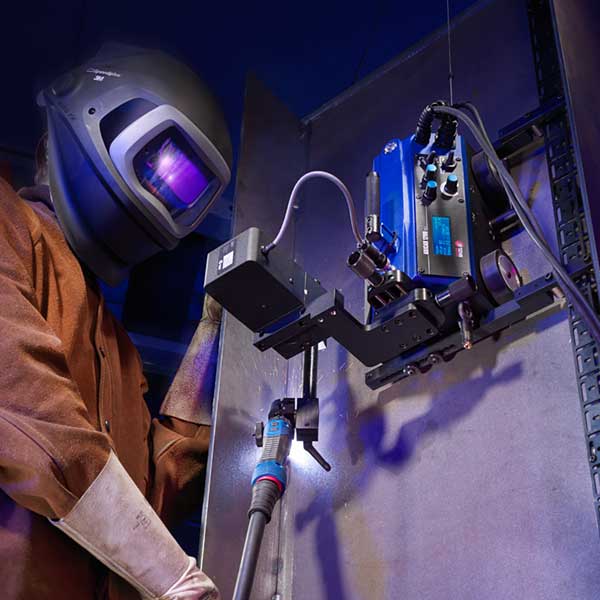 Investment and benefits of the ABICAR welding systems
Looking at economic efficiency, the use of ABICAR welding tractors can save up to 60 % time and over 60 % costs compared to manual welding. This result is based on an example calculation of a fillet weld with a total length of 10,000 m over a period of one year. The exact dates of this calculation can be found in the documentation on this website.
Benefits of ABICAR welding tractors compared to manual welding:
60 % duty cycle instead of 25 % for manual welding
One metre weld seam is produced at more than twice the speed
Less health-related downtime
Manual welding torches can be clamped in without any problems
Advantages of ABICAR welding tractors
High profitability
More projects can be completed faster, more cost-effectively and in time
Optimal seam quality
Consistent high-quality welding results even with long components and >60 % duty cycle
Guaranteed occupational safety
Reduces physical exertion and thus sick leave of welders
Increased productivity
Constant high welding speed and uninterrupted welding
Simple handling
Just clamp the welding torch and start welding
Easy integration
Simple and inexpensive connection to all standard manual welding devices
Which ABICAR welding tractor is the right one?
 
Features
ABICAR ADVANCED
ABICAR 1200 PRO
Max. drive speed
110 cm/min
120 cm/min
Upward welding

✓

✓

Overhead welding

x

✓

(with accessories)

Stitch welding

x

✓

Oscillating

x

✓

(with accessories)

Welding with two torches

✓

(with accessories)

✓

(with accessories)

Programmable
weld length

x

✓

Program memory

x

✓

Guide rail
available

✓

✓
Technical data
 
ABICAR ADVANCED
ABICAR 1200 PRO
Voltage
1~ 115–230 V, 50–60 Hz
1~ 115–230 V, 50–60 Hz
Output
20 W
25 W
Welding position
acc. to EN ISO 6947 and AWS/ASME
 
 
• horizontal
PA/1F/1G
PA/1F/1G
 
PB/2F
PB/2F
 
PC/2G
PC/2G
 
PD/4F
PD/4F
 
PE/4G
PE/4G
• vertical
PF/3G
PF/3F/3G (optional with oscillator)
PG/3F/3G (optional with oscillator)
Minimum radius of curvature of the workpiece surface
1000 mm
1500 mm
Torch type
MIG/MAG
MIG/MAG
Torch diameter
16 - 22 mm
16 - 22 mm
Maximum permissible cable weight
 
 
• horizontal
8 kg
12 kg
• vertical
6 kg
8 kg
Minimum workpiece thickness
4 mm
5 mm
Ground clearance
4 mm
5 mm
Horizontal tensile force
150 N
220 N
Vertical tensile force
100 N
150 N
Adjustment range
cross slide
0 - 35 mm (up-down, left-right)
0 - 35 mm (up-down, left-right)
Adjustment range
guide arm
0 - 100 mm
0 - 75 mm
Horizontal speed
0 - 110 cm/min
0 - 120 cm/min
Vertical speed
0 - 100 cm/min
0 - 110 cm/min
Noise level
< 70 dB
< 70 dB
Weight
8 kg
14 kg