Extreme loads – special welding solutions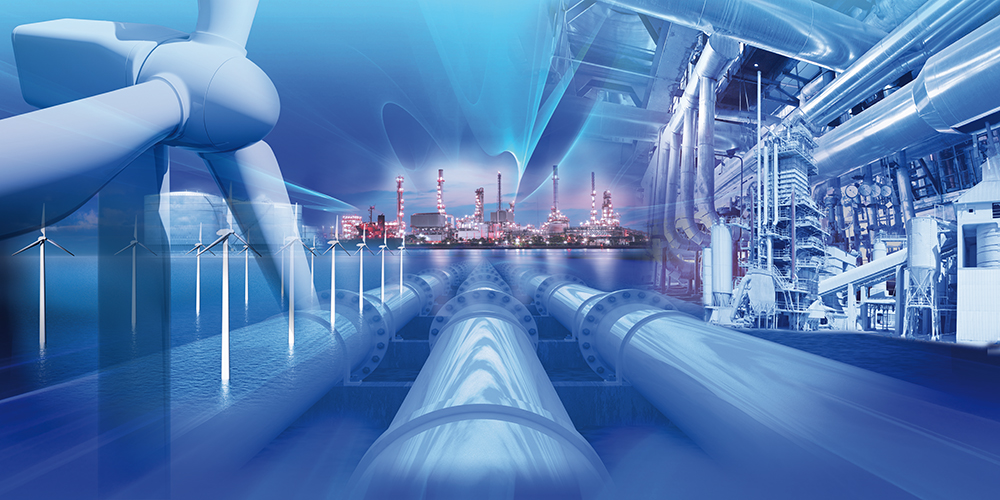 Pipelines and tanks, windmills and turbines, solar collectors and incineration plants: The energy industry and apparatus construction have many facets. Most of them require robust, secure welding seams. In addition to steel, special materials must be frequently welded, which meet particularly high demands on stability and safety. ABICOR BINZEL offers a wide range of high-performance and ergonomic welding equipment for manual, partially mechanised and automated welding processes.
Large components, long seams, highest precision
Various parts and components for the energy industry are welded in the field of apparatus construction. These include, for example, underground and overhead pipelines for power stations as well as for gas or heat supply. These must be particularly secure and tight for the long term and some have to meet international standards. In addition, thick-walled, but in part also thin-walled, aluminium tanks for gases and liquids are often required.
Turbine wheels and rotor blades are manufactured or repaired in complex welding processes. The result must be extremely robust and resistant, and is in part verified by ultrasonic inspection. The requirements for the welding work are correspondingly high. High requirements also have to be met by seams on windmill towers, so that they can be painted over without further preliminary work after the welding. Combustion chambers of incineration plants and shredder plants also place high requirements on welders and equipment, if materials are applied in layers in the cladding procedure. Solar thermal surface collectors, on the other hand, require particularly sensitive connections, for example, of tube and glass.
Torches for production, cladding and repairs
Each welding task requires the appropriate torch. Thus, pipelines are often welded with the manual metal arc welding procedure by means of rails or tractor systems, which are partially mechanised in the case of long distances. Thick-walled tanks must be preheated in order to achieve optimal welding results. Therefore, MIG/MAG torches with extended torch necks, which reduce the heat load for welders, are particularly suitable. Lightweight and flexible ARBICOR BINZEL torches make it easy to work on large parts with frequent position changes and forced positions. With rotatable and quickly replaceable torch necks in different lengths and bending angles, areas that are particularly difficult to access can be easily reached. This also applies to turbines, rotor blades and wind turbine components which are welded by hand, partially mechanised or automated.
Even the demanding repair methods need torch solutions suitable for the material and the process. This also applies to collectors of solar thermal systems, which are usually produced by the plasma welding procedure because of the low material thickness. The build-up welding – cladding – of nickel-based materials or stellites in incineration plants is carried out in a partially mechanised manner. This also corresponds to the general trend, in view of the shortage skilled labour and high personnel costs, to increasingly shift to partially mechanised and fully automated welding processes.
No fun TV evening without strong pipe connections