ABICLEANER – devices for weld seam cleaning & more
Perfectly worked railings made of stainless steel, facades that are real eye-catchers with their metallic sheen, control cabinets that integrate well with their surroundings – nice surfaces made of stainless steel have their own special charm. Anyone who has ever processed such highly sensitive metals knows about their sensitivity. With MIG welding, MAG welding and TIG welding, unattractive tarnish occur, which have to be removed as gently as possible after the welding process. Conventional methods for cleaning metal surfaces or cleaning weld seams such as pickling pastes, grinding tools or felt sponges are not suitable because they leave unattractive scratches on the surface. Some are even highly toxic. With ABICLEANER, ABICOR BINZEL now offers devices for weld seam cleaning that can do more than remove tarnish.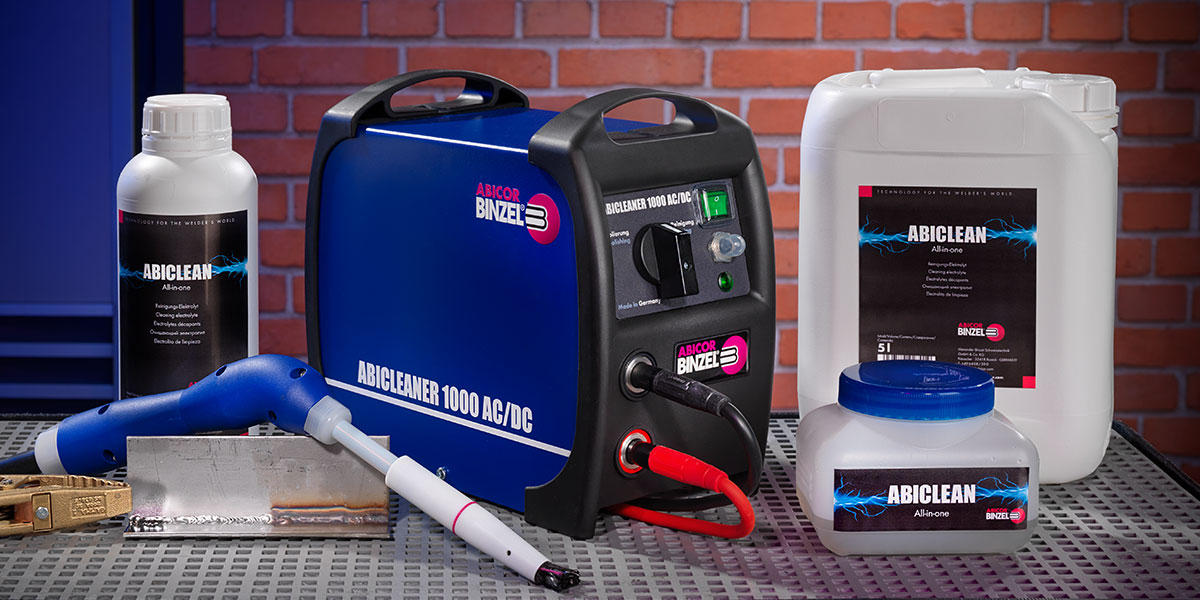 ABICLEANER devices from ABICOR BINZEL gently, quickly and safely clean weld seams from highly sensitive metals such as stainless steel. Passivation of stainless steel is a matter of course with these devices for electrochemical cleaning. The ABICLEANER AC/DC is even suitable for polishing metal surfaces.
Electrochemical cleaning – the alternative to abrasive grinding technology
When welding stainless steel it comes to oxidation, which can be seen in discoloration – some also say tarnishing – which need to be removed again. Oxidation makes it easy for corrosion to attack the metal surface. By removing the tarnish, the oxidation layer is removed and the corrosion protection is restored. A classic technique for cleaning weld seams is the use of pickling paste, which also ensures that the protective oxide layer is restored. The problem with pickling pastes is that they leave unattractive pickling sediments and, moreover, are usually highly toxic. Special precautions must be taken for their use and disposal. Abrasive tools in the form of brushes and sponges leave unsightly scratch marks on sensitive stainless steel surfaces.
An alternative to abrasive methods or methods that are harmful to health and the environment is electrochemical cleaning with the ABICLEANER devices from ABICOR BINZEL. This process is gentle on the surface, harmless to the environment and can even be used on sensitive surface structures. By treating metal surfaces with electrochemical cleaning, even their original appearance is retained.
Electrochemical cleaning – the procedure
During electrochemical cleaning with the ABICLEANER from ABICOR BINZEL, a special carbon fibre brush wetted with electrolyte ­– consisting of approx. 1.5 million filaments – is moved over the weld seam. In this process, millions of small micro-arcs are generated corresponding to the number of brush fibres, which remove welding residues from the metal surface. Cleaning is immediate and efficient. In the same step, the treated metal surface is passivated with the ABICLEANER. In this way, the weld seam is directly protected from corrosion again.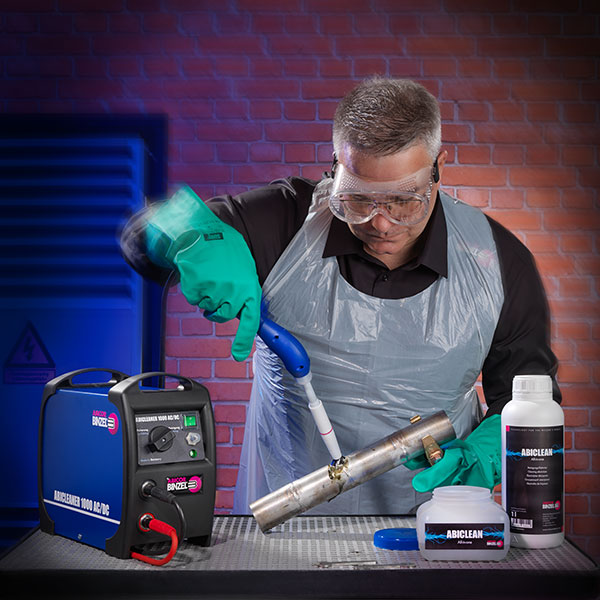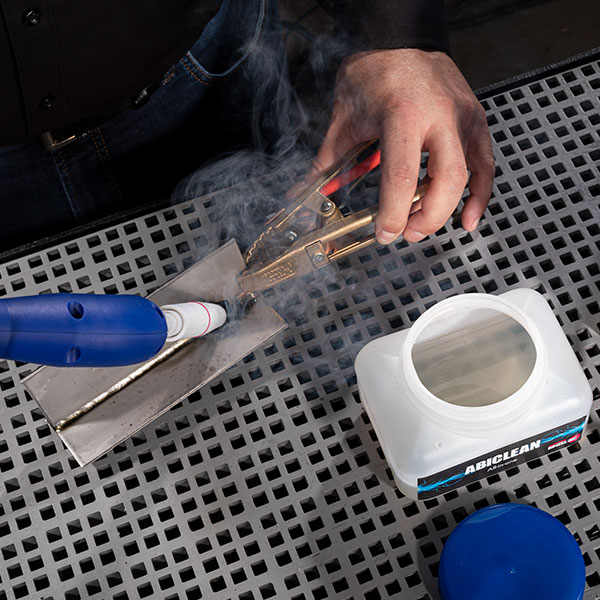 ABICLEANER 800 (AC)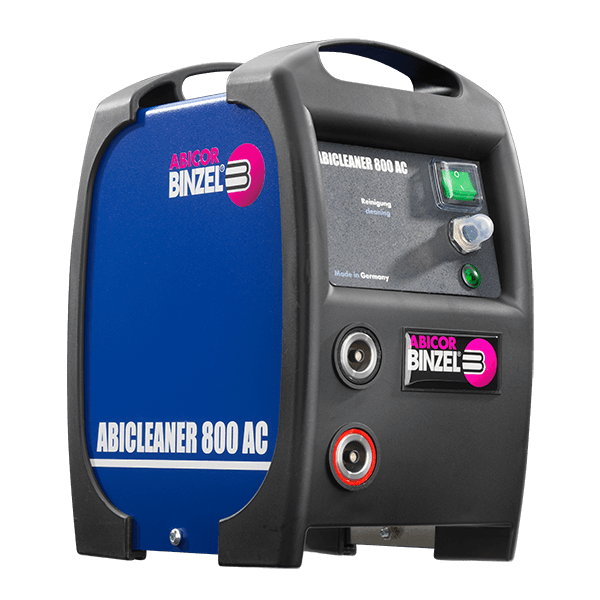 Lightweight, compact AC device that eliminates tarnish quickly and efficiently. The ABICLEANER 800 is ideal for cleaning stainless steel weld seams and passivating stainless steel in one step and should not be missing, for example, when welding stair railings, balcony railings, for facades made of stainless steel as well as in pipeline construction and plant construction.
ABICLEANER 1000 (AC/DC)
ABICLEANER 1000 is a true multifunctional genius: This device for electrochemical cleaning not only cleans and passivates weld seams, it also polishes, conditions and brighten. After cleaning and passivating the weld, the ABICLEANER 1000 can also create a good-looking metal surface. This makes it an all-rounder for locksmiths and for (re)working welds in the medical field.
Carbon fibre brush ABIBRUSH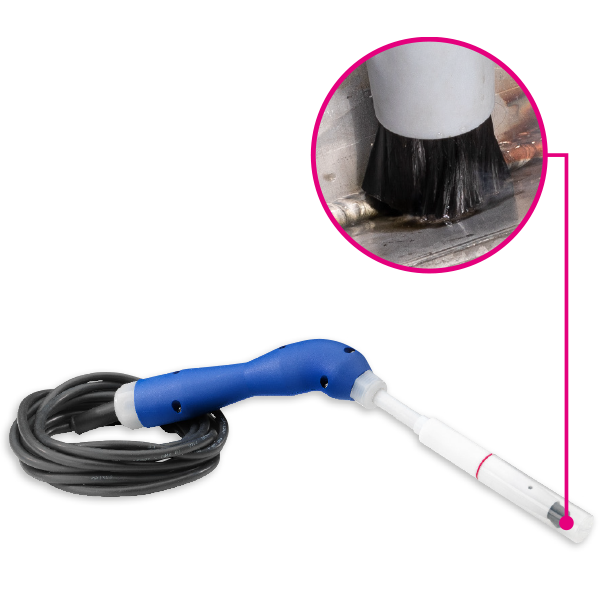 The ABIBRUSH carbon fibre brush has around 1.5 million very fine filaments, which make it possible to get into narrow or difficult-to-access gaps or corners. The length of the brush bristles can be varied depending on the application. The brush of the ABIBRUSH is only a real ABICOR BINZEL product with the magenta fibre in the center.
The handle is ergonomically shaped and thus also prevents user fatigue, so that working with the brush is even suitable for continuous use. The threaded piece on the handle and the brush adapter are made of high quality stainless steel (1.4571) and are accordingly corrosion-resistant.
Cleaning electrolyte ABICLEAN All-in-one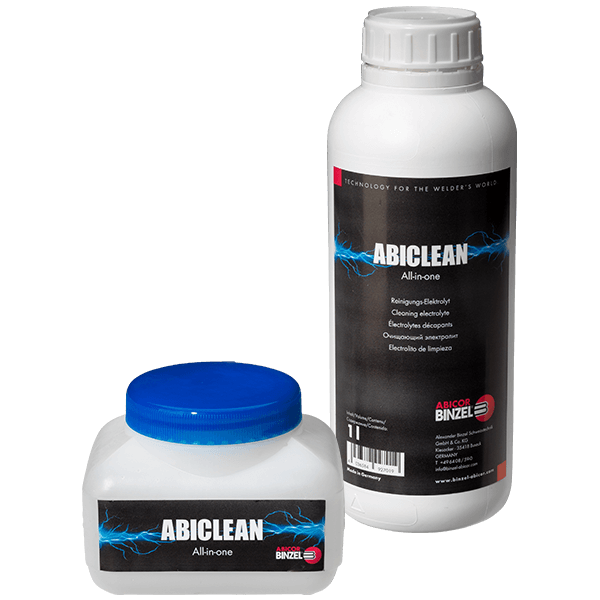 An electrolyte liquid is required for the electrochemical cleaning process. The cleaning fluid used with the ABICLEANER devices is the ABICLEAN all-in-one electrolyte solution. It is very user-friendly because it replaces the often required extra cleaning solutions, solutions for weld seam preparation and those for post-processing – all in one product. Simply pour a small amount of ABICLEAN into the plastic container provided, dip in the ABIBRUSH carbon fibre brush and wet the metal surface with light circular movements. After the surface treatment, solvent residues are simply rinsed off with water. The ABICLEAN cleaning electrolyte is suitable for surface cleaning and polishing.
Since this electrolyte solution does not contain hydrofluoric acid like conventional pickling agents for cleaning weld seams, transport, storage, use and disposal are harmless.