Systém zváracích horákov MIG/MAG ROBO Compact W600

Tvrdý, spoľahlivý a úsporný ...
ABICOR BINZEL ROBOTIC SYSTEMS rozširuje sortiment výrobkov o kvapalnou chladené, vysoko výkonné zváracie horáky pre nízky stupeň automatizácie. Inovatívny zvárací horák ROBO Compact W600 dopĺňa naše horáky W600 ako "vstupný horák" pre vysoko výkonné odvetvie robotického zvárania.
Pre zváranie, ktoré si vyžaduje zváracie nástroje vysokej hodnoty a výkonu, je potrebný výkonný, robustný a vysoko spoľahlivý zvárací horák. Systém horákov ROBO Compact W600 dokáže preukázať svoje vynikajúce technické prednosti, najmä v oblasti ťažkých strojov, kontajnerov a lodiarstva, ako aj povrchových úprav. Je obzvlášť vhodný pre úlohy vyžadujúce vysoký zvárací výkon, dlhý pracovný cyklus a vynikajúcu spoľahlivosť.
ROBO Compact W600 využíva osvedčený dizajn horáka série WH W600 a ABIROB® W600. Vyvinutý špeciálne pre aplikácie s nízkym stupňom automatizácie, vyznačuje sa jednoduchou a robustnou konštrukciou spotrebných dielov, ako aj priamym pripojením káblového zväzku na zvárací horák. Údržba horáka a jednoduchá a bezpečná výmena celého systému horáka je veľmi jednoduché.
Argumenty, ktoré hovoria sami za seba:
Silný pomer cena / výkon
Kompaktný dizajn, vysoký výkon a vysoká stabilita pri páde
Sofistikovaná technológia chladenia a optimálny prísun plynu cez samostatný plynový kanál
Robustné, odolné spotrebné diely
Opakovateľná výmena horáka - jednoduchá a rýchla
Cenovo výhodný, nízke prevádzkové náklady
Stupeň automatizácie: Nízky
Oblasti použitia:
Výroba úžitkových vozidiel
Zariadenia na zemné práce
Výroba železničných vozidiel
Lodný priemysel
Výroba kontajnerov
Strojové mechanizmy a oceľové konštrukcie
Materiál:
Konštrukčná oceľ (potiahnuté / nepotiahnuté)
Chróm - niklová oceľ
Duplexná oceľ
Základné materiály z niklu
Zmiešané materiály
Hliníkové materiály
Horčíkové materiály
Špeciálne materiály
Robot interface:
Bežný robot (montáž kábla externe):
- Držiak robota CAT3
- RTM (pevný držiak, bez ochrany proti nárazu)
Definition of the degree of automation:
Low = Torch neck change not possible
Medium = Torch neck change possible (manually)
High = Torch neck change possible (manually & automatically)
ROBO Compact W600 (liquid cooled)

Technical data (EN 60 974-7):
Type of cooling:
liquid cooled
Rating:

600 A CO2

550 A Mixed gases M21 (EN ISO 14175)

Duty cycle:
100 %
Wire-Ø:
0.8–1.6 mm (2.0 mm)*
* Recommended max. case assembly length 1.2 m when using wire diameter 2.0 mm.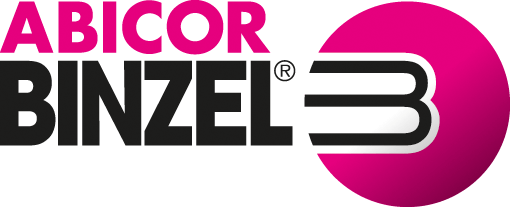 ABICOR BINZEL SLOVENSKO, s.r.o.
Priemyselná ulica 1239
93101 Samorin
Google Maps
00421 31 562 25 25
ABICOR BINZEL world-wide - everywhere at your side ...