MIG/MAG Welding Torch System TANDEM

Top-level power ...
Tandem welding makes high demands on the whole equipment. The WH W800 is a reliable and technically matured torch for welding in the high-power range.
Based on the tried-and-trusted WH system, almost all welding applications in this range can be carried out using the WH W800 – thanks to the different torch geometries. Three individual cooling circuits guarantee optimum temperature behaviour.
Advantages that speak for themselves:
Simple and quick maintenance
Use of standard WH cable assemblies
Quick-action connection for gas nozzle, different contact tip lengths available
Optimally matched to the power source technology of various manufacturers
Compact and powerful with two separate potentials
Three individual cooling circuits (gas nozzle and both cable assemblies)
Degree of automation: High
Typical areas of application:
Suppliers (Tier 1, Tier 2)
Commercial vehicle construction
Earth-moving equipment
Rail vehicles
Container construction
Machine and steel construction
Aerospace industry
Material:
Construction steels (coated / non-coated)
Chrome-nickel steels
Duplex steels
Nickel basic materials
Mixed compounds
Aluminium materials
Magnesium materials
Copper materials
Special materials
Robot interface:
Conventional robot (Cable assembly on the outside):
−Robot mount CAT2 HL
−Fixed bracket RTM
Definition of the degree of automation:
Low = Torch neck change not possible
Medium = Torch neck change possible (manually)
High = Torch neck change possible (manually & automatically)
WH TANDEM W800 (liquid cooled)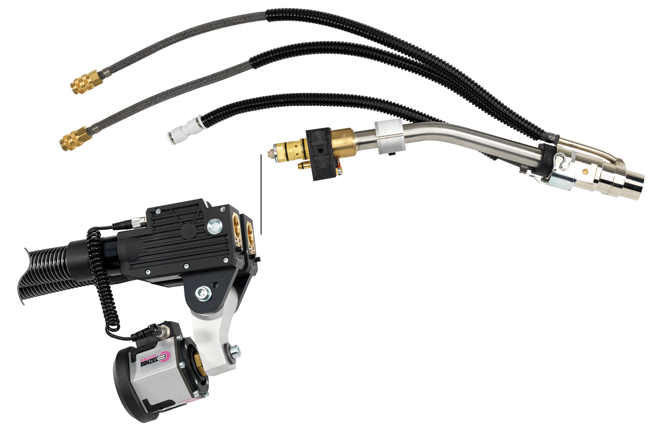 Technical data according to EN 60 974-7:
Cooling:
liquid cooled
Rating:

2 x 450 A CO2

2 x 400 A Mixed gases M 21 (EN ISO 14175)

Duty cycle:
100 %
Wire-Ø:
max. 1.6 mm