Hladilni agregat CR 1000 / CR 1250

Za "ohlajen" varilni proces …
... hladilni agregati z integriranim pretočnim stikalom – lahek in uporabniku prijazen.
Pri visoko-tokovnih aplikacijah z dolgimi varilnimi cikli lahko zračno hlajeni sistemi gorilnikov dosežejo meje svojih možnosti. To lahko povzroči motnje in nepotrebne izpade.
Mobilni obtočni hladilni agregati CR 1000 und CR 1250 so idealno sistemsko dopolnilo, za dopolnitev za zračno hlajeno varjenje opremljenega varilnega izvora z vodno hlajenim varilnim gorilnikom. Za trajno "ohlajeni'' varilni proces. Naprave se odlikujejo predvsem z visoko zmogljivostjo hlajenja ob hkratni kompaktni zasnovi in enostavnem rokovanju.
Integrirano pretočno stikalo* z nekaj preprostimi koraki priklopimo na priključek na strojni strani gorilnika za neprestani nadzor delovanja celotnega hladilnega sistema. Obratovanje brez hladilne tekočine tako ni mogoče, varilni gorilnik in hladilna naprava sta optimalno zaščitena.
Visoka zmogljivost hlajenja ob kompaktni zasnovi za najboljšo mobilno uporabo.
Mednarodni "Plug and Weld"-hitre spojke za enostavno in hitro namestitev.
Integrirano pretočno stikalo za neprestani nadzor delovanja celotnega hladilnega sistema, za zaščito varilnega gorilnika in hladilne naprave – priključni set priložen v kompletu.
Izpostavljeni rezervoar z indikatorjem nivoja omogoča udobno polnjenje in izpust hladilne tekočine.
Zaščita črpalke in motorja pred pregretjem – za dolgo življenjsko dobo.
Nizka teža in stabilni ročaji za enostaven transport na mesto uporabe.
Zaščita varovalk, glavnega stikala in zračnikov pred škropljenjem.

*Opcijsko je obratovanje možno tudi brez pretočnega stikala.
Hladilni agregat CR 1000 / CR 1250
Tip
CR 1000
CR 1250
Izmenjevalnik toplote
2-vrstni
3-vrstni
Krmilna napetost
115/230 VAC / 50/60 Hz
115/230 VAC / 50/60 Hz
Črpalka 50/60 Hz

Količina pretoka Qmax 7 l/min

Višina črpanja Hmax 35 m

Količina pretoka Qmax 7 l/min

Višina črpanja Hmax 35 m

Pritisk črpalke
3,5 bar
3,5 bar
Hladilna kapaciteta

1000 W H2O

750 W BTC-15*

1250 W H2O

1050 W BTC-15*

Nivo hrupa na razdalji 1m
67 dB (A)
67 dB (A)
Teža
14,9 kg
16,7 kg
Dimenzije D / Š / V
490 / 250 / 410 mm
690 / 250 / 340 mm
Prostornina posode za tekočino
6,0 Liter
6,0 Liter
Priključek
NW 5 (Htra spojka)
NW 5 (Hitra spojka)

*ABICOR BINZEL hladilna tekočina BTC varuje s svojo zelo nizko prevodnostjo (< 4 μS ) hlajene s tekočina varilne in rezalne gorilnike, kot tudi hladilne naprave pred elektrolitsko korozijo in prezgodnjo obrabo.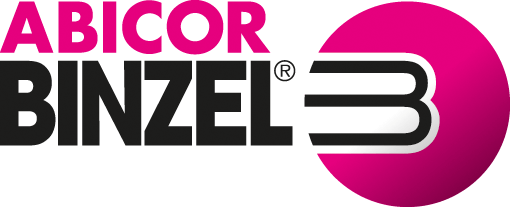 Headquarters
Alexander Binzel Schweisstechnik
GmbH & Co. KG
Kiesacker 7-9
35418 Buseck, Germany
Google Maps
+49 (0) 64 08 / 59-0
ABICOR BINZEL world-wide - everywhere at your side ...