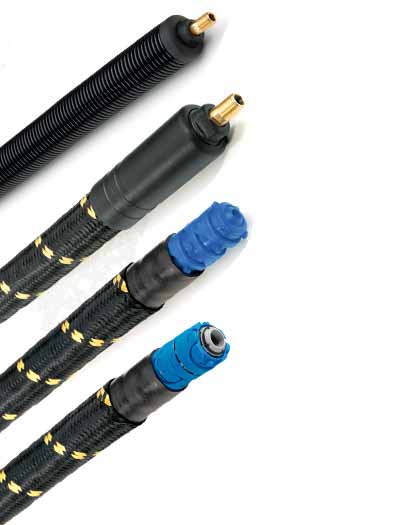 MasterLiner Wire Feeding Conduit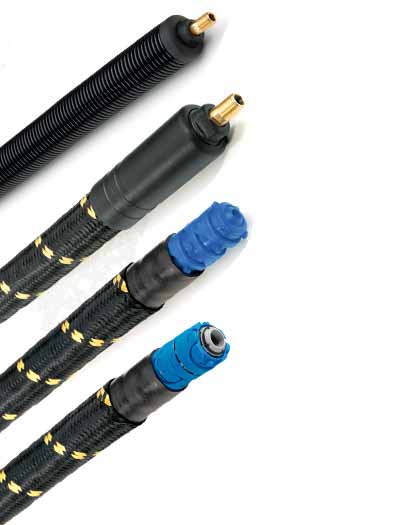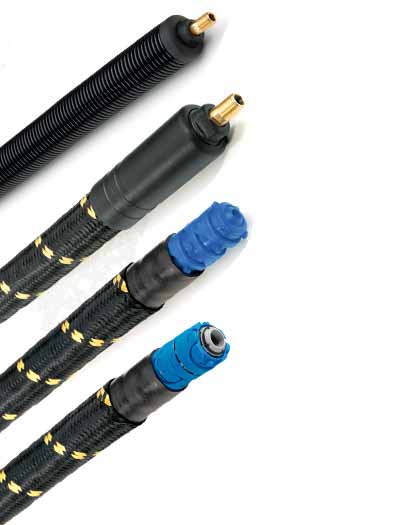 The Best in Robotic Wire Feeding
The MasterLiner series set new robotic wire feeding standards. Made from individual segments, each turnable by 360°, MasterLiner segment feature four small rollers in every segment to guarantee smooth wire feeding with almost no resistance. This allows no further wire feeders to be required, even over longer distances.
The MasterLiner system is available as MasterLiner and MasterLiner MAXI both in FLEX and HD versions. The FLEX version is made up of a corrugated hose and connection system and enables a configuration of the exact required length. It is also repairable in the field, saving time and money with a reliable automated wire feeding solution. The heavy-duty HD version is fitted with resistant aramid-reinforced protection for extreme applications.
MasterLiner Features & Benefits:
Low friction forces and a long lifetime
Ultrasonic cleaning, maintenance free, and prone to little interference
Wire feeding over long distances and by only one robot wire feeder
Suitable for all robotic welding systems with wire feeding, including laser welding and brazing
Easy and quick assembly and exchange possible by using quick connectors
MasterLiner Features at a Glance:
Clean Connect with Wire Rollers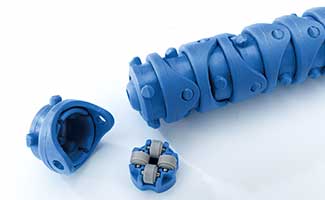 End fitting provides for a quick and clean connection to the outer hose. The four roller sections produce virtually no friction and are built for short connections between individual segments to avoid wire feed issues.
Quickconnector for Tool-free Assembly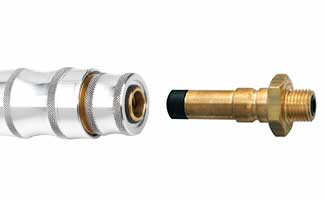 Quickconnector for MasterLiner MAXI offers tool-free assembly and disassembly of the MasterLiner via a spring-loaded locking mechanism that can be saved by turning the outer sleeve against accidental pulling.
Sensor & Inching Accessories Improve Feed
Wire end sensor signals the upcoming end of the wire inside the drum for fast replacement. The wire inching tool allows for the wire to be threaded quickly from the drum to the wire feed hose without manual threading.
MasterLiner Part Numbers
| | | |
| --- | --- | --- |
| DESCRIPTION | LENGTH | PART NUMBER |
| MasterLiner HD cpl. with connector G 1/8" | 5 meters | 155.0065 |
| MasterLiner HD cpl. with connector G 1/8" | 6 meters | 155.0066 |
| MasterLiner HD cpl. with connector G 1/8" | 8 meters | 155.0067 |
| MasterLiner HD cpl. with connector G 1/8" | 10 meters | 155.0068 |
| MasterLiner FLEX cpl.  with connector G 1/8" | 5 meters | 155.0124 |
| MasterLiner FLEX cpl.  with connector G 1/8" | 6 meters | 155.0125 |
| MasterLiner FLEX cpl.  with connector G 1/8" | 8 meters | 155.0127 |
| MasterLiner FLEX cpl.  with connector G 1/8" | 10 meters | 155.0129 |
| MasterLiner MAXI HD with Quickconnector | 5 meters | 155.0184 |
| MasterLiner MAXI HD with Quickconnector | 6 meters | 155.0185 |
| MasterLiner MAXI HD with Quickconnector | 8 meters | 155.0187 |
| MasterLiner MAXI HD with Quickconnector | 10 meters | 155.0189 |
| MasterLiner MAXI FLEX with connector G 1/8" | 5 meters | 155.0154 |
| MasterLiner MAXI FLEX with connector G 1/8" | 6 meters | 155.0155 |
| MasterLiner MAXI FLEX with connector G 1/8" | 8 meters | 155.0156 |
| MasterLiner MAXI FLEX with connector G 1/8" | 10 meters | 155.0157 |
| MasterLiner MAXI FLEX with Quickconnector | 5 meters | 155.0197 |
| MasterLiner MAXI FLEX with Quickconnector | 6 meters | 155.0198 |
| MasterLiner MAXI FLEX with Quickconnector | 8 meters | 155.0199 |
| MasterLiner MAXI FLEX with Quickconnector | 10 meters | 155.0200 |
Accessory Parts
| | |
| --- | --- |
| DESCRIPTION | PART NUMBER |
| Wire end sensor with LED signal | 881.3225 |
| Control cable for Wire end sensor | 101.0168 |
| Wire inching tool | 881.3238 |
Configuration Parts
| | |
| --- | --- |
| DESCRIPTION | PART NUMBER |
| End fitting for MasterLiner HD | 155.0092 |
| MasterLiner basic (50-meter container) for MasterLiner FLEX | 155.0096.50 |
| Brass connector G 1/8" (without o-ring) | 155.0089 |
| O-ring for brass connector | 155.0093.5 |
| Connector convex | 155.0095 |
| Connector concave | 155.0091 |
| Wire guide tube convex | 155.0087 |
| Wire guide tube concave | 155.0088 |
| End cap for outer hose | 155.0090 |
| Outer hose (50-meter container) for MasterLiner FLEX | 109.0076 |
| Hook-and-loop tape, blue, 1 meter | 191.0128.1 |
| Outer hose (50-meter container) for MasterLiner MAXI FLEX | 109.0076 |
| MasterLiner MAXI basic (50-meter container) | 155.0141.50 |
| Connector G 1/4" cpl.  for MasterLiner MAXI FLEX | 155.0147 |
| Quickconnector cpl. for MasterLiner MAXI FLEX | 155.0195 |
Connection Parts
| | |
| --- | --- |
| DESCRIPTION | PART NUMBER |
| Connection G 1/4" for Quickconnector on MasterLiner | 155.0167 |
| Connection 11.5 mm for EWM® | 783.5208 |
| Connection 12.2 mm for Lincoln® | 155.0084 |
| Connection 13.0 mm for Fronius® | 783.5209 |
| Quick coupling G 1/4" | 783.5207 |
| Adapter G 1/4" for Quickconnector (for Fronius® or Parker®) | 155.0159 |
| Wire liner MasterLiner to MF-1 | 783.5222 |
| Wire liner G 1/4" to M-Drive | 155.0158 |
| Inlet tube G 1/4" to M-Drive | 155.0161 |
| Inlet tube MF-1 G 1/8" | 881.1253 |
| Inlet tube MF-1 G 1/4" | 155.0160 |
| Inlet nipple MF-1/MasterLiner | 131.0035 |
| Sleeve M9 x .75 mm (for inlet tube MF-1) | 881.1096 |
| Dome connector PG29 (MasteLiner FLEX  / MAXI FLEX) | 155.0103 |
| Nut PG29 | 155.0106 |
| Dome connector G 1/4" | 783.5205 |
| Quick coupling G 1/4" (for MasterLiner - Dome connector with quick cpl.) | 783.5207 |
| Adapter MasterLiner G 1/8" to 1/4" | 783.5233 |
| Adapter MasterLine MAXI G 1/4" to G 1/4" | 155.0162 |
| MasterLiner MAXI HD / FLEX dome connector coupling (for MAXI with Quickconnector) | 155.0171 |
Technical Specifications
Type:

MasterLiner HD

MasterLiner FLEX
Outer Ø:

30.0 mm

22.0 mm (without outer hose) / 34.0 mm (with outer hose)
Wire Ø:
max. 1.2 mm
max. 1.2 mm
Weight:
approx. 400 g/m
(without connections,
with aramid coating)
 
approx. 250 g/m
(without outer hose) /
approx. 400 g/m
(with outer hose)
Recommended length (max.):
25.0 m
25.0 m
Bend radius (min.):
150 mm
150 mm
Flexibility/tensile strength:
1.500 N
600 N
Connection:

G 1/8″ and optional
G 1/4″ (on request)

G 1/8″ and optional
G 1/4″ (on request)