CAT3 PRO Robotic Welding Gun Collision Mount
The Switch that Makes the Difference
The new generation of torch mounts - the CAT3 PRO provides even more stability and robustness compared to its predecessors. In the event of a collision, the CAT3 PRO ensures a reliable shutdown of the welding robot and thus prevents costly damage to the robot and equipment.
In addition, the precise resetting accuracy allows for a fast resumption of the production cycle, reducing downtimes to a minimum. The CAT3 PRO is the process-oriented evolution of the established robot mounts CAT2 and CAT2-HL. Our staple over-arm robot mounts CAT2 and CAT2-HL can be easily exchanged with CAT3 PRO without reprogramming the robot.
CAT3 PRO Features & Benefits:
Reliable switching function
Easy replacement and repair
Easy installation on the welding robot
100% compatible with CAT2, CAT2-HL, and CAT3
Practical, robust design results in better performance
Precise reset accuracy (TCP) minimizes system downtime
Spring forces XL, L, and M for optimum adaptation to the tool weight
CAT3 PRO Features at a Glance:
Improved Switch Function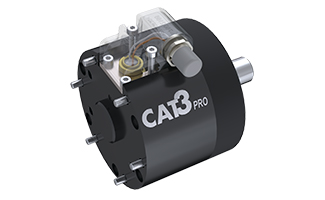 The switch for the CAT3 mount is integrated into the housing for a fast and reliable response. Compression springs are available in various sizes (Medium, Large, and XL).
Multi-axis Deflection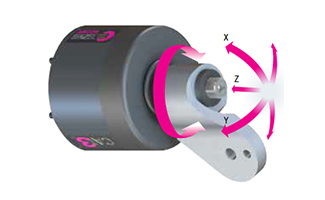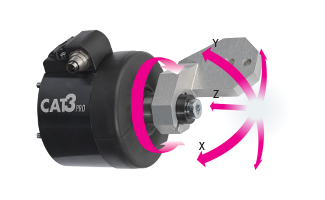 The multi-axis deflection on CAT3 collision mounts means your robotic welding torch swanneck has complete protection in the event of a robot crash.
Optimal Release Force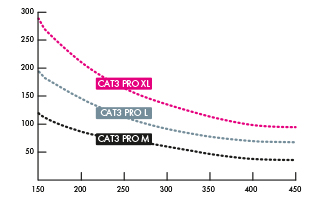 The static release force (y-axis in Newton) of the different spring types as a function of the distance (x-axis in millimeters) is optimally matched to the robot torch neck size.
Technical Specifications
Dimensions:
Ø 77 mm
Height 106 mm
Weight:

960 g (without holder and flange)

Maximum deflection:

Deflection in X- and Y-axis: ca. 7°
Deflection in Z-axis: 5 mm

Switch point:
Deflection in X- and Y-direction: 1.4°–1.7°
Deflection in Z-direction: 1.3–1.6 mm
Resetting accuracy:
X-, Y- and Z-direction: ± 0.04 mm
(at 400 mm distance to the robot flange)
Load capacity safety cut-out:

max. 30 V DC / 100 mA
Catalog, Ordering Chart, & Manual